This high-grade five-channel amplifier tops the Canadian maker's lineup, and shows Steve Withers the true meaning of dynamic range. Read our ANTHEM MCA 525 GEN 2 Review.
Av Info
| | |
| --- | --- |
| Product | Premium five-channel Class A/B power amplifier |
| Position | Anthem's highest-spec power amp |
| Peers | NAD M28; Primare A35.8; Emotiva XPA-11 |
ANTHEM'S NEW LINEUP of power amplifiers has been designed to complement its range of AVM processors, with matching livery and enough onboard grunt to fill an enormo-dome.
1. Nothing to see on the MCA 525 Gen 2's front bar a logo and power button!
The MCA Gen 2 catalogue offers the two-channel 225, three-channel 325, and five-channel 525 reviewed here. This Class A/B trio share the same design and build, with the only difference being the number of channels. All three are also pricey considering the channel count, but that will be less of an issue if they deliver in terms of overall performance.
Total overhaul
The Canadian brand certainly knows its bacon when it comes to building amps, and the MCA Gen 2 represents a ground-up redesign over the previous generation, with reduced cabling for a smoother circuit path, and new 'low noise high-power' toroidal transformers for greater transparency. Anthem has also refreshed the output transistors, capacitors, and heatsinks as part of the upgrade.
Of particular note is the power supply, because while some five-channel amplifiers use one for front left and right channels and another for centre and surround channels, the MCA 525 Gen 2 shares its two power supplies between all the channels. Anthem claims this allows the device to instantaneously deliver bursts of power without affecting channel separation.
Look through the grilles on the top and you'll see the two toroidal transformers at the front, along with the five heatsinks, all of which explains why the 525 clocks in at a chunky 27.5kg. This amplifier might weigh enough to have been forged in the heart of a neutron star, but there's something pleasing about this level of build quality, even if there's also a danger of putting your back out.
7Review earns Amazon affiliate commissions from qualifying purchases. You can support the site directly via Paypal donations ☕. Thank you!
RECOMMENDED VIDEOS FOR YOU...
If Anthem's numbers are to be believed, the 525's Class A/B amps can deliver a hefty 225W into 8ohm (400W into 4ohm) for each channel, even when running all five. That's an eye-opening amount of power, and if it can push that much while retaining the finesse associated with Class A/B we could be on to a winner.
Made to match
Aside from an illuminated power button and the logo, there's nothing on the black glass/metal front panel, but this boldly minimalist approach is intended to dovetail with that of Anthem's AVM 70 and AVM 90 15-channel AV processors. These, along with Anthem's range of MRX AV receivers, have recently been upgraded with HDMI 2.1 connections.
You'll probably have realised that powering a full 15.1-channel system requires three 525s, which is not only expensive but also hogs a significant amount of real estate in any equipment rack. Rival companies cram more juice into a single chassis, some using less space-intensive Class technology, but Anthem prefers a Class A/B approach. A seven-channel option would surely be welcome, though.
At the rear you'll find balanced XLR and unbalanced RCA inputs for each channel, along with custom binding posts that are larger to accommodate thicker speaker cable. Inputs and binding posts are sensibly spaced out, and there are 12V triggers (in and out), plus a switch to choose between trigger, manual and auto power settings.
There's Advance Load Monitoring (ALM) tech inside (you can see the LEDs through the grille), which analyses the amp's internal temperature, current and voltage to ensure safe and uninterrupted long-term operation. Anthem also claims the energy consumption is reduced in standby to around 2W, although any 'green' benefits go right out the window as soon as you crank this baby up.
I partnered the MCA 525 with my Trinnov Altitude16 AV processor using XLR connectors, and my usual M&K Sound speakers. The latter aren't the hardest to drive, but I'd imagine the 525 has sufficient welly to handle even the most demanding of speakers.
A growling success
This Class A/B beauty has immediately obvious strengths, from an incredibly low noise floor to a wonderfully beguiling delivery that displays all the subtle details in any recording.
Shakespears Sister's '90s classic Hormonally Yours recently enjoyed its 30th anniversary, and while that made me feel depressingly old, the album itself has lost none of its exuberant glam rock charm. From the bouncy drums and grinding guitars at the start of 'Catwoman', to the high-pitched delivery of Marcy Detroit's vocals on 'Stay', the MCA 525 revels in sublimely detailed stereo imaging. The midrange is nuanced and the treble clean, with both well represented by the juxtaposition of Detroit's falsetto and Siobhan Fahey's deeper vocal growls.
My usual amplifier is a Storm Audio PA16 Mk2 (HCC #324), a 16-channel Class D design that delivers multichannel and immersive audio with snap and verve. However, the sonic signature can also feel a little sterile, and while this Anthem model has plenty of transient attack, it also manages to produce a soundstage with genuine intimacy. Both amplifiers also demonstrate a thrilling dynamism, along with oodles of headroom.
The recent release of Heat on 4K Blu-ray retains one of the great 5.1 soundmixes, where dynamic range is used to terrific effect, and the 525 sets about demonstrating its cinematic prowess. An armoured car robbery early in the film includes a shaped-charge blast that blows out car windshields, and this power pusher makes you feel the full impact of the expanding sound wave.
Unsurprisingly, it's the street shootout after the bank robbery that really shows what the 525 is capable of, with gunfire sounding frighteningly real. The ballistic crack of each shot is accompanied by echoes from the surrounding buildings, while dialogue, footsteps, the cries of bystanders, and the tinkle of shell casings hitting the road all add to a sense of veracity.
But its the dynamic range, the sheer deafening sound of the gunfire, that makes this sequence so visceral, and the 525's ample headroom allows it to render the mix's transients with skill. No matter what demands were placed on this amp, it handled them without ever sounding strained.
More of the same shock and awe came with A Quiet Place Part II (4K BD), with its mix that's all about sudden changes in volume. The opening sequence includes a fantastic single-take sequence in a car that spins chaos from every channel, and it sounds enveloping here, high-pitched screams, crunching metal and thumping explosions served with tonality and scale.
But in quieter scenes this amplifier also shines, rendering subtle audio cues with a remarkable delicacy, and then having you jump out of your skin when moments of near-silence are shattered by a monster's screech.
2. Five amplifiers all with side-mounted heatsink, plus twin toroidal transformers
Generational talent
Overall Anthem's MCA 525 Gen 2 is a classy piece of kit and a highly accomplished performer. Some might bemoan the limited number of channels at this price, but no-one can doubt the capabilities. It's built like a tank but drives like a Ferrari, resulting in a winning combination of raw power and sonic finesse.
Verdict
ANTHEM MCA 525 GEN 2 Review
This Class A/B amplifier is on the pricey side considering it only has five channels, but you'll be mesmerised by the power, detail, dynamic transients, and ample headroom.
Add your review
Best ANTHEM MCA 525 GEN 2 prices in the US ?

Home theater separates rely on clean power to make their magic.Anthems MCA Power Amplifiers are available in 2, 3 and 5 channel configurations; and are a perfect match for the AVM 70 and AVM 90 A/V Processors both sonically and cosmetically. Anthem'sGen2 amplifiers bring improvements to internal...

Best ANTHEM MCA 525 GEN 2 prices ?
MORE DEALS

SPECIFICATIONS
| | |
| --- | --- |
| POWER OUTPUT (CLAIMED): | 5 x 225W (8ohm); 5 x 400W (4ohm) |
| CONNECTIONS: | 5 x balanced XLR inputs; 5 x RCA phono inputs; 5 x speaker binding posts; 12V input; 12V output |
| DIMENSIONS: | 439(w) x 169(h) x 460(d)mm |
| WEIGHT: | 27.5kg |
| FEATURES: | Class A/B amplifier; Advance Load Monitoring (ALM) technology; 2W claimed standby power consumption (80W idle); three on modes (trigger, manual and auto); optional rack mounting kit |
TESTED WITH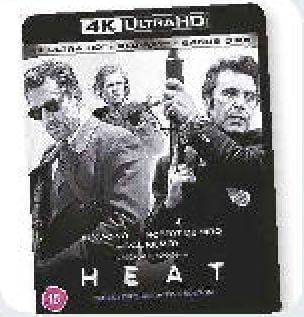 HEAT: Michael Mann's 1995 crime classic starring Robert De Niro and Al Pacino benefits from a 4K scan that delivers plenty of pixel info, even if some might find the HDR grade a little dark. The DTS-HD MA track creates a suitably engaging soundscape, while the famous shootout will give any system a thorough sonic workout.