TO DESCRIBE TRINNOV'S Altitude16 as a 16-channel AV processor that supports Dolby Atmos, DTS:X Pro and Auro-3D is a bit like saying the Palace of Versailles is a building. While both statements are technically accurate, they hardly do either justice. Read our Trinnov altitude 16 Review.
TIME ON TEST: Six months
REVIEWER: Steve Withers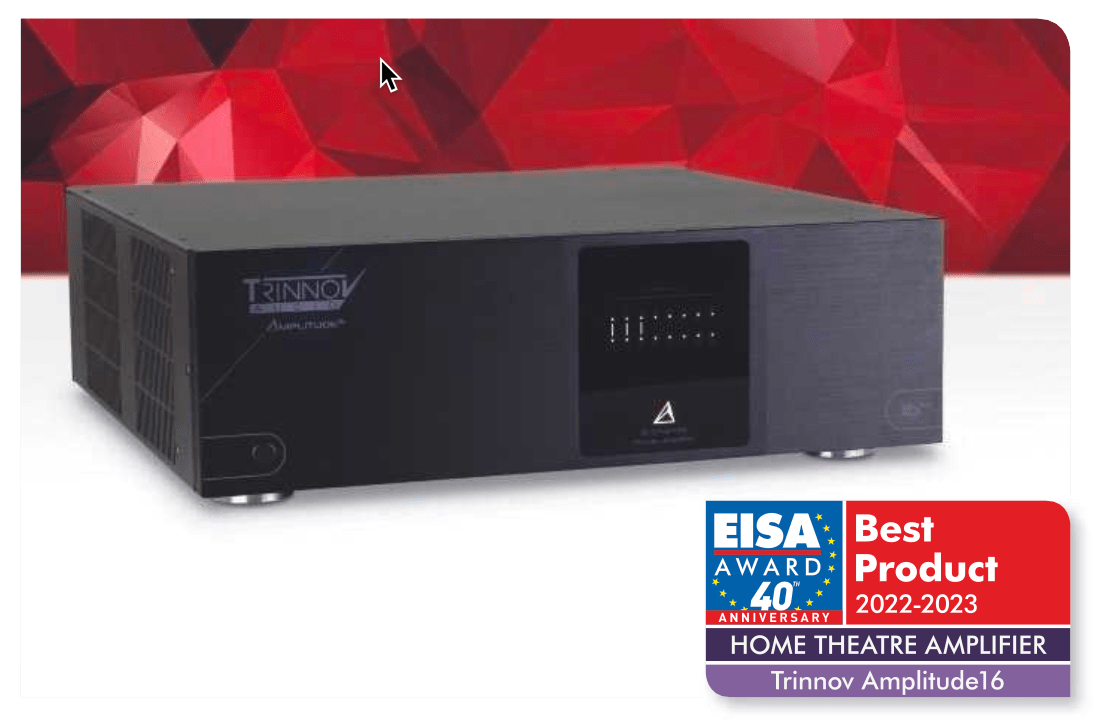 Av Info
Product: 16-channel processor with Atmos, DTS:X and Auro-3D
Position: Below a 32-channel model in the Trinnov lineup
Peers: Lyngdorf MP-60; Datasat LS10
7Review earns Amazon affiliate commissions from qualifying purchases. You can support the site directly via Paypal donations ☕. Thank you!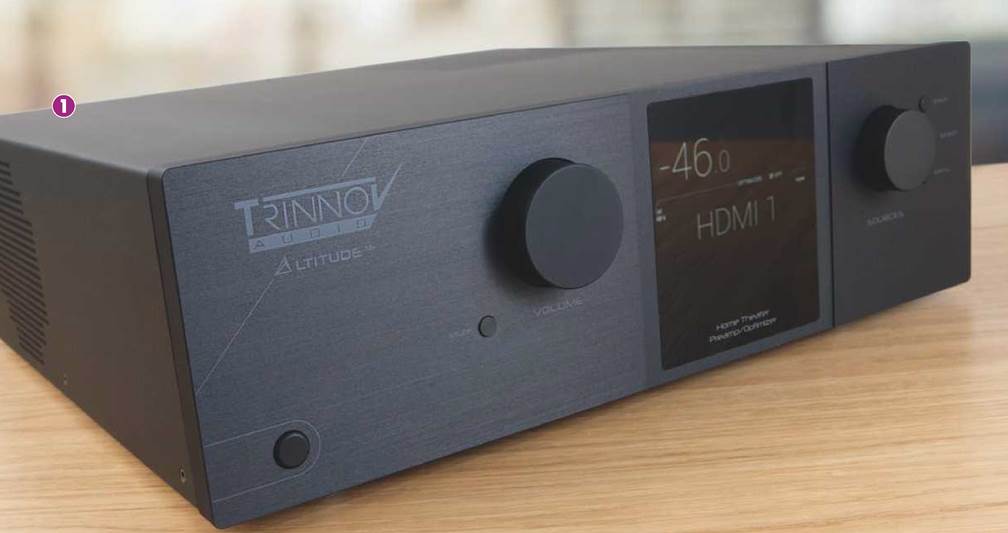 Trinnov was founded in the early 2000s by a trio of French acoustic engineers with a history in sonic research and professional audio. Their aim for the consumer sector was to develop the ultimate AV processor, and in 2014 came the Altitude32 – a feature-rich box capable of delivering 32 channels of enveloping sound.
However, this level of sophistication wasn't cheap, so in 2018 Trinnov offered a more affordable alternative. The Altitude16 is 'limited' to 16 channels of processing, but in almost every other respect it's the equal of its bigger brother. Affordable is always a relative term, but at £ you get an awful lot of bang for your buck.
What's good about it?
The Altitude16 looks every inch the high-end product, combining elegant minimalism with tank-like construction. It's a gorgeous piece of industrial design with a thick aluminium front panel, black brushed-metal finish, and a large display.
The latter is informative, but it's not the primary user interface. There's no onscreen display, either – instead, full remote access is granted via a web-based interface. A physical remote control is supplied for more day-to-day functions like input selection or volume changes.
Connectivity is generous. There are eight HDMI inputs and two outputs (one with eARC). All are HDMI 2.0 with support for 4K/60p and every flavour of high dynamic range (HDR10, HLG, HDR10+ and Dolby Vision). Other terminals include Ethernet; coaxial and optical digital inputs and outputs; stereo analogue input (RCA and XLR); 16-channel XLR output (no RCA option); and a host of custom install features like 12V triggers and RS232 (the processor supports all the main third-party control systems).
Equipped with Dolby Atmos, Auro-3D and DTS:X Pro immersive audio decoders, the Altitude16 can render up to 16 discrete channels of information. It also natively processes high-resolution 24-bit/96kHz audio, and enables unlimited channel assignment or subwoofer outputs.
There's also a full suite of upmixers from Dolby, DTS and Auro, meaning you can take full advantage of all those extra channels with non-immersive mixes. You can also 're-map' your speakers to allow for the different configurations of competing 3D audio formats.
When you consider all this cutting-edge processing and customisation, the Altitude16 is surprisingly easy to install. This is primarily due to the excellent Altitude Wizard and superb Trinnov Optimizer, both of which take you step-by- step through setup and room correction.
To perform the latter you'll need Trinnov's groovy- looking 3D measurement mic. If you're buying the
Altitude16 through a dealer they'll hopefully install the processor using their mic for room correction; if not you'll need to buy your own, which is an extra £.
The beauty of the Altitude16 is that it's essentially a high-end computer running Trinnov's proprietary software platform. This approach to system architecture means the company can easily update the processor when new formats or features become available.
Trinnov proved this by becoming the first manufacturer to add DTS:X Pro, expanding the format's decoding to 16 channels on the Altitude16, and bringing DTS:X in line with Atmos, which could handle 16 channels from launch. An IMAX Enhanced DTS:X update is also coming soon.
Another recently added feature is the Dolby Atmos Object Viewer, showing in real time which channels are being used and where objects appear in three-dimensional space. It doesn't affect the sound quality, but it's oh-so­fun to watch.
These bells and whistles would amount to nothing if the processor didn't sound worthy of its price tag. But there are no such worries with the Altitude16. I've found it effortlessly counters the negative aspects of my listening room, and draws out the best from my entire system.
Partner the Altitude16 with quality amplification and the result is a composed and cohesive soundstage. Objects are fluidly moved, and the sense of immersion is often overwhelming. Subs are expertly integrated, ensuring a tight, dynamic low-end foundation that never swamps the rest of the soundstage. It's a remarkable performance.
What's not good about it?
A downside of Trinnov's computer-based approach is that the Altitude16 packs a cooling fan that you can occasionally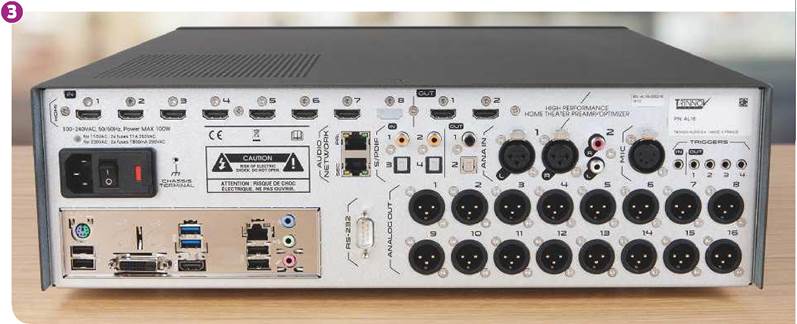 hear. This shouldn't be an issue for most people because the processor will probably end up in an equipment room (Trinnov includes rack mounts in the box). Another niggle is that the remote control – which many won't bother with – lacks a backlight, making it hard to use in the dark. You'll also need to learn to hold down the 'OK' button to turn the unit on, and hold down 'Info' to turn it off, which is very weird.
While the Altitude16 doesn't have to be connected to your network for day-to-day use, you'll need one to access the detailed menus, Object Viewer and Optimizer. Since there's no wireless capability, that means an Ethernet cable, and in my case it's a pain in the derriere. Once again this won't be an issue for most people because an installer will address this.
There's no support for 8K/60, 4K/120, eARC, VRR or ALLM. However, Trinnov is planning a future hardware upgrade to HDMI 2.1, which will add these features.
Should I buy it?
This really depends on your budget, but if you can afford the Altitude16 then the answer is a resounding yes. It's not only one of the best-sounding AV processors on the market, but thanks to its upgradable nature it could be the last one you'll ever need to buy. It's flexible too – even after six months of almost daily use I'm still only scratching the surface of its capabilities
Verdict
EISA HOME THEATRE AMPLIFIER 2022-2023 TRINNOV AMPLITUDE16 As modern movie sound formats demand more loudspeakers, system builders need more amplification. Trinnov's Amplitude16 answers the call, wrapping 16 channels (rated at 200W/80hm) in a rack-sized, all-metal chassis that's a smart cosmetic match for its multichannel Altitude16 processor. The unit's two eight-channel modules, designed in collaboration with Class D specialist ICEPower and fed by independent power supplies, deliver an astonishingly dynamic performance. In practice, the Amplitude16 blends controlled, deep bass with effortless speed and purity of tone it's a high-end powerhouse that will get the best from any loudspeaker system, and marks a thrilling addition to the Trinnov fleet.
Trinnov altitude 16 Review
French acoustic wizardry delivers an immersive audio tour de force, combined with staggering flexibility and a host of cool features. C'est fantastique!
Add your review
Best Trinnov altitude 16 prices ?
MORE DEALS

www.trinnov.com
SPECIFICATIONS
DOLBY ATMOS: Yes (up to 9.1.6) DTS:X: Yes (up to 16.1 via DTS:X Pro) IMAX ENHANCED: No. Awaiting update MULTICHANNEL INPUT: No MULTICHANNEL PRE-OUT: Yes. 16-channel XLR MULTIROOM: No AV INPUTS: Yes. 4 x digital audio (2 x optical and 2 x coaxial) HDMI: 8 x inputs; 2 x outputs VIDEO UPSCALING: No DIMENSIONS: 438(w) x 138(h) x 439(d)mm WEIGHT: 11.3kg
FEATURES: Trinnov Speaker/Room Optimizer; supports 3D measurement microphone; multi-subwoofer management and active crossover calibration; 24-bit/96kHz native processing; wizard for setup and calibration; web-based UI; remote control; software-based upgrades over internet; UPnP/DLNA renderer; Roon ready; Dolby Atmos Object Viewer; Auro-3D