Steve Withers installs a lot of speakers to assess this AV processor's promise of full sonic immersion
PRODUCT
15.2-channel Dolby Atmos AV processor with ARC Genesis EQ
POSITION
Below Anthem's 15.4-channel AVM 90
WEBSITE
www.anthemav.com
PEERS
Marantz AV8805A;
Arcam AV40;
JBL Synthesis SDP-55
First announced in October 2020, the arrival of Anthem's new home cinema range in the UK has been delayed by you-know- what, but finally its AVM 70 processor is here and ready to rumble. It joins three AV receivers – the flagship MRX 1140, the MRX 740 (reviewed in HCC #321), and the entry-level MRX 540 – and will be followed in due course by another processor, the AVM 90. And it's dripping in tech and setup potential.
The headline specification is its 15.2-channel processing, allied to Dolby Atmos, DTS:X Pro and IMAX Enhanced decoding (there's no Auro-3D support but that's largely moot at this stage, with Atmos rapidly becoming the dominant object-based format). Fifteen channels elevates the AVM 70 into the upper echelon of home cinema hardware, above flagship rivals from the likes of Marantz and Yamaha, and beyond the abilities of Anthem's now venerable AVM 60 model. Furthermore, the £ price tag is highly competitive against 15-channel processors from Arcam, JBL, Trinnov et al.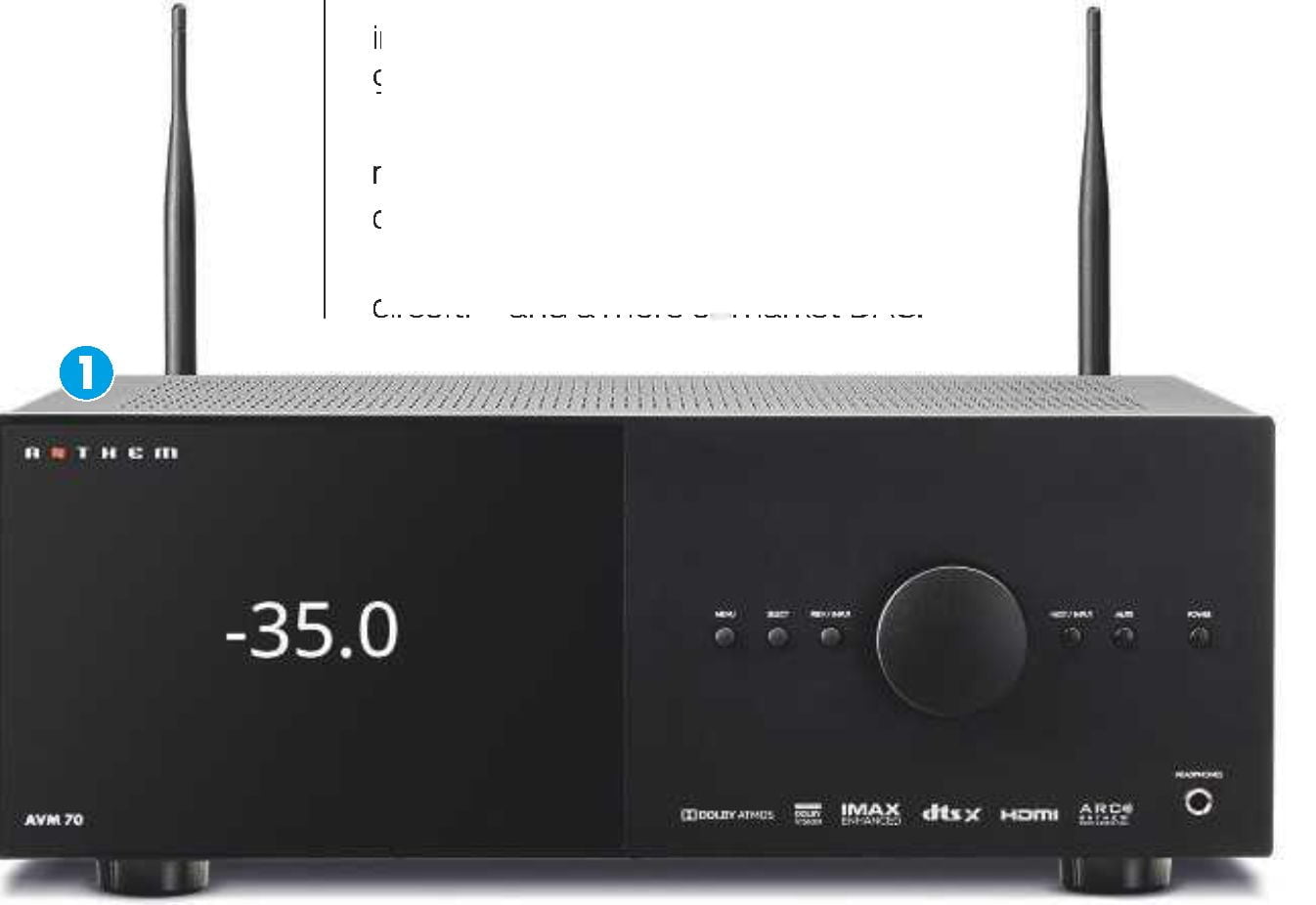 Both Anthem's new processors appear to be almost identical, aside from the number of independent subwoofer outputs (the AVM 90 offers four, rather than two). Yet with that model set to launch with a suggested retail price of £, there are obviously changes beneath the lid: differences over the AVM 70 will be 'upgraded audio circuitry' and a more upmarket DAC.
The benefit of taking the processor route, as opposed to an AV receiver/integrated amplifier, is that you can match it with amplification of your choice. Any power amp(s) will of course work with the AVM 70, but Anthem offers a new range of its own (see boxout, right).
7Review earns Amazon affiliate commissions from qualifying purchases. You can support the site directly via Paypal donations ☕. Thank you!
This processor has a smart design (especially when compared to the button-strewn Anthems of yesteryear), and it extends across Anthem's entire range. It's all rather minimalist, with the left-hand-side of the fascia finished in black glass, and the right in matte black. There's a display behind the glass, while a few basic controls are located over on the right, but that's your lot, apart from a 6.35mm headphone jack and some logos.
While the new display is a step up from the dot-matrix jobbie that graced the previous generation, it feels like a missed opportunity. Lacking colour or images, it simply imparts basic information in a basic manner.
The AVM 70 obviously lacks speaker terminals, but its back panel is nevertheless connection-heavy. There are balanced XLR outputs for its 15.2-channel complement, along with matching (and unbalanced) RCA outputs for those who'd rather use phono connectors or don't have balanced amplification.
There are seven HDMI inputs and two HDMI outputs, plus a third output for a second zone. The main output supports eARC, and all the HDMI ports are compliant with HDR10, HLG and Dolby Vision. There's an HDMI 2.1 upgrade in the offing, which will add support for 8K/60, 4K/120, VRR and ALLM, along with HDR10+ passthrough. Anthem is a bit vague on the date and price of this update, but it's expected early next year.
In terms of legacy connections you get five analogue inputs, three optical digital inputs, a pair of coaxial digital inputs, and a USB port. Of more use to many integrators will be the processor's IR input, 12V triggers, and RS232 serial connector.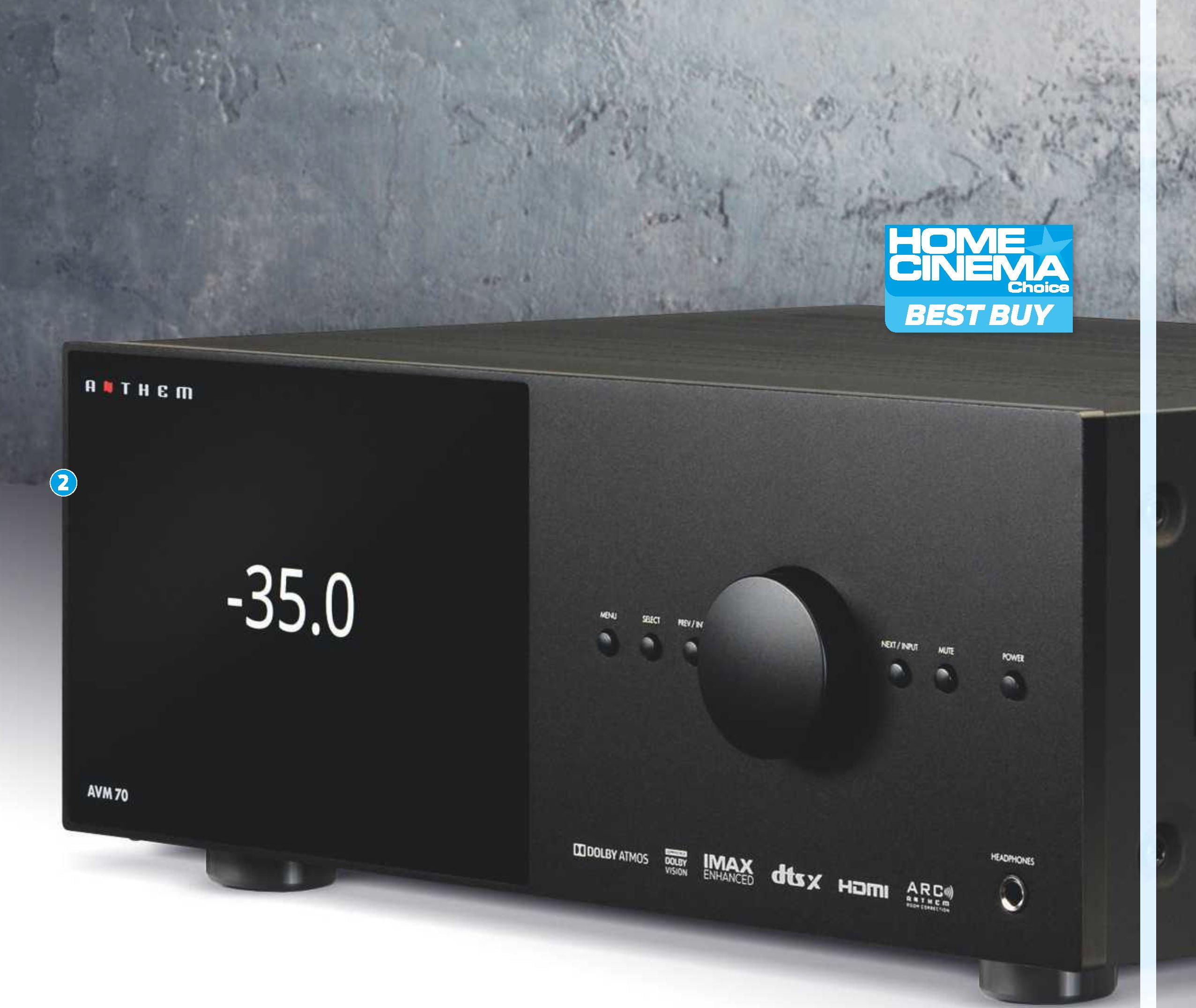 Need power? Anthem has the answer
MCA amplifiers are 'sonically and cosmetically' a perfect match for the AVM 70.
Completing Anthem's overhaul of its AV range are its second-generation ('Gen 2') MCA amplifiers, which are an obvious audition if you need to add power to the AVM 70's processing. Styled to match, with the same two-tone fascia approach, they'll make for a neat-looking setup – and they pledge to provide plenty of grunt too.
Aiming to cater to the various speaker configurations its processors can handle, Anthem has created three
models: the two-channel MCA 225, three-channel MCA 325 or five-channel MCA 525. All claim a 225W-per-channel power output into 8 ohm loads from Class AB modules tethered to 'low-noise, high-power' toroidal transformers.
Advanced Load Monitoring technology tracks temperature, current and voltage to protect against clipping.
Inputs are on both balanced XLR and unbalanced RCA.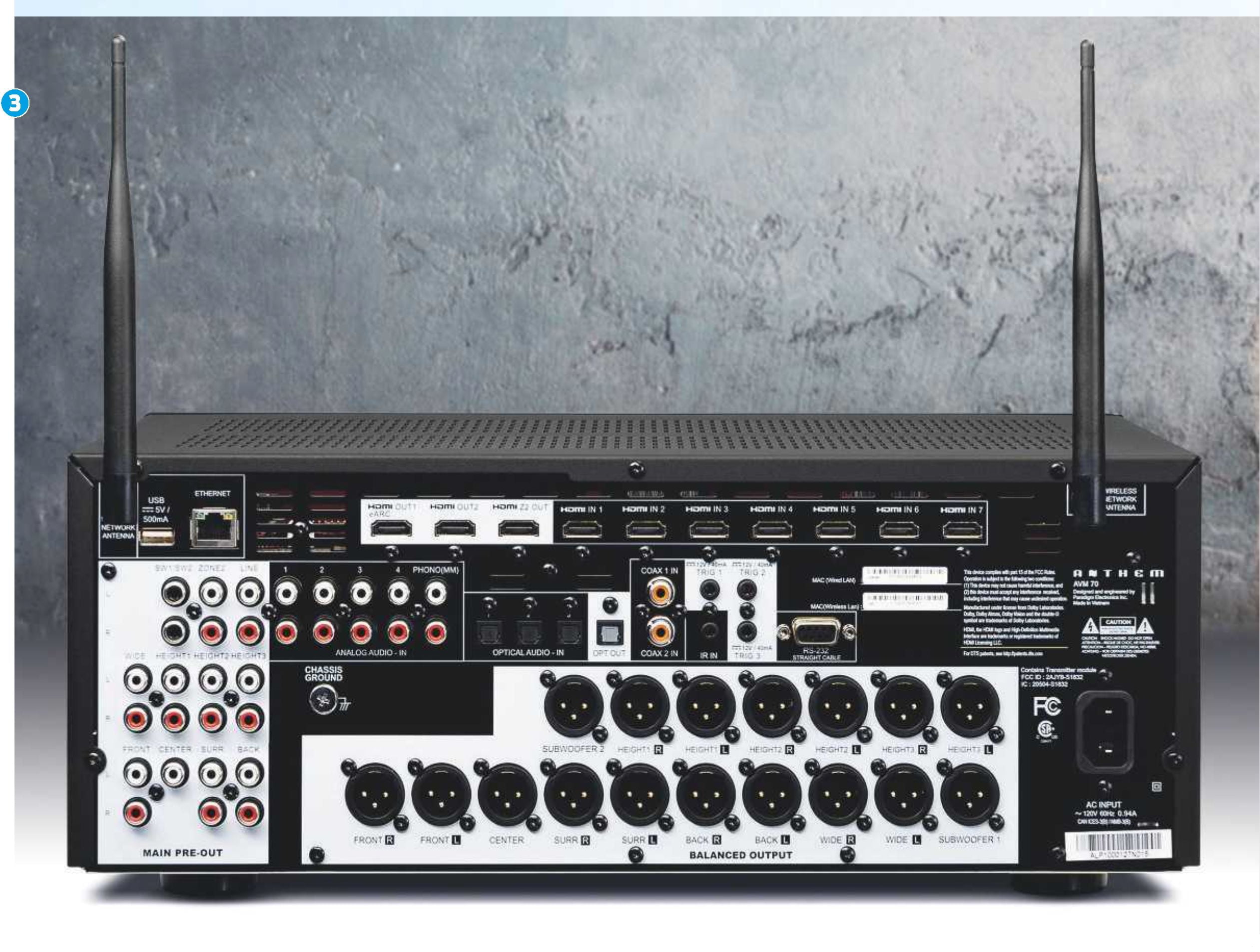 There are dual (and fairly large) antennas at the rear for Wi-Fi and Bluetooth, along with an Ethernet port if you prefer a wired connection. The AVM 70 supports Apple AirPlay 2 and Google Chromecast, with Anthem planning to add Spotify Connect and Roon soon.
A zapper with a useful backlight is supplied, but the processor doesn't currently work with Anthem's remote app, although it should do soon. For comprehensive control, an excellent web user interface provides access to all setup menus. It's sure to be a hit with custom installers, as will the compatibility with third-party control solutions Control4 and Crestron.
Thanks to this web user interface the AVM 70 is the proverbial slice of gateaux to set up, and all you really need to do is decide what kind of speaker layout works best for your room. When it comes to object-based audio, the more channels available, the more precise the placement of effects, but clearly not everyone can accommodate 15 speakers and a pair of subs.
'Anthem's ARC EQ delivers superior handling of low frequencies, and a tonal balance to the whole system'
You can run any configuration from two-channel and up, so you could start with a 5.1.2-channel setup, and then gradually add more speakers and amps as you expand to the full 9.2.6 layout. Whatever system you decide to go for, once you've wired up the speakers and connected your sources, it's time to fine-tune the performance.
Thanks to the inclusion of proprietary ARC Genesis room correction, this is also relatively easy. There's a calibrated mic (with a handy stand) included, ARC runs on Windows or Mac, and it's so intuitive that you don't need to be a dealer or have a degree in acoustics to use it.
All you need do is measure and input all the speaker distances before you start (you can do it afterwards if you forget), and then follow the instructions. The system takes a minimum of five measurements, creating an average in-room response for each speaker and subwoofer(s), before applying target curves to adjust these responses accordingly.
The idea is to correct peaks and dips in a speaker's frequency response from 15Hz to 20kHz, while preserving the beneficial acoustic attributes of the room. This is particularly important at the lower end, where your environment itself has greater impact. The AVM 70 allows for two subwoofers to be independently calibrated, resulting in balanced and dynamic bass delivery.
For the purposes of this review I tested the processor in a 9.2.6-channel configuration using M&K Sound speakers and subs, with a Storm Audio PA16 MK2 (see HCC #324) on amplifier duty.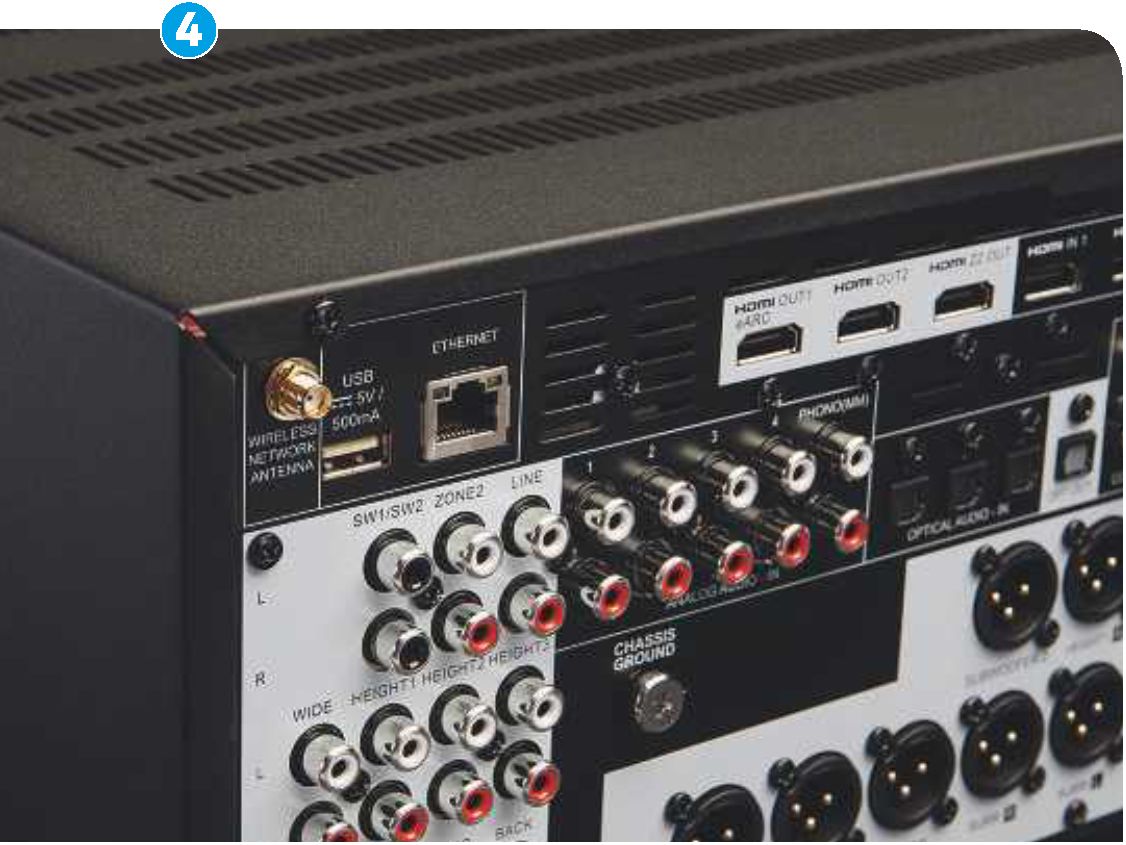 Pulling in the same direction
In this setup, the Anthem AVM 70 sounded, as hoped, utterly scintillating. It pulled all my speakers together, creating a performance of brilliant balance and fluidity.
The Blu-ray of Spectre has a 7.1 DTS-HD MA mix that's worthy of everyone's favourite super-spy, and the opening Day of the Dead sequence gives this processor a chance to strut its stuff with a non-immersive soundtrack. The sounds of the partying crowds fill the room, while the driving beat provided by a group of drummers is rendered tight and fast.
This single-take scene allows for some excellent placement of sound effects relative to the screen, with 007 making his way from the street, up to a hotel room and on to the roof. It sounds naturalistic yet totally controlled here. When a wayward shot then detonates a suitcase of explosives, the ensuing wave of low-frequency energy surges through the room, wonderfully visceral but precise .
This precision extends to the fight on a helicopter, where various effects whip around the soundfield. Switching Anthem's ARC system on and off here not only reveals its superior handling of the lower frequencies, but also the tonally balanced nature of the overall system. High frequencies are also perfectly rendered without edginess, as evidenced by Sam Smith's soaring falsetto during the theme song.
With something more demanding, in the shape of the fantastic Atmos soundtrack of Passengers (4K BD), the AVM 70 is even more of a knockout, showing an ability to handle both subtle audio cues and more obvious object-based effects.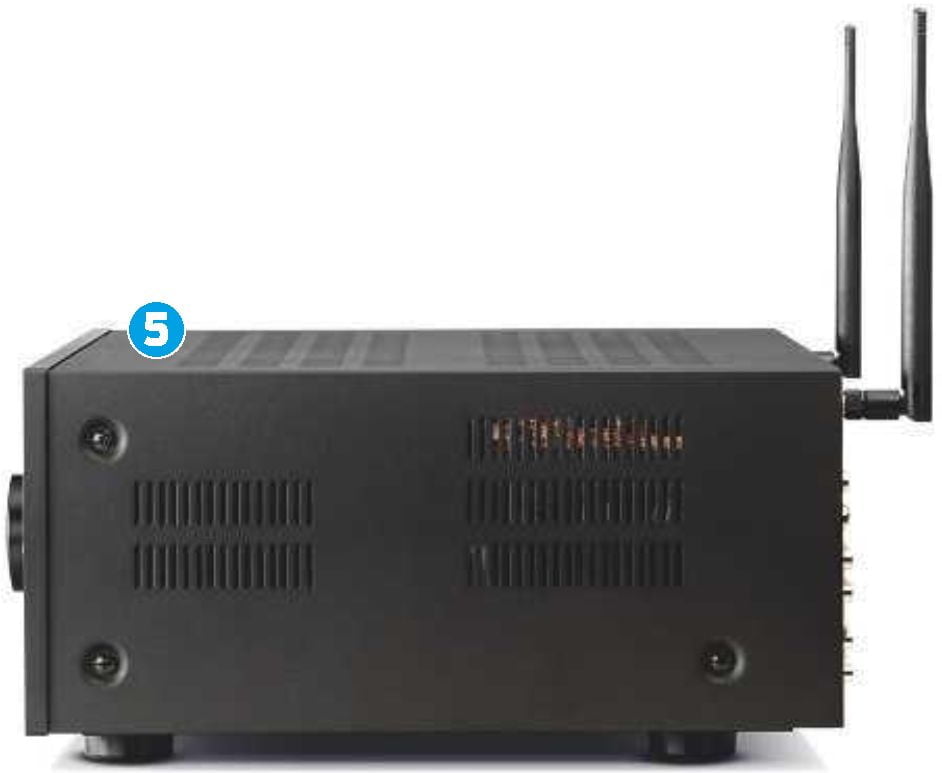 Since the film takes place entirely on a spaceship, the soundtrack has to create a sense of loneliness and claustrophobia through the use of spatial cues, including the overhead channels. This nuanced sonic environment is delineated with skill by the Anthem, while dialogue scenes are all about clarity and focus.
However it's not always subtle, and when Jennifer Lawrence is nearly killed after the ship's artificial gravity fails and she becomes trapped in a zero-g bubble of water, the sound sequence is breathtaking through the AVM 70 – all available channels envelop you in the suffocating fluid. A later scene where Chris Pratt is forced to venture outside the ship and vent plasma from a malfunctioning reactor comes with a side order of low-end rumble as the hot plasma blasts through.
Other discs show off this processor's talent for being both exhilarating and subtly engaging. The DTS:X track on the new 4K Blu-ray of The Thing finds Ennio Morricone's driving score delivered with an unnervingly precise beat, the cohesive nature of the overall soundstage helping build tension and fear, and the infamous defibrillator scene producing some fantastically squishy sound effects. Meanwhile, Jumanji: The Next Level (4K BD) serves up extended bass and frequent full use of the overhead channels for a blockbuster sonic experience.
At the cutting edge
Overall the AVM 70 is a triumphant upgrade from Anthem, combining cutting-edge room correction with precision processing and a solid feature list. Arguably best of all, it offers flexibility in terms of setup, allowing you to choose the speaker layout and amplification that best suits your needs, while offering the option to expand your system later. A few features have yet to be added, and if you want HDMI 2.1 you'll need to pay for a future upgrade, but otherwise this is one anthem we can all sing along to
Best buy
Anthem avm 70 Review
Anthem's 15.2-channel AV processor combines looks and features with an awesome, immersive soundstage. Thanks to ARC Genesis it also delivers sonic revelations.
Add your review
Best Anthem avm 70 prices ?
MORE DEALS

Specifications
| | |
| --- | --- |
| Product Name | Anthem AVM 70 Preamp 8K in Black, 11" | Nebraska Furniture Mart |
| Channels | 15.20 |
| Coaxial | 2 |
| Optical | 4 |
| Power | 60 W |
| Watts Per Channel | 60 W |
| Zones | 2 |
| Communications | Bluetooth Yes |
specifications
DOLBY ATMOS: Yes
DTS:X: Yes
IMAX ENHANCED: Yes
MULTICHANNEL INPUT: No
MULTICHANNEL PRE-OUT: Yes. 15.2-channel balanced XLR and unbalanced RCA
MULTIROOM: Yes. Zone 2
AV INPUTS: 5 x digital audio (3 x optical and 2 x coaxial); 5 x analogue stereo
HDMI: 7 x inputs and 3 x outputs
VIDEO UPSCALING: No
DIMENSIONS: 432(w) x 364(d) x 152(h)mm
WEIGHT: 10.1kg
FEATURES: Built-in Wi-Fi and Bluetooth; Chromecast and AirPlay 2; future Spotify Connect and Roon support; web-based user interface; ARC (Anthem Room Correction) Genesis; calibrated microphone and stand; IR input; 12V triggers; Ethernet; USB port (service only); RS232 serial connector; third party integration and IP control; Dolby Vision/HLG/HDR10 passthrough
TESTED WITH
PASSENGERS: This spaced-based drama sports gorgeous HDR10 visuals that make the most of some stunning production design and top-notch effects, not to mention stars Jennifer Lawrence and Chris Pratt. An inventive and immersive Dolby Atmos soundscape rounds off a reference-quality native 4K disc.