NAD's M28 seven-channel amp utilises Purifi's Eigentakt Class D wizardry to claim more power than the outgoing M27. Steve Withers reports. Read our NAD M28 Review.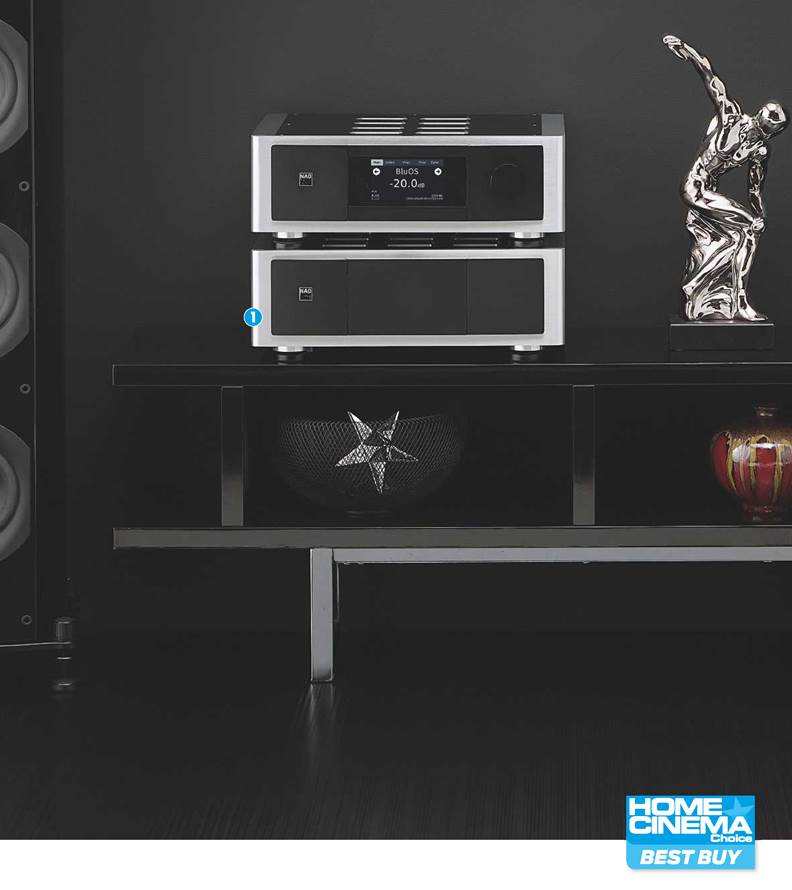 Audiophiles often turn their noses up at Class D amplification, feeling the nature of its 'on/off' approach loses the sonic fidelity delivered by linear Class A or Class A/B designs. Yet Class D has many benefits, not least of which is its remarkable efficiency, and NAD believes its latest implementation is the cream of the crop.
Details
Seven-channel Class D power amplifier
NAD's solitary multichannel amp
PEERS: Arcam PA720; Marantz MM8077; Emotiva XPA-7 Gen3
1. The M28 (bottom) is a new partner for NAD's M17 V2 processor
7Review earns Amazon affiliate commissions from qualifying purchases. You can support the site directly via Paypal donations ☕. Thank you!
2. The front-panel NAD logo lights up, but can be dimmed if desired
By licensing technology from Danish corp Purifi, a consortium of Class D gurus that includes Peter Lyngdorf, who not only owns Lyngdorf but previously owned NAD, the company claims to have cooked up an amp that offers the best of both worlds – one that combines the efficiency and power handling of Class D with the responsiveness and transparency of Class A/B.
This has long been NAD's ambition, of course. Its previous multichannel amplifier, the M27, was a Class D design using nCore modules from Dutch outfit Hypex.
In the new M28, Purifi's Eigentakt amplifier modules replace Hypex's nCore, and are joined by NAD's power supply and input stage architecture, plus its Hybrid Digital technology that means 'the M28 is impervious to the loudspeaker load it is presented with.'
As for Purifi's Eigentakt amplification, this, we're told, addresses 'previously unknown' issues relating to the amp's output filter, and boasts an almost 'analogue-like behaviour' in the unlikely event the amplifier is driven into clipping. NAD says a traditional Class D design can become unstable under such circumstances, but 'Eigentakt behaves more like Class A/B with benign clipping and an instant recovery.'
That's the spiel, here are the specs.
NAD claims an increase in power over the M27, which, at 7 x 180W, wasn't lacking in the grunt department anyway. The M28 is rated at 200W per channel into 8 ohms, and

340W into 4 ohms. This is NAD's 'Full Disclosure Power measurement', measured with all channels driven at full bandwidth and 0.003% THD. Stick to the less-demanding criteria of the US Federal Trade Commission, it says, and it rates at 240W per channel.
Rock-solid
The M28 looks identical to its predecessor, but that's not a bad thing because as power amplifiers go it's an absolutely gorgeous piece of industrial design. The chassis is constructed from solid metal, with an eye-catching brushed silver finish and large ventilation holes on the top (even Class D generates some heat).
The amp sits on four pointed feet, and NAD also includes magnetic shoes for those wishing to mount the M28 on top of something else without scratching it. Just as well, because the chances are you'll be using one or two M28s with NAD's M17 V2 Masters Series pre-amp/ processor, which can decode up to 11.1 channels of surround sound sonics.
The front is a masterclass in minimalist elegance with a simple black fascia. The only indicator is an illuminated NAD logo, which goes from white for normal operations to amber for standby, and red if there's a short circuit. It's not a button, though: the touch-sensitive on/off switch is actually at the top of the front panel. If I had one complaint it would be about this control, because it's >
slow to respond and you're never quite sure whether you've pressed it. However, since you'll be using the M28 with an AV processor the best approach is to connect via 12V trigger, then you don't have to worry about turning the amp on and off.
Connections are straightforward, with seven phono RCA inputs, and seven corresponding balanced XLR inputs. Flick a switch to select one connection or the other.
For each of the seven channels there's a pair of gold- plated binding posts that accept 4mm banana plugs and heavy-gauge speaker cable.
Easy listening
Connected to my reference Lyngdorf MP-60 using XLR cables, I ran a 7.2 system composed of M&K speakers/subs. It was quickly apparent NAD wasn't kidding about the available power, with this mighty amp driving the nominally 4 ohm M&Ks without seeming to break a sweat.
My new Blu-ray of Nick Mason's Saucerful of Secrets at The Roundhouse was first up. This disc boasts a sumptuous uncompressed 5.1 LPCM track, which the M28 brought to vivid life. I was immediately immersed in the crowd, and as the band broke into some late '60s Pink Floyd psychedelic classics, it felt as though they were playing right in front of me.
This amp is fast and transparent, which results in a surround sound performance that is breathtakingly life-like, It subtly brought out all the delicate detail in the whimsical keyboard playing on See Emily Play, and Mason's trademark percussive flourishes on Interstellar Overdrive. It also handled the more epic compositions, like Atom Heart Mother, with ease, creating an engulfing wall of sound at the front of the room. It has a precision that will put a smile on the face of even the most demanding audiophile.
Free Fire (Blu-ray) is essentially one long shoot-out in a warehouse, giving its 5.1 mix ample opportunity for some serious ballistic pyrotechnics. The sound designers don't muck about, with heavy-duty rifle fire that hits with a massive thump, and an echo that reverberates around the warehouse during the protracted fire fight. What the M28 demonstrated here is an ability to be both refined and dynamic in equal measure.
I put those qualities to the test with my trusty 4K disc of A Quiet Place, a film where dynamic range is the name of the game. The M28 delivered the various 'silent' sequences with nuance and a spine-tingling sense of realism, and then turned on a dime, instantly going seriously loud without missing a beat. During the scenes where the monsters attack, the sudden shift from near silence to terrifying roar was wonderfully visceral.
I was fascinated to discover just how much power this amp could generate with all seven channels being pushed hard, and for such a test nothing beats the race sequence in Ready Player One (4K Blu-ray). The NAD's ability to energise seven speakers simultaneously is quite remarkable, and despite the frenetic nature of the race, each channel is perfectly represented.
My usual amp is an Emotiva XPA-11, a more affordable model that's hardly short of power, but next to the M28 it starts to feel more like an asthmatic ant. No matter how complex the mix became, the NAD effortlessly filled the soundstage: whether that involved sending the Delorean zooming across the room, smashing a wrecking ball from left to right, or having King Kong burst up into frame, beating his chest. With great power comes …well, great fun.
Dynamic Class D
A sonic signature that's undeniably clean and transparent, a delivery that's precise and detailed, and a power plant that's incredibly responsive to the peaks and lulls of movie mixes. The M28's dynamic range is remarkable, and there's more juice here than you could possibly need. Buyer's won't be disappointed

VERDICT
Highly Recommended
NAD M28 Review
A staggeringly powerful and responsive amp that can effortlessly drive any load over all seven of its channels. High price, but high performance.
Add your review
Best NAD M28 prices ?
MORE DEALS

SPECIFICATIONS
POWER OUTPUT (CLAIMED): 7 x 200W (8 ohm, all channels driven) CONNECTIONS: 7 x phono inputs; 7 x balanced XLR inputs; 7 x speaker terminals; 12V input; 12V output DIMENSIONS: 435(w) x 380(d) x 156(h)mm WEIGHT: 21.2kg
FEATURES: Class D with Purifi Eigentakt amplifier technology; gold-plated binding posts that accept 4mm banana plugs/heavy-gauge speaker cables; touch sensitive on/off button; dimmable status LED
PARTNER WITH
NAD M17 V2: Reviewed in HCC #293, this second- gen iteration of NAD's multichannel processor replaced Audyssey EQ with Dirac Live, and intro'd HDMI 2.0/4K HDR passthrough. It sounds sublime.
3. The amp offers both balanced XLR and unbalanced RCA inputs