With its promise of 5.1.2 immersive audio, a tidy design and Google Assistant integration, LG's SN9YG looks tempting at. Read our LG SN9YG Review.
Mark Craven weighs it up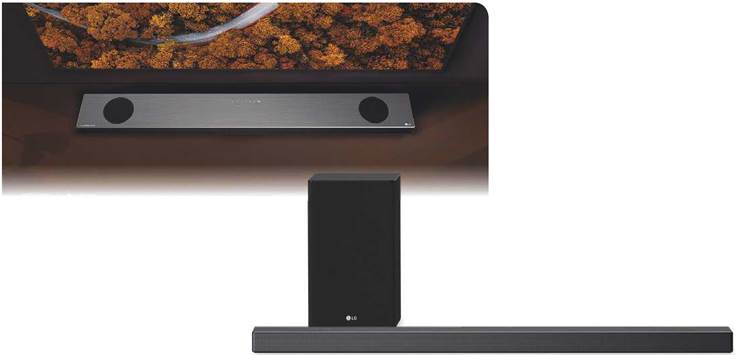 The 'bar features full-range upfiring drivers at each end
AS IT DOES with its extensive TV range, LG seems keen to offer something for everyone when it comes to soundbars. At the very top of the pile this year is the SN11RG, a 7.1.4-channel system with a price tag and a main enclosure too large for much AV furniture. About a tenth of the price, and considerably smaller, is its SN4 stereo 'bar/subwoofer combi. And somewhere between these two sits the SN9YG.
Selling for around £, and claiming a 5.1.2 Dolby Atmos/DTS:X sound experience plus plenty of smart tricks, this system will have plenty of potential buyers. It also has plenty of competition from models from Samsung, JBL, Sony and others.
You might look at the features shared between this and the SN11RG and think it's identical, just without the wireless rear speakers. But that's not the case. Such a soundbar would actually be the SN10YG, although for some reason that has not been brought to the UK market.
7Review earns Amazon affiliate commissions from qualifying purchases. You can support the site directly via Paypal donations ☕. Thank you!
See also TOP 10 Soundbars & Soundbases
The SN9YG is more accommodating, with its 1.2m-wide soundbar a fair match for 55in-65in TVs. Height is minimal too (just 5.7cm), making it likely to sit nicely in front of a flatscreen. Design and build quality impress, although understandably more time has been spent styling the brushed-metal 'bar than the black-cloth- wrapped subwoofer.
Connectivity is average, with one HDMI input and one HDMI eARC output (with Dolby Vision
av info
5.1.2-channel Dolby
Atmos soundbar
Towards the top end of LG's extensive SN soundbar series
JBL Bar 9.1; Samsung HW-Q800T
passthrough), optical digital audio input, and a USB port for music playback. There's no 3.5mm quick-fix audio in, nor Ethernet connection. Instead the 'bar relies on your Wi-Fi network to offer its onboard Google Assistant/Chromecast skills.
Day to day operation is through a compact remote control, but to adjust Dynamic Range control or run auto room calibration you'll need to download LG's app, this is a g reat monitor that you can attach to a gaming pc under 500.
A chip off the old block
Performance doesn't deviate far from the template of previous-gen LG soundbars. That's to say there's appreciable bass heft here, a dynamic feel to the way the 'bar delivers film soundmixes, and some rather clever DSP that means the various sound presets (including Movie, Music, Standard – tuned by UK marque Meridian Audio – and Bass Blast) all have a different sonic signature. Feed it a multichannel mix and its surround channel drivers make a fist of delivering a wide image. There's not much in the way of soundstage width and depth with two-channel replay, although getting the SN9YG to play stereo content natively is a chore, as its 5.1.2-channel upmixing is on by default with all presets – even 'Standard' – unless you decipher the button presses required to turn Surround mode off.
In comparison to the 7.1.4-channel SN11RG, this system's Dolby Atmos performance is front-biased; there's only so much it can achieve with those two upfiring drivers and lack of physical rears. In this regard it mirrors much of the Atmos soundbar competition, particularly at this price point.
With the Dolby Atmos track of The Fifth Element (4K Blu-ray) it offers an enjoyable, expanded performance, with verticality and a fluidity to effects pans, although it can at times lack cohesion and precision. Dialogue delivery is a strong suit, thanks to a dedicated centre channel with both midbass and high-frequency drivers.
There's lots of scope to customise performance, too. Bass, treble and subwoofer levels can all be massaged, as can the level of its height and surround channels (and rears if you splash more cash on the optional wireless speakers). Some housekeeping here can pay dividends, particularly regards making sure the woofer – which is more than capable of adding cinematic depth and scale – isn't unduly dominant.
Voiced to impress
Better at heavy-hitting bass and dynamic effects than tonal balance and nuanced imaging, the SN9YG is likely a crowd-pleaser, although not quite as plug-and-play as it may seem – there's work to be done next year streamlining ease-of-use regards the remote, app, and surround processing. A solid all-rounder, but not quite spectacular.
Verdict
LG SN9YG Review
Another energetic-sounding DSP-laden LG 'bar that makes movies big and dramatic. Operation could be slicker, though.
Add your review
Best LG SN9YG prices in the US ?
Best LG SN9YG prices ?
MORE DEALS

See also TOP 10 Soundbars & Soundbases
specifications
DRIVERS: 2 x 2.5in upfirers; 2 x surround race-track drivers; 3 x 0.75in tweeters + 3 x rack-track drivers (LCR) ONBOARD POWER (CLAIMED): 520W (total) CONNECTIONS: 1 x HDMI input; 1 x HDMI output (eARC); optical digital audio input; USB DOLBY ATMOS/ DTS:X: Yes/Yes SEPARATE SUB: Yes. 7in
REMOTE CONTROL: Yes DIMENSIONS (SOUNDBAR): 1,220(w) x 57(h) x 145(d)mm WEIGHT (SOUNDBAR): 6.33kg
FEATURES: Google Assistant; Chromecast; HDMI 2.1; Dolby Vision passthrough; AI Sound Pro; AI Room Calibration; Hi-Res Audio certified; Movie, Music, Bass Blast and Standard sound presets; Night Mode; Meridian Audio tuning