For its range-topping 2022 sound system, Samsung has adopted an 'evolution not revolution' approach. John Archer appreciates the new-found sense of refinement. Read our Samsung HW-Q990B Review.
THE FIRST THING to point out about Samsung's HW-Q990B soundbar is actually something it doesn't do, which is add any new sound channels. It sticks with the 11.1.4 configuration introduced by last year's Q950A, bringing to an end a proud Samsung tradition of steadily increasing channel counts in its sound systems.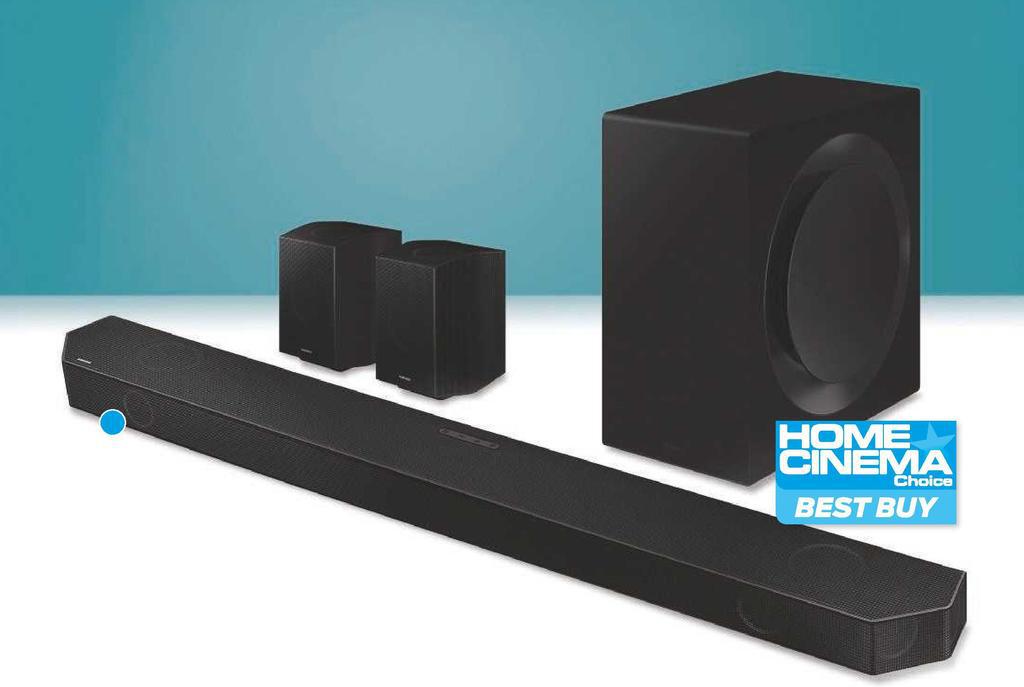 However, the number of channels the Q990B has stuck on is still a lot. In fact, no other soundbar system I can think of offers more. And the point of all these drivers is to get as much immersive power and surround sound joy from Dolby Atmos and DTS:X soundtracks as possible.
| | |
| --- | --- |
| PRODUCT | Premium 11.1.4-channel Dolby Atmos soundbar |
| POSITION | Samsung's flagship, replacing the Q950A |
| PEERS | LG S95QR; Devialet Dione; Sennheiser Ambeo |
| WEBSITE | www.samsung.com |
It comprises four components: the main soundbar to go under your TV, a portly wireless subwoofer, and two wireless rears. These latter enclosures each deliver three channels of sound – height, rear and rear-side. Back at the front of the room, Samsung's bar adds side and forward side channels to its LCR and Atmos arrays. Add in the subwoofer's 8in driver and that's how you get to the 11.1.4 channel count – without any being created 'virtually' by audio processing.
The rears revamp the design of those of the Q950A, including an angled top edge to improve directionality of their upfiring driver; an integrated pedestal stand said to better decouple them from whatever surface they're sat on; and a new metal grille-style finish to replace the rather dust-prone felt visage of its predecessor.
The Q990B subwoofer also has a new look, courtesy of an acoustic lens' standing about an inch proud of the side-facing bass driver.
The main soundbar bins the felt cover of last year in favour of a more industrial but no less attractive grilled finish. This enclosure is one of the larger ones you'll come across (it measures 1.23m wide), but should still fit under most largescreen TVs without butting into the picture. Just remember that you can't place it on a shelf inside any (massive) TV stand. Its top has to be open to the heavens.
7Review earns Amazon affiliate commissions from qualifying purchases. You can support the site directly via Paypal donations ☕. Thank you!
See also TOP 10 Soundbars & Soundbases
RECOMMENDED VIDEOS FOR YOU...
As well as its individual speaker design tweaks, the Q990B finally introduces an auto-calibration system to Samsung's soundbar range. Dubbed SpaceFit, this uses microphones built into the main soundbar to 'measure' your room characteristics and adjust the sound accordingly; it automatically re-runs itself every day. There's also a useful Auto EQ system that constantly monitors and optimises the subwoofer's bass contribution.
'Combine the Q990B's sonic improvements with its expansive soundfield and you have a genuine superstar'
Connections include a twin HDMI loopthrough, an optical audio input, eARC, Bluetooth and Wi-Fi content sharing, and even the ability to receive DD+ (compressed) Dolby Atmos mixes wirelessly from compatible Samsung TVs. Tracking which input you've selected – as well as volume levels and sound modes – is helped by an LED display on the front of the 'bar.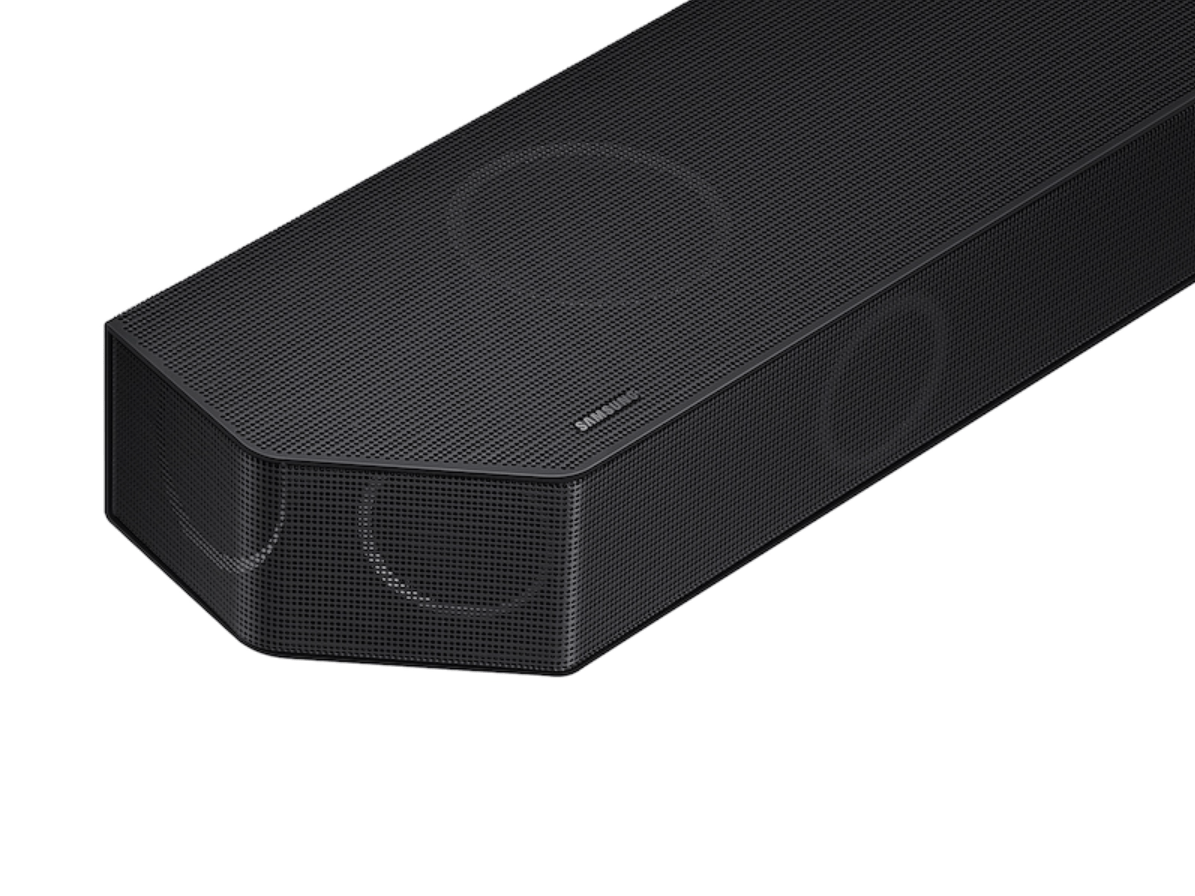 The HDMI stage supports HDR10, HLG, Dolby Vision and HDR10+, but there's no passthrough support for the 4K/120Hz and VRR gaming graphics output by the PS5, Xbox Series X and top-end PCs. Control is via Samsung's tidy remote handset, and the HW-Q990B is also compatible with Amazon Alexa voice control and can be driven from Samsung's Smart Things app.
Samsung's 2021 HW-Q950A delivered a barnstorming performance worthy of its price tag. The Q990B does the same, while outgunning its forebear in practically every way.
The impact of the revamped rears is there to hear, as they offer more clarity, more detail and more presence to 3D soundtracks, as well as holding up substantially better when driven to extremes by crazy audio moments. In the first showpiece race in Ready Player One (4K Blu-ray), there's a moment near the end where Wade grabs the hand of Art3mis and spins her around as her bike crashes towards King Kong. This could sound a bit stressed and harsh through the Q950A's rear channels. On this new model, such aggressive effects still sound natural and defined. Just very, very loud. Exactly as they should.
Overhead and height details, such as King Kong chasing the racers across skyscrapers during the Ready Player One sequence, also sound more convincing than they did on the Q950A, especially when it comes to effects that transition from front to back or back to front. The upfirers in the rears and main soundbar seem to 'meet up' better overhead; whether this is down to physical tuning of the driver arrays, or the impact of the calibration system, is hard to say.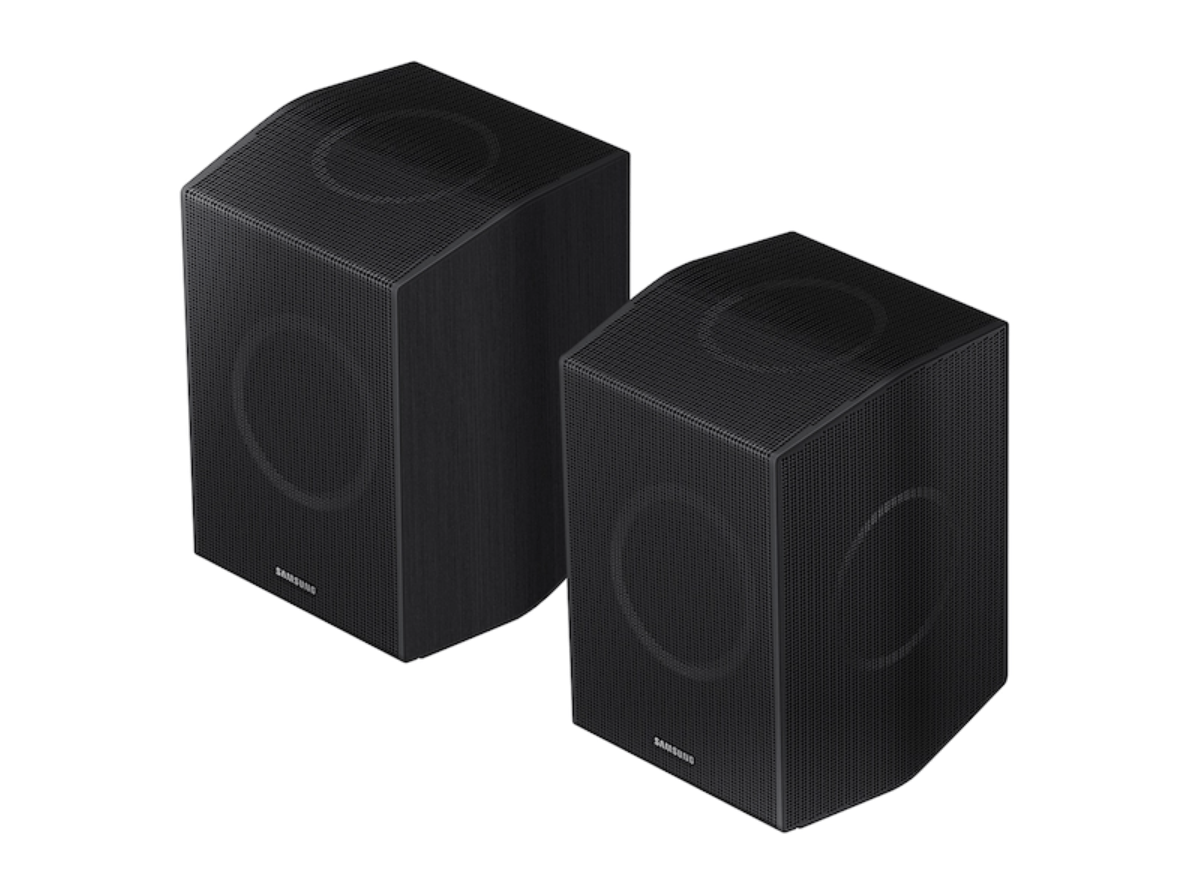 We're used to seeing an acoustics lens on a highfrequency driver to shape dispersion characteristics, so the addition of one to Samsung's subwoofer is something of a headscratcher. Regardless of the science at play, this bass bin is also a better performer than before, hitting slightly deeper bass extensions than the already rumble-friendly Q950A sub, and feeling more tight and nimble to boot.
As for the main 'bar, this adds a touch more refinement to the raw power and huge, room-filling projection that have been at the heart of Samsung's high-end soundbar systems for some time. I found there was less chance of dynamic effects sounding abrasive (though they still hit gleefully hard), and atmospheric moments such as Ready Player One's Overlook Hotel sequence reveal improved channel steering – especially for the front side channels.

Put these marked improvements together with the expansive soundfield on offer and the Q990B is a genuine superstar with movie soundmixes.
As for music, this premium package, like the Q950A before it, tends to sound too muscular, dense and bass heavy with straight stereo playback. However, a newly tweaked Adaptive Sound mode does a better job than previous iterations of remixing two-channel material to the soundbar's full speaker count.
This won't be an ideal solution for hi-fi purists, but 'regular' listeners will likely be pleasantly surprised by how clever the Adaptive Sound option is at redistributing and balancing elements from a basic stereo track. At times it can sound uncannily like an authentic Dolby Atmos mix.
The Q990B takes the already superior movie performance of its predecessor and makes it even better. Auto calibration is a welcome addition, the refreshed aesthetic is a success, and the feature list (including the clever Q Symphony mode which can add the speakers from a partnered Samsung TV to the audio party) is long. The price tag is high, but so is that of other soundbar systems that aim for this level of largescale immersion.
If the Q990B is the result of Samsung moving to a push for better channels rather than more channels, I'm very much here for it
Recommended
Samsung HW-Q990B Review
The Q990B carries on Samsung's tradition of powerful, detailed and immersive Atmos sonics, but adds sweeter highs and lusher lows. A fantastic soundbar system.
Add your review
Best Samsung HW-Q990B prices in the US ?

$

1,155.42
4 new from $1,155.42
in stock


$

1,199.00

$1,897.99
5 used from $799.99
5 new from $1,199.00
in stock


$

1,589.00
2 new from $1,589.00
in stock

Best Samsung HW-Q990B prices in the UK ?

£

160.00
1 new from £160.00
in stock

MORE DEALS

See also TOP 10 Soundbars & Soundbases
| | |
| --- | --- |
| DRIVE UNITS | 21 drivers including Atmos heights on main enclosure and rears |
| ONBOARD POWER (CLAIMED) | 656W total |
| CONNECTIONS | 2 xHDMI inputs; 1 xHDMI output with eARC; optical digital audio input |
| DOLBY ATMOS/DTS:X | Yes/Yes |
| SEPARATE SUB | Yes. 8in driver |
| REMOTE CONTROL | Yes |
| DIMENSIONS | 1,232(w) x 70(h) x 138(d)mm (soundbar); 220(w) x 413(h) x 410(d)mm (sub); 129.5(w) x 201(h) x 140.4(d)mm (rears) |
| WEIGHT | 7.7kg (soundbar); 11.7kg (sub); 3.4kg (rears) |
| FEATURES | Adaptive Sound Mode; wireless Dolby Atmos support and Q Symphony with compatible Samsung TVs; Dolby Vision/HDR10+ passthrough; SpaceFit Sound+; Bluetooth; Wi-Fi; Alexa built-in; Apple AirPlay 2; app control |
READY PLAYER ONE: Steven Spielberg takes Ernest Cline's 'unfilmable' cult novel and makes a superb film out of it. Okay, this Easter Egg-laden sci-fi mines the source material more for its spectacle than its philosophy, but the result looks and sounds so great on 4K disc that it'll leave your AV system begging for more.