Jamie Biesemans reckons this US-designed speaker system will find favour on this side of the Atlantic.
Polk might be battling for dominance with Klipsch in its US homeland, but elsewhere the brand is less well known. Its new Reserve loudspeaker series seeks to change that, with a decidedly more universal tuning, Atmos compatibility and driver tech borrowed from its high-end Legend line. So should British and European brands be worried?
Av info
Product
: Dolby Atmos floorstanding speaker system
Position
: Mid-range in the Polk stable, below the premium Legend line
Peers:
Monitor Audio Bronze
;
SVS Prime
The Reserve is probably the most ambitious lineup of loudspeakers Polk has ever launched. It comprises nine models and features some interesting twists on convention – effort has gone into designing three very different centre speakers, plus a nifty dual-role Atmos/height module. This range is meant to conquer the whole world after all, and that won't happen with a one-size-fits-all approach.
Sound United, the holding company behind Polk, is aiming for success in Europe and Asia – the kind of success enjoyed by its Denon and Marantz brands. That this hasn't happened in the recent past is because Polk products have tended to be tuned for American tastes in home theatre. Think big rooms filled with big bass.
First, therefore, came the 'European-tuned' Signature E models (HCC #303) adapted from their US counterparts. The Reserve loudspeakers are different, however, as they've been designed from the ground up to be more neutral. As one of the designers told me, when surveying tastes in sound tuning across the globe, Polk concluded that a more Euro-centric voicing appeals in every market.
The variety shown by the full nine-model lineup gives you a lot of flexibility. By mixing and matching Reserve models you should be able to build a surround setup suited for most rooms, small or large. The R350, for example, isn't only intended as a slender centre speaker. It's also an LCR with wall-mount possibilities – meaning you could install three of them around your screen.
The R300 and R400 are more traditional centre speakers, the former a smaller, sealed unit suited to modest rooms, the latter a bigger, rear-ported model that aims for a deeper frequency response, but requires positioning further from the wall.
There's three floorstanding models too, ranging from quite slim to massive. Only the larger R600 and R700 feature Polk's Power Port 2.0 technology, which is a down-firing bass reflex port with an internal tube to counteract cabinet and port resonances. When you're unpacking these speakers, you'll notice a hefty aluminium base which literally forms the foundation of the Power Port 2.0. The R500 floorstander and the R100 and R200 bookshelf cabinets make do with X-Port, a rear-firing design with a propeller-style cone mounted in the aperture.
7Review earns Amazon affiliate commissions from qualifying purchases. You can support the site directly via Paypal donations ☕. Thank you!
Should not buy anything from AudioAffair.
See also TOP 10 Subwoofers
The final Reserve speaker is the IMAX Enhanced (apparently) R900HT, a dedicated height channel speaker that can be used in Dolby mode or mounted high up on a wall. There's a switch at the back to adapt the crossover for each role. Compared to similar units, such as DALI's Alteco. it's quite large.
The Reserves are not the kind of speakers that try and entice you with a luxurious design or smart colourways. In fact, they're a bit anonymous, certainly from afar, but well-built. Probably the most striking feature is Polk's Pinnacle tweeter, which appears on all models. This has a slender pin sticking out about half an inch from the recessed tweeter surface, acting as a wave-guide. It looks a bit vulnerable, and beware your don't accidentally push it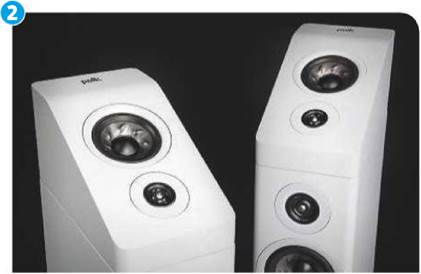 in if installing the R900HT on a wall, as the distance between the tip of the pinnacle and the grille is limited on this model.
Speaking of grilles, these are classy-looking fabric affairs. And you might want to leave them on, as the alternative is looking at the Reserve's Turbine cone woofers. These have been pilfered from the twice-as-expensive Legend range, and Polk undoubtedly has good reasons for adding shark fin-like protrusions to their grey metallic cones – they reduce breakup, for one – but they do look a bit odd.
Our Polk system featured two R600 floorstanders, two R100 bookshelves, and two R900HTs, which I used in upfiring Dolby mode. Polk also sent both the R350 and R400 centre options, which meant I had to EQ the system twice on my Denon AVR-X6300H, but it allowed me to compare two very different designs. There's no Reserve sub, so I used my own.
It's immediately noticeable that the Reserves have been designed with home cinema use in mind, as tonally the models match up very well. Even with floorstanders fore and bookshelves aft, the soundfield felt cohesive.
The flattish audio production of many Marvel movies comes in for criticism, but the Atmos mix of Captain Marvel (4K Blu-ray) is peppered with scenes packing plenty of dynamic sound effects. The Reserves handle it well, delivering crunchy impacts during Nick Fury's attempt to apprehend Vers on the streets of L.A. And while I complained earlier about the size of the R900HT, this Atmos module delivered a convincing height channel performance at various points during the action.
L/C/R integration was very good with the R400, letting me to enjoy the verbal sparring between Samuel L. Jackson and Brie Larson. Rewatching some scenes with the R350 in place, the difference in terms of tonality is limited, but the slender centre speaker does subvert frontstage balance. On the upside, I was able to position the R350 under my display, but it's better used with the L/R loudspeakers positioned far apart – the centre field dispersion is just too broad.
A particular highlight of the Reserve series is its combination of well-controlled but impressively weighty bass with a fairly balanced presentation, quite unlike older Polks, such as the budget T-line, which were LF-heavy. Obviously, whatever subwoofer you add will have a huge impact on the bass performance of the system as a whole, but considered on their own these are highly effective. They're also didn't seem particularly difficult to drive.
The speakers' refined – or should that be reserved? – character comes into its own when binge-watching Apple TV+'s For all Mankind. This tale of the space race as it wasn't is dialogue-heavy, interspersed with period hits and tension-building music that the R600s deliver very capably. Even though they're relatively slim, these floorstanders are well suited to playing two-channel music full-range, so supporting even demanding soundtracks is easy. And when NASA actually gets round to launching a rocket, it's a blast.
The even-handed, controlled presentation is great for music in Dolby Atmos too. John Williams in Vienna (BD) features some of the composer's best-known works, played by the Vienna Philharmoniker with Williams conducting. Devil's Dance, from The Witches from Eastwick, is a frantic orchestral composition that the Reserves portray with rich tonality. Some extra treble sparkle would have highlighted Anne-Sophie Mutter's violin playing a bit more, but this array opts for a balanced portrayal which in the long run is more true to life and easier on the ear.
This system's performance is therefore not what some will expect from Polk, as in place of a big, bold sound you get control and refinement. This gives it all-round appeal, and it brings its musicality to movie soundmixes while the Atmos modules add immersion. Definitely worthy of an audition, even without a Reserve sub to complete the lineup
www.polkaudio.com
Recommended
POLK RESERVE 5.0.2 Review
This Atmos package offers a controlled bass performance and an engaging, non-exhausting sound that's suited to discerning surround and music listening alike.
Add your review
Best POLK RESERVE 5.0.2 prices in the US ?
Best POLK RESERVE 5.0.2 prices ?
MORE DEALS

See also TOP 10 Subwoofers
Reserve R600
DRIVE UNITS: 1 x 1in Pinnacle ring radiator tweeter; 2 x 6.5in Turbine cone woofers
ENCLOSURE: Down-ported bass reflex FREQUENCY RESPONSE (CLAIMED): 43Hz-38kHz (-3dB) SENSITIVITY (CLAIMED): 87.5dB POWER HANDLING (CLAIMED): 200W
DIMENSIONS (INCL. FEET): 281(w) x 1.064(h) x 382(d)mm WEIGHT: 21.5kg
Reserve R100
DRIVE UNITS: 1 x 1in Pinnacle ring radiator tweeter; 1 x 5.25in Turbine cone woofer ENCLOSURE: Rear-ported bass reflex FREQUENCY RESPONSE (CLAIMED): 58Hz-39kHz (-3dB) SENSITIVITY (CLAIMED): 86dB POWER HANDLING (CLAIMED): 150W DIMENSIONS: 166(w) x 324(h) x 260(d)mm WEIGHT: 5.5kg
Reserve R350
DRIVE UNITS: 1 x 1in Pinnacle ring radiator tweeter; 4 x 4in Turbine cone woofers
ENCLOSURE: Sealed FREQUENCY RESPONSE (CLAIMED): 75Hz-35kHz (-3dB)
SENSITIVITY (CLAIMED): 87dB POWER HANDLING (CLAIMED): 200W DIMENSIONS: 762(w) x 141(h) x 187.5(d)mm WEIGHT: 9kg
Reserve R400
DRIVE UNITS: 1 x 1in Pinnacle ring radiator tweeter; 2 x 6.5in Turbine cone woofers
ENCLOSURE: Rear-ported bass reflex FREQUENCY RESPONSE (CLAIMED): 48Hz-39kHz (-3dB) SENSITIVITY (CLAIMED): 89dB POWER HANDLING (CLAIMED): 200W
DIMENSIONS: 615(w) x 196(h) x 350(d)mm WEIGHT: 14.9kg
Reserve RHT900
DRIVE UNITS: 1 x 0.75in Pinnacle ring radiator tweeter; 1 x 4in Turbine cone woofer
ENCLOSURE: Sealed Dolby Atmos module FREQUENCY RESPONSE (CLAIMED): 70Hz-32kHz (-3dB) SENSITIVITY (CLAIMED): 85.5dB POWER HANDLING (CLAIMED): 100W DIMENSIONS: 166(w) x 159(h) x 320(d)mm WEIGHT: 3kg

FOR ALL MANKIND: Part of the first wave of original series launched on Apple TV+. this alternate history sci-fi drama streams in 4K Dolby Vision with Dolby Atmos audio – AV quality to match its handsome production design. Season Two arrived earlier this year. and a third has already been commissioned.