Five years after Monitor Audio's Bronze 5G, it's all change again. David Vivian gets to listen in to a new, bigger Bronze. Read our Monitor Audio Bronze 500 review.
Lightning in a bottle. How do you trap it and, perhaps more importantly, how do you keep it bottled up? Monitor Audio's popular Bronze speaker range, 21 years old and now in its sixth generation, makes for a particularly good case study.
No matter how much speaker designers may enjoy indulging their higher-end fantasies with the budgetary ties loosened off, getting stuff right on the ground floor is the most valuable thing they will ever do for their paymasters. Affordable is often mistaken as a euphemism for cheap, but in reality it's the place where the bond between brand and customer is either made or broken and cheap is most definitely not the impression that needs to linger. You can draw a parallel with a restaurant's house wine. It may be the least costly thing on the wine list, but woe betide the establishment that supplies cheap plonk if it thinks return custom might be the way forward.
details
PRODUCT Monitor Audio Bronze 500
ORIGIN UK/China
TYPE 2.5-way floorstanding loudspeaker
WEIGHT 18kg
DIMENSIONS (WxHxD) 231 x 951 x 325mm
FEATURES
•    1x 25mm C-CAM dome tweeter
•    2x 205mm C-CAM mid/bass driver
•    Quoted sensitivity: 90dB/1W/1m (8ohm)
DISTRIBUTOR Monitor Audio Ltd.
TELEPHONE 01268 740580
WEBSITE monitoraudio.co.uk
Monitor Audio has understood this from the beginning of the Bronze series' run back in late 1999 and the formula it used then has served it well to this day. It breaks down to four basic rules. First, make an inexpensive speaker that, in build and finish, looks and feels better than a rival's pricier offering. Second, use a simpler version of the advanced driver tech trickled from upstream models – in this case, Silver and Gold. Third, make sure that it flatters inexpensive partnering kit but won't embarrass itself as the quality of the user's system grows around it. And fourth, voice it for wide consumer appeal (two-channel and home cinema) and not just tweaky audiophiles' pet obsessions.
It's an approach that has given Monitor Audio plenty of plaudits, awards and customers over the years. And, with it, the worry that accompanies each successive generational evolution. Lightning leakage. Welcome to Bronze 6G and the lineup's floostanding flagship.
After a hiatus of five years, this is the most radical refresh in MA's Bronze age with sizes, prices and model-count all heading North.
Perhaps surprisingly there is no direct replacement for the previous generation's most lauded model, the Bronze 2 standmount (HFC 411).
7Review earns Amazon affiliate commissions from qualifying purchases. You can support the site directly via Paypal donations ☕. Thank you!
See also TOP 10 Subwoofers
Instead, it's bracketed by the smaller Bronze 50 and larger Bronze 100. The first of the lineup's two floorstanders is the Bronze 200,
Bass is on the agenda and it's entirely in proportion to the huge soundstage
joined by the only slightly taller but notably wider Bronze 500 you see here. Beyond this, the home cinema wing presents a centre, sub and FX rear channel speakers to support debuting Dolby Atmos toppers.
Both the 200 and 500 are 2.5-way designs. The 200 weighs 12.8kg and measures 166 x 886 x 265mm. It teams a 25mm C-CAM gold dome tweeter with a brace of 140mm C-CAM mid/bass drivers to achieve a claimed frequency range of 45Hz to 25kHz (-6dB). The 500's squatter proportions are largely down to the extra girth of its 205mm main drivers. Thanks to that extra driver real estate, it reaches down to a claimed 25Hz with a sensitivity rating of 90dB as opposed to the 200's 88dB. The 25mm C-CAM gold dome tweeter is shared between the two models.
The tweeter's so-called Uniform Dispersion Waveguide is essentially the same as that of the Silver series from the range above and acts like a sophisticated phase plug to better control off-axis dispersion from the slightly recessed dome. It also fine tunes time alignment with the large main drivers and slightly lowers the frequency point it hands over to them.
Monitor Audio claims great things for the acoustic transparency of its magnetically attached grilles, but if you really want to see what the Bronze 500 is all about best leave them off to reveal the smooth and shiny twin 205mm bass/mid drivers that dominate the look of the front baffle.
In a market where 135mm and 165 mm main drivers are the norm, they make quite a statement and reaffirm Monitor Audio's confidence in its long-running C-CAM composite cone build, further enhanced for new Bronze with improved cone geometry and Damped Concentric Mode (DCM) technology, an FEA optimised architecture of the cone and surround said to further improve linearity and combat breakup modes.
Bronze 6G has a starker cleaner look than its predecessors and, dare I say it, a marginally less luxurious finish, even though the choice now extends to a trendy Urban Grey alongside the more usual White and Walnut. But the notably solid build is much the same as before, the Bronze 500's 21/15mm MDF enclosure employing strategic bracing reinforcement to limit vibration, additional rigidity coming from the company's now familiar bolt-through construction where the main drivers are anchored by large bolts that connect to the rear baffle.
Insight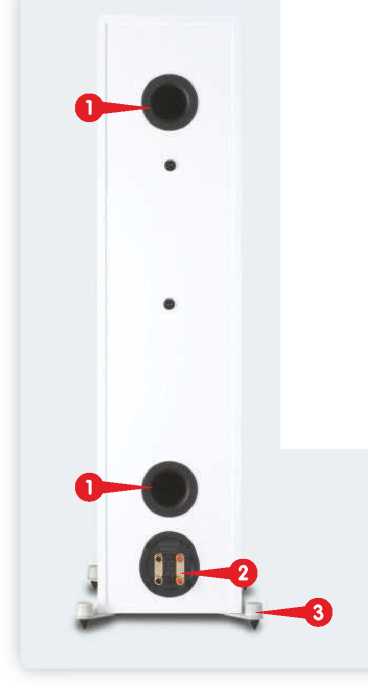 1) Hive II rear bass reflex ports
2) Gold-plated bi-wireable binding posts
3) Steel outrigger feel
This has the added benefit of decoupling them from the front baffle. As before, the enclosures use bass reflex loading with two rear-firing ports.
Raising the chunky enclosures from the floor and making them wobble-proof are well-engineered, bolt-on steel outrigger feet supplied with spikes to pierce thick carpets and rubber bobbles for hard floors. A classy touch is the gold-plated bi-wire terminals, while silver-plated oxygen-free copper internal cabling is used throughout.
Sound quality
Monitor Audio is a speaker maker with one of the more recognisable house sounds and, as I hinted at earlier, while possessing many sterling audiophile qualities, it's a style of presentation that makes no apologies for playing to the crowd. So it is here. Those big main drivers aren't just there for show.
Bass is on the agenda and plenty of it, but there's nothing gratuitous or overblown about its delivery as it seems entirely in proportion to the huge soundstage the Bronze 500 is capable of generating and, in character; demonstrates surprising drive, pitch precision and speed.
Placed no further than a metre from the rear and side walls in my larger listening room and toed-in a tad, its ability to fill the space with music big-boy style requiring only a modest tweak of volume from a Cambridge CXA61 integrated amp (HFC 459) is very impressive. That 90dB claimed sensitivity seems no exaggeration. When parties with loud music are permitted again, the Bronze 500 and Deep Purple will be ready and willing.
But more than that, there's a crispness and airy clarity to its performance that's rare among its price peers, especially in the context of the speaker's easy-breathing largesse, which makes for a distinctive and enjoyable mix of attributes. As has been a feature of previous Bronze models, detail retrieval is strong but so well integrated into the larger musical picture that it never lapses into dry analysis.
Top-to-bottom balance is very well realised, too. The presence region isn't pushed for effect and, as a result, vocals don't tend to have that in-your-lap projection you get with some speakers. Take Mavis Staples' singing All In It Together – a powerful and passionate set of pipes if ever there was. The performance sounds startlingly bold, immediate and raw, but without being gratingly aggressive or edgy. Better still, Core Shift from Yello's album Point probably shows the Bronze 500 at its big-hearted best, the speaker seeming to draw effortless horsepower from somewhere, spraying stereo effects across the room with gusto and launching dynamic swings that feel almost dangerous. Huge fun.
Conclusion
Safe to say the new Bronze 500 is no shrinking violet. Nor is it the sort of floorstander that you can tuck away discreetly in a corner and forget it's there. Both visually and sonically, it's a speaker that will make its presence felt. The bottom line is good news on both counts. The biggest Bronze is a smart box that sounds very good indeed
OUR VERDICT
Recommended
Monitor Audio Bronze 500 review
If you're after a big sound with bags of detail and insight, look no further
PROS
Effortless clarity, dynamics and bass; smart design
Add your review
|
Read reviews and comments
Best Monitor Audio Bronze 500 prices in the US ?

$

1,239.00
1 new from $1,239.00
in stock


$

1,239.00
1 new from $1,239.00
in stock


$

1,239.98

$1,650.00
2 new from $1,239.00
in stock

Best Monitor Audio Bronze 500 prices in the UK ?

£

1,199.00
5 new from £1,199.00
in stock


£

1,200.00
7 new from £1,199.00
in stock

See also TOP 10 Subwoofers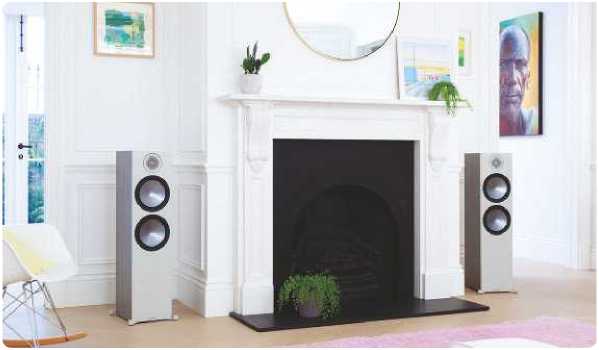 As I found out in the Group Test in HFC 447, the to floorstander market is hotly contested and even the exceptionally talented DALI Oberon 5 only just managed to edge Q Acoustics' sector benchmark 3050i and Mission's refined and subtle QX-3. While not quite as ebullient and instantly engaging as the DALI or as room-filling as the larger Bronze, Wharfedale's talented Diamond 11.3 (HFC 449) shares many of the Mission's distinctly up-market sonic qualities and basic even-handedness in a smaller package.