The mid-priced high-quality speaker market is a busy one, yet Q Acoustics has conquered it in a relatively short time. The 3050i shows why, its fine performance winning a Sound+Image Award. Read our Q ACOUSTICS 3050i Review.

In an old land like the United Kingdom, full of famous, longstanding loudspeaker brands, you'd think that it'd be hard for a newcomer to find any space. But Q Acoustics managed it, starting up only a decade and a half ago, and since receiving accolade upon accolade, as well as widespread consumer acceptance. It has carefully targeted the mid-priced, high quality segment (it was filling a perceived vacuum left by Mission loudspeakers when it first emerged), and has delivered both high-quality stereo speakers and complete sets of models able to be used in home cinema configurations. Here we have the 'i' upgrading of the 3000 series, its second-from-the- top range. This Q Acoustics 3050i is the largest speaker from that series, its only floorstander.
EQUIPMENT
So, yes, these are stereo floorstanding speakers priced at just under $ for the pair. That makes them quite affordable, yet they exude a sense of quality just from their styling. They stand just over a metre tall. The enclosures have curved edges where the sides meet the top and bottom panels. The wrap finish is available in white, black, grey or English Walnut (see overleaf) and our review speakers used the last of these, a superior wrap seeming indistinguishable from a real-wood veneer. It also fully covered the front baffle behind the small magnetically-secured grilles. Should you wish to use them with the grilles removed, you'll see the drivers are fitted with stylish metal rings. It's a high quality look.
The formal dimensions (see the specs box) read chunkier than the speakers actually are. They are indeed 310mm deep, but the quoted 310mm width includes the metal stabilising bar that bolts onto the bottom rear of the speakers. Its purpose is, of course, to give the speakers a wider footprint so that they are less likely to be accidentally overturned. The enclosures themselves measure only 200mm wide. At the rear is a large, smoothly finished bass reflex port.
The cabinets use Helmholtz Pressure Equalizer technology to reduce pressure within the cabinet, and thereby reduce cabinet resonances. Further helping there is the company's P2P bracing, designed to increase the stiffness of the cabinets.
Inside each enclosure is a pair of 165mm bass/ midrange drivers, with a 22mm tweeter between them. The centre of the tweeter is 795mm from the floor, so pretty much right for a couch-seated listener. With speaker drivers arrayed like this, it's important for the listener to be on the same horizontal plane as the tweeter. Significant divergences from that can lead to some frequency response combing around the crossover point.
7Review earns Amazon affiliate commissions from qualifying purchases. You can support the site directly via Paypal donations ☕. Thank you!
See also TOP 10 Subwoofers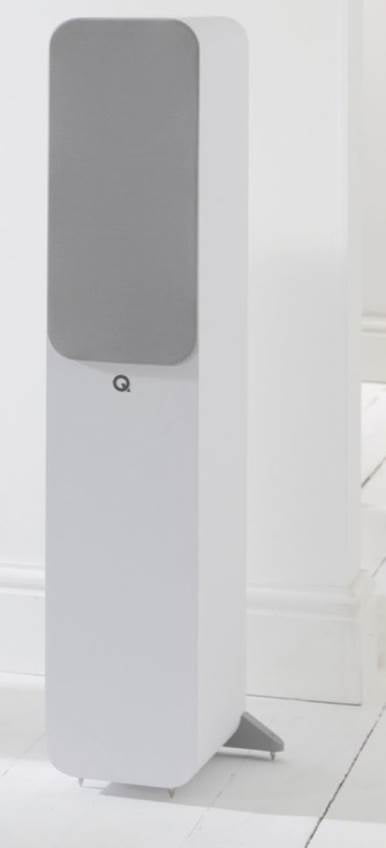 " these loudspeakers didn't mind style or genre. The Q Acoustics 3050i loudspeakers provide remarkable performance at a remarkable price.
There's one pair of connection terminals for each speaker, so neither bi-wiring nor bi-amping is available (of which some are skeptical anyway). These terminals are partially inset into the cabinets. If you use spade terminals they'll be poking out by perhaps 8mm. That allows very- close-to-wall placement if you wish. To that end, each pair comes with a pair of foam bungs to fill the bass reflex port, turning them into something like acoustic suspension speakers. That reduces the output levels around the 44Hz bottom-end, while extending the depth of reach of the bass a little. We used them in our standard free-breathing position, most of a metre out from the rear wall. Bung-free of course.
In addition to those metal stabiliser bars, they come with spikes and also spike caps for use on hard floors that you don't want damaged.
Still on the terminals, they also work with bare wires and banana plugs. The holes for banana plugs also reach a little into the cabinet, so even they stick out less than the usual amount. Finally, the nuts on the terminals have a larger diameter than usual. That makes them easier to tighten.
Q Acoustics rates the frequency response of these speakers at 44Hz to 30,000Hz in a 9dB band and their sensitivity at 91dB for 2.83 volts input at one metre. It says they're suitable for use with home theatre receivers rated at between 50 and 165 watts per channel, which is at least 95% of all home theatre receivers. With a 6-ohm nominal impedance (albeit a 4-ohm minimum) they should again work with just about all home theatre receivers and hi-fi amplifiers.
PERFORMANCE
You can buy these speakers are part of a home theatre pack with a specialised centre-channel and subwoofer. However we're just looking at them in a stereo music context. Be assured, though, that loudspeakers that do well in that context also do well in home theatre.
We used them with a fine home theatre receiver from Denon rather than an audiophile amplifier. That is the appropriate context.
But we didn't calibrate them or EQ them, listening to them in their native state, with the 'Direct' mode engaged on the Denon receiver to make sure there was no sound processing.
We started with Nick Cave's heart-rending album 'Skeleton Tree' on vinyl. The detail and tone of these speakers delivered a close intimacy of the kind demanded by this music. On tracks like Magneto the deep pulsating drone was full, and complete. There's a roundness on vinyl (no doubt due to its defects) not apparent in the digital versions, and this came through wonderfully well with these loudspeakers.
Again, the fat synth bass of (then) Walter Carlos' rendition of Sheep May Safely Graze on 'Switched-On Bach II' was equally delivered in full, grounding the music and giving it a weight that the Moog may not have otherwise deserved. (Did you know there was a Switched-On Bach II? One of this writer's guilty pleasures includes good synth covers of classical works. That includes Ray Manzarek's Carmina Burana, but doesn't include anything much by Tomita.)
Then we went digital, starting with a DSD128 recording of 3 and 1 – Take 2 from Kent Poon's Audiophile Jazz Prologue IV. At about this point we started wondering why one would spend more than $ on a pair of stereo speakers. The immediacy of this performance was such as though it had been piped directly from studio into the listening space. The saxophone in particular was a tangible presence between the speakers. The loosely tensioned skins of some of the drums had a first-class roundness, while the snares rang out with precision and zero dynamic compression. The double bass was delivered with a fine coherence to all its constituent harmonics, melding seamlessly into a powerful fundamental.
We decided to stick with DSD for the moment, so switched folders on the NAS to Michael Jackson's 'Thriller' (this one in regular DSD64). We chose Billie Jean and started it playing, forgetting that the Kent Poon recording is at a rather low modulation. 'Thriller' isn't. We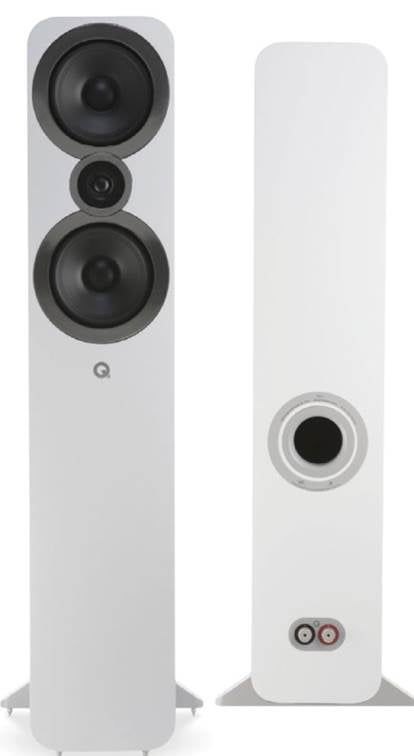 jumped with the opening crash of percussion, and rushed to reduce the volume. Then had second thoughts. Although easily ten decibels higher than our usual listening volume, it was clean and controlled. We pulled out a digital SPL meter and set it to the C-weighted scale (which is the closest it has to zero weighting). The sound was peaking at just about 100 decibels at our listening position some 2.7 metres from the speakers.
The thing is, the speakers remained balanced. Some speakers respond to Michael Jackson with a degree of sibilance, even at normal listening levels. These kept him in place, while presenting the rhythm section at a compelling level, full and still controlled.
After turning down the volume for a while to allow the ears to recalibrate, we moved over to some solo piano in regular CD-quality FLAC format. It was Tzimon Barto playing Liszt's Hungarian Rhapsody #2. We've long been of two minds about this recording. The playing is utterly thrilling, but the recording is a touch too bright on an already bright piano. Again, these speakers tamed that top-end just a little. It was still clear that this was a bright piano, but by eschewing a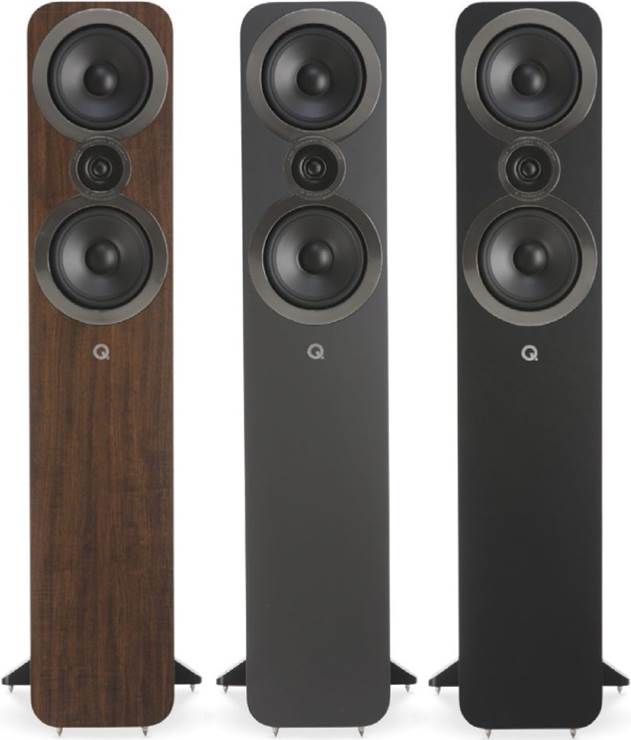 flashy top-end, the Q Acoustics speakers provided it as it was, not to excess. Barto's busy left hand was given the prominence it deserved, without the fundamental frequencies being overwhelmed by their upper harmonics. Meanwhile, the accelerat­ing sections on the right-hand end of the keyboard were beautifully sweet, rather than forced.
Going from the sublime to the differently sublime, we put on Rage Against the Machine's self-titled album. How would these speakers, so comfortable with gloriously recorded jazz and solo piano fireworks, do with high powered rap metal?
Very well, it turns out. Want some speakers to produce music suitable for head-banging activities? The Q Acoustics 3050i speakers will do very nicely. It was only with this that we finally started to plumb their limits a little. With Bombtrack peaking at close to 105dB (C-weighted) the middle section started to become just a little confused in the low and mid treble. But that was only in the more complex sections of sustained loudness. The next track — Killing in the Name — is more up and down dynamically, each pulse surrounded by an instant of relative (relative, mind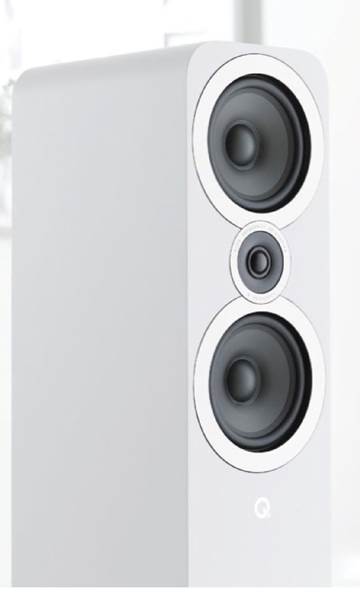 you, not absolute) quietness. No confusion there, so that those brief instants allowed recovery.
The driving rhythm was dominating, leaving us unable to turn down the volume, while hoping that the neighbours would hold off calling for noise police for a few more minutes. Their language isn't the nicest.
CONCLUSION
We could go on, but these loudspeakers didn't mind style or genre. The Q Acoustics 3050i loudspeakers provide remarkable performance at a remarkable price.
Q Acoustics 3050i
• Brilliant value for money
• Very strong sound performance
• Flexible installation
• Nothing
Drivers: 1 x 22mm aluminium-dome tweeter; 2 x 165mm bass/midrange
Frequency response: 44 to 30,000Hz -3dB
Crossover frequency: 2500Hz
Impedance: 6 ohms
Sensitivity: 91dB (2.83V/1m)
Power: 50-165 watts (recommended input)
Cabinet: Bass reflex, rear port
Dimensions (hwd): 1020 x 310 x 310mm
Weight (each): 17.8kg
Contact: Indi Imports
Telephone: 03 9416 7037
Web: www.indimports.com
Best Q ACOUSTICS 3050i prices in the US ?

$

2,165.00
1 new from $2,165.00
out of stock

Best Q ACOUSTICS 3050i prices in the UK ?

£

469.00
6 new from £469.00
in stock


£

469.00

£489.00
6 new from £469.00
in stock

MORE DEALS

See also TOP 10 Subwoofers