Prime number
Cliff Joseph listens in as SVS unveils its first wireless streaming, Play- Fi system
Ohio-based SVS is best known for its subwoofers, however the company also makes full-range stereo speakers, and recently entered the increasingly competitive market for wireless and multi-room options with its Prime Wireless Speaker System.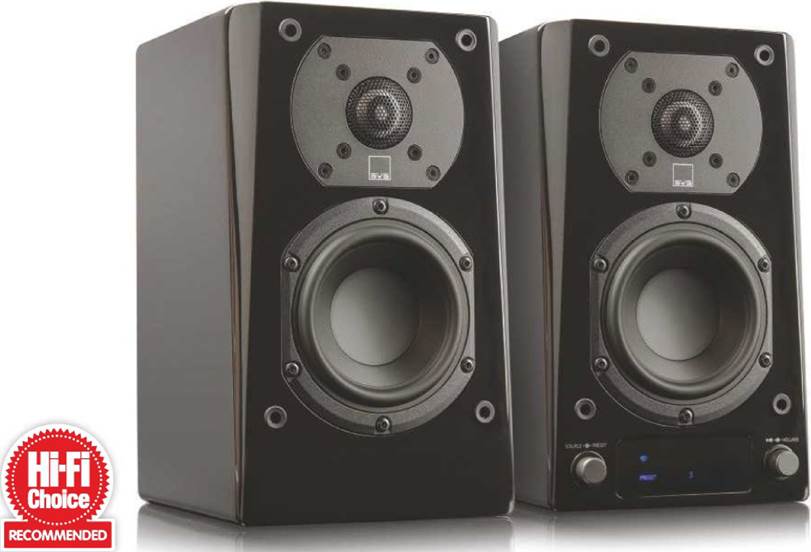 Available with either a gloss black or white finish, the Prime Wireless looks fairly conventional at first glance, with a resolutely rectangular design adorned only by the small control panel on the right-hand active speaker. This also houses the power supply and amplifiers for its passive partner, making it slightly deeper.
Each speaker houses two drivers – a 25mm aluminium tweeter and 114mm polypropylene mid/bass – while the active cabinet boasts four Class D amps claiming a total of 200W output. The frequency response is quoted at 52Hz-25kHz and there's a port around the back to enhance bass.
Adding a subwoofer is a simple matter, though, as the extensive connectivity built into the active cabinet includes options for both wired and wireless subwoofers (the latter requires an SVS SoundPath adapter). There are 3.5mm and optical connectors for wired audio sources, with Bluetooth and dual-band wi-fi for wireless streaming. There's Ethernet as well, to provide a wired network connection for rooms where the wi-fi signal isn't up to scratch. The one disappointment is that the USB port doesn't support USB-Audio and can only be used for charging or the SoundPath adapter. But, as the name suggests, the Prime Wireless puts its emphasis elsewhere, and this is where things start to get a little complicated.
DETAILS
PRODUCT SVS Prime Wireless Speaker System
ORIGIN US/China
TYPE Powered wireless loudspeaker system
WEIGHT 4.3kg (active), 4kg (passive)
DIMENSIONS (WxHxD) 155 x 260 x 183mm
FEATURES
• 1x 25mm tweeter
• 1x 114mm mid/bass driver
• Quoted power output: 200W RMS
• Ethernet; wi-fi; aptX Bluetooth
• Inputs: 1x 3.5mm analogue jack; 1x optical digital
DISTRIBUTOR Karma AV
TELEPHONE 01423 358846
WEBSITE karma-av.co.uk
Rather than employing its own wi-fi streaming technology, SVS instead adopts the Play-Fi streaming platform that's been developed by DTS (see p83 HFC 449), offering multi-room and 5.1-surround sound capabilities for wireless speakers. DTS also claims that Play-Fi is supported by more than 200 different speakers, amps and receivers, which means that – much like Apple's AirPlay 2 – it allows you to create a customised multi-room audio system using components from a variety of different manufacturers. I'm also pleased to report that SVS has chosen to support Play-Fi's optional 'critical listening mode' so you can stream lossless hi-res audio in formats up to 24-bit/192kHz.
The only obvious limitation that I come across as I start to download the Play-Fi app is that it is available for Windows PCs, Apple's iOS and Android mobile devices – but not for the Mac that stores my collection of lossless CD and hi-res FLAC files. This means that using my computer with the Prime Wireless System requires either a wired connection or the compromised quality and features of Bluetooth. And, rather annoyingly, after wrestling my music library across onto a Windows laptop, I discover that the free Windows version of the Play-Fi app that I've downloaded doesn't support multi-room streaming or videosyncing – you'll need to pay out an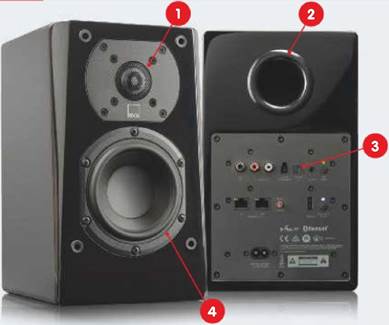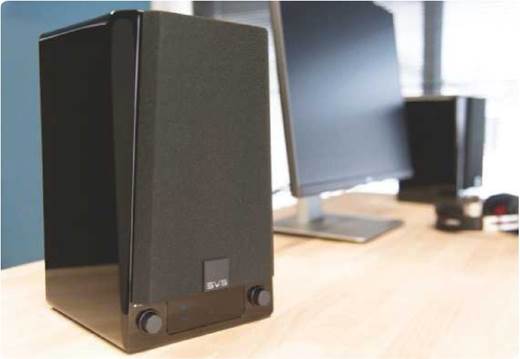 additional $15 upgrade fee if you want to unlock these features.
Fortunately, matters improve as I switch over to my iPad. The app automatically detects the speakers and lists all the music and playlists I have copied across from my Mac. There's also a High Res Audio button that allows me to activate the 'critical listening mode' when required. The app only works with a limited selection of streaming services, including Qobuz and Tidal – but there's no MQA support, so Tidal users will be limited to its CD-quality HiFi streaming mode.
Sound quality
With the speaker system connected via Ethernet, I start with a selection of ALAC files. I kick off with Gorecki's Symphony No.3 by the Polish National Radio Symphony, featuring Beth Gibbons. This recording shortens the lengthy introduction of the first movement, and the Prime Wireless grasps the more sudden appearance of the double bass with gusto to deliver a rich tone with the strings. It creates a pleasantly spacious and open sound considering its size, and maintains plenty of space between the strings, allowing the melodies to gracefully intertwine, and – with plenty of power from those four amps – effortlessly soar and fill the room.
The Prime Wireless captures the warmth and sadness of Gibbons' voice, particularly in the second movement, where the speaker is delicate and clear enough to pick out the whisper of her opening notes, and the fragile tremor that conveys the heartbreak of a mourning mother.
It's then time to go wireless, so I switch to my iPad, and the more uplifting Somebody To Love by Queen, from the Bohemian Rhapsody soundtrack. The Prime Wireless handles the densely layered harmonies with great precision, smoothly panning the overlapping voices in the vast rondo at the halfway point, then focusing with laser precision on Mercury's solo vocal as he goes for the showstopping high note at the end.
To really challenge wi-fi streaming, I turn to the raucous collision of rock guitar and dance keyboards on Planetary (Go!) by My Chemical Romance. It's easy for this track to disintegrate into a morass of sound as the guitar and keys compete for attention, but the Prime Wireless calmly stands back and gives each instrument room to breathe. The high-speed riffing in the final section is tight and precise, while the keyboards wail like a siren, with the whole wall of sound underpinned by the firm slap of the drums.
After such an effective performance it seems churlish to be overly critical of the Prime Wireless. Aided by those rear bass ports, the speaker manages to handle the double bass on the Gorecki symphony pretty well, but a delve into deeper electronic sounds reveals its lower limits. The ominous rumblings on Shadow Journal, from Max Richter's re-released The Blue Notebooks, lack presence, drifting lightly off into the distance, rather than threatening like a looming storm. But, to be fair this is unlikely to be a deal breaker unless you're particularly fond of ambient electronic music of this kind.
Conclusion
The Prime Wireless System gets all the basics right, with its clear, precise sound and comprehensive connectivity options. However, the Play-Fi app that handles wi-fi streaming proves to be both a strength and a weakness. It's one of the few wireless speaker systems to support 24-bit/192kHz hi-res audio via wi-fi, but its full range of features is only available when using the mobile Play-Fi apps for iOS and Android devices, which means that those who have built their system around a Mac or PC might be left feeling rather neglected
HOW IT COMPARES
Many powered loudspeaker systems offering wi-fi and multi-room options are sold as single units rather than a stereo pair, and the SVS represents something of a new direction. In many ways its closest rival is last month's Kanto YU6 powered loudspeaker, which offers a room-filling sound from a similarly compact form for just £ , but there's no wi-fi support and it's rated at half the power output. KEF's LSX (HFC 446) is closer still. It's is a fully active speaker system with wi-fi connectivity and like the SVS can handle 24-bit/192kHz music files.
OUR VERDICT
SVS Prime Review
Sound quality and connectivity are good for the price, but Play-Fi leans too heavily on mobile devices
PROS
Detailed, spacious sound in a compact bookshelf design
CONS
Poor Mac and Windows support
Add your review
The world's most versatile high-performance home theater speaker, SVS Prime Elevation delivers stunning performances as an uncompromised, full-range Dolby Atmos height effects speaker and as an installation-friendly, multi-purpose home theater speaker.
Usually ships in 24 hours
& Free shipping
Last update was on: February 24, 2020 2:45 am
The world's most versatile high-performance home theater speaker, SVS Prime Elevation delivers stunning performances as an uncompromised, full-range Dolby Atmos height effects speaker and as an installation-friendly, multi-purpose home theater speaker.
Ideal as a DTS:X or Dolby Atmos speaker for height effects because it directly radiates immersive, full-range sound to the listener without the frequency response limitations and perfect room conditions required of reflective "ceiling bounce" speaker designs. Precision tuned SoundMatch crossover, painstakingly refined 1" aluminum dome tweeter, authoritative 4.5" mid-woofer and acoustically inert cabinet converge in a speaker engineered for maximum sonic impact and immersion.
Optimized front baffle geometry, precision tuned acoustics, high-end components and innovative mounting hardware grant Prime Elevation amazing versatility as side surrounds, rear surrounds and/or LCR speakers when ideal placement in a room isn't possible.
Installation-friendly Multi-Angle Wall Bracket (patent pending) allows mounting of the speaker in virtually any directions: up or down-firing, side or rear-firing, or directly overhead on the ceiling; to achieve the best possible performance from any position.
"Too good to use only as height channel speakers. Highly recommended. A 10 out of 10 from me on this one." -Widescreen Review
Stunning dynamic impact and audiophile refinement from a super compact speaker, the SVS Prime Satellite fits nearly anywhere and mounts easily to a wall or ceiling. Masive sound from a compact cabinet and the flexibility to serve in many different roles in a home theater or audio system depending on the layout of your room and the specific needs of your system. Blends seamlessly with all other SVS Prime and Ultra Series speakers.
Usually ships in 24 hours
& Free shipping
Last update was on: February 24, 2020 2:45 am
Stunning dynamic impact and audiophile refinement from a super compact speaker, the SVS Prime Satellite fits nearly anywhere and mounts easily to a wall or ceiling. Masive sound from a compact cabinet and the flexibility to serve in many different roles in a home theater or audio system depending on the layout of your room and the specific needs of your system. Blends seamlessly with all other SVS Prime and Ultra Series speakers.
Leveraging design and technology from the reference SVS Ultra Series, the Prime Satellite features powerful drivers, innovative engineering and high-end build materials not typically found at this price.
1" aluminum dome tweeter utilizes an FEA-optimized diffuser for a revealing and 'airy' presentation with unveiled highs. 4.5" woofer delivers surprising bass response and punch and features an aluminum shorting ring for reduced distortion, a vented voice coil former, and unique all-new cast ABS-fiberglass composite basket for precise component alignment.
A proprietary SoundMatch 2-way crossover enhanced by expertly refined topology ensures accurate frequency response and silky-smooth transitions between drivers as well as pinpoint imaging and phase coherency.
"With effortless performance, elegant design, and striking value, SVS' Prime Satellites hit the ultimate sweet spot in the audiophile segment." -DigitalTrends
Dolby Atmos, DTS:X and Auro 3D surround sound support
Innovative angled design for enhanced height effects
Wall mountable or free standing
Easy to install using Multi-Angle Wall Bracket
Easily adaptable to ensure optimal sound quality
Usually dispatched within 24 hours
& Free shipping
Last update was on: February 24, 2020 2:45 am
Dolby Atmos, DTS:X and Auro 3D surround sound support
Innovative angled design for enhanced height effects
Wall mountable or free standing
Easy to install using Multi-Angle Wall Bracket
Easily adaptable to ensure optimal sound quality
12" Sealed subwoofer
300 watts (720 watts peak dynamic) Output
Green standby mode with less than 0.5 watts consumption
Usually dispatched within 24 hours
Last update was on: February 24, 2020 2:45 am
12" Sealed subwoofer
300 watts (720 watts peak dynamic) Output
Green standby mode with less than 0.5 watts consumption
IN SIGHT
1 25mm tweeter
2 Rear-firing bass port
3 Optical digital input
4 114mm mid/bass driver