Optoma's Latest home entertainment projector offers Laser Lighting – unusual for a model at its £ price. But John Archer finds this a mixed blessing. Read our Optoma Hz40 Review.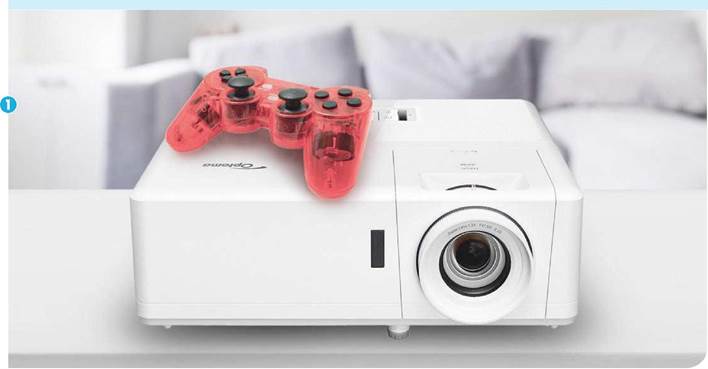 Full HD DLP projector with laser lighting and HDR playback
Mid-range Optoma projector, but also its most affordable laser option
Epson EH-TW7000; BenQ W2700
IT'S EASY TO see why some people think lasers are the future of projection, They can go exceptionally bright and can support an extended colour gamut. You don't have to replace them as you do normal projection lamps, and they're energy efficient. And they lose relatively little performance over their colossal lifetime.
There has so far been one rather big problem with home laser projection, though: cost. Stick a laser in a home entertainment PJ and the price rockets. Or at least that was the case until Optoma decided to sell its new HZ40 projector for the princely sum of £.
Nothing about the HZ40's design screams 'laser'.
7Review earns Amazon affiliate commissions from qualifying purchases. You can support the site directly via Paypal donations ☕. Thank you!
See also TOP 15 projectors
Its footprint easily fits on a typical side fable, and its part- gloss, part-matte white finish is smart but nothing out of the ordinary.
Nor is there anything revelatory about its connections. You get two HDMI inputs (one v2,0 and able to accept a 4K HDR input, the other v1.4); a powered USB port (so you can attach such devices as an Amazon Fire TV Stick or Google Chromecast); a VGA socket: and RS-232C and Ethernet ports to aid home control system integration.
35mm audio in and outs alert you to the presence of a built-in 10 W speaker system. Though I might as welt say right away that this speaker's thin, bass-lite sound
and lack of 'throw' make it inadequate for even casual film or sports viewing sessions.
The HZ40 is a doddle to setup. A handy 1.3x zoom (and associated throw ratio of 1.21-1.51:1) helps you get the size of image you need, and the focus ring around the lens is finely calibrated. The only pity is that there's no vertical image shifting, meaning you may have to rely on keystone correction (which essentially distorts the image's native geometry) to get the sides of your picture straight if the projector is going to be positioned much above or below your screen.
The HZ40's laser drives a single-chip DLP optical system, and is claimed to be capable of a massive 4,000 Lumens light output. Enough, potentially, to deliver enjoyabte pictures even with the lights on.
The laser also has a promised lifespan of 30.000 hours and above – essentially the projector's realistic lifespan. And it runs whisper-quiet too, even with HDR content. In fact, this is arguably the HZ40's single biggest advantage over other super-bright budget projectors.
The HZ40 is a native Full HD projector, so will play 4K sources at 1,920 x 1,080 resolution. But it will work with HDR10 metadata (and HLG) to create a high dynamic range experience. It's a potentially nifty gaming projector too, thanks to its support of 1080p at 120Hz with just 8.4ms of lag. Lag increases to 32ms at lower frame rates, but that's still a decent effort.
Ready for Battle?
The HZ40's laser makes its presence felt right away with the excellent brightness of its HDR pictures. In fact, it gets more value from HDR's expanded light range than any other projector I've seen selling for under £. Even the aggressively mastered extremes in Alita: Battle Angel's dark
'Pictures are also impeccably sharp and detailed, noticeably so when the HZ40 is fed native 4K sources'
street fights and 'motorball' sequences (4K Blu-ray) display none of the crushed blacks, compressed colours or 'clipped' peak bright highlights you'd expect to see to some extent with HDR on such an affordable model.
Its pictures are also impeccably sharp and detailed, noticeably so when fed native 4K sources, despite the projector's 1080p output resolution. And as usual with DLP projectors, this sharpness feels wonderfully natural thanks to the image's smooth, structureless finish.
The Optoma's brightness enables its pictures to punch through ambient light effectively, too. Alternatively, you could use its brightness to satisfactorily power a much bigger image than you'd usually get for so little money.
Another solid string to the HZ40's bow is its 3D performance.
My DLP Link glasses did take more brightness out of the 3D pictures than I'd expected, and motion can look a little indistinct at times.
But 3D detail levels are high, colours are vibrant, and there's no hint of crosstalk ghosting noise. Black levels look much deeper and more convincing in 3D than they do in 2D, too.
Which brings me to the first bit of bad news.
In 2D mode, the HZ40's black levels are really pretty average (admittedly, this is something often seen with relatively affordable laser projectors). So, for instance, in 2D the night-time Alita street fights all appear significantly greyed over and milky where they should be a rich, deep black.
These 2D black level shortcomings also cause colours in dark areas to lose vibrancy and naturalism. This is a situation that's not helped when using the HZ40's default Cinema picture preset, which introduces a marked loss of tonal finesse with relative dark, heavily saturated sequences, This leaves typically lovely-looking Alita scenes – such as the opening scrap yard sequence and anything shot in Ido's warm, inviting home – iooking at times depressingly rough and ready.
Fortunately you can greatly reduce the dark colour handling issues by slashing the projector's Brilliant Colour setting from its default maximum level. But doing this also desaturates the picture, taking away some of its HDR 'feel'.
Another niggle is the appearance of a greyish 'frame' around the main image that you'll need to push off the edges of your screen if you can.
The HZ40's combination of high brightness and a spinning colour wheel creates some notable rainbow effect (stripes of pure red, green and blue that flit in your peripheral vision). Susceptibility to this optical artefact varies from person to person, but even though I'd only describe myself as moderately impacted by it I saw rainbowing frequently and aggressively enough for it to sometimes become a distraction during every film I watched.
Attention grabber
Surprisingly, the PJ's rainbow effect and black level flaws are more noticeable with SDR content than they are with HDR. I'd expected both to improve with SDR's gentler demands, but it seems that HDR's extra brightness and impact were drawing the eye elsewhere.
In the end, the laser Eight source that is the Optoma HZ40's killer app also contributes to its downfall, preventing it from being as successful as many other ultra-bright projectors at convincingly switching its optical characteristics to suit the very different demands of both HDR and SDR content, and bright and dark room conditions
VERDICT
Best Optoma Hz40 prices in the UK ?

£

1,390.45
7 new from £1,390.45
in stock

MORE DEALS

See also TOP 15 projectors
SPECIFICATIONS
3D: Yes. DLP Link 4K: No. 1,920 x 1,080 image resolution HDD: Yes. HDR10 and HLG CONNECTIONS: 2 x HDMI inputs (1 x v2.0; 1 x v1.4); powered USB; 2 x 3.5mm audio inputs; 1 x 3.5mm audio output; Ethernet; RS-232C; VGA BRIGHTNESS (CLAIMED): 4,000 Lumens CONTRAST RATIO (CLAIMED): 2,500,000:1 ZOOM:1.3x DIMENSIONS; 337(w) x 122.5(h) x 265(d)mm WEIGHT: 5.5kg
FEATURES; Laser lighting system; built-in 10W mono audio; 30,000-hour minimum claimed laser life; vertical keystone correction; auto keystone; projection distance 1m-7.9m; throw ratio 1.21:1-1.59:1; Brilliant Colour; Bright, Cinema, Game and User modes; Film, Bright and Standard HDR modes; compatible with optional WHD200 wireless HDMI transmitter; wall colour adjustment; gamma/colour management
PARTNER WITH
ALITA BATTLE  ANGEL:
James Cameron and Robert Rodriguez's FX-heavy sci-fi is an essential demo disc, and Fox's 4K HDR release is also (unusually) bundled with its 3D version. 4K includes both HDR10+ and Dolby Vision, and Atmos audio.
1. A low input lag gives this PJ bigscreen gaming appeal
2. The PJ provides manual adjustment of its 1.3x zoom and focus