Mark Craven swaps discs for digital with this 4K HDR-capable media player that looks like a premium BD spinner. Read our ZAPPITI PRO 4K HDR Review.

4K HDR compatible network media player with storage option
Zappiti's flagship 4K model
Nvidia Shield TV Pro; PC/NAS setup
FRENCH COMPANY ZAPPITI wants to inject home cinema glamour into the media player market. Its flagship machine, the Pro 4K HDR, takes a leaf from the Oppo playbook when it comes to hardware design. A full-width brushed aluminium chassis and chunky chrome feet give it the air of a high-end disc player – the difference being there are two HDD loading bays where the disc tray should be…
Use these to load up your film, music and photo collection, and the Zappiti will present a graphically rich, info-packed Ul – with plenty of customisation – that feels similar to that of high-end movie server maestro Kaleidescape. Up to 32TB of storage is supported (2 x 16TB) – pre-formatted drives can be purchased from Zappiti. Of course, the player will also handle files stored on networked PCs and NAS drives, plus USB connected flash drives and HDDs.
7Review earns Amazon affiliate commissions from qualifying purchases. You can support the site directly via Paypal donations ☕. Thank you!
See also TOP 15 Blu-ray Disc Players
An alternative model, the Mini 4K HDR, offers no provision for HDD storage, functioning as a player only (with USB drive support). This might be used in a multiroom system, using the Zappiti Share function – that supports up to four-zone 4K HDR playback – to access files from the Pro 4K HDR.
Just like a disc player, you'll find most of the Pro 4K HDR's connections around the back. These include dual

1. The player's front-pane l offers two USB inputs plus a headphone out
2. Behind the pulldown fascia are dual HDD bays
HDMI outputs, one audio only, plus an HDMI input, analogue and digital audio outputs and Ethernet. There's dual-band Wi-Fi onboard, and the player is supplied with two screw-in antennae, but a hardwire hookup is definitely best if you're planning on streaming 4K HDR content across your network. I gamely tried to do it, and was rewarded with ruinous buffering.
And it's 4K HDR playback that really is the Zappiti player's raison d'etre. Compatible with UHD and BD ISO files, plus MKV and 3D MVC, it will display 4K Blu-ray rips with full menus and extra features, plus 3D audio soundtracks (Dolby Atmos and DTS:X). And it handies REC.2020 and HDR, too – although both Dolby Vision and HDR10+ aren't supported.
Internally, the Pro 4K HDR uses a quad-core ARM CPU and Realtek chipset to present a reasonably zippy user experience. The main menu is icon-driven and slick; dig deeper and menus become more text-heavy, partly a necessity due to the complexity on offer.
it's also an Android-based player, meaning access to apps via both the Aptiode and Google Play stores. It's here where the Zappiti feels a little unpolished compared to the likes of Nvidia's Shield Pro or a modem Android TV, or a Roku or Amazon streaming stick for that matter. Sure, you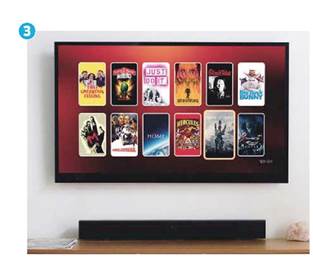 can download BBC News from the Google store and pin it to the player's home screen, but the app isn't tailor-made for your TV, Still, at least there's access to Netflix, YouTube and other TV-centric streamers.
Control will likely be via the full-size backlit IR remote, This is intuitive, and includes useful +/- 10s and 60s jump buttons in its playback arsenal. An alternative is Zappiti's smart device app. which gives you a more visual look at your content collection, but is more fiddly overall to use.
Pick, click and watch a flick
The Zappiti 'Video' Ul is nicely engineered. The top row offers screenshots of your most recent additions, while below this is a scrollable row of icons offering some level of curation (4K, Movies, TV, Sci-Fi, Action, Thriller, Documentary, Seen, Unseen, etc). Click into one of these and films/shows are represented by poster art; select the one you want and the display expands to include a synopsis and technical details (aspect ratio, audio format, resolution), while a soundtrack extract plays in the background.
Selecting a title then gives you the option of launching the disc menu or going straight to content playback – a boon if you're in a rush.
For this review, I was also sent Zappiti's NAS RIP 4K HDR, an eight-bay storage device with in-built 4K BD ripping drive [see Partner With boxout].
Playback performance of UHD ISO files is hard to fault, with subjectively no difference to that of a physical disc (bar the exclusion of dynamic metadata support, which may put compatible screen owners off). Bohemian Rhapsody streamed in 4K HDR10 with the pixel clarity, contrast and HDR dramatics expected; Full HD content, meanwhile, can be treated to Zappiti's MagicPixel 4K upscaling (the machine will also downconvert HDR to SDR for use with Full HD TVs and projectors). Put on a film, sit back, and you'll forget there's no disc spinning away.

The player is not without its niggles, though. The folder labelled Tv Shows' will drive language pedants potty, and I experienced one title that began playback with its audio descriptive track in full swing. The relationship between Zappiti's own OS and its underlying Android sibling throws up some confusion too, not least because the 'Settings' menu relates in part to Android, while access to some of the Zappiti's other features (including direct resolution output, for example) is found elsewhere. Also, while the artwork-rich interface of Zappiti's 'Video' screen makes for a smart user experience, the 'Explorer' tool, which is employed to sift content on USB attached storage, is rather more prosaic, although still perfectly usable.
The Pro 4K HDR rewards those who want to tweak, though. There's scope here to fully customise the layout of the Video Ul, and make the player boot straight to that screen; edit film categories/synopsis/cover art, etc; set parental controls; and much more. Zappiti's own online tutorials are a good source of info.
Overall this is a flexible and smartly styled 4K HDR player. A little pricey, and not always uber-slick in operation, but worth investigating if you're done with discs
VERDICT
Recommended
ZAPPITI PRO 4K Review
Built like a premium Blu-ray player, and offering some high-end features, this 4K media player will appeal to film aficionados with networking nous.
Add your review
Best ZAPPITI PRO 4K HDR prices ?
MORE DEALS

See also TOP 15 Blu-ray Disc Players
3. The Video Ul can be switched between this 'Classic' theme and a 'Silver' alternative
4. Two HDMI outs are available, one audio-only for legacy AV receivers
SPECIFICATIONS
4K:Yes HDR: Yes. HDR10 SYSTEM: ARM Cortex quad-core CPU; Realtek RTD1295 chipset CONNECTIONS: 2 x HDMI outputs (1 x audio only) ; 1 x HDMI input; Ethernet; 6.35mm headphone output; 3 x USB 2.0; 1 x USB 3.0; 1 x USB Type-C; IR input; stereo analogue audio output; coaxial digital audio output INTEGRATED HDD; No.
2 x drive bays (max 2 x 16TB) DOLBY ATM0S/DTS: X: Yes/Yes DIMENSIONS: 430(w) x 85(h) x 330(d) mm WEIGHT: 7.5kg
FEATURES: Dual-band Wi-Fi; supports external HDD and USB devices, networked PC and NAS; video file support includes HEVC, H.265, MVC, AVC, MPEG-2, MPEG-4, VC-1, H.264; audio file support includes MP3, ALAC, M4A, AIFF, WAV and FLAC (incl. 5.1) up to 24-bit/192kHz; Android 6.0; Aptiode and Google Play stores; Chrome browser; Apple AirPlay; smartphone mirroring; Zappiti Sync (multiroom); backlit remote control; HDR-SDR conversion; 4K scaling/direct output; ISF certification
PARTNER WITH
ZAPPITI NAS RIP 4K HDR:
There's massive storage potential – over 1,000 4K HDR movies is the claim – in this NAS/4K Blu-ray ripping combi with eight 16TB-capable drive bays. Zappiti recommends Western Digital RED HDDs.