Martin Logan's Motion 40i floor standing loudspeaker is smooth and easy, not a shock says Noel Keywood. Read our Martin Logan Motion 40i review.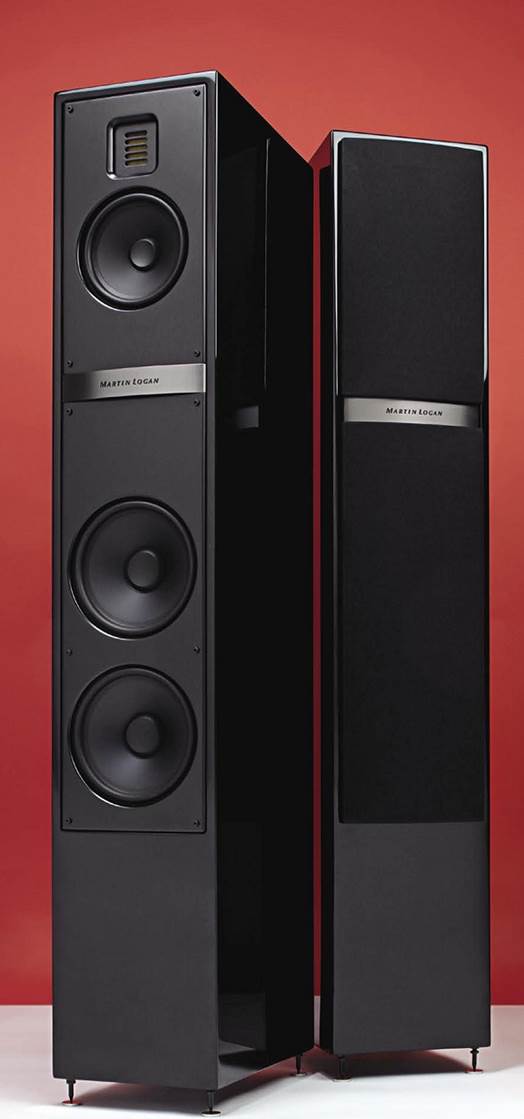 The crowds thronging Martin Logan's demos at the Bristol Show 2020 were keen to hear what an electrostatic loudspeaker offers, but I suspect most will buy a trad, box all the same. Here is one that Martin Logan hope will appeal, bringing listeners into their brand ethos. It is the not-a-shock Motion 40i.
Not-a-shock because the Motion 40is are svelte in their sound, approaching the sublime balance of the XStat panel in our Martin Logan ESL-X hybrid electrostatic loudspeakers. A deeply smooth experience. But let me get into finer details of the loudspeaker itself. And also introduce a strange caveat to this review.
Because the "caveat" is major I'll cover it first. Our review sample Motion 40is had, as delivered, their bass and treble sections connected out-of-phase. Measurement picked this up (see Measured Performance). Re-connecting them in-phase gave a flat measured response and one-of-a- piece sound.
I listened to the 40is as delivered (i.e. out-of-phase) and sonically they had a classic "hole in the middle".
Bass sounded weak and disconnected; the upper mid-band and treble divorced. So this review assumes there is "some sort of mistake here" and that the 40is are meant to be run in-phase, which I did by removing the bi-wire links and using jumper wires to connect positive to negative. With this done they measured properly and sounded correct too.
At time of writing (mid-May 2020) importers PMC and Martin Logan in the U.S. were unable to respond to my enquiries about this.
7Review earns Amazon affiliate commissions from qualifying purchases. You can support the site directly via Paypal donations ☕. Thank you!
See also TOP 10 Subwoofers
but at 15th June PMC told me they felt it was likely confined to review samples flown in from the States, suggesting UK mags got out-of-phase 'speakers (!).There wasn't time to provide more detailed info before this issue went to press, but the problem is easily fixable by changing internal connections, something a dealer could do.
The upper section of the Motion 40i contains a 5.5in (140mm) aluminium cone mid-range unit and – above it – ML's Folded Motion tweeter. This operates from 2.6kHz upward, the same range as a standard dome tweeter. Crossover to the lower section is at 500Hz, so the lower two drive units cover an important part of the audio band, not just bass. This extends the vertical image, much like an electrostatic panel. The 40is are not a point source – but more subjectively gripping because of vertical extent. Think of an aural panorama with height.
The lower bass/mid-range units have slightly larger 6.5in (165mm) aluminium cones loaded by a rear reflex-ported chamber. Cabinet weight is a reasonable 20.4kgs (45lbs) and dimensions just over the current target of I metre high, at 1080mm (42.5 in). Width is 192mm and depth 325mm including rear terminals, but 4mm banana plugs will extend this by 10mm or so, especially when using heavy cables, a comment that applies to all loudspeakers.
The cabinet is well made and ours had a deep gloss black finish. Spikes and/or floor buffers screw into the base of the cabinet direct.
SOUND QUALITY
To drive the Motion 40is I used our Creek Evolution 100A amplifier, connected with Chord Company Signature Reference cables. The bi-wire links were removed and short cable links used to connect bass positive (red) to treble negative (black), and bass negative (black) to treble positive (red), putting the 'speakers into phase.
Sources were an Oppo BDP- 205D Universal player to play CD, as well as process hi-res from an Astell&Kern AK-120 portable player connected by optical cable. I also used a MacBook Pro, running on battery for isolation. Connection of the Oppo to the Creek was through Chord Company Epic balanced cables.
Vinyl replay came courtesy of our Timestep Evo modified Technics SL-1210 Mk2 turntable fitted with SME309 arm carrying an Audio Technica VM750 SH (Shibata) moving- magnet cartridge feeding an Icon Audio PS3 Mk2 valve phono stage.
Running through a selection of uncompressed CD tracks with wide dynamic range the Motion 40is were immediately "lovely". By this I mean smooth sounding and with the sense of a deep, atmospheric sound stage. Quite a dark sound, with chocolatey quality – yet with added bits. Those 'bits' were obvious bass and treble lift, if not at a level I found intrusive; detectable but within acceptability. With Nils Lofgren's Keith Don't Go his vocals were clear and set against a dark background, one from which the audience whooped. Lots of atmosphere and deeply engaging.
The Folded Motion tweeter, a Heil Air Motion Transformer, made obvious contribution. There was a sharp edge to the close miked strings, making them fast and lacerative. But I didn't wince. There was so much internal detail coming through it was engaging. Martin Logan keeping the tweeter's contribution just in check.
More significant to many listeners I suspect would be the sense of easy heft to the sound. Lofgren's guitar body had presence, weight and power, coming across as generously full bodied.
Firing up our large listening room with the synth drums of Safri Duo's Samb Adagio showed bass was strong enough to easily fill it. There
was tremendous power and slam, and as expected from measurement the 40is were above most else in this area. Quality was superb, but I have to note that this is in a 6550 cu ft industrial space with no dominant resonant modes. It has no influence on loudspeakers under review; we get to hear the 'speaker, not the room. But in real life small- to-medium (up to 17ft long) rooms resonate internally, boosting bass by an effect known as 'room gain'.
In such a circumstance bass may become overwhelming; UK designers rarely lift bass in such fashion for just this reason, but Martin Logan are a US company and probably see things differently. The bass bin of their powered hybrid electrostatics similarly produces very strong bass but it can be dialled down.
The Motion 40is can be restrained by using a foam bung in the ports. This reduces bass by just the right amount, but such bungs are not supplied. They can easily be cut from a piece of foam, however – better than the trad method of a pair of old socks.
Spinning 2L's LP of Marianne Thorsen paying Mozart violin concertos portrayed her violin work in deep detail and there was good sense of atmosphere in the recorded space, the Trondheim Soloists behind being faithfully portrayed.
Classical from CD brought out some particular aspects of the 40is. The piano of Arkadi Volodos playing Listz's sublime Vallee d'Obermann was made wonderfully clear but there was a slight hardness of tone from the aluminium midrange unit on crescendos, and Renee Fleming singing Un bel di vedremo from Puccini's Madama Butterfly had similar quality. Apart from this small detail, both performances were wrought large and clear – with engaging atmosphere.
I'm getting super-critical here; the 40is deserve a close view. I listen to these performances on Martin Logan's ESL-X hybrid electrostatics and they set an unattainable standard for cone loudspeakers, but the 40is did well for around £ less.
CONCLUSION
A tall three-way floor stander with smooth Air Motion Transformer treble, made prominent. Deep, chocolate smooth sound, big bass
and massive sensitivity, so just a few Watts are needed. A 40 Watt amplifier will be more than enough in most homes, for very high volume.
I relaxed with and enjoyed the 40is. Well worth hearing if you want a svelte presentation with big dynamics. Undoubtedly a fine loudspeaker, especially suited to low level listening from just a few Watts.
MEASURED PERFORMANCE
Our third-octave, pink noise analysis of frequency response shows an even balance across the audio band with little treble lift, so the Motion 40i will sound smooth and naturally balanced, lacking the forward / bright sound currently popular with designers, to make their 'speakers stand out in a comparative showroom demo.
However, Martin Logan have raised bass by +3dB, quite a large amount, so the 40i will have stronger bass than most. With output down to a low 40Hz, supported by the rear floor port that is tuned to 43Hz (red trace, and dip in impedance trace) there will be plenty of bass rumble. The only drawback here is that placed against a wall in a smallish room bass may well be excessive. Most small floorstanders designed for wall placement roll-off in the bass to compensate for room 'gain' (boom); these do not. Nor are foam port bungs supplied to optionally lower bass, but distributors PMC or dealers may be able to supply.
A foam bung reduced low bass by 4dB measurement showed, so is an effective solution.
Peculiarly for Martin Logan, our loudspeakers came with bass / treble sections incorrectly wired out-of-phase internally. Removing the bi-wire links and using jumpers I got them back into phase for measurement and listening. Our published response shows this, not as delivered.
Sensitivity was high for a compact floorstander with small upper cabinet, measuring 90dB for one nominal Watt of input (2.8V). That's very loud. The Motion 40i needs little power and 40 Watts will give high volume in rooms up to 18ft long or so. Few slim floor standers manage the magic 90dB figure as yet, most hovering around 87dB, so the Motion 40i stands out here. However, it is an almost pure 4 Ohm load our impedance analysis shows, so it draws current to achieve this high sensitivity (strong bass also raises measured sensitivity). But modem transistor amplifiers can handle a 4 Ohm load well enough and most valve amplifiers have 4 Ohm taps.
The Motion 40i is well engineered for even tonal balance and a smooth sound, albeit one with strong bass; it may invoke boom in some rooms unless the ports are damped with a foam bung.
MARTIN LOGAN MOTION 40i
OUTSTANDING – amongst the best
VERDICT
Martin Logan Motion 40i review
Big bass, detailed treble and chocolate smooth.
PROS
clear mid-range
bass heft
need title power
CONS
some mid hardness
not for small rooms
no port bungs
Add your review
Best Martin Logan Motion 40i prices in the US ?

$

779.95
1 used from $1,200.00
2 new from $779.95
in stock


$

779.95
1 new from $779.95
in stock


$

779.95

$1,299.99
1 new from $779.95
in stock

Best Martin Logan Motion 40i prices in the UK ?

£

2,335.38
1 new from £2,335.38
in stock

MORE DEALS

See also TOP 10 Subwoofers
PMC
+44 (0)1767 686300