The mid-range dome of Wharfedale's 4.3 mini- floorstander stands out, bringing unique sound finds Noel Keywood. Read WHARFEDALE EVO 4.3 Review.
Cet 'em out of the way.
Which means putting the loudspeakers against a rear wall, so as not to occupy hallowed floor space – something I perfectly understand with a lounge just 17ft long. But wall standing isn't ideal if you want a perfectly formed, clear sound stage with a sense of depth to it.
An alternative approach is to work with the limitations and try to counteract them. Enter Wharfedale's new EVO 4.3 mini-floorstander I am reviewing here. Out of the way – but able to project a clear open sound stage.
The EVO 4.3 is a solid little unit but reasonably easy to lift at 22.8kgs. Finished in a real wood veneer with matt lacquer finish – that I mistook for artificial veneer on the smaller EVO 4.2 (whoops!) – it blends in easily. And use close to a rear wall clears floor space that most want for something other than the hi-fi.
But into this small and unobtrusive loudspeaker Wharfedale shoehorn an impressive array of drive units to tickle the ear.
Most unusual about the EVO range is use of a dome midrange unit. These things are known to project. I've heard plenty of domes in the past and been impressed at having vocals thrown at me. the singer in my face, as it were. Great imaging too – focussed but airy and spacious.
7Review earns Amazon affiliate commissions from qualifying purchases. You can support the site directly via Paypal donations ☕. Thank you!
See also TOP 10 Subwoofers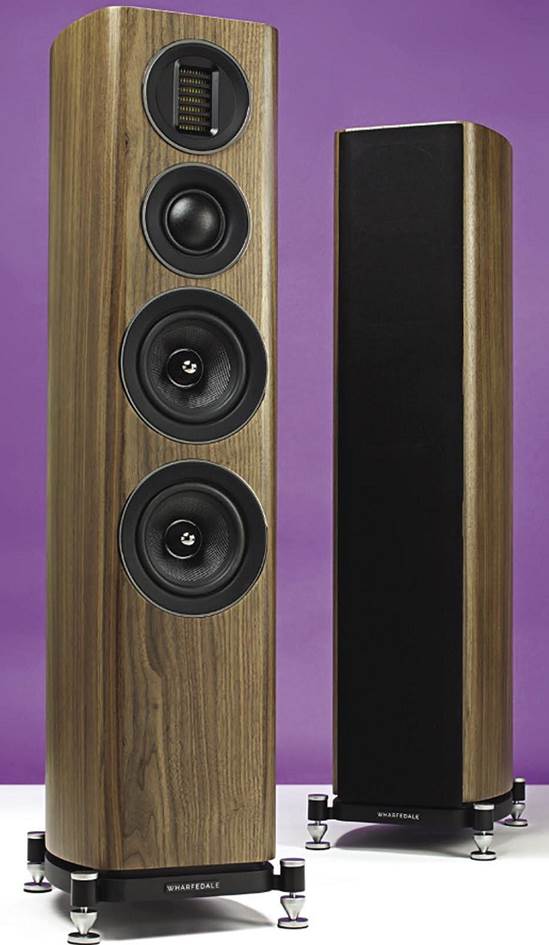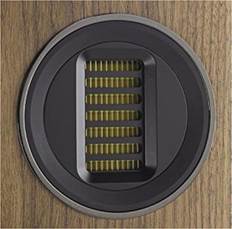 Wharfedale's folded ribbon AMT tweeter delivers high treble. AMTs sound more detailed than domes.
Downside? Edginess.
Found mostly in professional studio monitors, domes throw the info at you but are not the smoothest sounding drive units on this planet. Reason is the dome "breaks up" – meaning it starts to misbehave – at high volume. I looked into all this some years ago for a loudspeaker design because the sound of a dome midrange appealed to me. but the published specs were unacceptable. Break-up problems were obvious. That was in the past. Wharfedale use a modern 2in (50mm) soft fabric dome in the EVO 4.3 that you can see in our pics and it suffers no large peaks or dips, our measurements show – important for a smooth sound at high volume.
The other problem of a dome is that it only covers the mid-band; a bass and treble unit are needed to complement it, meaning the 'speaker must be a three-way design, adding considerably to build cost.
Wharfedale have opted to use a small folded ribbon tweeter (Air Motion Transformer, or AMT) to extend response smoothly up to the human hearing limit of 20kHz. And for bass there are two 5in (130mm) Kevlar cone drivers, loaded by a chamber with slot reflex port in the base.
In all that's four drive units instead of the usual two common in budget floorstanders. Quite a line up and as you'd expect with a sound different to the norm. They are housed in a cabinet standing 875mm high, slightly lower than the usual I metre. Width is 210mm and depth 285mm but with terminals that extend it to 295mm. Bare wires or spade terminals will extend this no further, but 4mm banana plugs will add to depth as always. There are sturdy adjustable feet and bi-wire terminals with links for mono wiring.
SOUND QUALITY
I used our Creek Evolution 100A amplifier connected with Chord Company Signature Reference cables to drive the 4.3s. A 48hr run-in prepped them. Sources were an Oppo BDP-205D Universal player to spin CD, as well as process hi-res from an Astell & Kern AK-120 portable player connected by optical cable, making it fully isolated. Connection of Oppo to Creek was through Chord Company Epic balanced cables.
Vinyl replay came from our Timestep Evo modified Technics SL-1210 Mk2 turntable fitted with SME309 arm carrying an Audio Technica VM750 SH (Shibata) moving- magnet cartridge feeding an Icon Audio PS3 Mk2 valve phono stage.
Spinning a rake of high dynamic range (uncompressed) CDs that I rely on to get a basic handle on 'digital' sound quality as most know it, showed the 4.3s gave a result much as my experience with domes and our measurements suggested. John Campbell, singing Down in the Hole, was thrown forward, some words, such as 'Bout (about) being almost lacerative. Reverbs were made obvious, as was their panning across the stage: it was all very vivid. After a few tracks had passed by, featuring strong vocals surrounded by intense detail, I began to appreciate why domes are used in studio monitors: you get to hear it all. Every little nuance and of course a lot of recorded enhancements were made rudely obvious by the 4.3s.
Similar effect with Hans Theessink and the song Mississippi, where his use of the word Mississippi was starkly emphasised. This is a loudspeaker that delivers, but it is more revealing than relaxing. Edge of seat stuff.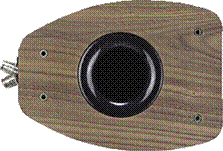 The bottom face carries a port that is acoustically damped by the close mounted plinth plate. This makes it a 'slot port'.
Much the same with the Pink Panther theme, where the tenor sax intro had a large magnifying glass placed on it, it seemed. Accompanying orchestral brass was sheeny and intensely detailed. Also vivid and gripping, right out in the room. The balance is a bright one. not in terms of high treble but forward midband. The 4.3s make others seem laid back.
Strong bass was handled with aplomb. In our large room (6550cu ft) it was dry, tight and clean. However, the 4.3s are purposed for smaller rooms where they will exploit room gain to give stronger baas, whilst avoiding bass boom.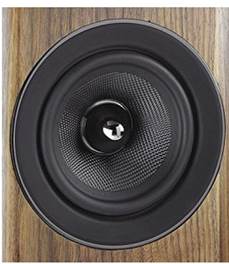 The Kevlar cone bass unit reaches up to 1.3kHz, covering a lot of the audio band. The silver parasitic dome delivers highs.
The AMT tweeters were little obvious until complex highs appeared, for example from maracas where I got to hear just how sweet and internally detailed they are. The 4.3s have superb treble quality but the dome does rather shade them.
Studio style insight wasn't always so easy to take. Playing Fleetwood Mac's Rumours in hi-res (24/96), Second Hand News was hard in quality: not a relaxing listen.
Yet the following track Dreams was altogether more natural in balance. I got the impression I was hearing far into what is a very old analogue recording and picking up on intrinsic blemishes, as well as those of an intervening analogue- to-digital convertor. So the 4.3s are forensically insightful but this also means they can be rudely revealing, rather than really relaxing.
Mid-range domes have wide dispersion and as a result there was a strong sense of air and space around the sound stage. This contributes to their forward nature, adding to the overall milieu.
So on to LP and back to Second Hand News, this time from an original LP and a recent re-master. Both are all-analogue – no digital – and differences to our digital hi-res files were stark. Second Hand News was still a tad muddled as a mix, as I'd expect from a 1976 recording, but there was no hardness. Similarly, Dreams came across as natural and dynamic, and without muddle. Again, no hardness or glare. The aurally prominent mid-range dome was pulling apart the recordings with brutal ability and again I got to better understand why they are used in studios. This does make the Wharfedales more critical of recording quality than most. Give 'em something good and they tell you so; give 'em something bad and you may cringe.
Running through our collection of high quality review LPs was all but a different experience from playing CD or hi-res. With no digital anywhere in, for example.
Neil Young's After the Goldrush remaster, nor in the amazing Big Band Spectacular LP that is a recently

The plinth base has four adjustable feet, with spikes and optional protective pads.
produced direct-cut of the Syd Lawrence Orchestra, the Evo 4.3's mid-band revelational abilities made for a riveting listen. Neil Young's plaintive vocal at the start of After the Goldrush was set out in a nicely open space before me, vivid beyond any previous experience. No sign of hardness, because no dodgy-digital in the way. But the close-miked guitar strings had no sharp edge, the AMT tweeter providing an easy rendition.
With the Syd Lawrence orchestra playing Sing Sing Sing saxophones and trumpets pushed forward, whilst the fast drum runs were well defined but in dry balance rather than prominent, something a smaller room would strengthen.
Spinning 2L's glorious LP of Mozart violin concertos, played by Marianne Thorsen backed by the Trondheim soloists, almost changed it all again. Thorsen's wonderful bow work was thrown at me and there was more shimmer than from our Martin Logan ESL-X reference electrostatic loudspeakers, but at the same time the sense of insight
and revelation locked me onto her wonderful ability. With this LP I also got to better appreciate the AMT tweeter. Whilst strings were strongly lit and forward, there was no sharpness in their rasp. Intense high frequency detail was there, exquisitely wrought but easy on the ear.
CONCLUSION
Wharfedales Evo 4.3s are very distinctive in presentational method. Their strongly projective midrange dome has a dominating presence that makes for immediate drama in terms of high intelligibility. Vocalists are thrown at you, saxophones seem 2ft away (OK. 609.6 mm then!). Together with a spacious sound stage, this makes for aural drama. Dodgy recordings have faults brutally revealed and this isn't always so pleasant. However, fed high quality source material the 4.3s will bring music at you like few others and by doing so are literally "impressive". Worth hearing for a sound that few others offer.
MEASURED PERFORMANCE
Our third-octave analysis of pink noise shows a broadly flat characteristic from the EVO 4.3, albeit with small plateau lift of the dome midrange unit that works from 1.3kHz to 4.3kHz Wharfedale state – seen in our impedance analysis as dips at the crossover points. The dome midrange output will be subjectively obvious as a forward and detailed sound with projection. However, upper treble from the AMT folded ribbon tweeter falls away gently to -2dB at 16kHz so there will be none of the sharpness that emphasised high treble imparts.
Below 800Hz this analysis, and another using gated sine wave impulses, show output falling away gently to compensate for rear wall enhancement – a typical over-damped response.
The EVO 4.3 is designed to be used against a rear wall in a small to medium room (18ft long max) where lower bass will be enhanced by 'room gain' (resonant room modes). Low bass is supplemented by the floor port that peaks at 32Hz (red trace) to give deep bass some heft.
With output strong down to 30Hz the EVO 4.3 will produce low bass, if not with emphasis.
Sensitivity was as expected for a compact loudspeaker, 87dB sound pressure level at 1 metre (quite loud), from 1 Watt input. Amplifiers of 60
Watts or more would suit for high volume in a medium sized room. Impedance measured 6.6 Ohms with pink noise, and the impedance curve clearly shows sharp port tuning (acoustic damping) as a narrow dip at 32Hz with residual peaks either side.
Raised upper midband output will give a bright and forward sound. Bass has been tailored for use close to a rear wall, in a medium sized room. Then the over-damped response will deliver tight bass in good overall balance. NK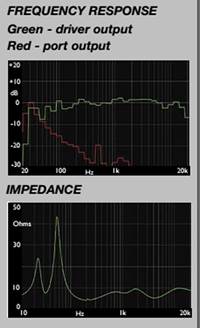 WHARFEDALE EVO 4.3
OUTSTANDING – amongst the best
VALUE – keenly priced
VERDICT
WHARFEDALE EVO 4.3 Review
Dramatic studio monitor sound that throws the music out - warts 'an all. Worth hearing; unique sound.
PROS
projective mid-range
firm bass
vivid insight
CONS
mild treble
glare with bad digital
Add your review
|
Read reviews and comments
Best WHARFEDALE EVO 4.3 prices ?
MORE DEALS

See also TOP 10 Subwoofers
Wharfedale loudspeakers + 44 (0)1480 452561 www.wharfedale.co.uk