Wharfedale's new Diamond 12.5 loudspeakers shine bright and clear thinks Noel Keywood.
Wharfedale's Diamond series always delivered quality at a low price and the Diamond 12.3 floor stander I'm reviewing here epitomises the approach: a pair. Wharfedale don't walk away from adding in a little technological razzmatazz either, rather than using prosaic parts.
Style wise, there is a traditional dark oak finish, but our samples came with a light wood veneer on the cabinet plus a white front baffle to give a bright, clean appearance aimed at the modern home – one with a lot of Ikea in it perhaps.A cosmetically fresh finish for an audience of today who might just take their headphones off for 5 seconds to listen to loudspeakers (I have deep experience of all this!).
Such an audience isn't likely to possess an amplifier of substance, so the ability to provide some oomph from a few Watts is where a floorstander scores: the bigger a loudspeaker is, the less power it needs. Counter-intuitive I know, but if a slim cabinet like that of the 12.3 can be found space in a room then it needs little more. A few Watts will do, since this is a sensitive loudspeaker.
Delivering sound from those Watts are three drive units in an arrangement known as 2.5-way where the upper two drive units cover the entire audio band and the lower one delivers bass only, to improve bass power handling and reduce bass distortion by increasing cone area.
The two lower units of 5in (130mm) diameter have a cone made from a "blend of polypropylene and mica for stiffness to reduce flexing and colouration", Wharfedale say.The idea behind such composite cone materials is to produce a mix that is light and stiff yet not prone to resonance and the colouration that arises from it, an issue with metal cones that sound – well – metallic. The Klarity cones, as they are called, have ribs that aid stiffness, controlling waves within the cone as well. Polypropylene, from my experience, gives neutral tonal character, but it and other plastics like Bextrene need enhancement to avoid quack.
The benefit of a small bass/mid unit is well controlled behaviour up to the point of crossover to the tweeter.This smoothes out and civilises vocals, removing the roughness that seeps in from cone breakup.Wharfedale's small 130mm Klarity cone in the 12.3 hands over to a standard-size I in (25mm) tweeter that, they say, "is made from a woven polyester film with a high loss coating".The "loss' bit refers to losing energy from resonance by the use of a damping layer.
7Review earns Amazon affiliate commissions from qualifying purchases. You can support the site directly via Paypal donations ☕. Thank you!
See also TOP 10 Subwoofers
Gilbert Briggs, founder of Wharfedale, wrote a whole slew of books on sound reproduction and loudspeaker design, from 1948 onwards. In them lie pictures of the company's test facilities: Wharfedale was founded on the idea of scientific analysis and that's what they play on with the Diamonds, referring to today's computer based analysis systems that optimise cabinets, magnetic circuits and even cone materials.The component parts of this 'speaker have all been knowledgeably designed even though price is low.
The cabinet measures 928mm high, plus 50mm for the height adjustable spikes supplied, and there are protective metal pads that add another 5mm or so. So this is close to a Im high loudspeaker.Width is 180mm and depth 350mm including the terminals.Weight is a movable 19.5kgs.
Although there's a rear port it can be placed close to a wall, the protruding terminals offering enough clearance.At rear lie substantial bi-wire terminals, connected by links for normal mono-wiring. Front grilles hide drive units that are none too pretty, but best to use with grilles on since they usefully reduce treble level for smoothest response and
Bi-wire terminals with gold plated 4mm sockets that also accept bare wires and spades. Lateral supports accept screwed spikes for height adjustment and floor protection pads are supplied too. best integration.The grilles are held by magnets.
I drove the Wharfedales from a Creek Voyage iA20 amplifier, connected by Chord Company Signature Reference screened loudspeaker cables. A QED Quartz glass optical digital cable fed in digital from an Oppo UDP-205D universal disc player acting as a CD transport. Grilles were on by default.
In a quick encapsulation of sound quality, this loudspeakers has a dryly clear sound that is utterly devoid of colour, getting right into the instrument playing, the singer singing. No heavy bass, but quite strong treble at times. Clean and modern. On with the details…
Spinning the Pink Panther theme there was little sense of warmth, no boxiness or box thrum. The saxophone was starkly clear and hung nicely centre-stage. No big, fruity flavour here, instead an icily cool rendition.
Keb Mo's voice almost crackled singing Every Morning, there was lacerative speed behind it, in truth to the edges of sibilants.The metal strings of his guitar sang out vividly as he pulled a slide down them, the Wharfedale's offering an analytical view of the instrument. Opening chords had some sharpness to them however, the tweeter came over as spiky at times, when playing music with a lot of treble energy. Most of the time though it was civilised – if adding obvious sheen.
After playing a wide variety of CDs I felt a need to add in I Ohm resistors to reduce treble a little, since it was too obvious.This gave a more integrated sound, high frequencies not standing out as if a separate entity. It also gave me a different view: now the 12.3s were moving into being a dryly accurate reference loudspeaker which, at the price, is quite extraordinary.There was nothing amiss, just great insight and a nice wide, stable stereo stage with well hewn images on it.Very correct and impressive in being so.
Now onto bass. For much of the time I was not especially aware of bass: it was there, but not flinging itself at me, as it were. But with bass heavy tracks like Dadawa's Canton Story, where a long, low chant is ended by a massive drum strike, the 12.3s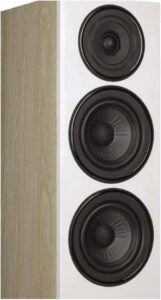 The two bass/midrange drive units have ribs to add stiffness and break up waves. The black cone material is a polypropylene/mica composite.
showed they not only go low but have grip, control and resolution. The floor trembled with this one and I could hear right into the qualities of the drum.They have powerful and well resolved deep bass but even in my 17ft long lounge it was not intrusive. Some weight and warmth was gained when the treble was pulled back with the resistors.
With Classical from CD not much changed. Renee Fleming stood out clearly centre stage singing Un Bel DiVedremo from Madame Butterfly, set against a cool background rather than an enclosed space. Her voice was chiselled out cleanly, instruments of the orchestra also well identified. All clear and correct.
The 25mm (1in) tweeter has a contoured surround to aid acoustic matching and integration.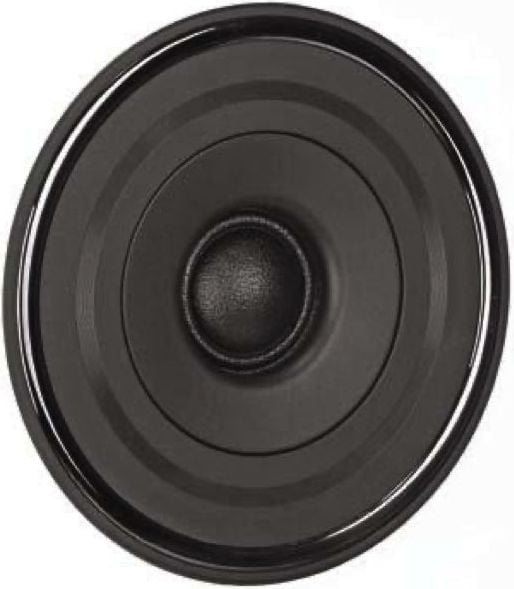 I moved on to LP with our Timestep Evo modified Technics SL-I2I0 Mk2 Direct Drive turntable, fitted with SME309 arm and Audio Technica OC9X SH moving coil cartridge feeding a Project Phono Box RS2 phono stage through balanced XLR connection. Output to the Creek amplifier was balanced too, via Chord Company Epic cables. LP did slightly soften and warm the sound, injecting some useful body, but the Diamonds still came over as cool and clear in essence.All but reference class in terms of balance and insight, if a bit short of emotion.
I realised at this stage, however, that I was judging the Diamonds by a slew of loudspeakers that have passed through our portals recently, most costing more than twice as much. In some ways it was embarrassing: the 12.3s were arguably better in some areas unexpected. But they are heavily engineered and prominent treble apart – this shows. In a tick list within my mind stage width, image sharpness and stability and complete
Our third-octave pink-noise analysis (grille on), with microphone slightly off-axis (10 degrees) shows reasonably flat response down to a low 30Hz. With microphone on-axis there was plateau lift of +2dB above 3kHz, so the Diamond 12.3 will sound brighter if pointed directly at listeners, rather than straight down a room. Some slight lift above the 3kHz crossover frequency will ensure good detail retrieval but will make highs obvious.
There is a small amount of lift across the lower midband to add warmth but this has been kept in check. Deep bass output from 150Hz down to 40Hz is balanced for near-wall placement. Our impedance trace shows the port is centred at 50Hz.
Overall impedance was 6.4 Ohms when measured with pink noise, the bass unit measuring 4.4 Ohms d.c.r. Sensitivity was high at 88dB from one nominal Watt (2.8V) of input, so no more than 50 Watts or so is needed to go very loud.
This is a reasonably accurate lack of colour loom large with big green ticks. A little more bass would have been to my liking, even though I don't much go for heavy bass.Treble level was perhaps acceptable to those hard of hearing but not to me, so a red cross here.
The original and successful Diamond from Wharfedale was a small two-way distinguished by midrange clarity and superb imaging – I remember it well.The new 12.3 floor stander builds upon that approach by using similarly small 5in drivers, now with Klarity composite cones for impressive insight and imaging.There's also well balanced and tuneful bass. Treble is strong, measurement and listening show, the only sticking point.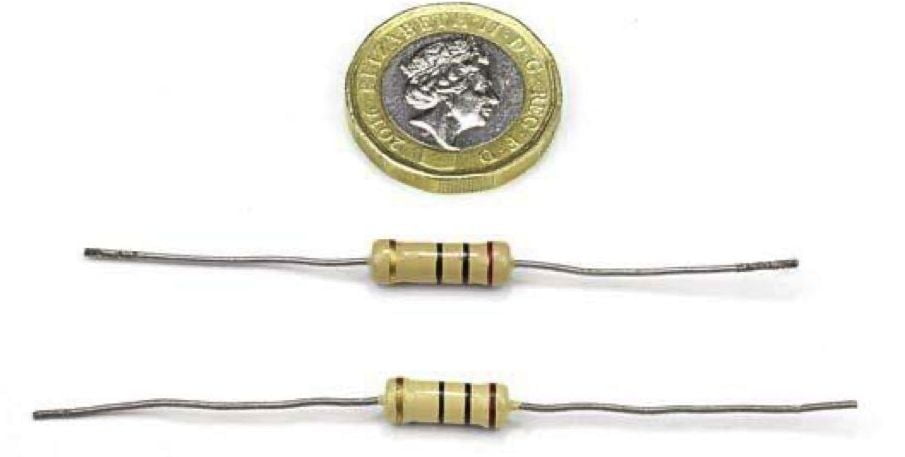 Two 1W carbon film resistors, ideal for attenuating the treble of a bi-wire loudspeaker. Use 1S2 or 2S2 total (not 10Q shown here).
loudspeaker that runs low, measurement suggesting deep bass. It will sound bright with grille off: best with grille on and aimed straight down a room. NK
FREQUENCY RESPONSE
Green – driver output
Red – port output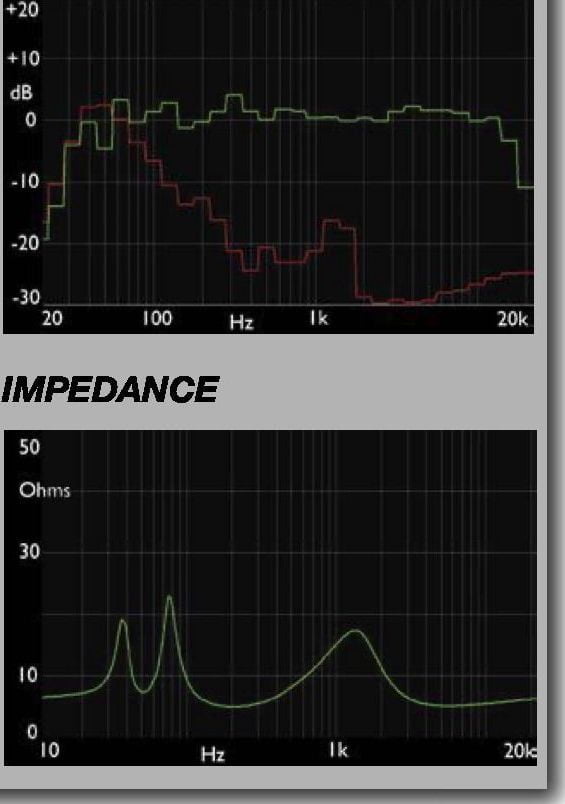 Wharfedale Diamond 12.3 Review
A cooly accurate floorstander needing little power. Bargain price.
PROS
Midrange clarity
Need little power
Add your review
Best Wharfedale Diamond 12.3 prices ?
See also TOP 10 Subwoofers
EXCELLENT – extremely capable
VALUE – keenly priced
Wharfedale +44 (0)1480 447700