Wi-fi speakers
Naim mu-so qb 2nd generation vs Bowers & wilkins zeppelin vs Sonos five
26 Dec 2021 – Words: Simon Lucas, Matthew Bolton, Alex Cox – Photography: Phil Barker
These mid-range wireless speakers will bring you hi-fi quality sound without the hassle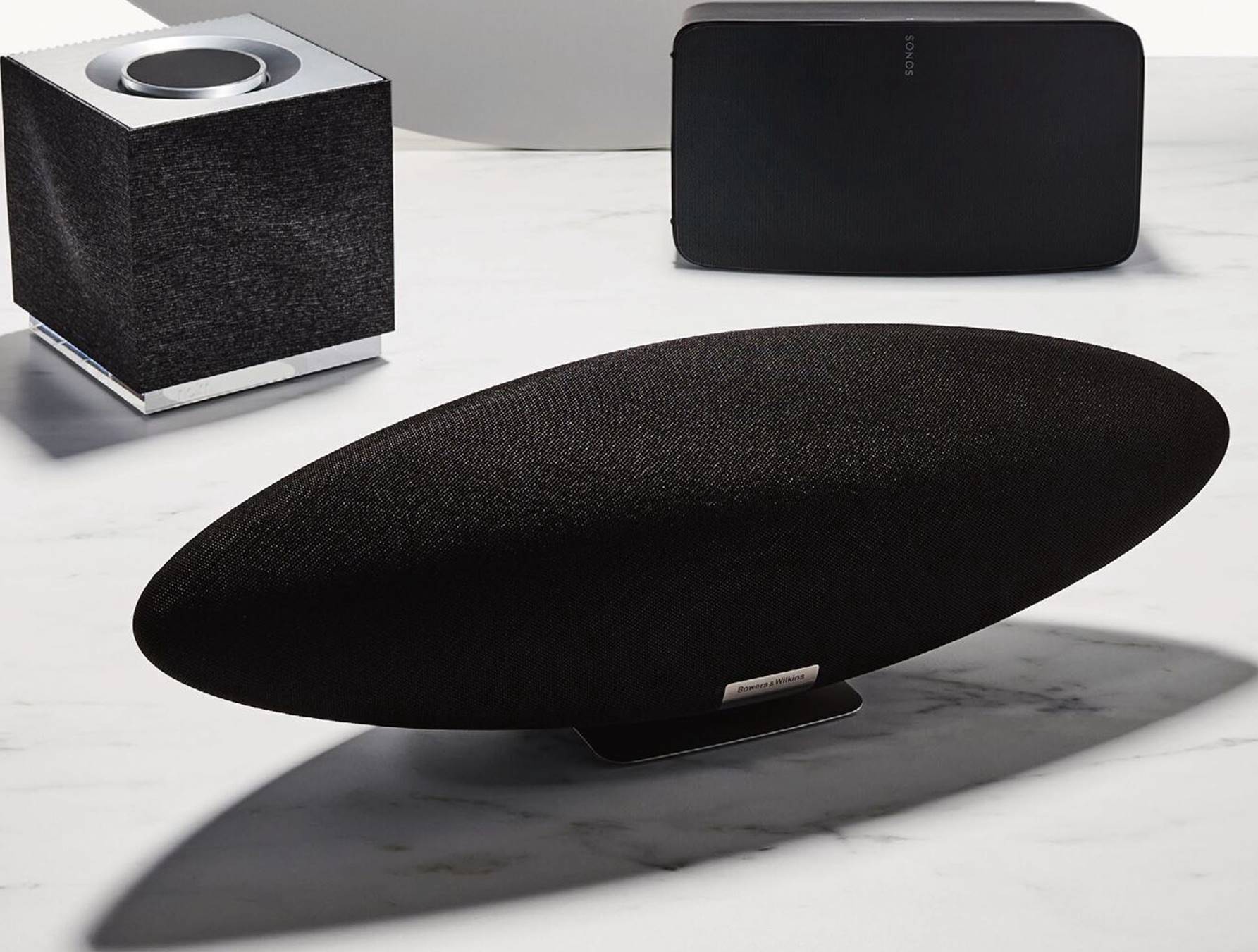 It's tempting to wade in here and make some grandiose statement about the era of hi-fi being over. But that wouldn't be quite right. Audiophile hardware is only getting better, vinyl is back on the rise, and there's nothing quite like building your own system. That said, the smart speaker market has evolved to such an extent that it has all but unseated the concept of complex hi-fi separates for many of us.
For a start, a smart speaker is a quick way to get your hands on serious quality. Even at the lower end, they exhibit a remarkable amount of poise; premium wireless speakers, tuned and engineered for fantastic sound, stand almost statuesque above them. Seriously: if you've never wrapped your ears around a high-end speaker, you don't know what you're missing.
Secondly, premium wireless speakers offer the perfect mix of simplicity and complexity.
There's literally nothing difficult to do at the beginning: plug in your speaker, attach it to the relevant networks using your phone, and you're ready to stream. If you want to expand your horizons, you can. You could start playing with multi-room, with advanced EQ and room compensation, with built-in smart assistance. Doing that with hi-fi is much more difficult.
7Review earns Amazon affiliate commissions from qualifying purchases. You can support the site directly via Paypal donations ☕. Thank you!
And let's not forget the looks. The high end is the sexy end – these are a centrepiece for the eyes as much as the ears.
WHAT'S ON TEST…
Description
Specs
Website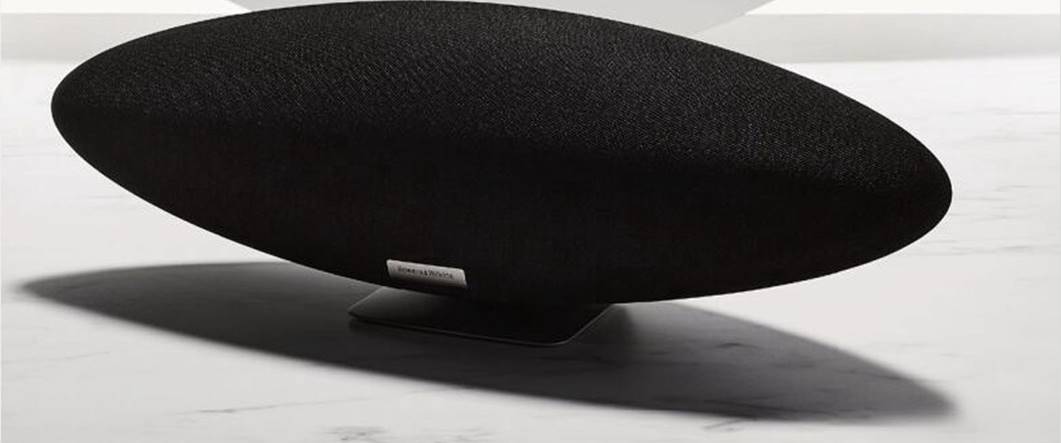 Bowers & Wilkins Zeppelin
Check Prices
Description
B&W's unique-looking speaker promises to be more than just a bag of gas. It's Alexa-enabled, packs a set of five drivers backed by some serious amplification, and it's compatible with many codecs including a bunch of 24-bit streaming services.
Specs
Drivers
5 (2 x 1-inch double dome tweeters, 2×3.5-inch FST midrange, 1 x 6-inch sub)
Frequency range
35Hz to 24kHz
Connectivity
USB-C, Bluetooth 5.0, Apple AirPlay 2, Spotify Connect
Voice assistant
Alexa
Dimensions
210x650x194mm
Weight
6.5kg
Website
bowerswilkins.com
RECOMMENDED
Naim Mu-so Qb 2nd Gen
Check Prices
Description
The elegant angled drivers (and intricately tuned housing) of Naim's reimagined and re­engineered compact cube give great all-around sound. It can be app controlled, but sits just as happily under the hand with its tactile dial controller – and the wide range of services it supports means it'll play everything thrown at it.
Specs
Drivers
5 (2 x angled tweeters, 2 x angled midrange, 1 x sub)
Frequency range
35Hz to 24kHz
Connectivity
USB-C, Bluetooth 5.0,
Apple AirPlay 2, Spotify
Connect
Voice assistant
Alexa
Dimensions
210x 650x194mm
Weight
6.5kg
Sonos Five
Check Prices
Description
Sonos, given its history, remains the name that comes to mind when you think of multi-room. The Five, which is equally happy working in a stereo pair, is the most overtly speaker­looking device on test here, but don't be fooled. There's far more to discover, and connectivity options that stretch way beyond simple multi-room audio.
Specs
Drivers
6 (3 x tweeters, 3 x midwoofers)
CPU
1.3 GHz quad core
GPU
512 MB SDRAM, 512 MB NAND
Flash
Connectivity
3.5mm jack, Ethernet, Wi-Fi 4,
Apple AirPlay 2
Dimensions
203x364x154mm
Weight
6.36kg
BOWERS & WILKINS ZEPPELIN
Glorious sound in an eye-catching design
From the top of the frequency range to the bottom, it's a smooth and coherent journey, with nothing overplayed and nothing understated.
Despite looking very much like previous Zeppelin speakers, Bowers & Wilkins' latest has not so much been overhauled as completely redesigned from the ground up. Firstly, this is a high-resolution device. The onboard DAC is 24bit/192kHz resolution, but is currently restricted to outputting at a maximum of 24bit/96kHz – although this is due to change, which will make the Zeppelin an even higher-res product than it already is.
Audio information can be served in quite a few different ways. Bluetooth 5.0 connectivity includes compatibility with Qualcomm's aptX Adaptive codec, and there's also Apple AirPlay 2 and Spotify Connect support, as well as integration of Amazon Music, Deezer, Qobuz, TIDAL, Last.fm and SoundCloud.
Give it the best stuff to work with and the Zeppelin gets virtually everything right. And, what's more, in some style. The tonal balance it strikes, for example, is really nicely judged. From the top of the frequency range (which is bright and attacking, but never uncouth) to the bottom (which is authentically deep, and properly disciplined where attack and decay of notes are concerned), it's a smooth and coherent journey, with nothing overplayed
Give it the best audio to work with and it gets virtually everything right and nothing understated. There's a prodigious amount of detail unearthed, and even the briefest of transient information is identified and reported on.
Really, about the only area where the Zeppelin doesn't flat-out impress is where stereo separation is concerned – and, to be quite honest, if Bowers & Wilkins hadn't made such a song and dance about its 'true stereo' credentials we doubt we'd be quite so picky. But the fact is that the presentation here, for all its spaciousness and impressive definition, doesn't particularly escape the confines of the cabinet from which it emanates.
At 650x210x194mm and 6.5kg, the Zeppelin is one of the larger wireless speakers around – and, let's not forget, it looks like a Zeppelin. So while its little metal stand doesn't have all that much of a footprint, the speaker itself requires quite a bit of breathing space. It's a beautifully made thing, though, and flawlessly finished.
The Zeppelin is finally back… and it's better than ever. As long as you can find the space for its significant proportions, there's very little downside to owning it.
A triumph of elite sound quality at a size you can fit in any room
These speakers achieve layer after layer of warm and detailed audio – bass, mid-range and treble are all very pleasing to the ear.
The Naim Mu-so Qb (2nd Gen) is the smaller sibling of the Naim Mu-so (2nd Gen) – but while that speaker will take a whole shelf to itself, the cube-like Mu-so Qb measures 210x218x212mm. That may be bigger than the likes of the Amazon Echo, but it's much more compact than pretty much anything else that delivers 300W of audio power, and will fit on a desk easily, or on top of a chest of drawers.
The Mu-so Qb 2 features AirPlay, Chromecast and Spotify Connect wireless streaming, and supports Roon, Qobuz and TIDAL – plus it has Bluetooth built-in for playing easily from anything else. It also has a 3.5mm jack, optical input and USB port. Anything you play on it sounds just fantastic – from classic arrangements to banging drum 'n' bass, the Mu-so Qb 2 has the gears to make your music sound full, precise and rhythmic.
Squeezed into the Mu-So Qb 2's frame is a three-way system, consisting of five drivers: a bass driver facing forwards, and then a left-firing tweeter and mid-range combo, and a right-firing set of the same. These are powered by 300 watts of amplification, and you'll wonder where the hell Naim managed to store all of this.
The design is premium and impeccably made, although several years on the from the original Mu-so Qb's launch,
What these achieve is spreading the sound around the room evenly
the soft undulating waves of the grille and clear base don't feel like cutting-edge design. However, the large volume dial on top is tactile and satisfying to turn.
Despite featuring angled drivers, you shouldn't expect a real stereo effect from the Qb 2 – what these achieve is spreading the sound around the room evenly and with clarity, but the sound still comes from a single point. It's robust and weighty in the bass without ever feeling flabby and it's structured in the mid-range in a way that lets every instrument pop through the mix, while maintaining the musicality. Meanwhile, the treble is airy and clear, dancing out of the lower ranges without getting bright or harsh to achieve it.
This is a high-end hi-fi system squeezed by mad scientists into a cube that could fit into a living room… but that has the sound quality to fill a ballroom if needed. The audio quality is magnificent, the streaming and file support is near-perfect, and it even has a great big volume knob to play with. There are bigger one-box speakers that can beat it for sound quality, but at this size, it's peerless.
At first glance, this seems similar to the Play:5. But it merits a deeper look
The Sonos Five's low end is punchy and distinct, particularly at higher volumes, and there's excellent sonic separation across the board
If necessity is the mother of invention, then it should come as no surprise that the latest version of the Sonos Five looks and sounds remarkably like the model it's meant to replace. Its forerunner, the Sonos Play:5 Gen 2, has been wildly successful since its release in 2015, offering a simple, curvy monochrome design, precise, robust and adaptable sound and well-integrated streaming smarts.
But despite outward appearances, there have been changes made internally, including increased memory and a more powerful quad-core 1.4GHz CPU processor. This indicates that Sonos is future-proofing this model for potential firmware upgrades that could include the long-rumoured addition of hi-res music support.
While you can directly stream music and radio from the S2 app, Spotify Connect or Apple Airplay 2, there's no Bluetooth streaming onboard. This may put some users off, but as this is designed for use on a wireless network, it's not a great loss. However, a more significant omission is the fact it doesn't contain any in-built microphones for voice control, although it will work with Alexa and Google Home if you already have a control device.
Priced at £ for a single unit, the Play Five is pricey compared to newer competitors in the multi-room wireless speaker market. But Sonos' excellent app and ease of use as part of the company's wider ecosystem mean that for those looking to build a reliable multi-room set-up, it's still an attractive choice.
Its dispersion is extensive and consistently detailed, making it a great listen
The Sonos Five really delivers in being a single speaker that can fill a room. Used alone in its horizontal position, its dispersion is extensive and consistently detailed, making it a great listen even in awkward spaces like kitchens and bathrooms.
Considering the compact size of the cabinet, the Sonos Five's low end is punchy and distinct, particularly at higher volumes, and there's excellent sonic separation across the board. It's the warmth of the mid-range and treble, though, that is the most striking feature of this compact system. Occasionally we found it lacking a touch of top-end sparkle, but the voicing that Sonos has chosen manages to retain transparency without verging on harshness across a range of volumes and musical styles.
The Five is a classy speaker that can deliver audio in a manner that is both well-pervading for background music and sonically sophisticated enough for more concentrated listening. For users already invested in the Sonos ecosystem or those looking for a future-proofed streaming solution, it's a great option.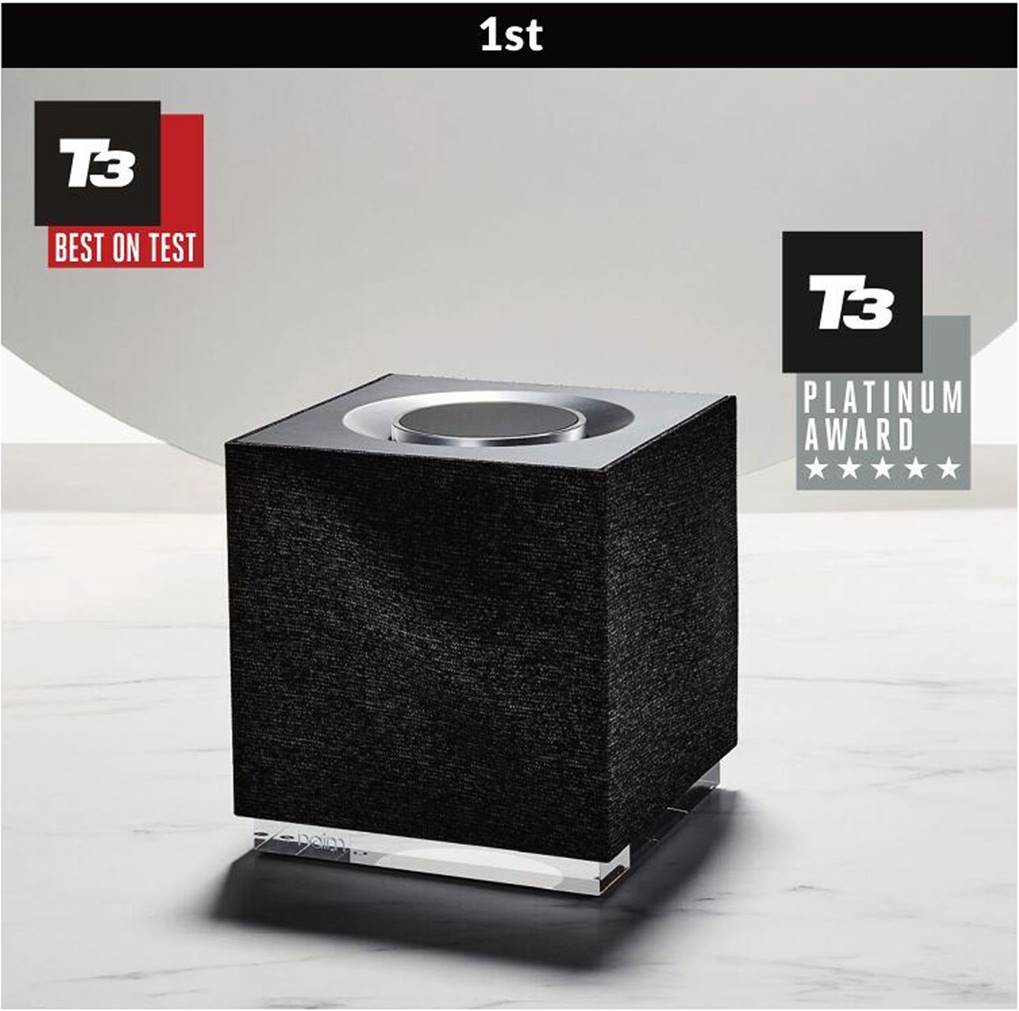 WE'RE IMPRESSED The sound quality is truly wonderful. Its dimensions are pretty compact, and there are different colour options. Plus it has top-tier streaming and file support.
WE'D IMPROVE There's no aptX Bluetooth, and it can't offer true stereo.
THE LAST WORD The Naim Mu-so Qb (2nd Gen) not only knocks it out of the park, but right out of the state. Music is so detailed, so finely balanced, so perfectly timed – and comes out of something so compact. If you love music and need a flexible Wi-Fi speaker that can fit on a shelf or desk easily, this is the best choice, no question.
BOWERS & WILKINS ZEPPELIN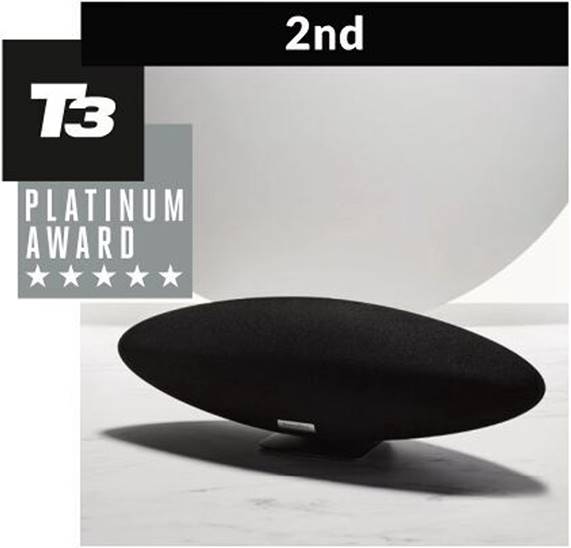 WE'RE IMPRESSED Revealing, expansive sound; ample streaming options; useful app.
WE'D IMPROVE Doesn't have the stereo separation it thinks it has; lack of physical inputs; physically quite imposing.
THE LAST WORD As long as you're not banking on the 'true stereo' it claims it delivers, this is the best in an illustrious line.
SONOS FIVE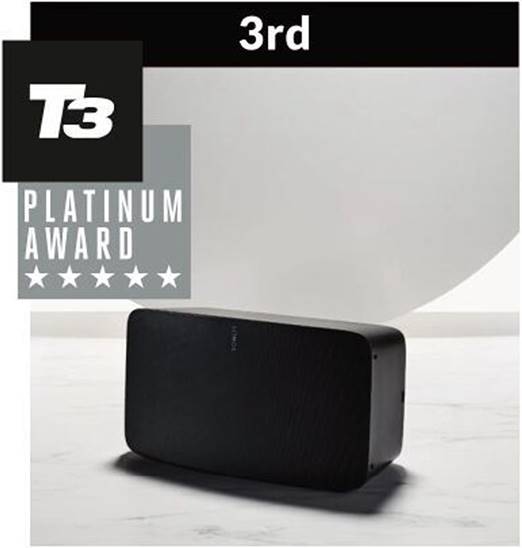 WE'RE IMPRESSED Warm, clear and entertaining sound; future- proofed; wide dispersion; flexible.
WE'D IMPROVE No mic; no Bluetooth; no hi-res support yet; rivals available for less.
THE LAST WORD With room-filling, detailed and warm sound, perhaps Sonos can afford to rest on its laurels with this excellent streaming speaker.
HOW TO CHOOSE THE PERFECT SMART SPEAKER
A smart speaker is all about filling your space with sound, so that particular space is the first thing you should think about.
Actually producing enough volume isn't generally difficult – an Echo Dot can fill a room, after all – but making the most of your walls and the air between them is important. Many more advanced smart speakers feature the same kind of room calibration as you'll find in AV receivers, and the more competent this is, the more your speaker will be able to compensate for echo, dead spots, and awkward placement.
As much as room calibration can help, though, placement is still important. You'll likely want your smart speaker to live somewhere relatively central in order to make the most of it. Maybe you'll pick something smaller, maybe you want your speaker to be a focal point for the room – whatever you decide, the looks of the speaker are very important.
Consider, also, exactly what you're going to want the speaker to do. Yes, you want it to make noise, but from what source? Bluetooth is pretty ubiquitous, but compatibility with your favourite streaming service may not be. If you want to integrate that speaker into your existing smart home kit, Alexa or Google Assistant compatibility is a must. The speaker might not directly include an assistant, but if it can be controlled by the one you have, that's a real bonus.
If you're already flush with kit that you might want to hook up directly – be it a hi-res player, a turntable, a phone which still has a 3.5mm jack – then lookfor an analogue audio input of some kind. Outputs can be useful too, for wiring up a sub or connecting to external speakers, though multi-room wireless magic does make this sort of functionality a bit redundant and has mostly consigned it to the bin by now.
The real key? Spend what you can afford. The further you creep towards the premium end, the better the results – and a good speaker is one purchase you won't regret.