Superb rugged speakers
SONOS ROAM vs B&O Beosound Explore vs JBL Charge 5
Words: David Nield, Matt Bolton, Yasmine Crossland. Photography: Phil Barker
Heading into the great outdoors and want a soundtrack? You need speakers that won't quit on you. Let us test three leading contenders.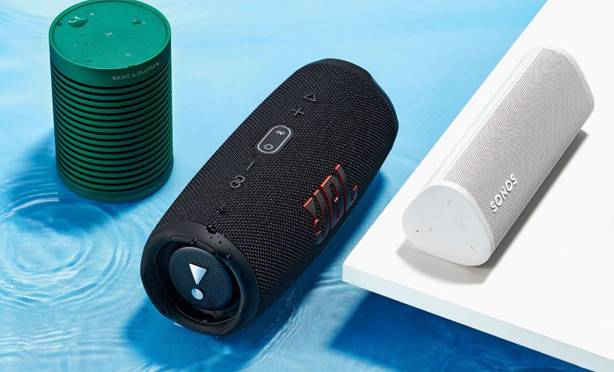 If you're taking your music on the go with a portable speaker, then you need it to last – and there are a growing number of quality, well-protected outdoor speakers on the market now, including models from high-end audio brands better known for their indoor kit.
With leading manufacturers including Bang & Olufsen and Sonos joining the likes of JBL in making battery-powered, wireless speakers, you can get yourself a device that's protected against the elements and that's going to broadcast your music in high fidelity, whether you're on the beach, the campsite, or your patio.
Besides the audio quality of your portable speaker, there are a number of key specs to look out for as well, not least battery life – you want a device that's going to be able to Eve away from a mains connection for as long as possible, otherwise your outdoor party might be drawn to a premature close.
There's also waterproofing and dustproofing to consider: if you're going to be using your speaker near the pool or out on a windy, rainy mountain hike then make sure the hardware you're buying is designed to survive the conditions.
Connections to portable speakers are typically done via Bluetooth from your phone or laptop, but other standards (including Apple AirPlay) are sometimes supported too. So let's see what's out there.
7Review earns Amazon affiliate commissions from qualifying purchases. You can support the site directly via Paypal donations ☕. Thank you!
See also TOP 10 Subwoofers
WHAT'S ON TEST…
SONOS ROAM
Check Prices
Bottom Line
Not much bigger than a can of pop, the Roam takes Sonos'famous high-fidelity wireless music expertise and transfers it to the great outdoors. It's waterproof, lasts up to 10 hours on a charge, and supports multiple wireless protocols. At home it integrates with your wired Sonos system.
SPEC
Drivers
2 (tweeter, mid-woofer)
CPU
Quad Core A-53
Memory
1GB SDRAM, 4GB NV
Battery life
Up to 10 hours
Connectivity
USB-C, Wi-Fi 5, Bluetooth 5.0, AirPlay 2
Voice assistant
Amazon Alexa, Google Assistant
Weatherproofing
IP67
Dimensions
168×62 x60mm
Weight
0.43kg
RECOMMENDED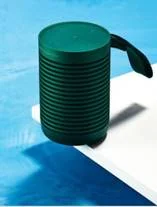 B&O Beosound Explore
Check Prices
Bottom Line
One glance at the Beosound Explore from B&O tells you this is a portable speaker built to survive the elements. Its compact size and ridged exterior mean it's easy to carry around and can look after itself, and it comes with a strap and carabiner too. What's more, it can go for an impressive 27 hours between battery charges.
SPEC
Drivers
2 x 1.8-inch full range
Frequency range
56- 22,700Hz
Battery life
Up to 27 hours
Connectivity
USB-C, Bluetooth 5.2
Weatherproofing
IP67
Dimensions
81x124x81mm
Weight
0.63kg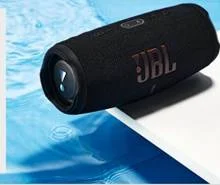 JBL Charge 5
Check Prices
Bottom Line
The JBL Charge 5 is rugged, versatile and capable of pumping out tunes at a serious volume, despite its diminutive dimensions. Up to 20 hours of audio on the go is possible between battery charges, while the speaker also does double duty as a phone charger itself. The JBL Charge 5 is fully waterproof and available in a variety of cool colours.
SPEC
Drivers
2 (dome tweeter, bass)
Frequency range
65- 20,000Hz
Battery life
Up to 20 hours
Connectivity
USB-C, Bluetooth 5.1
Weatherproofing
IP67
Dimensions
223×96.5 x94mm
Weight
0.96kg
SONOS ROAM REVIEW
A mini sound machine you can take on all kinds of adventures
The Sonos Roam is the first Sonos Bluetooth speaker that's made for tucking in a pocket or tossing in a backpack for hitting the road.
With dust and waterproofing, plus a generally robust frame that will help it survive drops and bumps, can the class of Sonos help it come out on top?
When it comes to what it can do, the Sonos Roam is like a shrunk-down Sonos Move, but it actually has even more smarts going on. Not only is this a Bluetoath speaker, but it's also a Wi-Fi multi-room speaker and a smart speaker, using Alexa or Google Assistant (your choice). It also features Sonos ' Auto TruePlay feature, so it's always listening to and adjusting the audio to compensate for any distortions from its placement.
The Sonos Roam's triangular design is meant to make it easy to grab and hold securely (which it does). The two ends are rubberised, and though they don't look or feel like a chunky impact absorber, they make it much more drop-proof than anything else Sonos makes.
The Roam is IP67 rated for waterproofing, which means it can survive a dunkin water up to 1m for up to half an hour. You can drop it in the pool or it can get sprayed without issue as long as you retrieve it quickly, and the water tests we've given it were all survived without issue. It's also dustproof enough to be a good beach companion.
In terms of sound quality, the Roam has no problem with musical punch, which is obvious from the moment
It has no problem with punch, which is obvious as soon as you turn it on you turn it on. It's especially happy to introduce you to its bass, which is controlled and full – it's not overpowering, but the Roam would like to let you know that its small size is no impediment to good low-end presence.
Sometimes it has trouble balancing a very mid-heavy song with treble. It feels like the Roam takes its biggest audio swing at whatever*s currently most prominent in the mix – whether that's bass, treble or mid. When you're outdoors fighting gentle wind noise or crowds nearby, this is no bad thing – but this happens indoors too.
Battery life is also a bit meagre compared to some of the competition, though its playing time fairly well matched up to the promised 10 hours. However, we didn't get anything like the kind of standby time of 10 days – more like five. Potentially this could be extremely frustrating.
Despite this, if you want a smart-looking and compact battery-powered portable speaker that acquits itself really well for sound overall, and that has the added bonus of being part of the Sonos system for occasional multi-room use, then the Roam is an excellent option.
The two ends of the Sonos Roam are rubberised, which make ft one of Sonos' more drop-proof products. It's also quite easy to grab and hold securely
B&O BEOSOUND EXPLORE REVIEW
Refined Bluetooth speaker inside, tough bastard outside
The Explore may not fit in your jeans, but it'll tuck into your bag no problem. However, that's only if you want to hide it – it's the best looking of these tough little speakers by along way. And despite its small size, B&O has put all the care and attention you'd expect into its audio.
We absolutely love the look of the Explore. With its ribbed design, and gleaming aluminium finish, it looks like if the Capitol Records building had been part of the Blade Runner skyline. It doesn't just look cool, though. The ribbed design is a clever part of what makes this such a sturdy speaker. A circle is the most robust shape, and making this outside panel ribbed is smart, because it reduces the weight while allowing the sound to escape.
It's IP67-rated, which means it's very well sealed against dust ingress and can survive in up to 1m of fresh water for up to 30 minutes. We've not left it for that long, but it's come out of lighter dunkings without a problem.
The Explate's impressive trick is how refined and well balanced it is for such a small speaker. Whereas many small speakers attempt to overcome their size limitations by ramping up the bass and treble, the Explore has no
It doesn't just look cool: the ribbed design is what makes this so sturdy
such interests. Everything is weighted just right against each other – bass is present and firm, but not showy. The mid-range is warm, while the treble is detailed and dear, but never overly sharp.
It's not expansive, though. It sounds like it's coming from a single small unit, even if it does push sound out in 360 degrees well. Cranking up the volume reveals that it keeps control well, avoiding the distortion that can plague small speakers, but it doesn't open up the sound that much.
The Explore still handles dynamic range better than the Sonos Roam. But it's an interesting fight against the JBL Charge 5, which uses its larger size to create more expansive sound, and feels more natural in that regard. However, the JBL's mid-range isn't its strongest side, and the B&O's balance feels more complete… it's just that it feels smaller. Which is fair enough, given that it is smaller.
We're big fans of the B&O Explore. It's a great size, it's one of our favourite gadget designs ever, it gets its music balance spot on, and that gigantic battery life is exactly what you'd want from a portable speaker.
With Its gleaming metal and ribbed design, the Explore looks effortlessly cool, like the Capitol Records building redesigned for the Blade Runner skyline
JBL CHARGE 5 REVIEW
A portable Bluetooth speaker that doesn't skimp on sound quality
BL certainly knows its stuff when it comes to making great-sounding speakers. The fifth instalment in the Charge series improves on its predecessor, the JBL Charge 4, with the next generation of Bluetooth connectivity, better audio, a new design, USB-C charging, and it's now more durable with improved dust resistance as well as waterproofing.
Sporting the familiar cylindrical JBL design, the Charge 5 is a good -looking speaker that comes in loads of colours including green, red, pink, teal, blue, black, grey and white. The colour coats the rubberised ends as well as the main mesh body. Although taller, longer and wider than the JBL Charge 4, it still feels small enough to be portable. And it's actually Sg lighter. An IP67 rating means it's waterproof and dustproof so if you do get caught in the rain then you won't need to worry about speaker damage.
The JBL Charge 5 has an RMS power output of 30W + 10W with anew wider 52x90mm bass driver and a separate 20mm tweeter. An impactful, punchy low-end paired with crisp highs delivers a well-balanced sound across genres. Although there were some tracks where the vocals take over slightly, it wasn't a big issue. Overall the audio is energetic, detailed and accurate. And loud: it would easily fill a room, if not a house. The volume will happily cut through the hustle and bustle of a busy park.
If you want to make the music louder, PartyBoost lets you pair two or more compatible speakers together. You
Overall the audio is energetic, detailed and accurate. And loud
just need to press the dedicated button on each of the speakers you want to pair. This replaces the old JBL Connect* seen on the JBL Charge 4, so you won't be able to use PartyBoost with Connect+ speakers.
Another really handy feature is the built-in power bank, so if your phone is running out of battery you can top up the charge and keep the music playing. The battery life itself hasn't changed from the Charge 4, and didn't need to. The Charge 5 will last about 20 hours of music, which is plenty for a day at the beach or even a weekend away. Of course, if you use the speaker to charge up your devices it will drain more quickly. Once empty, it'll take about four hours to recharge back to 100%, which is longer than other speakers. But if you think ahead then it shouldn't be too much of a problem.
As far as portable speakers go, the JBL Charges is definitely up there as one of the best. It sounds fantastic and the volume goes seriously loud as well. Not to mention the array of extra features like PartyBoost and the power bank functionality.
This one goes up to 11 (almost): the volume will pretty much fill a house, and will happily cut through the hustle and bustle of a busy park
VERDICT: THE OVERALL WINNER IS…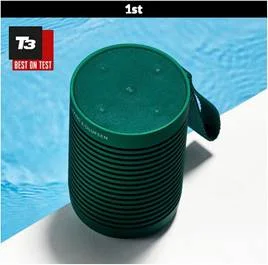 WE'RE IMPRESSED Excellent balance; attractive, tough design; great small size.
WE'D IMPROVE Sound isn't expansive; no 3.5mm audio input.
THE LAST WORD Small and ultra-tough, the Explore excels in both looks and build quality. It also sounds seriously impressive, although it's a bit lacking in oomph when compared to the JBL However, once you factor in its much smaller and more portable package – not to mention that epic battery life – it rapidly becomes the obvious choice for your backpack, whether you're heading to the park or the mountains.
4/5
WE'RE IMPRESSED Loud, powerful sound; 20-hour battery life; can charge your phone.
WE'D IMPROVE No EQ settings; can't use PartyBoost with Connect+ speakers; no 3.5mm audio port.
THE LAST WORD The audio is powerful and accurate, and it has dust resistance and a waterproof design. What's not to love!
4/5
WE'RE IMPRESSED Striking sound; waterproof; richer bass; great streaming and features.
WE'D IMPROVE Bit constrained at lower volumes; limited detail and expansiveness; battery life.
THE LAST WORD A great portable addition to a Sonos setup, and enjoyable to listen to. It's just a shame that battery won't last for longer.
4/5
MAKE THE MOST OF MUSIC ON THE GO
CHOOSE YOUR MUSIC SOURCE
These speakers can't store their own music library locally – you need to stream audio from a phone, tablet or laptop instead, so make sure you have a few playlists ready to go from your app of choice. Ideally, you'll want to get them synced for offline playback to your mobile device ahead of time.
FIND THE RIGHTSIZE
All the portable, battery- powered speakers you'll come across are small-ish, but some are smaller than others. If you're getting a speaker to sit by the pool then you're going to want a larger model than If you're getting a speaker to fix to your backpack for a hiking trip, so pick a size based on your intended use.
CHECK THE AUDIO OUTPUT
All of the speakers that you're considering for purchase should tell you how loud they can get when turned up to the max (and check the reviews in this regard too). Different scenarios (eg beach or the back garden) need different maximum volume levels, so decide what you're going to use your speaker for and make a choice accordingly.
THEY'RE NOT JUST FOR MUSIC
These on-the-go speaker units are usually associated with music playback, but that's not all they can handle: you can stream pretty much any audio you like from your phone (or another device), so you can get your podcasts, audiobooks, radio stations and soon playing through these gadgets as well.
DON'T IGNORE THE EXTRA FEATURES
High-end portable speakers like the ones we're looking at here will come with plenty of extra features – including smart assistant support, on-board audio tuning, fast charging and more – so make sure you read all the way through the specs lists before making a decision.