Home entertainment can be a touch overwhelming, with so much choice and with terms like 'variable refresh rate' and 'dimming zones' being thrown at you, it can leave the most patient of punters flummoxed. It's not only about screens. Read our HOME IS WHERE THE HEART IS.
To get the kind of sound that gives you a virtual wallop in the stomach, you might find you need a soundbar, so we've tested the cream of the crop to bring you an epic film night. From big-screen beauties to sensational sound, here's the gear to create your own home cinema nirvana, without breaking the bank.
Samsung's latest ultra-slim Neo QLED takes the fight to its OLED rivals.
'Comprehensive' is an understated way to describe the QN90C's specs. It uses AI and machine learning to upscale lower-res stuff, and the four HDMI ports cater for Variable Refresh Rate and Auto Low Latency Mode. There's no support for Dolby Vision, though. The plastics that make up most of the chassis look and feel good, the dulled grey metal screen surround is actually quite elegant, and the bezels are as slim as can be. Build quality feels solid all over this set. The picture is bright, detailed and composed, with colours that are never less than vibrantly naturalistic, but even at its darkest it isn't particularly black. This isn't the last word in motion control either: it's just fractionally hesitant with slower movement. Sound is decent, but of course since we're talking home entertainment here you're just itching to boost it with some add-ons, aren't you?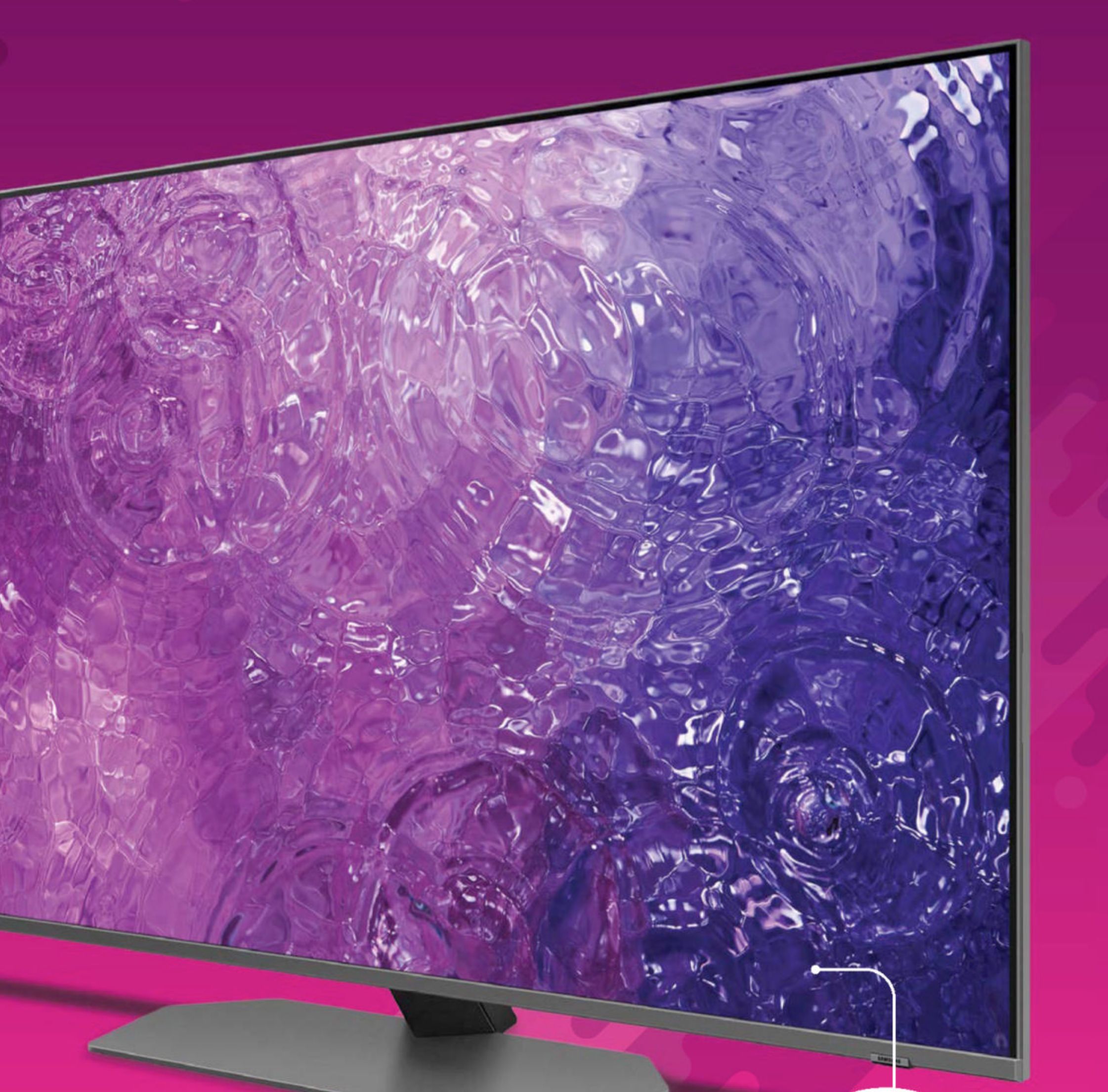 The Game Bar is undeniably helpful if you use your TV as a gaming monitor, with minimap and virtual aim-point features adding to the ability to check on input lag, adjust headset settings, adjust screen ratio and all that.You also get two remotes: one with loads of buttons, and a much nicer alternative that just covers the fundamentals. You can also control the TV with Samsung's SmartThings app or your preferred voice assistant.
samsung.com
Tech specs
Screen 55in 3840×2160 QLED
HDR HDR10+, • HLG OS Tizen
Connectivity 4x HDMI, • 2x USB, • digital optical audio out, • Ethernet, • Wi-Fi, Bluetooth
Dimensions 1227x768x237mm, 20.6kg (including stand)
Last update on 2023-09-19 / Affiliate links / Images from Amazon Product Advertising API
7Review earns Amazon affiliate commissions from qualifying purchases. You can support the site directly via Paypal donations ☕. Thank you!
Your screen is the heart of your home entertainment. Samsung's about to storm the premium market with its new microLED series, ranging from 76-126in. No pricing yet, but if you've got R1.4 million, you can have the smallest one. Maybe. The mid-range and high-end markets in South Africa have been a duel between Samsung and LG. But there are newcomers entering the arena …
Bottom Line
Spec
New item
TCL 65C845
Bottom Line
TCL TVs seem to be getting better and better, and its new, premium miniLED C845 range – the 65in model is launching in SA in August – is very worth considering. It performs above its price range with excellent black levels, contrast and brightness, full-array backlight increasing picture quality, and a wiiide 178″ viewing angle. It's upgraded to a 240Hz refresh rate, welcome for gamers as well as home theatre enthusiasts, with audio courtesy of Dolby Atmos.
Spec
Screen 65in Ultra HD LCD MiniLED, 3840 x 2160 • Connectivity 4x HDMI, 1x composite video, 1x stereo cinch, 1x optical digital out, 1x USB, 1x headphones, WiFi, Bluetooth, Airplay 2.
Dimensions 1446 x 865 x 320mm, 25.3kg (incl. base)
LG 83" OLED EVO C2 SERIES TV
Bottom Line
The LG OLED evo C2 Series TV is a recent addition to LG's line of superb, industry leading OLED TVs, and it's made waves in the world of home entertainment. Designed for an outstanding gaming, movie, and sports viewing experience, the evo C2 series gives new meaning to watching content in stunning 4K at a 120Hz refresh rate. The C2 also features LG's new evo panel – the next evolution of OLED, which delivers up to 20% more luminance. You can go large with the 83in giant, but you can also pick up the 48in for R19 000.
Spec
Display 83in 4K OLED 3840×2160 120Hz/100Hz • Connectivity 4 x HDMI, 3 x USB, Wifi, Bluetooth, Ethernet • Dimensions 1851 x 1092 x 279, 41.6kg (incl stand)
A home theatre system is a bunch of audio and video gear working together -usually consisting of a 4K TV or projector plus a soundbar, hopefully with satellite speakers to create a surround sound system. Home theatre systems can be relatively simple, with a soundbar and extra speakers including a subwoofer available in a package. But even loungebased systems can be made very complex, with many speakers.
Obviously the size of any system will depend on the size of your room, but you need to decide on how many units you want. You also need to consider if you just want a soundbar should you have a smaller room.
Plan ahead. It's like a job interview: where do you see yourself in five years' time? If you imagine your system expanding into more rooms, say, or incorporating some home cinema action, you need to factor that in now.
The most useful speaker of the lot is the soundbar. Stick one of these in front of your TV and your core home audio is done — music, films, radio, the lot. These typically plug into your TV over HDMI, and when not replacing your TV speaker you can use them just as you would a dedicated multiroom speaker.
But: it can be a lot cheaper to buy a smart speaker instead.
Amazon Echo and Google Nest speakers can be assigned to different I virtual rooms, and you can set music to play on specific ones through I your phone or with a voice command.
You get a lot more speaker for your money with these units.
Google and Amazon are desperate to get their voice assistants in your home so they're willing to make little money off the speakers themselves. An Amazon Echo Studio is bigger and beefier than a Sonos One, but costs a similar amount of cash, for example.
At the budget end, a streamer AND a soundbar in one, and it's really good at both – until you really crank up the volume to max. Its four speakers still offer a significant improvement on what most mainstream TVs can produce, with punch, presence and detail.

A winning mid-range package, which is why it's been at the high end of our Top Ten speakers list for so long. There's some serious tech in that bar, with virtual Atmos sound. The Beam (Gen 2) is a small but effective solution for superior sound – and you can always add a Sub if you want more whump.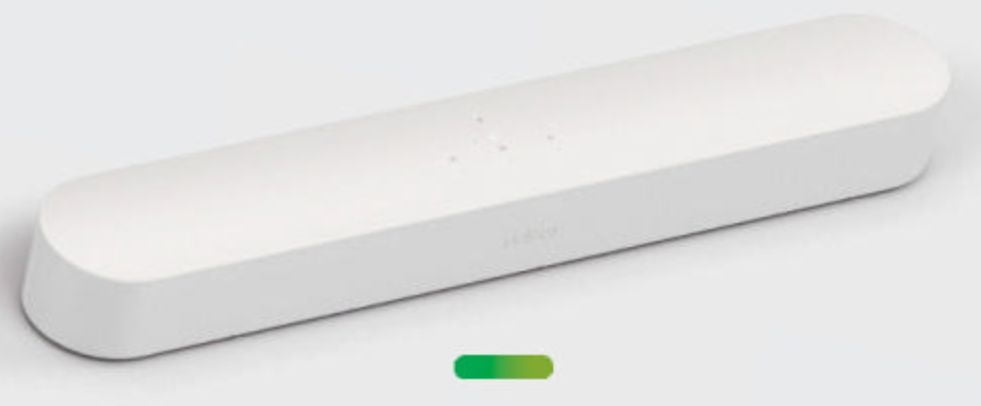 SENNHEISER AMBEO SOUNDBAR
At 126cm long and 18.5kg, the very premium Ambeo is massive, and it sounds suitably huge. You won't get better Atmos performance from a soundbar: the top end is sharp but not harsh, voices in the middle have real texture, while the meaty bass is delivered with so much punch you'd be silly to bother with a separate sub. A mic is included to assist with setup, which calibrates things by listening to a set of test tones.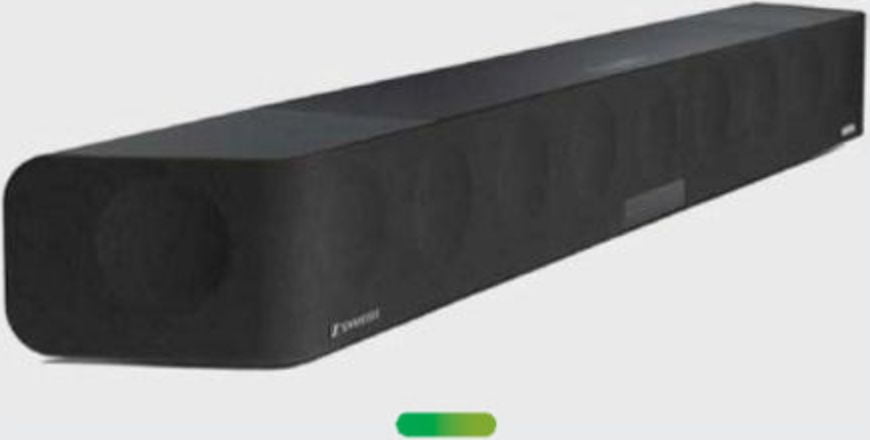 Every so often you have to get off the couch to put on the kettle or just go to bed. Your music should be there waiting for you.
Sonos knows what it's doing with multiroom audio. So they should. With their variety of soundbars, powerful subwoofers and accessories you can tailor a Sonos solution for pretty much any home or budget. It's easier to integrate and – big bonus -you have to learn much less about sound and sound equipment. Old-school audiophiles will sneer at you, but it leaves you free to talk about much more interesting things while they compete with each other for hours over which 1970s amp has the best subtweeter diode thingy.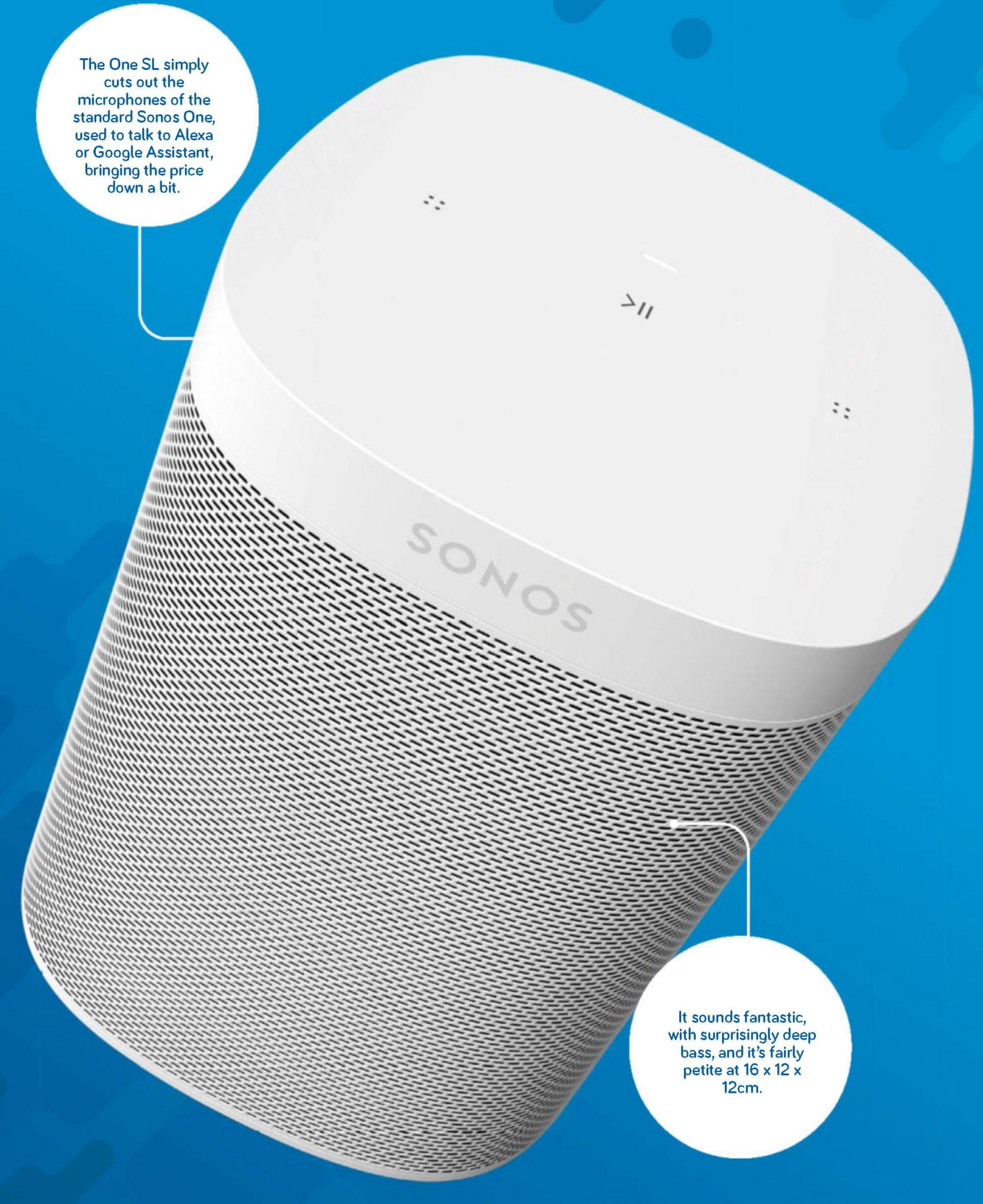 Sonos will also allow you to stream different audio in each room simultaneously, a boon for families, and they can be controlled with the Sonos app, which is excellent, or AirPlay. A pair of Sonos One SL speakers for R10 000 is an inexpensive start for your multiroom audio adventure. You can add a Sub Mini for R12 000 and a soundbar (the Arc, Ray or Beam) from R6 500.
Alternatively …
Alexa may already be in your home, listening to every word you say.
Get another Echo and hey presto -multiroom audio! A pair of them will only cost you R2 600, and they're getting cheaper all the time.
If you're happy in the Appleverse with Apple Music and Apple podcasts, two Homepod Minis and the glamorous world of multiroom audio can be yours for a mere R5 600. Don't be put off by their small size – their sound quality is excellent.
Your home doesn't stop at the back door, and you'll want some entertainment in the garden, too. For a party or a quiet afternoon, the Charge 5 offers wifi and very good audio quality for a Bluetooth speaker. Lasts 20 hours on a charge and it's waterproof too.
Now add these…
Microsoft's next-gen console has thankfully made it out of the stock shortage doldrums that plagued it upon release, which means you can finally take full advantage of the most powerful console ever made.
Capable of churning out games up to 120fps, it's the ideal companion for Samsung's 120Hz screen. And with Xbox's Netflix-like Game Pass service, you'll have access to hundreds of incredible titles for a reasonable monthly fee.
If you're planning to use the Beam as your livingroom music hub, this RGB Philips Hue light strip is an easy way to visually immerse yourself in your favourite tunes – especially if you've already got a Hue Bridge. Simply connect your Spotify account in the Hue app and marvel at the in-sync light show that ensues. The strip's flexibility lets you easily mount it behind a sideboard or couch.