A newcomer to the audio market, this is a credible attempt to combine smart tech with strong sound
As the new generation of intelligent speakers puts an emphasis on sound quality, Clif Joseph listens to six popular models. 
Wireless Speaker Systems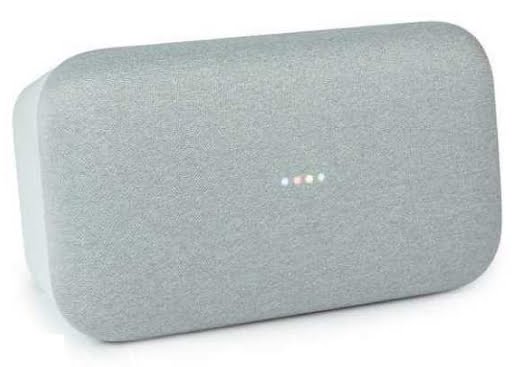 DETAILS
PRODUCT Google Home Max
ORIGIN UK/China
TYPE Wireless multi-room smart speaker
WEIGHT 5.3kg
7Review earns Amazon affiliate commissions from qualifying purchases. You can support the site directly via Paypal donations ☕. Thank you!
DIMENSIONS (WxHxD) 336 x190 x154mm
FEATURES
Quoted power output: Not specified
Up to 24-bit/ 96kHz playback
Wi-fi; Chromecast Bluetooth; 3.5mm line-in
DISTRIBUTOR Google
WEBSITE store.google.com
Available in either chalk or charcoal shades, the Home Max boasts respectable audio hardware, with two 114mm mid/bass drivers and a pair of 18mm tweeters. It's very solidly built too, with a weight of 5.3kg that outguns most rivals in the group.
Unsurprisingly, it leans heavily towards smartphones and tablets using Google's Android software, as well as its Chromecast music streaming software. This bias means it's not a good choice if you want to use it with Apple devices or Windows computers, but it isn't quite as blinkered in its approach as the HomePod. As well as offering wi-fi and Chromecast, the Home Max also boasts Bluetooth streaming and a 3.5mm audio input.
If you really want the full versatility of multi-room connectivity and stereo pairing, the Home Max works best with Android devices that can connect to it via wi-fi.
Sound quality
Google may be a newcomer to the audio market, but the Home Max makes a good first impression. The solidity of the speaker lends the lower piano notes on Flight From The City a deep, ominous rumble and there's a real sense of physical separation while the lighter strings float higher in the air as the sound easily fills the room.
The strings work well on The Blower's Daughter too, wringing a rich, woody texture from the mournful cello. Rice's voice sounds full and warm, and the resonance of the acoustic guitar's strumming adds a sense of urgency to the song.
However, the Home Max starts to lose its balance as we move onto more densely layered sounds. Rapture kicks off nicely, with a firm, precise drumbeat leading through the intro. The bass guitar has a full sound to it as well, but at times the Home Max leans a little too heavily towards the extremes of high and low frequencies. The midrange seems constrained and the guitar is often overshadowed by the bass and percussion.
It also struggles to balance the multi-layered bombast of Bohemian Rhapsody. The operatic section seems to favour the higher, falsetto vocals, as the lower voices fade into the background. To its credit, it handles the power of the heavy rock pretty well, putting a strong focus on May's guitar and Mercury's solo vocals. But once again, the midrange suffers with the piano and drums struggling to keep up as the song drives towards its climax. Ironically, perhaps, the Home Max reminds me of Apple's Beats headphone – a strong, lively sound that favours the bass end of the spectrum. It'll be great for parties, but doesn't really have the necessary balance and precision for audiophiles who want to delve into every little detail of their music collection
OUR VERDICT
Google Home Max Review
A good first attempt, but Google is still learning the ropes in the hi-fi market
PROS
Lively, powerful sound
Good connectivity
CONS
Midrange feels a little weak
Bias towards Android devices
Add your review
Best Google Home Max prices ?
MORE DEALS

PARANOID ANDROID
The Home Max uses Chromecast to stream audio over wi-fi and to link multiple speakers in different rooms. Many smartphones and tablets that use Google's Android software already have this built in, making it a good choice for Android users. Some other speakers – such as JBL's Link 500 – also use Chromecast, allowing you to connect speakers from other manufacturers as well. There is a Google Home app for the Apple iPhone and iPad that lets you use the Google Assistant voice technology, but it doesn't support a very wide range of online music services. This means Apple users will have to rely on Bluetooth for listening to music from their device. There's no app for Mac or Windows computers either, so Bluetooth is again the only option if you intend to use your computer.