David Vivian is deeply impressed by the stylish standard-setter's transformation into a wireless active speaker system. Read our KEF LS50 Wireless Review.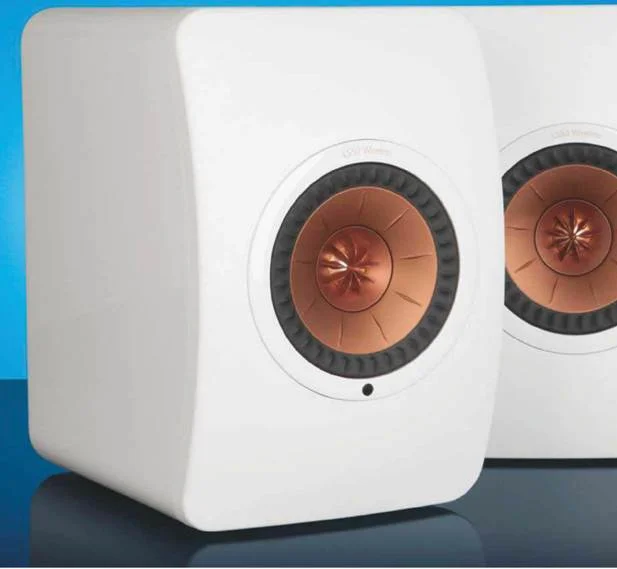 Sooner or later, thinking gets connected and everyone's happy. KEF's LS50 Wireless is a neat (and I do mean neat) example. Prior to its launch, there tended to be just two types of self-powered stereo speakers you could buy in the UK. One is the truly active type favoured by recording studios, with dedicated built-in power amplification for each driver that requires a couple of mains sockets and a link to an external preamp and source to work. Maybe not the ultimate clutter-buster and no digital processing, but what a sound.
The other, hitching its colours to the nascent lifestyle trend, simply puts an integrated amp/DAC with Bluetooth
inside one of the enclosures, giving drive to its passive host speaker and, via a length of speaker cable, its equally conventional partner. This approach is undeniably convenient and, depending on the internal amp/ DAC combo, capable of respectable sonic results. But it's not active in the truest, purest sense. One such speaker from MFCs recent reviewing past that struck a likeable compromise is DALI's Zensor 5 AX (MFC 410) while Acoustic Energy's AE1 Active (MFC 421) is a fine representative for the frill-free, supersonics active camp.
KEF's LS50 Wireless isn't the first two-box package to seek a perfect marriage between true active design and wireless convenience, but being
DETAILS – KEF LS50 Wireless Review
PRODUCT KEF LS50 Wireless
ORIGIN UK/China
7Review earns Amazon affiliate commissions from qualifying purchases. You can support the site directly via Paypal donations ☕. Thank you!
TYPE Active loudspeaker system with wireless streaming
WEIGHT 10 (left) 10.2kg (right)
DIMENSIONS (WxHxD) 200 x 300 x 308mm
FEATURES
• 25mm aluminium tweeter
• 130mm magnesium/ aluminium mid/bass driver
• Inputs: 1 x USB Type-B; 1x optical; 1x RCA
• Quoted power output: 2 x 200W Class D; 2 x 30W Class AB
DISTRIBUTOR GP Acoustics (UK) Ltd
TELEPHONE 01622 672261
WEBSITE uk.kef.com
network as well as 4.0 aptX Bluetooth-enabled and including streaming with Spotify, Tidal et al does cut down the field somewhat. Considering the asking price, the wealth of connectivity, the acclaimed LS50 aesthetic and sound (latter 'actively' pushed to the max, here), it would be understandable if you were left wondering where the catch is. Or, indeed, the competition.
The deeper you delve, the harder it is to fathom just how much has been folded into the deal at the price. Yet in a sense, the LS50 Wireless project was always a win-win, no brainer for KEF's engineers. In the passive LS50 (MFC 384), the Kent-based company already had an iconic speaker design – appreciated both for its strikingly spare, bowed-baffle look, single full-range Uni-Q driver array and big, expansive sound. Done properly, active always trumps passive (ask any speaker designer) and KEF felt it was an unmissable opportunity to exploit the full potential of an already very capable standmount.
As such, each part of the Uni-Q driver has its own dedicated amp and each channel its own DAC. The heavy
lifting is accomplished by a compact, efficient, cool-running 200W Class D module driving the magnesium/ aluminium 130mm mid/bass element of the Uni-Q array while a 30W Class A/B unit takes care of the 25mm aluminium dome tweeter, the system operating in a bi-amp, dual mono configuration. With a signal path that's digital end-to-end, most inputs are upsampled to 24-bit/192kHz – the analogue line-in via an ADC – but, not unusually, the optical input is limited to 96kHz.
Digital Signal Processing (DSP) serves a variety of functions, gifting the Wireless yet more qualities that wouldn't be possible with a passive design. Being able to tailor the sound for the speakers' placement in the room with selectable EQ is perhaps the most obvious and useful, especially when this level of flexibility can be so easily executed from the well-designed iOS/Android app. But DSP is also used to phase correct the crossover and time align the driver elements for crisper timing and focus while specially written software aims to minimise the kind of balance aberrations and distortion artefacts
A wealth of connectivity options reside on the right-hand 'master' speaker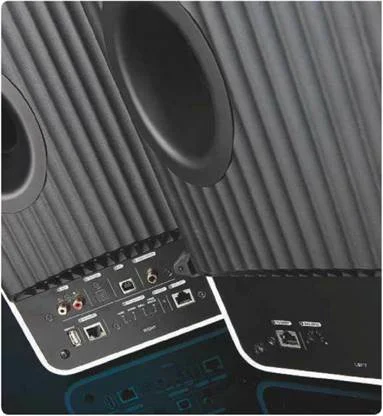 that are hard to avoid with passive speakers, particularly when swapping between late-night listening and party levels. Add the Uni-Q driver's reputation for delivering excellent off-axis dispersion along with a real sense of soundstage depth and pinpoint imaging, and you can't blame KEF for claiming that the LS50 Wireless is a unique proposition.
At first glance, it looks like the regular LS50, which is hardly surprising as the low-resonance FEA-designed cabinet, Uni-Q driver, constrained layer damping bracing, precision-engineered curved baffle
Fine clarity and focus, a spacious soundstage and unfettered musicality
and elliptical flexible rear-firing reflex port are just the same. Side on, it's more obvious that the cabinets are a little deeper and heat-sinked to accommodate and dissipate the heat that's generated by the on-board electronics. Substantially weightier, too. The right-hand 'master' speaker is the one with the controls and connections. A touch-sensitive strip for power-up/down, input selection and volume runs along the top surface, functions shared and added to by the small, pebble-smooth remote and free phone/tablet app. Round the back there's a line-level stereo analogue input, a Toslink optical socket, an asynchronous Type B USB and two Ethernet ports – one for making a wired connection to your network if you don't fancy the 2.4gHz/5gHz twin-band wireless option, the other for synching the two speakers via the generous run of supplied Cat 6 shielded cable. There's even provision to hook up a subwoofer.
Sound quality
Since KEF claims the LS50 Wireless is audiophile-grade hi-fi for people who aren't audiophiles or even into hi-fi, the system is kept well clear of listening room rigours and instead set up on a large and sturdy Danish coffee table from the late sixties in my bedroom. As the resident music act in this room is Geneva's estimable Aerosphere Large (HFC 407) and, recently guesting, T+A's terrific one-box Cala streaming receiver (HFC 431) driving a pair of Wharfedale Diamond 11.1 (HFC 429), the sonic stakes are pretty high.
With its glossy white cabinet and copper-hued Uni-Q (titanium grey/ red and gloss black/blue combo finishes are also available), the LS50 Wireless looks very cool and far more at home book-ending a stylish table than perched on my rather brutal-
In Sight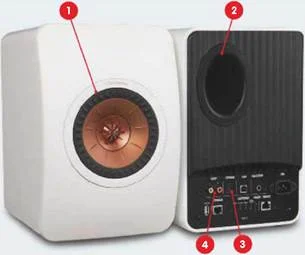 1 Uni-Q array with 130mm mid/bass and 25mm tweeter
2 Elliptical rear-firing reflex port
3 Toslink digital optical input
4 Line-level stereo analogue input
looking Slate Audio stands. EQ set accordingly, network successfully established wirelessly and with a Yamaha CD-N301 (HFC 401), optically tethered for CD playing duties, we're ready to roll.
Your first thoughts are probably as quizzical as mine. Present company accepted, does the Wireless sound as good, or possibly even better, than a passive LS50 and a class front end packing oodles of effortless power from an inappropriately expensive amplifier? In the ways that matter most for coherence, focus, rhythmic precision, properly proportioned dynamics and overall intelligibility, it's a resounding yes on all counts. It might be an inconvenient truth for a domestic audio market steeped in separates, but active speakers are simply better at these things. And they go loud in real terms without sounding so, well, loud – as in: turn it down please, I can't hear myself think. If what you're thinking is you could live with this sound, I'm happy to confirm so could I.
Fairly wide as my coffee table is, it's hardly an optimum setting and although I can put some distance between myself and the speakers, there's nowhere for me to sit dead centre to experience a notional sweet spot. But it doesn't seem to matter. Wherever I sit there's a good sense of soundstage air and structure as well as remarkable scale and authority. Hans Zimmer's post-Vangelis soundtrack for Blade Runner 2049 is massive, captured in all its industrial fog and rumbling menace without the squashed or smeared perspectives and tonal uneveness that usually go with an offset listening position.
Room filling, yes, but the combination of actively driven Uni-Q and DSP really does seem to mitigate the speaker/room compromises we often reluctantly accept and try to shrug off. Which isn't to say the LS50 Wireless shies away from critical listening.
In fact, the real beauty of the system is that it never seems to be off duty in this respect. Spinning LCD Soundsystem's Call The Police from its American Dream CD, detail and dynamics shine through whether played quietly or close to the LS50 Wireless' impressively lofty SPL ceiling.
Conclusion
Best of all, though, is the sense that every fibre and sinew of this system is pulling in the same direction.
Fine clarity and focus, a spacious soundstage with stunning image solidity and unfettered musicality make for immersive and hugely enjoyable listening. Add the good looks, positioning flexibility and fulsome feature count and the LS50 Wireless' appeal is clear
OUR VERDICT
KEF LS50 Wireless Review
A stunningly stylish, low-clutter, do-it-all system that sounds simply wonderful with anything you play
PROS
Simplicity
Sound quality
Style
Add your review
Best KEF LS50 Wireless prices in the US ?

$

1,999.99

$2,799.99
8 new from $1,899.99
in stock


$

2,449.98

$3,249.98
1 new from $2,449.98
in stock


$

3,499.98

$4,299.98
1 new from $3,499.98
in stock

Best KEF LS50 Wireless prices in the UK ?

£

399.00
9 new from £399.00
in stock


£

399.00
8 new from £399.00
in stock

MORE DEALS

HOW IT COMPARES
Equipped with its Hub, Dynaudio's Xeo 2 (HFC 411) also targets sound quality, style and ease of use and has a wireless connection between the two speakers to cut down clutter. Less bulky than the KEF system, you'd never guess from its full-bodied, well- extended bass and it doesn't lag that far behind higher up the frequency range, despite costing significantly less than the LS50 Wireless.
Alternatively, the Geneva Aerosphere Large and T+A Cala/ Wharfedale Diamond 11.1. I have to hand for direct comparison, both sound very fine but can't quite live up to the KEF's soundstaging or ultimate power.
Q & A
Jack Oclee-Brown
Head acoustics, KEF
DV: Was the principal goal for the LS50 Wireless best possible sound quality or lifestyle convenience?
JOB: From an engineering perspective we were determined to show that it doesn't have to be a choice between sound quality and lifestyle convenience. The driver and cabinet are identical to the LS50 passive, so from an audio point of view our target was simply to add electronics that could extract the full potential of these. In the LS50 Wireless we know exactly the capability of the drivers, which amplifiers are being used for each, and have a DSP crossover and preamp as the "brains" of the system. This gives a tremendous performance and convenience advantage over a traditional hi-fi.
Did you consider using Class D amps for both the mid/bass driver and the tweeter?
An advantage of a fully active speaker is that different amplifiers can be chosen for the tweeter and mid/bass drivers and exactly suited to the job each is doing. We chose to use a relatively high-power amplifier on the mid/bass driver to give plenty of headroom and control on dynamic signals. A Class D amplifier is ideal for this having very low distortion at bass/mid, running cool and being very compact. The tweeter requires much less power, so efficiency is less of a concern, and we chose to use a Class AB for treble fidelity and transparency.
How do you protect the main driver from the possible dynamic excesses of all that Class D power?
At the heart of the speaker is a DSP preamp and crossover. This DSP takes the input audio signal and from that calculates exactly what signal should be sent to the tweeter and the mid/bass drivers. Inside the DSP we are continually checking that we're not asking the drivers to do anything that will damage them, and stepping in gently when required to rein things in.