Huawei's first standalone wireless speaker is a welcome sonic surprise thanks to some Devialet in the details, says Steve May. Just don't try to talk to it. Read our HUAWEI SOUND X Review.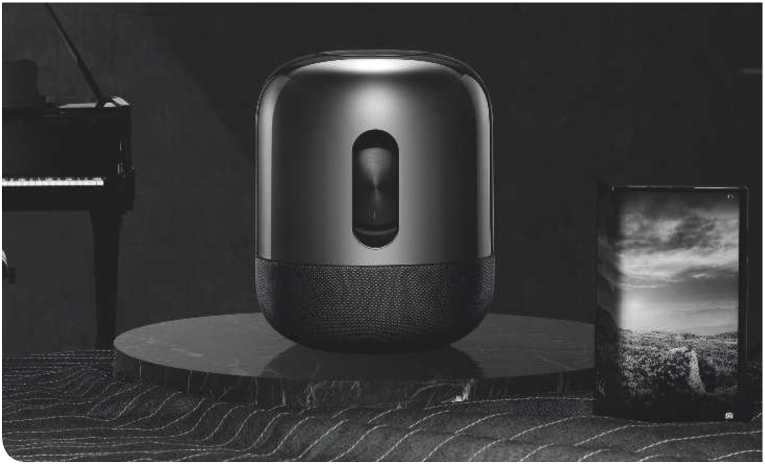 HUAWEI'S FIRST MOVE into standalone audio isn't via a smart speaker. Instead it's partnered with audiophile outfit Devialet to produce an old-school wireless system.
This lack of smarts shouldn't really surprise, given the hassles Huawei is facing on the international stage, and its consequent lack of access to Google's Android platform, but the involvement of Devialet is intriguing. The French company is no stranger to brand partnerships, the Sky Soundbox [see HCC #280] being its best-known previous collaboration.
It's clear Huawei is aiming for the high ground here. Despite a lack of connected functionality or voice interaction, the Sound X maintains a price premium on rivals like the Apple Homepod, second-gen Sonos One and any number of Android models.
This is because the Sound X has genuine audiophile DNA, and borrows liberally from the Devialet talent pool. Inside is Devialet's distinctive low distortion Push-Push woofer design, and SAM (Speaker Active Matching), its DSP optimisation technology.
You'd normally expect to find both
Av Info
PRODUCT Bluetooth/Wi-Fi standalone speaker
7Review earns Amazon affiliate commissions from qualifying purchases. You can support the site directly via Paypal donations ☕. Thank you!
Position Huawei's first foray into the wireless speaker market
PEERS Apple Homepod; Sonos One; Amazon Echo Studio
these proprietary niceties on Devialet products selling for more than twice the price, such as the Phantom.
Some of Devialet's immaculate styling seems to have rubbed off too. The Sound X looks a bit like an upmarket Amazon Echo Studio, and build quality is excellent.
The circular – and impact-resistant – polycarbonate cabinet is given a high-gloss finish. A touch-sensitive control panel on the top offers volume and pairing buttons that illuminate only when you alert the proximity sensor (there's also a mic mute button revealing that, in China, the speaker is voice assistant-enabled). There are no physical inputs; this is wireless through and through.
The cabinet houses dual subwoofers, visible via characteristic cutaways on each side, and six full-range drivers. This arrangement creates a 360-degree soundstage that sounds much the same regardless where you listen in a room.
Power output is rated at 65W.
Ah, push it
Up and running, it's immediately apparent the bass output of this speaker is prodigious. There's no other wireless model in its price range that sounds quite so rich and heavy.
The low-frequency reach of the Push-Push subs is a claimed 40Hz, and watching them pump away is quite mesmerising.
Yet the Sound X is at its best when its full driver array is excited, not just powering
The speaker's woofers are visible through the chassis
out basslines and stomping beats. Coheed and Cambria's Jessie's Girl 2 (Tidal) is a great showcase for the speaker – power pop guitar with a tight backbeat and melodious vocals.
But equally, Mozart's Adagio for Violin and Orchestra in E Major exploits the spatial clarity of the Sound X's high-frequency delivery.
Even with woofers in repose this Bluetooth box shows its worth.
However, there is a caveat. While pop bounces, rock flounders. There's a disconnect between subs and drivers that occasionally undermines the mid-range. Crank the volume on Napalm Death's Amoral and the soundstage starts to collapse.
Devialet's SAM (Speaker Active Matching) technology claims to optimise the incoming signal to match driver mechanics, in order to reduce distortion. SAM also monitors the volume. If the voice coil begins to overheat, it restricts current. It's almost as if the speaker is constricted when things get a little raucous.
The omnidirectional soundstage works well in a moderately sized room. I wouldn't advocate it as a desk speaker, though, as it's too large and needs volume to really entertain.
A class apart
This is a surprisingly confident audio debut from the contentious Chinese brand.
A class apart from the average Bluetooth wireless boom box, the Sound X has both a ridiculously deep bass extension and a fine-touch high-end, and with the right content sounds terrific. If the lack of smarts isn't a deal breaker, it's well worth a listen
SPECIFICATIONS
DRIVERS: 2 x 3.5in woofers; 6 x 1.5in full-range drivers ONBOARD POWER (CLAIMED): 65W FREQUENCY RESPONSE (CLAIMED): 40Hz-40kHz CONNECTIONS:
No physical inputs DIMENSIONS (OFF STAND): 203(h) x 165(w) x 165(d)mm WEIGHT: 3.5kg
FEATURES: Push-Push woofer design; Devialet Speaker Active Matching (SAM) technology; Wi-Fi (2.4GHz and 5GHz); aptX Bluetooth; HUAwEi Sound and 360-degree Surround; touch sensitive controls with proximity sensor; MediaTek MT8518 CPU; Huawei Share smart device functionality
HCC VERDICT
HUAWEI SOUND X Review
Clean and crisp with a pronounced bass, this mashup with Devialet lacks voice control but its performance is still worth shouting about.
Add your review
Best HUAWEI SOUND X prices in the UK ?

£

160.00
1 new from £160.00
in stock

MORE DEALS