The top model of Denon's Home range may look relatively plain, but it knows how to make music… Read our Denon Home 350 Review.
PROS:
Big full sound
Full HEOS abilities & app
This new range of wireless multiroom speakers took us by surprise. They come from Denon, which released the 'HEOS by Denon' range of wireless speakers and components in 2014. But since then HEOS has developed as a brand in itself, with a whole ecosystem of HEOS products, as well as being a platform which appears in many Denon and Marantz products, with efforts to spread beyond. The HEOS range is now simply HEOS, no longer attributed to Denon. That leaves a gap in Denon's own offerings, now filled by the Home range.
As seems dictated by some marketing god on high, this range has the usual three speaker sizes launched by nearly all new multiroom contenders, here called in rising size the Home 150, Home 250 and Home 350. And they are all HEOS-equipped, that platform delivering online music services, network streaming from music shares up to high-res 24-bit/192kHz audio quality, along with the ability to function in a multiroom system with other HEOS-equipped products.
The inclusion of AirPlay 2 means that they can do multiroom also in an Apple system with other AirPlay 2 products under Siri control, while the Home units are also voice-addressable from Google Assistant and Amazon Alexa devices — it's good to see voice control being universally covered in this way, rather than sitting in one camp or another.
The Home designs differentiate clearly from the more angular HEOS speakers, nicely curved and wrapped in sturdy fabric covers — black or white, water- and stain-resistant, with Denon even suggesting bathroom use (though for a mains- powered speaker, we wouldn't recommend that).
7Review earns Amazon affiliate commissions from qualifying purchases. You can support the site directly via Paypal donations ☕. Thank you!
The smallest Home 150 is mono, with two drivers in a vertical 38cm-high case; the Home 250 is stereo with four active drivers and a passive bass radiator in a cabinet 30cm wide. The Home 350, which we review fully here, is a substantial unit 38cm wide, 23cm high and 18cm deep. That presents a larger face to the world than either Naim's Qb or even the B&W Wedge, and with little of their design flair, so the Home 350 advertises its presence through sheer size of frontage.
It has six active drivers, with stereo midrange and tweeters at two levels of angularity in the front baffle. One of its large 165mm woofers fires forward from a central position, the other fires backwards, " so we can assume that bass frequencies are delivered in mono through both.
All three Denon Home speakers have the same connectivity — dual-band Wi-Fi, but also a physical Ethernet socket if preferred, plus a USB-A slot for playing files from a stick or hard drive, and a minijack analogue input. While you wouldn't expect an optical digital input on the smallest Home 150, it might be considered an omission on the Home 350. Another limited spec is Bluetooth, which mentions no codecs so is likely limited to the base SBC. But Apple users have AirPlay 2, and HEOS can play music on your device via the network, so this will only affect apps and services not directly accessible from within the HEOS app.
Operationally, the Home 350 was first-class. We had the HEOS app already loaded on our devices (with the Marantz M-CR612 elsewhere in this issue already connected), so adding the Home 350 took about a minute — Add Device, identify the speaker, press the Connect button on the back, and that was it. Not even a firmware update to sit through.
The HEOS app is comprehensive and marvel­lously simple to use. In its earliest days we recall calling it perhaps oversimplified, but given the complexities and changes some rivals have since made, we happily withdraw that remark! — the HEOS app with its three bottom navigation buttons gets you everywhere fast. It's properly localised, showing Spotify Connect, Tidal, Deezer, iHeartRadio, TuneIn and Soundcloud as its default services, above 'This iPhone' (or whatever your device is), Music Servers, Playlists (made within the HEOS app; you can also queue music from different sources), History (very useful), and then physical inputs, in this case USB and the analogue input. Rapid access from the bottom menu to the 'Now playing' screen makes transport and volume control easy. The HEOS app doesn't have the habit of some other apps which lose sight of the target device and have to reconnect whenever you open the app, so although there's no physical remote available here, you miss it less than on such systems. And there's always the top surface to use, which illuminates as you approach to show six user-definable preset buttons, plus play/pause and volume control. Again, these are simple and intuitive to use.
With set-up so rapid, we were quickly playing tunes, and were immediately impressed by the sheer size of its presentation. During warm-up we were regularly halted in other tasks, by the impact of the taut bass pedal on Fleetwood Mac's The Chain, the pounding of drums and clack of sticks during Philip Glass's Attack and Fall from 'Akhenaten'. Once we started critical listening, it was clear that much of the power behind these impressions came from a low bass of prodigious output. The bass on Stevie Wonder's Living For The City descends deep in its closing seconds, and the Home 350 held each note steady and distinct down to the bottom F# — and for the bottom F for The Commodores' Easy, though not the bottom D of Stereophile's Organ Bass Tester track, putting the drop-off around 40Hz, with the region up to 100Hz fully delivered. This bass projects so distinctly it sometimes feels an additional component of depth sitting in front of a more radiogram delivery of the higher frequencies.
Finding some of our streaming Tidal Masters Motown list sounding surpringly under-resolution in the quality of cymbals and strings, we used HEOS to stream our own trusted high-res collection from a NAS drive which resides in the basement. John Gorka's The Gypsy Life, an AIX recording, did suffer an overemphasis of the low mids where male vocal resonance can reside — as in much throaty country and folk territory. This push notably blurred Gorkha's vocal definition, and separated this region from the Home 150's clear though isolated treble performance.
It became apparent that most of these bass characteristics were delivered by that rear-firing woofer, and its positioning as well as our position relative to the rear,greatly affected the balance. That organ bass test track positively throbbed from most positions in the room, but not from directly in front, with the Home 350 at eye and ear level, both at close quarters and to a lesser extent further away, as when we had it on a speaker stand in plenty of space. (You might do adopt this arrangement if you took advantage of the ability to stereo pair two Home 350s.) From directly in front, bass frequencies sounded fairly balanced in the region above 100Hz, whereas from elsewhere in our room the combination of both bass drivers caused a frequency dip up to 140Hz, causing the separation of sound we were hearing. Different positioning and room shapes will change this unpredictably.
With the rear output firing more against a wall or corner, the uneven anomalies increased and the bass softened, but the sound became even more huge. It also retained its impressive sense of space. On a first-take bootleg of The Beatles Thank You Girl, the ping-pong left-channel drums were pushed by the angled drivers to a position wider than the box itself.
Playing against its rivals here, the spaciousness is Denon's main sonic advantage over the Naim Qb; switching between their two presentations of Walk on the Wild Side the Qb's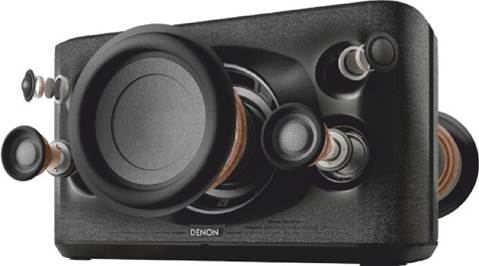 sound was far boxier, relatively closed down up top, while the Home 350 clarified the shuffling rhythm and the consonants in the vocal, yet was not entirely natural, with a slight thinness from that dip in the local part of the vocal. In contrast the B&W Wedge already had the openness to boast, and sounded more even — but here you gain the great merits of the HEOS app and the usefulness of external inputs in more easily accessing your music.
Undeniably powerful and musical, if slightly unpredictable because of that rear bass driver, the Home 350 is a solid performer to herald Denon's new range.
Best Denon Home 350 prices in the US ?

$

568.85

$649.00
5 used from $339.99
18 new from $567.67
in stock


$

1,861.84
1 new from $1,861.84
in stock

Best Denon Home 350 prices in the UK ?

£

424.99

£599.00
9 new from £424.99
in stock


£

449.00

£599.00
7 new from £449.00
in stock

MORE DEALS

Inputs: Ethernet, Wi-Fi (dual-band), USB-A, minijack analogue in, Apple AirPlay 2, HEOS, Bluetooth (SBC)
Drivers: 2 x 19mm tweeter; 2 x 50mm; 2 x 165mm woofer (one front, one rear)
Amplifier power output: 6 x Class D, no specs
Dimensions (hwd): 380 x 225 x 180mm
Weight: 6.3kg
Contact: QualiFi
Telephone: 03 8542 1110
Web: www.denon.com.au