Martin Pipe tries a Bluetooth 'speaker that dares be different. Read our KLIPSCH THE THREE II Review.
I can picture the Klipsch Three II loudspeaker I am reviewing here pouring Miles Davis and Cannonball Adderley into the chic lounge of a spacious suburban American bungalow of the late fifties. It was back in 1947 Paul W Klipsch launched the iconic 'Klipschorn' loudspeaker. Still made today it will set you back nearly twenty grand…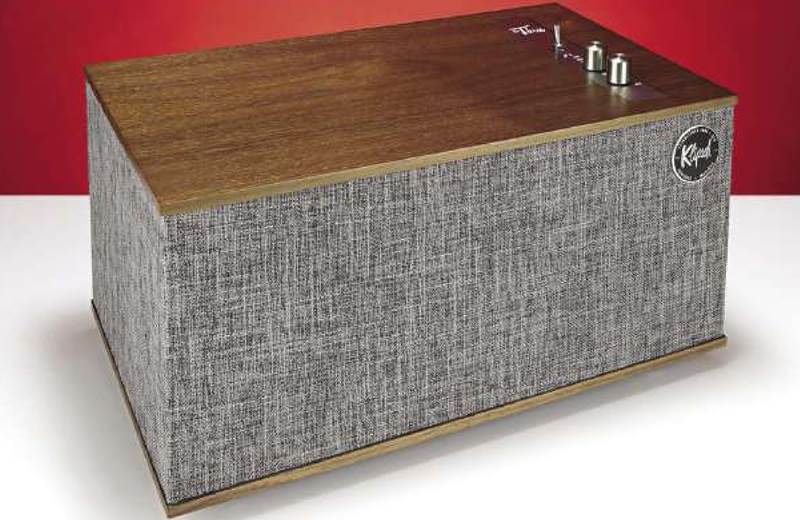 Hence the smaller and more affordable Three II tabletop audio system. This is basically an upmarket Bluetooth speaker with extra bells and whistles, as well as retro-styling. Said extras include two line inputs, one with a 3.5mm stereo jack, the other convertible into a MM phono stage at the flick of a switch. There is remote control and 192/24-capable USB Type-B port for audio from computers. The 'II' suffix points to earlier versions, and one of these had an app-controlled Wi-Fi music player built in. Such functionality is missing here, but in all fairness there's a £ saving.
Most Bluetooth speakers are mono. The Three II, though, is stereo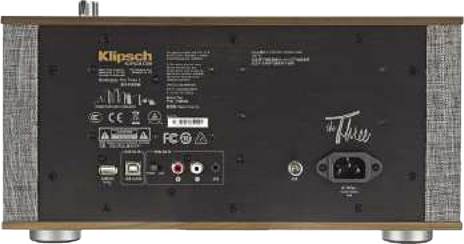 The Klipsch Three II rear panel carries a USB socket for computer audio (up to 192kHz/24-bit) but conventional digital sources aren't catered for. A slide switch converts the phono-socketed line input into a Phono input for a turntable.
7Review earns Amazon affiliate commissions from qualifying purchases. You can support the site directly via Paypal donations ☕. Thank you!
from the outset thanks to a pair of 5cm full-range drivers that work in conjunction with a 13.5cm long- throw woofer and "dual opposed" 13.5cm passive radiators. You can't see them, because the grille is nonremovable. Driving the Three II's complement of drivers are amplifiers claimed to total "120W", with no further details beyond that.
Power levels remotely near that figure would quickly drain the batteries of the average Bluetooth speaker so the Three II gets around that problem by not having any. This unit, which weighs nearly 5kg, is designed for mains power only.
The Three II is remarkably easy to use. On the top panel are a wonderfully old-school paddle-switch to wake it up or shut it down, and knobs to adjust volume and cycle through sources. The currently- selected source is confirmed with a subtly-illuminated white LED.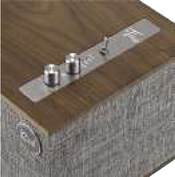 The understated 1950s heritage styling works very well, making the Klipsch Three II a visu- ally-distinctive proposition. Our review sample was finished in 'walnut', but an equally attractive 'matte black' version is also available. No tone controls are provided – a pity as bass output was strong.
Sources can also be changed and volume raised or lowered with the remote – a rather plasticky item that could do with a touch of the 'Klipsch heritage' style magic. The remote also has a standby function, and if you're using Bluetooth or USB sources it will allow you to jump to the next or previous track of the current playlist. On the subject of Bluetooth, setup is easy – simply pair your smart device with 'Klipsch The Three II'.
SOUND QUALITY
I tried the Three II with a Google Pixel 3a smartphone loaded with a selection of losslessly-compressed music and the versatile VLC Media Player app, a Cambridge CXN v2 streamer connected to the auxiliary input (there are no S/PDIF digital inputs) and a vintage Pioneer quartz- locked Direct-Drive turntable equipped with Shure cartridge. Via a Bluetooth connection – reported as 'HD Audio: Qualcomm aptX Audio'
–    the Three II immediately gave me a good idea of what it's about.
The sound is best described as 'big' – far bigger than you'd believe from a box measuring 35cm x 20cm x 20cm, or thereabouts. Basslines, notably the electronic ones of the tracks that make up 808 State's Transmission Suite album, sounded fulsome and warm. Indeed, the low- end can be a little overwhelming at times; it's a pity that Klipsch didn't include tone controls. But we're not talking about 'one-note' bass
–    a limitation of many Bluetooth speakers. There was tunefulness and articulation.
Speech from, say, Radio 4 announcers as heard via the CXN, ha d good presence, although traces of chestiness were apparent at times. Treble was crisp and clean, if the unit's reproduction of 808 State's percussion and the brass instruments of the Ohio Players'
Pleasure album are anything to go by.
Complex orchestral material – for example Dvorak's In Nature's Realm, as played during a Radio 3 evening concert – was given a tonally-credible presentation too. But there's a caveat – the orchestra sounded as if it had been crammed into a small room, simply because the stereo image is so narrow from a box that's 35cm wide.
Vinyl listening was a little disappointing. Yes, there was still that big bass-rich character that worked wonders with, say, the Are You Sphongled? double LP. But things weren't so hot at the other end of the spectrum; records sounded dull and lifeless in treble terms. Switching cartridges made no difference. An external phono stage (or turntable with one built in) would restore the balance.
CONCLUSION
On the whole, the Klipsch Three II is a very likeable proposition that'll be great for kitchens, home offices, bedrooms and other secondary listening environments. Sometimes, it's hard to accept that you're listening to a box of such modest proportions. Under such circumstances, the lacklustre phono stage and inability to convey a believable stereo image won't be so important. Those gorgeously-understated looks will help it blend neatly into most decor schemes – not just late-50s U.S. homes with a Plymouth Fury parked outside.

The remote selects sources, changes volume, mutes the sound and selects standby. It is a bit of an ugly duckling compared to the Three II.
KLIPSCH THE THREE II Review
Big sound from a small and superbly-styled package.
PROS
fulsome presentation
clean, even at high levels
retro appearance
CONS
compressed stereo image
phono stage sounds dull
bass can overwhelm at times
Add your review
Best KLIPSCH THE THREE II prices in the US ?

$

717.00
2 used from $239.00
1 new from $717.00
in stock

Best KLIPSCH THE THREE II prices in the UK ?
MORE DEALS

KLIPSCH THE THREE II
EXCELLENT – extremely capable.
VALUE – keenly priced.
Henley Audio
+44 (0)1235 511166
www.henleyaudio.co.uk