It might not be the smartest, but the Pulse Mini 2i offers excellent multi-room and hi-res steaming support. Read our Bluesound Pulse Mini 2i Review.
As the new generation of intelligent speakers puts an emphasis on sound quality, Clif Joseph listens to six popular models. 
Wireless Speaker Systems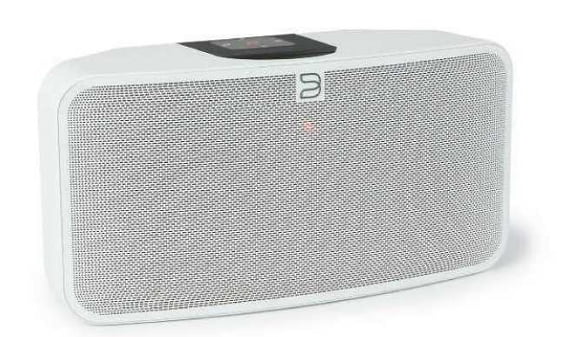 DETAILS
PRODUCT Bluesound Pulse Mini 2i
ORIGIN Canada/China
TYPE Wireless multi-room smart speaker
WEIGHT 3.7kg
DIMENSIONS (WxHxD) 335 x172 x155mm
7Review earns Amazon affiliate commissions from qualifying purchases. You can support the site directly via Paypal donations ☕. Thank you!
FEATURES
Quoted power output: 100W
Up to 24-bit/ 192kHz playback
Wi-fi; Bluetooth; 3.5mm analogue/ optical inputs
DISTRIBUTOR Sevenoaks Sound & Vision
TELEPHONE 01732740944
WEBSITE bluesound.com/en-gb
Supplied in black or white finishes, Bluesound has refined the four internal drivers and two amplifiers inside its Pulse Mini 2i speaker to provide a total 100W output along with support for the latest multi-room and smart voice technologies from Amazon and Apple.
There is one caveat here, though. The Mini 2i is designed to support both Apple's AirPlay 2 software, and the Amazon Alexa smart voice technology, but at the time of its launch in November Bluesound was still waiting for final approval to 'activate' those features, so you'll need to check before buying (see boxout).
Along with wi-fi networking, it's one of the few speakers in the group that also provides both Bluetooth streaming and wired inputs, with a dual 3.5mm analogue/optical connector as well as a USB port for playing music from a memory stick.
Bluesound's Controller app can group speakers together as part of a multi-room setup, but the simple task of playing music from my iPad leaves me lost in a maze of menus.
Sound quality
The first thing that really stands out with the Pulse Mini 2i is the imposing 100W output, as the cymbal-crash that launches Rapture rings out like shattering glass even with the volume at just 25 percent. I can hear every light touch of the infectious tick-tick rhythm on the cymbals and as the bass guitar starts to swing along with effortless ease, it's clear that this is a good option if you want a powerful speaker that can get the party started.
It doesn't lack detail though, and the twin pairs of bass drivers and tweeters provide just enough separation to capture the sense of scale in the cascading harmonies and widescreen production of Bohemian Rhapsody. This is one of the largest and heaviest speakers in the group, and its solid build allows it to handle the power of the song's final rock refrain with ease, keeping the bass and crashing cymbals clear and distinct. There's no distortion as I push up the volume either, so a single speaker will be enough for most rooms – although there is still an option to pair two speakers together if you want a true 2.0 stereo system.
The Mini 2i isn't just about power, however. There's a relaxed, natural tone to the lightly strummed guitar on The Blower's Daughter that really captures the feel of a live performance. Damien Rice's vocal sounds very natural too, and there's an attractive warmth to the brief burst of harmonies towards the end. And, finally, the Bluesound also knows when to relax a little and just allow the strings to simply hang in the air and then fade slowly away at the end of the song
SEMI SMART
The Pulse Mini 2i undeniably sounds good, but in some ways it's the least 'smart' speaker in this group. It doesn't have an internal microphone, so – on its own – it can't listen out for your voice commands to control it or more traditional smart features like ordering a pizza. It is, however, 'semi-smart' as it includes a piece of software – called a 'skill' – that allows it to work with the Amazon Alexa voice assistant when used in conjunction with one of Amazon's Echo devices. We're not too keen on the main Echo speaker, but there's a cheaper option in the form of the Echo Dot (HFC 421). This provides an affordable microphone add-on that allows you to use voice control with the Pulse Mini 2i if smart operability really remains an important consideration to you.
Verdict
Bluesound Pulse Mini 2i Review
A little pricey, but a powerful performer packed with the latest tech
PROS
Versatile connections
Powerful and detailed sound
CONS
Complex BluOS app
Some facilities awaiting software update
Add your review
Best Bluesound Pulse Mini 2i prices in the US ?

$

549.00
9 new from $549.00
in stock

Best Bluesound Pulse Mini 2i prices in the UK ?

£

549.00
2 new from £549.00
in stock


£

549.00
1 new from £549.00
in stock