This compact smart speaker sounds good, but will its unwillingness to play nicely with others hold it back? Read our Apple HomePod Review.
As the new generation of intelligent speakers puts an emphasis on sound quality, Clif Joseph listens to six popular models. 
Wireless Speaker Systems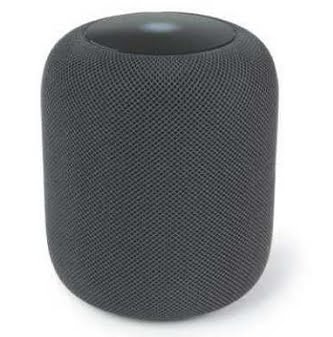 DETAILS
PRODUCT Apple HomePod
ORIGIN USA/China
TYPE Wireless multi-room smart speaker
WEIGHT 2.5kg
DIMENSIONS (WxHxD) 142 x172 x142mm
7Review earns Amazon affiliate commissions from qualifying purchases. You can support the site directly via Paypal donations ☕. Thank you!
FEATURES
Quoted power output: Not specified
Up to 16-bit/ 44.1kHz playback
Wi-fi and AirPlay 2
DISTRIBUTOR Apple UK
TELEPHONE 0800 0480408
WEBSITE apple.com/uk
There's no denying the ingenuity of the HomePod's design. Standing just 172mm high, the cylindrical unit houses a circular array of seven tweeters that fire sound through a full 360° around the speaker, topped off with a single, upward-firing woofer. There are six separate microphones squeezed in as well to detect your commands when using Apple's Siri voice technology.
In other respects the HomePod is actually quite limited. You can only stream music to it via your home wi-fi network, and only from Apple devices such as its Mac computers, an iPhone or iPad. There's no Bluetooth and no wired inputs. But if you live in an Apple-only home, AirPlay 2 provides versatility and ease of use. As well as stereo-pairing and multi-room capabilities, AirPlay 2 allows you to stream music or audio from any app or online service that you choose – so you can stream audio from Netflix or BBC iPlayer as easily as Spotify or Apple's own music streaming service.
Sound quality
The HomePod shows an admirably light touch with the sad stillness of Flight From The City, as the mournful rumble of the low piano underpins the melancholy mood and contrasts with the lighter strings that hang gently in the air. It's an attractive, open sound that gently breathes out and fills the room without sounding strained, giving each instrument plenty of room to express itself.
That relaxed, open sound works well with The Blower's Daughter, so that Damien Rice's low vocal – "life goes easy on me… most of the time" – sounds like a live performance in my living room. Again, the HomePod creates an effective contrast between the light strumming of the acoustic guitar and the rich, resonant cello as it stretches out its repeated refrain as though afraid to finally let go. It even manages to pick out some of the lower notes on the guitar, which sometimes get lost on lesser products on this distinctly low-fi piece.
The HomePod proves light on its feet as Blondie changes pace with the crisp, sharp cymbal crash that kicks off Rapture. The percussion skips along with a lively rhythm, while the bass line stands out well from the jangling guitar riff, despite the modest size of the speaker. It's only with Bohemian Rhapsody that it comes up a little short. To be fair, it handles the bombast of the operatic chorus well, capturing all the detail of the multi-layered harmonies, and lending a sharp edge to Roger Taylor's shrieking falsetto. But when the song launches into the head-banging rock section, Brian May's guitar riff could use just a little extra weight and impact to make it truly convincing
MIX AND MATCH
For all its slick hardware design, the real game-changer for the HomePod could prove to be Airplay 2. The software allows you to pair two HomePod speakers together or to create a multi-room setup with several HomePods in different rooms. Better still, Apple has licensed AirPlay 2 to other manufacturers – including Sonos and Bluesound. This means that any speaker that uses the software will be able to connect with compatible AirPlay 2 speakers from other manufacturers as well. So, rather than buying a complete multi-room system from a single company, such as Sonos, it is now possible to have a Sonos One in your kitchen, a HomePod in the bedroom, and the larger Bluesound Mini 2i in your lounge – with all three speakers linked together via Airplay 2.
OUR VERDICT
Apple HomePod Review
A classy little speaker, but its Apple-only focus is a considerable limitation
PROS
Pleasingly open sound with impressive clarity and detail
CONS
Only works with Apple devices; poor connectivity
Add your review
Best Apple HomePod prices in the US ?

$

289.99
1 new from $289.99
in stock

Best Apple HomePod prices in the UK ?

£

160.00
1 new from £160.00
in stock

MORE DEALS