THE HOME SPEAKER WAS A HIT WHEN IT ARRIVED DOWN UNDER, BUT DOES GOOGLE'S WINNING FORMULA WORK WHEN THE VOLUME'S CRANKED UP TO THE MAX? Read our Google Home Max Review.
[JOEL BURGESS]
As the new generation of intelligent speakers puts an emphasis on sound quality, Clif Joseph listens to six popular models. 
Wireless Speaker Systems
AFTER LAUNCHING THE original Home in 2016, Google believed that music would be the primary use case for its smart speakers. One year, 100 million hours of music, a ton of Google Assistant analytics later, and its pretty clear that this original assumption was right.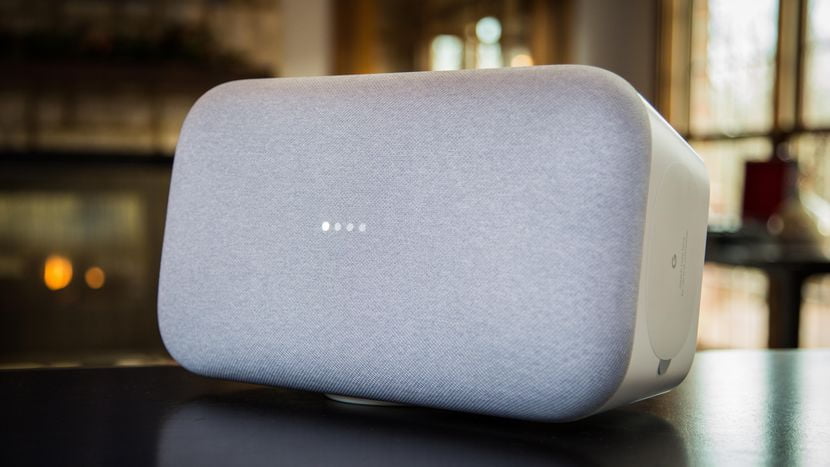 With this in mind, Google hired an entirely new team of audio engineers and hardware designers to make the Max the best sounding speaker it could. This audio focus is woven into all aspects of the Google Home Max, from the physical bookshelf-speaker appearance to the speckled chalk or charcoal acoustically- transparent fabric that it's wrapped in.
The besser-block looking boombox is rather weighty at 5.3kg, but the sturdy steel and polycarbonate enclosure works alongside a magnetically mounted silicone base to minimise unwanted vibration and distortion. While the dimensions aren't quite in the 3:2 ratio, the 33.7 x 19cm speaker face is an ideal proportion to be used either horizontally as a standalone device or vertically as a stereo pair — providing you have a second Max speaker.
The Google Home Max is fitted with two high-excursion 4.5-inch dual-coil woofers and a pair of custom 0.7-inch tweeters, which combine to create a stereo system that can deliver 20 times the volume of Google Home. This pairing creates a powerful bass sound that marries with warm mid-tones, whilst delivering clean high frequencies with excellent audio separation. This artful blend makes it an excellent all-rounder articulating the precision of percussion whilst carrying fuller baselines and warm string harmonies in unison.
This powerful audio is enhanced by a self-aware Smart Sound system that uses the six far-held microphones to assess how much bass reflection its getting form its surrounding environment and adjust the equaliser accordingly. This allows the Max to produce audio that's as close to the original, intended sound as possible. But the Smart Sound system takes it a step further by detecting background noise like a TV or kitchen exhaust-fan and will subtly adjust the equaliser further to compensate for ambient conditions.
7Review earns Amazon affiliate commissions from qualifying purchases. You can support the site directly via Paypal donations ☕. Thank you!
While Google Home Max is mainly controlled using your voice, the speaker does have swipe volume controls and tap to play/pause on the top of the device. It's simple, but this fundamental playback interface is responsive and intuitive, working behind the scenes to do things like flip the volume orientation when you have the speaker in a vertical position, to make sure swiping up increases the volume.
Wi-Fi music streaming through Spotify, YouTube et al is likely to be the primary connection type. That said, the Google Home Max also offers Bluetooth 4.2 connectivity and even includes a 3.5mm audio jack to play nicely with 'classic' high-end audio equipment. If you do jack in or stream, there's plenty of compatible hi-fi music file formats on offer including FLAC, LPCM, and HE-ACC to give you that extra boost in audio quality over the numerous other 'efficient' file formats it's compatible with.
It's surrounded by competition from both the soundbar and high-fidelity home audio segments, but there's a lot on offer for that price. As it currently stands, Max is a near-perfect high-fidelity home audio system for 2018.
CRITICAL SPECS:
Colours: Chalk, Charcoal; Two 114mm high-excursion (+/- 11mm) dual voice-coil woofers; two 18mm custom tweeters; 6 far-field microphones; 1.5 GHz 64-bit quad-core ARM Cortex A53; Audio formats: HE-AAC, LC-AAC+, MP3, Vorbis, WAV (LPCM), FLAC & Opus; (2.4GHz/5Ghz) Wi-Fi; Bluetooth 4.2; USB Type-C; 3.5mm analogue audio in; power cable (2m); 33.7x19x15.4; 5.3kg.