Mark Craven enjoys the highs and lows of a premium compact 5.1 system from American audio marque GoldenEar. Read our GOLDENEAR BRX 5.1 Review.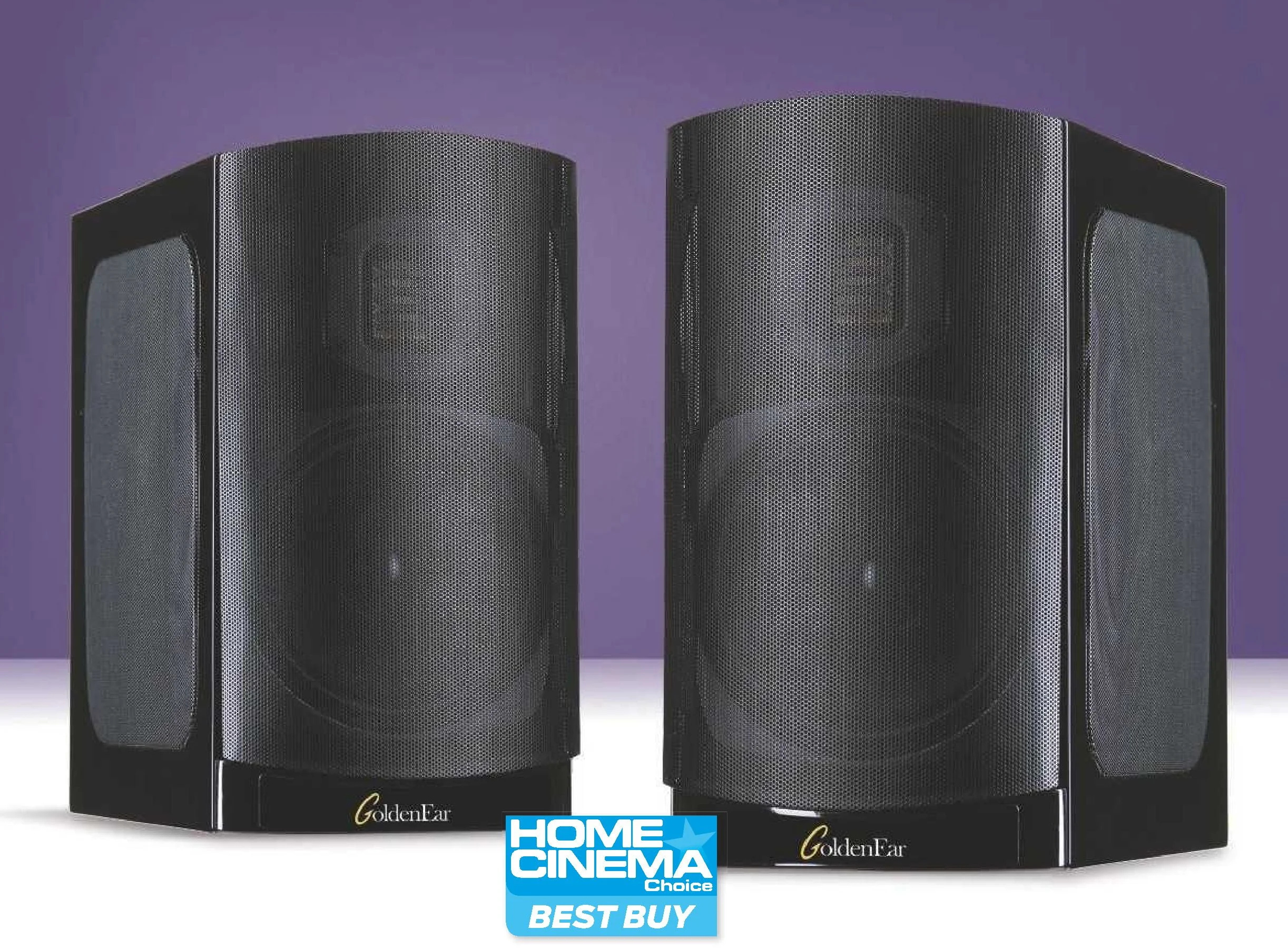 US brand GoldenEar was the third loudspeaker company founded by famed designer Sandy Gross, following in the footsteps of Polk Audio and Definitive Technology. Gross has now left, but his parting gift is the £-per-pair Bookshelf Reference X.
This moderately sized bookshelf (or standmount, although GoldenEar doesn't sell any matching stands) is the last design to bear Gross's input, and joins two other pre-existing smallscale models in the Bookshelf lineup -the Aon 2 (£) and Aon 3 (£). However, it doesn't share much in common with those, instead being designed more as a baby brother to the brand's high-end Triton Series floorstanders. In other words, it's GoldenEar's premium smallscale model, and ripe for deployment on both front and surround duty in a multichannel system where larger loudspeakers aren't desired or possible.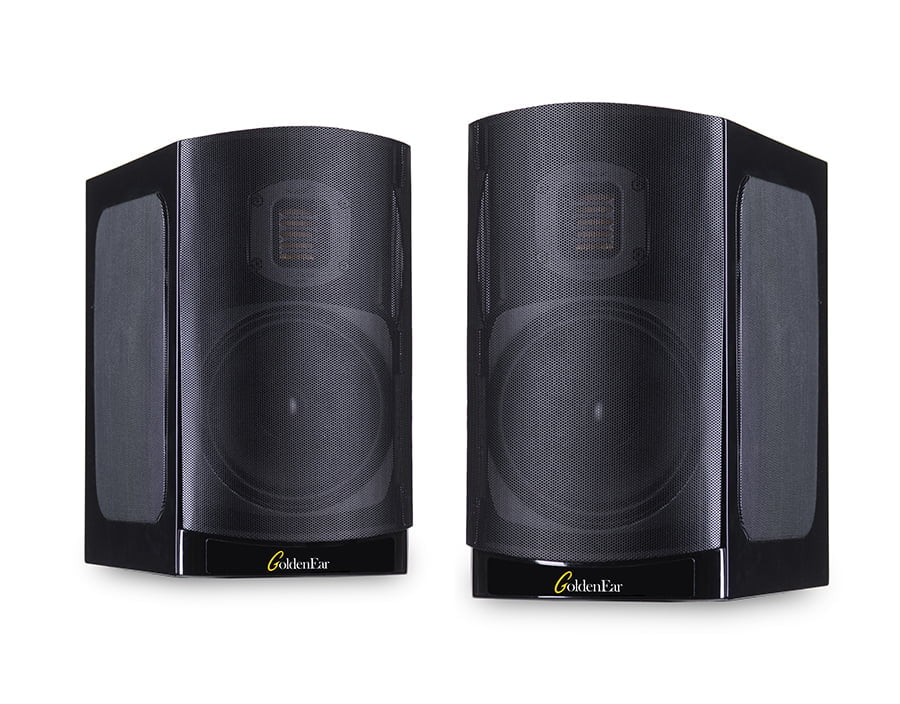 The BRX's aesthetic design is typical of the brand, which means it's perhaps a bit of an acquired taste. The speaker is wider at the rear than the front, and its MDF enclosure is given a hand-rubbed piano black lacquer that looks swish but will show up finger prints. Curved magnetic grilles can be attached, although these sit on a protruding lower (plastic?) lip that looks a bit incongruous. Build quality is conventional bass-reflex cabinet design.
Our system features BRX models fore and aft. For the centre, we're using GoldenEar's SuperCenter X (£), the smallest of the brand's dedicated centre speakers. Okay, I say small – it's actually 50cm wide, the space necessary to fit a driver complement of two 5.25in bass/mids, one HVFR tweeter, and a 10in x 7in auxiliary radiator that sits up top and is again covered by a grille. The cabinet is again black, although not quite as glossy, and its shape is more of a match for the trapezoidal Aon models. So this system isn't ideal for those who fuss about a uniform aesthetic.
Our system subwoofer is GoldenEar's SuperSub X (£), which carries on with the more-drivers-than-you-might-think vibe. Two 8in woofers, fed by a rated 1,400W excellent, though, and the curved top to the cabinet is a nice touch.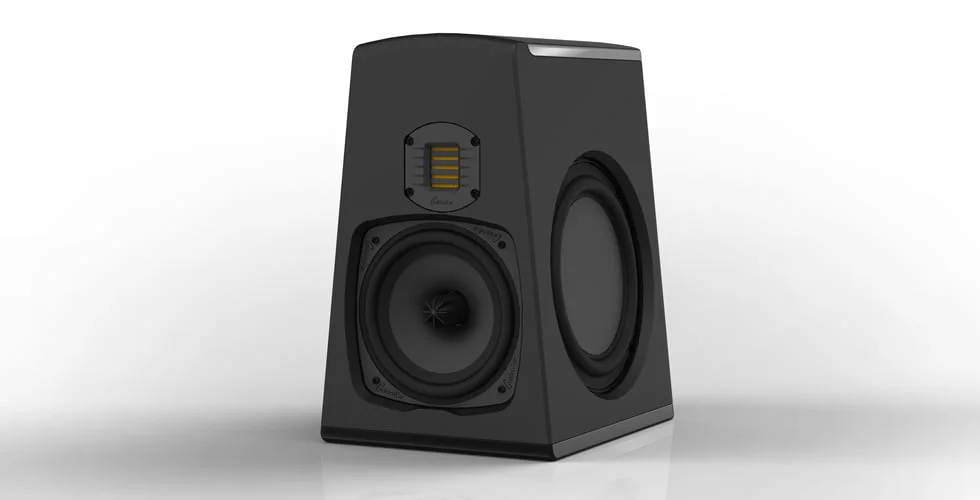 Adding to the somewhat unusual look, when grilles are removed, is GoldenEar's HVFR (High-Velocity Folded Ribbon) tweeter, which is the same drive unit that graces the manufacturer's pricey (£) Triton Reference model. This driver claims a reach up to 35kHz, which should make any break-up modes inaudible. It's joined on the BRX by a 6in bass/mid driver with computer modelled cone geometry, also a trickle-down from GoldenEar's Reference products.
7Review earns Amazon affiliate commissions from qualifying purchases. You can support the site directly via Paypal donations ☕. Thank you!
See also TOP 10 Subwoofers
Unusually, there's more bass low-frequency potential here, as the left/right sides of the speaker house (grille-covered) 6.5in auxiliary radiators, in place of a more
ForceField onboard amp, are horizontally opposed, while top and bottom sit 10.5in x 9.5in radiators. All this is in pursuit of a claimed low-end trawl of 12Hz (albeit with no quoted roll-off). The sub is cute enough, and also slightly trapezoidal. Rear panel connections and controls are set-and-forget (there are no preset EQs, for instance). One minor niggle is that it has a blue LED status light which I couldn't work out how to dim. With lights-off viewing, the glow it placed on my side wall was sometimes distracting.
Premium bookshelf 5.1 system
GoldenEar's BRX is its top-of-the-range bookshelf model
M&K Sound LCR750; Paradigm Founder 40B
Website: www.goldenear.com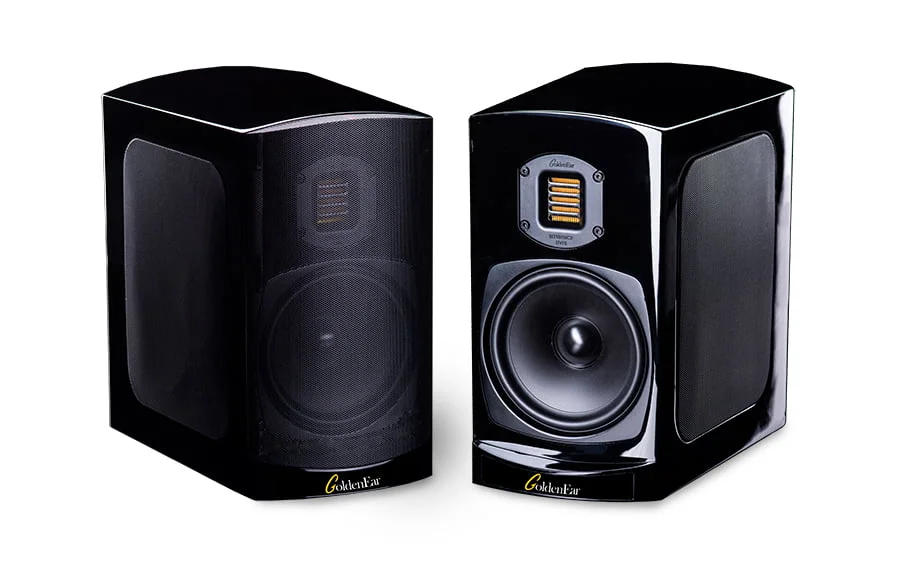 1. The BRX features front-facing HVFR tweeter and 6in bass/ mid, plus side-facing passive radiators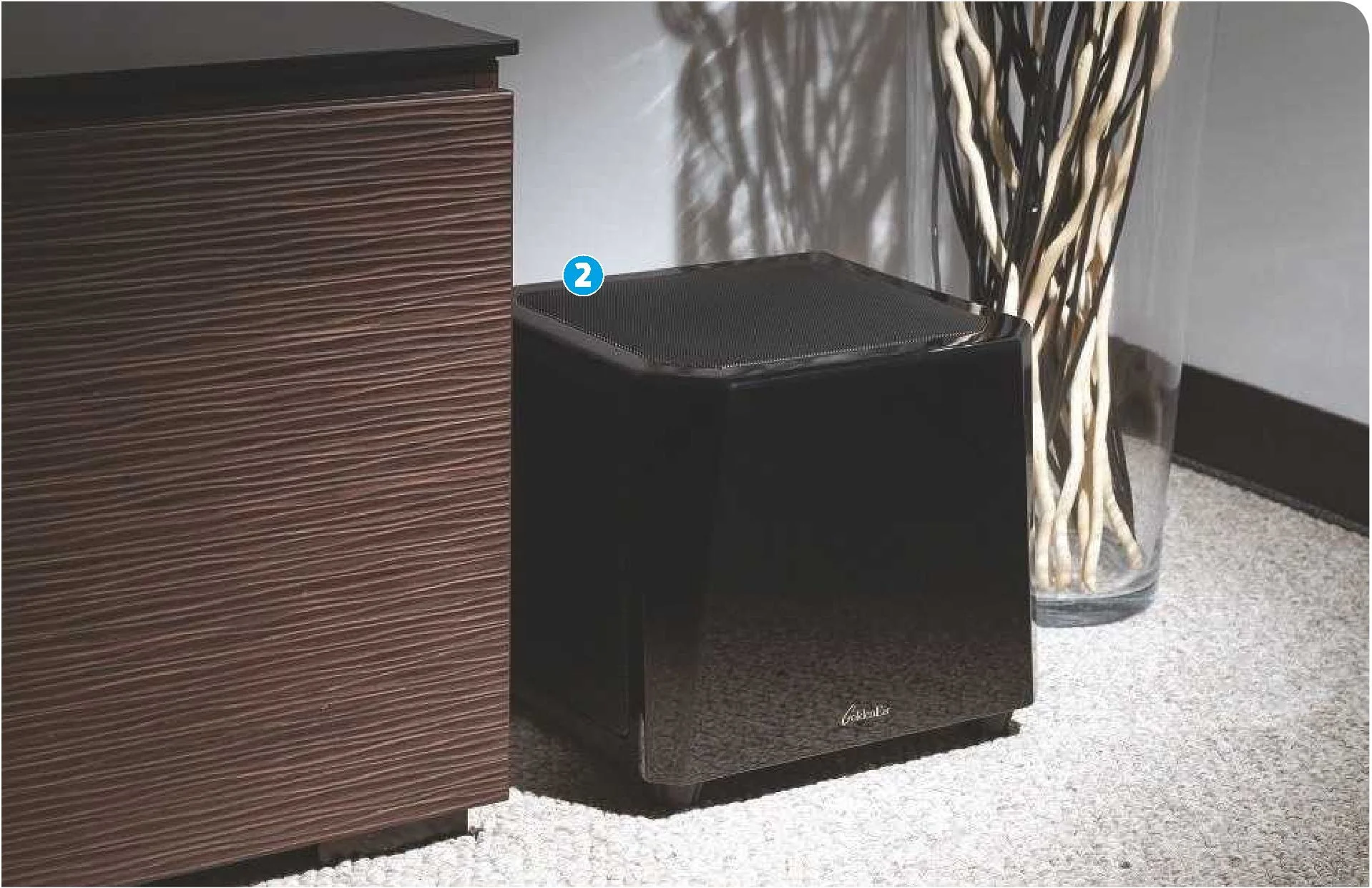 2. Although reasonably compact, the SuperSub X features four woofers (two passive) and 1,400W power plant
Installation of this 5.1 package is made easy by the lightweight nature of the BRX models and the relatively slender (height-wise) dimensions of the SuperCenter X. Speaker binding posts on the BRX speakers are inset, so make flush-to-wall positioning possible. This isn't recommended, however: GoldenEar suggests at least 20cm distance between the speaker and the wall, which is sensible as there are three bass units on each cabinet to consider.
An issue with a compact system such as this is always whether or not it will impress when it comes to bass – not just the deep stuff, but everything up to the mid frequencies. Yet even used with stereo music it's obvious that the BRX model is something of a bass beauty. Those two side-mounted radiators certainly seem to play a part in creating an almost frighteningly deep reach for a small loudspeaker. For instance, with a drum 'n' bass playlist streamed via Tidal, the front BRX pair tracked the low-end swells with impressive grip and extension.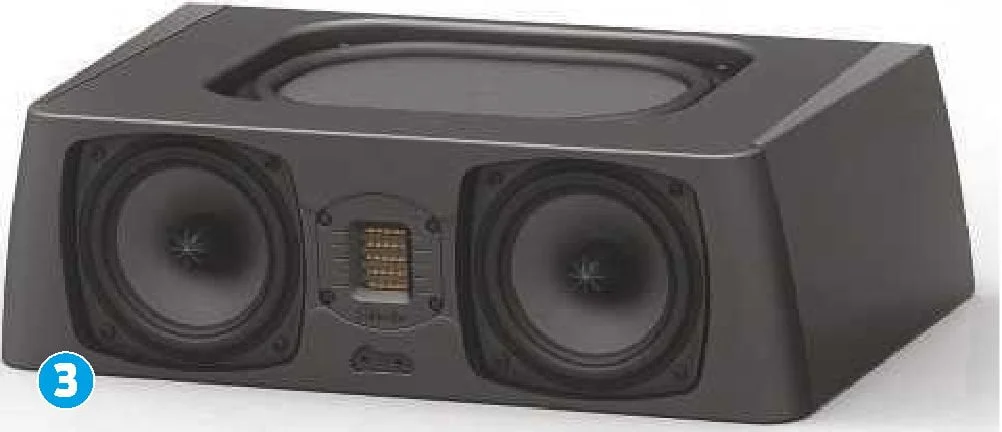 3. GoldenEar's SuperCenter X also sports a ribbon tweeter and passive radiator
The overall sound of these GoldenEar bookshelf speakers is articulate and revealing, with that delectable bass delivery matched by clean, smooth high frequencies that sound completely unfettered. Even better, the voicing favours tonal neutrality, rather than any excessive warmth and bloom. Sure, this can mean some material might feel a little 'dry' on occasion, but such transparency is, in my opinion, always a good thing.
The BRX's sonic signature is just as thrilling with movie playback, and with identical speakers handling the front and rear pairs it easily puts you at the centre of a cohesive soundfield. Add in the purposeful, grippy bass from the SuperSub X, and the similarly voiced centre speaker, and you have a multichannel array that – to put it bluntly – rocks.
It's perhaps the clarity and sweetness of its treble and mid-range delivery, and how this helps create a believable, inviting sound, that is the real standout, though. During Ghostbusters: Afterlife (4K Blu-ray), when Phoebe Spengler explores her late grandfather's underground science lab, this GoldenEar six-pack paints an atmospheric picture.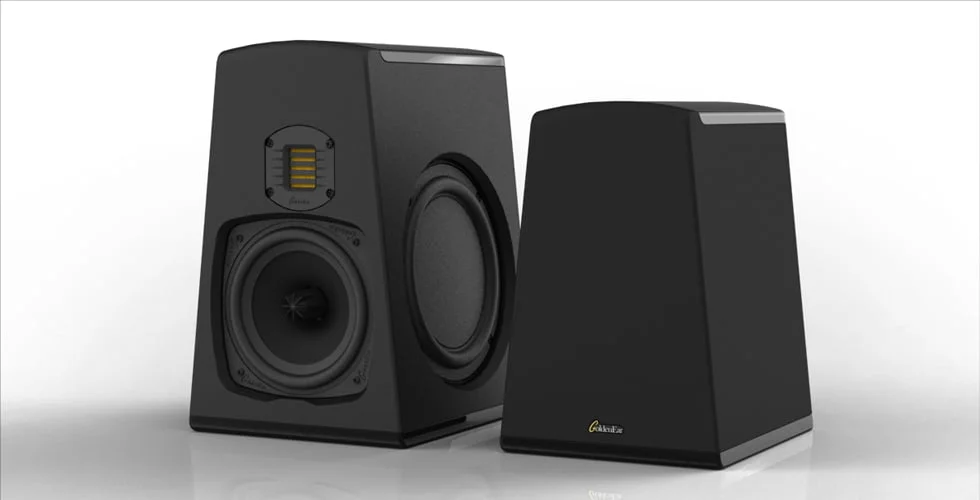 'The sound is articulate and revealing, with delectable bass delivery matched by clean, smooth highs'
As ceiling lights flick on, with some invisible help from Egon Spengler, they're given a delicious, delicate ping sound that seems to emanate from thin air. And later in the movie, when the beat-up Ecto-1 is back on the road, its distinctive wailing siren gets similar treatment, the sound an impressive mix of smoothness and bite.
While it no doubt pays to give the BRX speakers as much juice as you can, they're not particularly power-mad. I had them laced up to a Marantz slimline AVR, and they sounded eager to please. That said, when Musical Fidelity's M6x 250.7 power amplifier arrived (see p60), the extra grunt allowed them to hit harder.
Going with the system's superior detailing and subtlety is the kind of punch, snap and attack I (no doubt erroneously) expect from all American loudspeakers.
This is a constant trait with music, as evidence by a spirited, joyous run-through of Exodus's Tempo of the Damned (CD), where this system kept pace with the thrash metal drums and sent serrated guitar riffs flying. With movies, it means whenever a soundmix goes for something dramatic, you're well aware of it. In one of my favourite demo scenes – Denzel Washington vs the Ruskie mobsters in The Equalizer (4K Blu-ray) – the explosive action onscreen is matched by explosive sound in the room. Transient effects arrive with force, the soundtrack pounds away, and tiny high-frequency details, like the sound of a corkscrew piercing human flesh, are wonderfully clear. And again, there's the joined-up nature of the soundfield to cherish.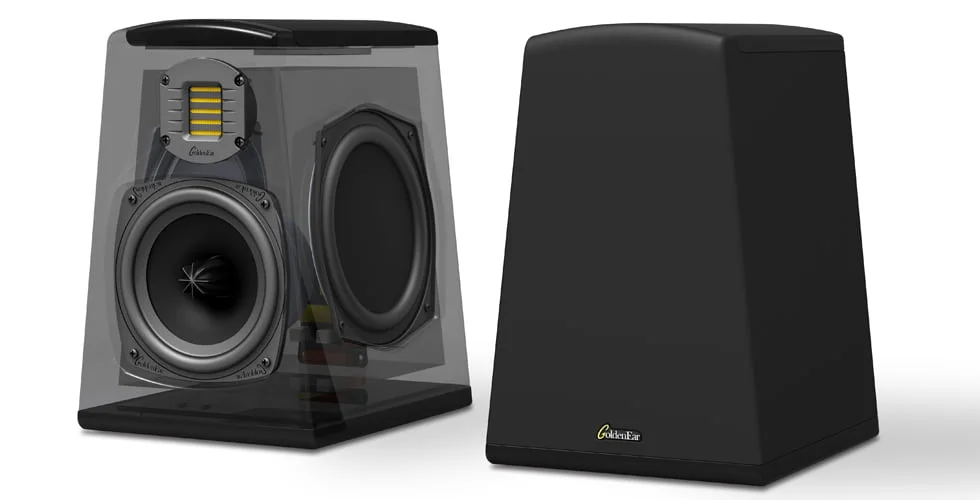 It's also worth stressing that this system in no way sounds small – at least, not in a typical sized listening room. The SuperSub X (previously reviewed in HCC #272) in part guarantees that, as it goes low and loud and fills out the soundstage with ease. But the other cabinets have an impressively wide reach, while maintaining image solidity and focus, so that the feeling is one of genuine envelopment even without any Atmos overheads.
Small speakers, big appeal
Overall, there's masses to recommend here. GoldenEar's BRX models are arguably as good as any bookshelf speaker I've heard at the price. Four of them, plus the impressive centre and subwoofer, makes for a thrilling 5.1 package. The full system price, more than many packages with floorstanders up front, can be considered high, but the sound performance fully justifies it
GOLDENEAR BRX 5.1 Review
A barnstorming 5.1 package that combines an attacking, weighty demeanour with transparency and luscious detail. Definitely one to audition.
Add your review
Best GOLDENEAR BRX 5.1 prices ?
MORE DEALS

See also TOP 10 Subwoofers
Bookshelf Reference X
DRIVE UNITS: 1 x 6in bass/mid unit; 1 x HVFR high-frequency radiator; 2 x 6.5in 'planar' LF radiators ENCLOSURE: Sealed FREQUENCY RESPONSE (CLAIMED): 40Hz-35kHz SENSITIVITY (CLAIMED): 90dB IMPEDANCE (CLAIMED): 4ohm (nominal) POWER HANDLING (CLAIMED): 250W DIMENSIONS: 205(w) x 311(h) x 308(d)mm WEIGHT: 5.44kg
SuperCenter X
DRIVE UNITS: 2 x 5.25in bass/mid units; 1 x HVFR high-frequency radiator; 1 x 7x10in 'planar' LF radiator ENCLOSURE: Sealed FREQUENCY RESPONSE (CLAIMED): 45Hz-35kHz SENSITIVITY (CLAIMED): 90dB IMPEDANCE (CLAIMED): 4ohm (nominal) POWER HANDLING (CLAIMED): 200W DIMENSIONS: 508(w) x 146(h) x 280(d)mm WEIGHT: 7kg
SuperSub X (subwoofer)
DRIVE UNITS: 2 x 8in long-throw bass drivers; 2 x 10.5×9.5in 'planar' infrasonic radiators ONBOARD POWER (CLAIMED): 1,400W ForceField digital amplifier ENCLOSURE: Sealed FREQUENCY RESPONSE (CLAIMED): 12-250Hz REMOTE CONTROL: No DIMENSIONS: 356(h) x 325(w) x 335(d)mm WEIGHT: 18.1kg FEATURES: LFE input; stereo line input; auto off/on; crossover (40-150Hz) and gain control
TESTED WITH
THE EQUALIZER: A third entry in this action thriller series has begun shooting, again with Denzel Washington and director Antoine Fuqua, for a cinema release next year. That means there's plenty of time to enjoy the energetic – and frequently brutal – 2014 original, and the also-solid 2018 sequel.