Given a much-needed spruce up, the new McLaren Edition of the Fives gets the iconic F1 team's matte black and papaya colour scheme on the tweeter domes and control panel. Also, the braided mains power cable and umbilical lead that connect one speaker to the other now have orangey flecks. There's even a 'stability pad' on the underside of the speakers, which is a piece of rubber patterned to look like a tyre! Read our Klipsch The Fives McLaren Edition Review.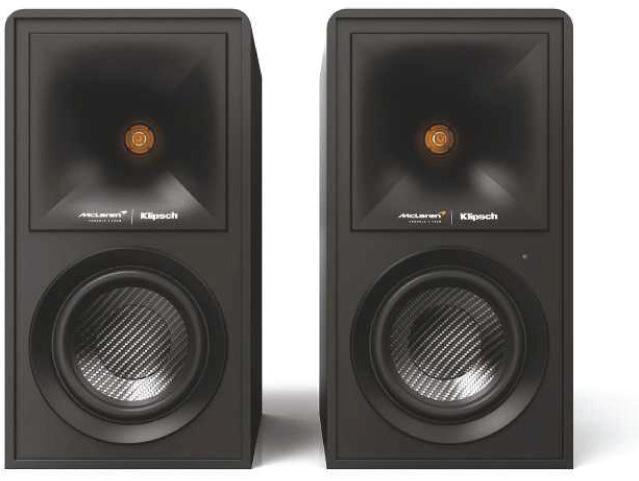 The changes aren't just cosmetic, as the mid/bass driver gets a new carbon fibre cone and the Klipsch Connect app is now fully up and running. It gives you an assortment of sound tweaking options, including tone controls and (the optional) subwoofer level. I prefer to carry out testing with the settings left flat, but then again I am able to place them properly on decent stands, 20cm out from the boundary wall.
This is a two-way design with a horn-loaded – as you'd expect from Klipsch – titanium dome tweeter, and the mid/bass unit below. The cabinet is reflex ported and that means the rear panel of the 'primary' speaker is quite crowded. Only one mains lead is needed and this powers the primary, with the umbilical lead running to the secondary speaker. For some this tether will be a major downside – as will the lack of UPnP streaming; this system is only 'wireless' in the sense that it offers Bluetooth connectivity. That said, it does offer a moving-magnet phono input, which will be a boon to some. Build is decent, but far from the best in the group.
Sound quality
Klipsch by name, Klipsch by nature! If you're a fan of this charismatic speaker brand, then you'll definitely get the distinctive sound of The Fives, and quite possibly love it. Yet many aren't and won't, because it's more on the 'Marmite' side than most here. In short, it's punchy, thumpy, feisty and fun – but wins no prizes for evenness, integration, subtlety or detail. Think of it as the audio equivalent of a young terrier dog, tearing up a rag doll with its teeth!
Tonally, the Klipsch is – shall we say – a bit wayward. The vocals on Rush's Limelight are a little lumpy, with Geddy Lee's high voice sounding too forward, yet there is also a slightly nasal tone to them. At the same time, hi-hat cymbals are a tad coarse. Down in the bass, this speaker system has limited punch due to its size, but it sure makes the most of what is there. Bass is propulsive and enormous fun, and overall things sound more engaging than some of the other contenders in this test.
The best sound I get from the Klipsch is via its optical line in, from a CD transport. This way, the Manix track is a lot crisper than via Bluetooth and really plays to this speaker's strengths. It may be tonally a bit rough, but it times very well; rhythms are carried with precision. It makes light work of Rave Fantasy, serving up an infectious beat. The Fives go surprisingly loud too, considering their modest size, and they don't complain when pushed a little harder. Again, it's only at really high levels that the B&W, Cabasse, KEF and Q Acoustics packages show up the Klipsch.
7Review earns Amazon affiliate commissions from qualifying purchases. You can support the site directly via Paypal donations ☕. Thank you!
See also TOP 10 Subwoofers
RECOMMENDED VIDEOS FOR YOU...
In short, the Fives are punchy, thumpy, feisty and fun – like a terrier with its toy
Little Ghetto Boy is a spacious sounding soul track and this system does a fair job of conveying this. It can throw out a decently big sound into the room, but again isn't quite in the top tier. Overall then, this racy Klipsch package punches above its weight in some ways, but doesn't quite have the strength in depth to claim pole position in qualifying
DETAILS
PRODUCT
Klipsch The Fives McLaren Edition
ORIGIN
USA/China
TYPE
2-way reflex loaded design
WEIGHT
Active: 5.35kg Passive: 4.85kg
DIMENSIONS
(WxHxD) 165 x 305 x 235mm
FEATURES
• 25mm titanium dome tweeter; 114mm carbon fibre mid/bass driver
• 3.5mm (line or MM); optical digital; USB; Bluetooth
• Claimed power handling: 160W RMS (total)
DISTRIBUTOR
Henley Audio Ltd.
OUR VERDICT
Klipsch The Fives McLaren Edition Review
A party animal in race overalls
PROS
Fun sound partners cool looks
Add your review
Best Klipsch The Fives McLaren Edition prices in the US ?

$

899.95

$1,499.00
2 used from $699.00
1 new from $899.95
in stock

Best Klipsch The Fives McLaren Edition prices in the UK ?
MORE DEALS

See also TOP 10 Subwoofers
■