For those about to rock, NickTate salutes you as he samples this punchy new wireless active mini-monitor with a Seventies vibe en years ago it was phono stages, then it was DACs, valve amps, headphone amps and head-fl. Now, the happening thing is wireless speaker systems. Given that everything else either is or is trying to go wireless, this should come as no surprise. Read our JBL 4305P Review.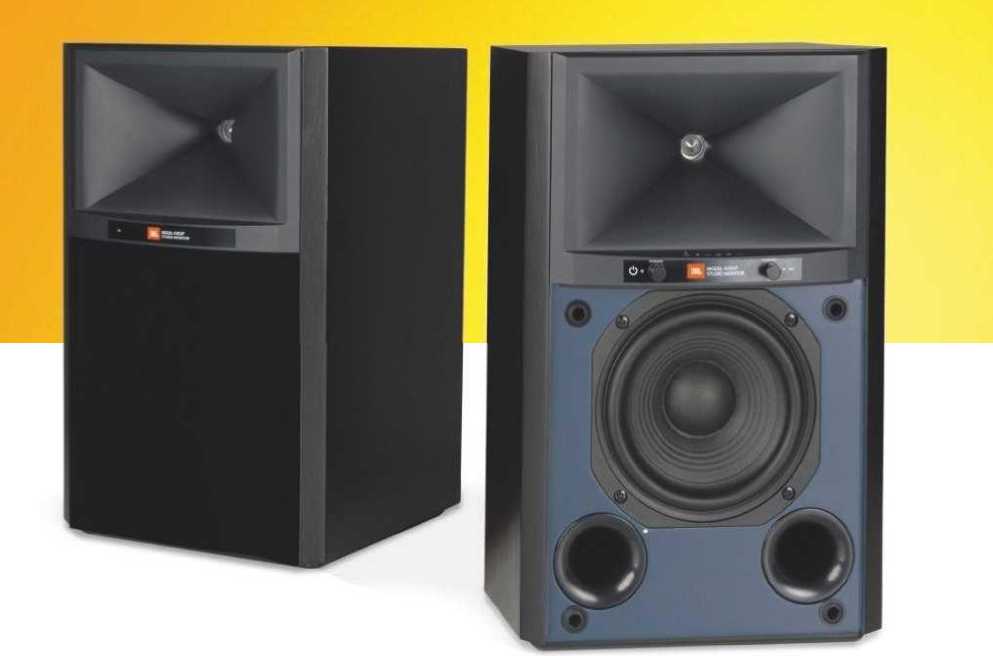 JBL has been a fairly early entrant into the market, one that's going to be saturated within a year or so from now. It has done a number of wireless speakers to date, but this is the most sophisticated and expensive I've tried. It takes it firmly out of the portable Bluetooth speaker sector – good as its products in that sphere are.
The 4305P straddles more consumer audio-type products and the budget hi-fi sector. Being a JBL speaker, it does things its own way. It has been on the edge of exciting-sounding speakers for many decades, thanks to its use of horn-loaded drivers. Its sound is all about transient speed and dynamics, plus efficiency and power.
The 4305P at least pays visual homage to this tradition, looking like one of the company's classic Seventies monitors that has shrunk in the wash. It's strongly visually differentiated from wireless active rivals like KEF's LS5O Wireless II (HFC 488) – which costs a couple of hundred pounds more.
The difference isn't just cosmetic – as this has a 25mm compression driver tweeter, even if there's no room in its compact cabinet for a classic 12in bass unit. Instead you get a 130mm mid/bass driver with a cast
PRODUCT
JBL 4305P
ORIGIN
USA/China
TYPE
Active wireless loudspeaker
WEIGHT
Primary: 6.8kg
Secondary: 6.4kg
DIMENSIONS (WxHxD)
210 x 336x223mm
FEATURES
25mm annular ring compression driver
130mm paper cone bass driver
Inputs: 3.5mm analogue; optical; XLR; Ethernet
Quoted power handling: 150W RMS per speaker
DISTRIBUTOR
Harman UK
WEBSITE
jblpro.com/en
frame and fibre-composite cone. It's aided by reflex loading via twin-tuned front-mounted bass ports. Crossover frequency is an unusually low 1.75kHz. As it's an active design, this speaker is powered by a pair of Class D amplifiers; 25W goes to the treble unit and 125W to the mid/bass; total power from both speakers is put at 300W RMS. Oh, and this speaker also gains a 'P' at the end of its name, thanks to it being a powered design.
7Review earns Amazon affiliate commissions from qualifying purchases. You can support the site directly via Paypal donations ☕. Thank you!
See also TOP 10 Subwoofers
RECOMMENDED VIDEOS FOR YOU...
The real meat in the sandwich – if you'll pardon my Spinal Tap-based analogy – is the wireless functionality.
Easy-listening types need not apply, but headbangers will love this loudspeaker
There's nothing classic and retro about this. The speaker can play up to 24-bit/192kHz PCM files, MQA and is certified Roon Ready. There's Google Chromecast built-in, plus Apple AirPlay 2, and Bluetooth 5.1 (up to 48kHz). Also, a 90-day trial of high-resolution streaming audio service Qobuz is supplied.
The two speakers are individually mains powered, so they're not completely wireless – it's only the 'getting audio to them' part which qualifies for this description.
Furthermore, if you want the full 24-bit/192kHz smash, you'll have to tether them with the supplied Cat 5-type lead as they can only handle 24-bit/96kHz wirelessly
One speaker has front panel volume controls, plus mute, input selection and Bluetooth pairing. All the inputs are round the back of this cabinet, and include 6.35mm jack or balanced XLRs, a 3.5mm analogue auxiliary input, optical digital in, USB B and Ethernet. Some will mourn the lack of an electrical coaxial digital input, and/or HDMI. You also get a Bluetooth remote control, which can be controlled as part of a Google Home or Apple AirPlay ecosystem.
This is a JBL that does exactly what it says on the tin. Don't buy it if you want a smooth, laid-back listening experience. Instead, across all sources it is fast and fun – the music's emotional force and impact is well conveyed, for something as small and compact as this. The 4305P has something of a Rottweiler temperament then; it's not there to make friends with everyone, it's going to snap at the recording's heals and maybe even bite its ankle!
The 4305P looks like a classic Seventies JBL monitor that has shrunk in the wash
There's nothing wrong with this, it's just not for everyone – it's the proverbial Marmite product. Those who want to get caught up in the emotion of their music will love it, but anyone wanting a neutral appraisal of the recording won't. In truth, the same could be said of traditional JBL loudspeakers as a whole – they're not really from the balanced and fair 'BBC' school of sound reproduction. Rather, if they were a person they'd ride a noisy old V-twin motorbike and swear at you as they left dirty great tyre marks on your drive.
You could almost argue that the 4305P is something of a parody -or pastiche at least – of traditional, larger JBL loudspeakers. Thanks to that compression driver, things can get a bit bright in the upper midband and treble. Cue up some classic post-punk rock such as Duchess by The Stranglers, and this speaker sounds thin – almost hard – especially in the vocal region. Yet at the same time it's very immersive and digs deep into the mix to fire detail out at you.
The sound is certainly a dramatic contrast to what I reckon is the best active wireless package around right now-Q Acoustics' Q Active 200 (HFC 488). This is one third cheaper yet has a far more refined sound, and does better than the JBL in everyway except in the drama of its musical presentation. It serves to remind buyers of the quality of the JBL's active competition.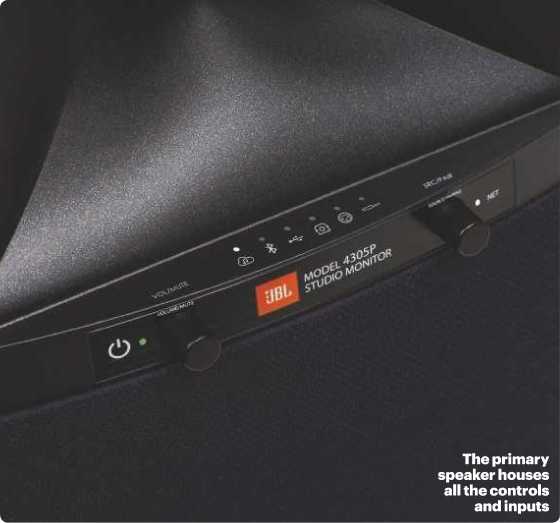 In a way, choosing this track is a little unfair because like a lot of recordings from the late-Seventies it's pretty light in the bass – because it was mixed that way. This then puts the emphasis on the speaker's midband and treble, which is intense, to put it diplomatically. But if you play a more modern track with lots of bass on – like Goldie's Timeless for example – you're greeted by quite a kick down below from the 4305P The thump emanating from that modestly sized mid/bass driver isn't expected. This compact speaker system gives a decent account of this classic drum and bass track, serving up a tuneful and surprisingly extended bottom end. Of course, by hi-fi speaker standards it is limited, but outdoes the likes of KEF's rival LS50 Wireless 2 in this respect.
You can also tweak the bass by 3dB via a rear-mounted switch on the primary speaker, but this is more about placement optimisation. It's good to knock out a bit of bass boom if you've got it rammed right up to your boundary wall, for example. If you don't, it might over power some smaller listening spaces.
The 4305P also catches the speed of Timeless superbly, and it isn't a one-off. With eighties indie rock, such as Felt's The Day The Rain Came Down, it really sings. It's the lithe, vivid and etched way that it does the midband that helps here, but also the punch that the system has at high levels. You can push it surprisingly loud and even then it will make a good go at conveying the dynamic accenting of the music. Its nimble, expressive sound really lets the music breathe, but by the same token this slightly mid-forward recording can provoke the 4305P into sounding a bit full on.
Taken alone, this is a decent small active wireless speaker – with good functionality, solid build and a character all of its own. Yet the market is already crowded – with the aforementioned KEF and Cambridge Audio systems being just two of what's on offer. All the same, this system makes a good case for itself in some respects – sonically it's quintessentially JBL, and many like this sort of sound. Easy listening types need not apply, but headbangers with limited listening space might have just found their champion •
JBL 4305P Review
A charismatic yet compact package
PROS
Feisty, fun, fast and furious
CONS
It's not everyone's ideal sound
Add your review
Best JBL 4305P prices in the US ?

$

2,200.00
3 new from $2,200.00
in stock

Best JBL 4305P prices ?
MORE DEALS

See also TOP 10 Subwoofers