Mark Craven samples the expansive sound – and specification – of an upper-tier nine-channel AV receiver. Read our YAMAHA RX-A6A Review.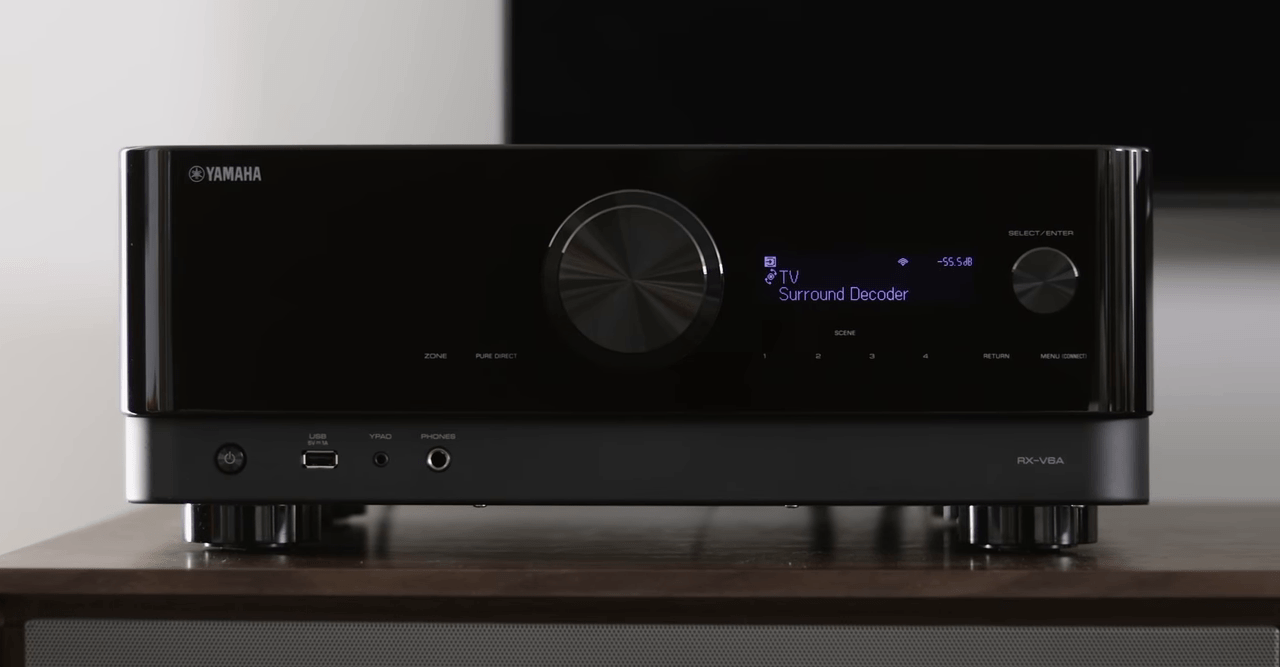 As part of Yamaha's flagship Aventage receiver lineup, the RX-A6A promises to put everything the storied audio brand knows about movie sound into one, feature-packed box.
Priced £, this is a big brooding beast of an AVR, and it has the performance to match – film and music playback is never less than enthralling. Ask me where it comes up short, and I'd have to give a shrug.
AV INFO
Nine-channel Dolby Atmos/DTS:X AVR
Aventage series model below 11-channel RX-A8A
Arcam AVR20; Anthem MRX 540;
Denon AVR-X4700H
Okay, I could discuss how this model is only a nine-channel design, thus leaving those with 7.x.4 speaker setups in need of an additional power amplifier (the receiver has 11-channel processing/pre-outs). Or I could posit that the LCD display could offer more detail.
But really, it would seem churlish to not give the RX-A6A the full praise it deserves.
Despite the price tag comfortably putting this Yamaha in the upper echelons of AV receivers, it isn't actually the Japanese brand's top model – selling for £ is the RX-A8A. This is the 11-channel option that owners of 'full-fat' Atmos systems will be attracted too, although the price difference is such that there's more to it than just a couple of additional amp channels – upgrades include signal path/construction niceties and DAC stage. Below the RX-A6A are RX-A4A (£) and RX-A2A (£ see HCC #324) models, both with seven-channel outputs.
So we're near the top of the Yamaha tree and the RX-A6A has the build quality to prove it. It's impressively weighty at 20.3kg and built like the proverbial battleship. As is usual for the range, it features not four but five feet, the central one described as an Anti Resonance Technology (A.R.T.) wedge. This is claimed to dampen 'vibrations from the power transformer, power transistors and heat sinks', and its position has been changed this time around for improved resonance control. An H-frame chassis inside provides extra structural rigidity, as does the amp's multi-part metal top-cover, while amp modules and transformer have been isolated internally from the audio circuitry. Even the printed circuit board has been given a multi-layer makeover since the previous RX-A80 range.
7Review earns Amazon affiliate commissions from qualifying purchases. You can support the site directly via Paypal donations ☕. Thank you!
RECOMMENDED VIDEOS FOR YOU...
That's not a volume control, this is…
Elsewhere in this issue (see p73) I have a bit of a grumble about current AV receiver design, but Yamaha does deserve to be cut some slack. I like the in-yer-face positioning of this receiver's central volume control, and the two-tone design that mixes smart gloss black for the upper two thirds with brushed metal for the bottom-slung input/output strip. However, like my colleague Steve Withers, who auditioned the RX-A2A, I'm not a massive fan of the information display, top left of the fascia (okay, I did bring it up). This looks nice, with large chunky fonts, but doesn't really tell you much about the amp's operational status.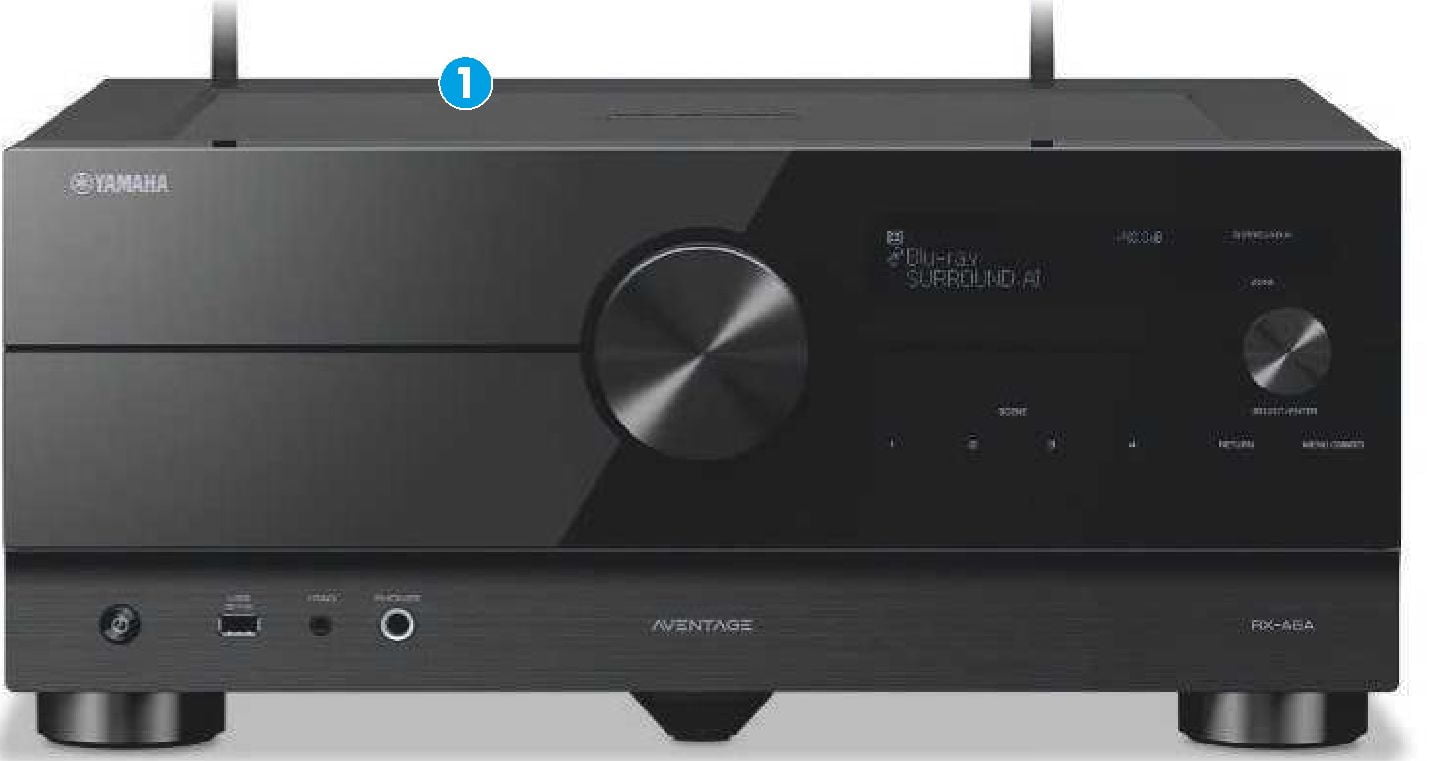 7. Yamaha keeps its AVR's fascia neat and tidy
Yamaha's refreshed receiver range began with the launch of the RX-A2A and V Series models in 2020, but came up against well-publicised issues (afflicting other brands too) surrounding new HDMI 2.1 chips and their compatibility with next-gen, 4K/120-capable consoles. For those models, this has been fixed by a physical HDMI board replacement. For the higher-spec RX-A4A, RX-A6A and RX-A8A, delays to production (likely pandemic related) meant out-of-the box compatibility could be offered.
So the HDMI specification of this receiver looks state-of- the art. There are seven inputs and all are able to passthrough 4K/120,8K/60 and HDR10+ video (as well as Dolby Vision HDR, natch). There are then three HDMI outputs – two for the main zone (one with eARC) and one for Zone 2.
This HDMI situation isn't exactly a gamers' paradise, as VRR and ALLM features are still waiting to be unlocked via a firmware update. Yamaha tells me this should arrive soon, though.
Connections on the front panel are USB, full-size headphone, and an input for a supplied microphone for Yamaha's YPAO auto calibration routine. Around the back you'll find much more, including the aforementioned HDMIs; coaxial (x2) and optical (x3) digital audio ins; DAB/ FM aerial input; and more stereo analogue connections than is surely necessary (one of these is MM phono, for a turntable). Then there are the speaker terminals (11 in total), RCA pre-out connections, and, in a nice addition, stereo balanced XLR in/out. Labelling for all is clear, and the terminals are well-spaced, making lacing up source gear and speakers simple.

2. Remote (with gentle backlight) mixes recessed and raised keys
Operation, via Yamaha's backlit remote, took me a while to get used to. The zapper has a textured back, which feels a bit odd, and controls are a mix of recessed and raised keys. Again, everything is clearly labelled, but some buttons (Al, for example) are rather diddy.
As a Yamaha amp, the RX-A6A comes with a roster of DSP modes. These do feel like they've been left over from crazier times, when the best native mix you could hope for was Dolby 5.1, and post-processing embellishments were always welcome. Yet Yamaha, the OG of DSP, doesn't seem inclined to retire them. There are too many options to list, but they include Church in
'A smash hit – sound is controlled and naturalistic but with an undercurrent of snarl and aggression'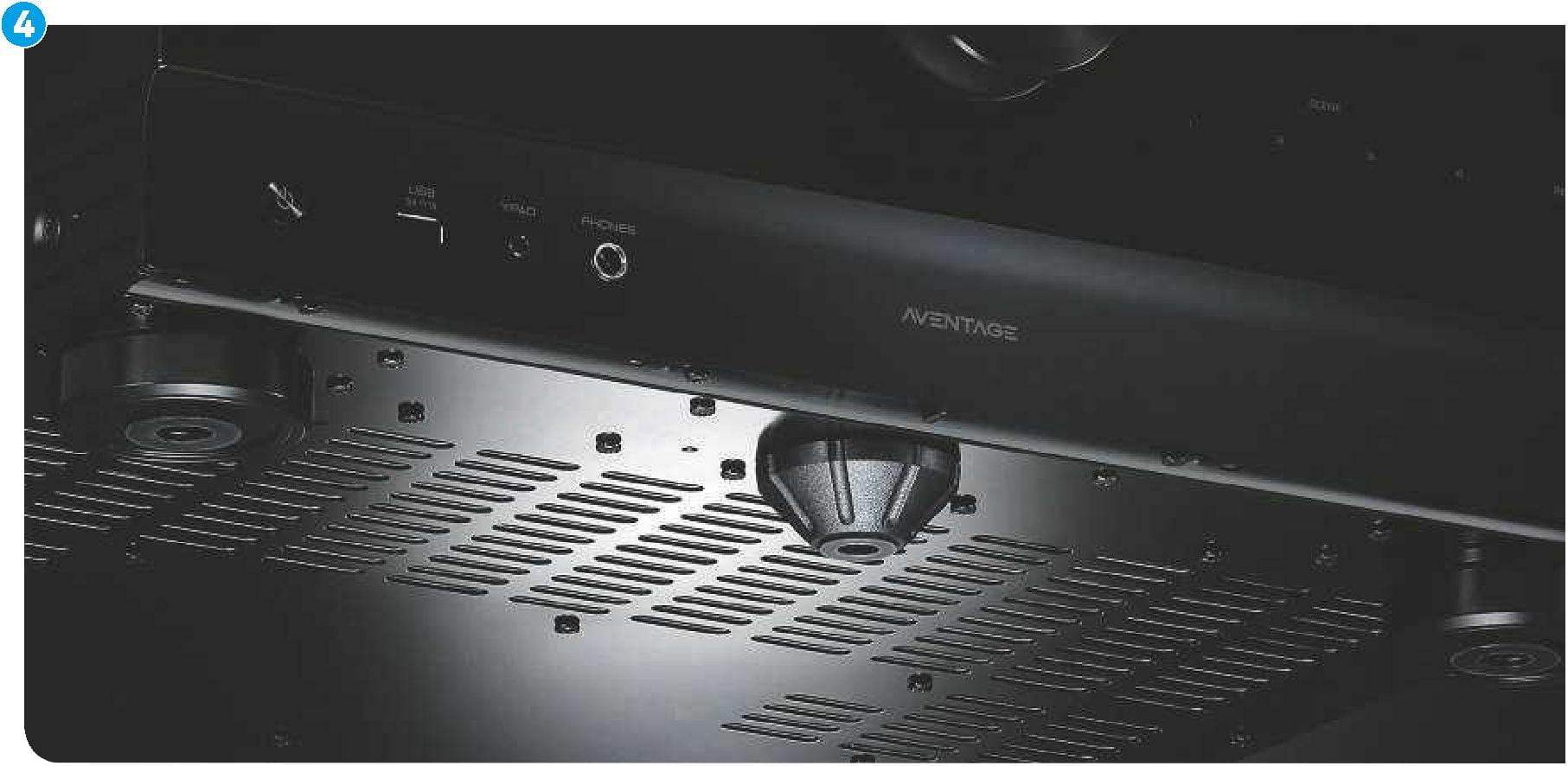 Freiburg and The Roxy Theatre among the music flavours, Sci-Fi and Drama for movies, and RPG and Action for gaming. Reader: I didn't test them all, and the ones I did experiment with I wouldn't heartily recommend over straight decode or the premium Pure Direct option.
Furthermore, the RX-A6A also carries Yamaha's Surround: Al mode, smart real-time processing that analyses various attributes ('dialogue, background music, ambient sounds and sound effects', says Yamaha) to deliver a more immersive experience. This is just a button click away, and can be fun to introduce.
YPAO room calibration isn't as detailed or anywhere near as adjustable as Anthem's ARC Genesis or the Dirac platform favoured by NAD and Arcam, but on the plus side is somewhat more plug and play, not requiring any use of a laptop. Single or multipoint measurements can be taken, and the results saved to the AVR, with YPAO then offering Flat, Front, Natural or Low Frequency parametric EQ flavours. Manual configuration is of course a possibility, alongside much, much else – you can even change the DAC roll-off filter setting if that's your thing.
Ramping up the excitement
I've felt in the past that the standout traits of Yamaha's receivers were fluid soundstaging and really rich, nuanced tonality. I was expecting more of the same – and I got it – but the company seems to have tuned the RX-A6A to be a little bit more aggressive. More exciting, even.
The warehouse assault sequence toward the end of Nobody (4K Blu-ray) revealed this receiver to be one with a sense of fun. The numerous spot effects – gunshots, shattering glass, throats caught in barbed wire – hit hard, with sharp edges when needed. The RX-A6A's 'high-slew rate' Class AB amp modules never seem to sleep at all – when a sound designer goes big on dynamics, this receiver is up to the task.
Even while the RX-A6A is inducing grins with its upbeat demeanour, it's still in control of the sound balance. There's no sense of overemphasis in the frequency band as the sound progresses from deep bass to crisp treble.
High-frequency details, when they come, are deliciously focused and distinct. In Nobody, during the bus fight, the sound of a knife piercing flesh, and then being pulled out, sounded gruesomely real (I imagine).
In A Quiet Place (4K BD), the microdetails in the mix were afforded a more delicate handling, the RX-A6A creating an effective ambience. Leaves rustling across the empty street in the film's opening chapter, and the soft footsteps of the Abbott family as they sneak around the abandoned shop, manage to be both distinct yet smoothly delivered. This receiver goes about its business with quiet authority.
With a more chaotic, crowd-pleasing Atmos soundtrack, such as that of Iron Man 3 (4K Blu-ray), this authority remains. During the Air Force One plane sequence there's a focus and sense of separation to mix elements (whistling wind, screaming government suits, Brian Tyler's orchestral score) without the RX-A6A losing track of the whole shebang, or turning it into a clinical listen.
Tony Stark's charge down the plane corridor comes with a whoosh of front-to-back sound, his suit thrusters flying through the room. He's then gone through the rip in the fuselage and out into the open air, and the RX-A6A follows (his) suit, expanding its soundfield to leave you floating up there with him. This ability to immerse is superb. Helping out is a front LCR stage that stretches wide, pushing front left/right audio far beyond the edge of your speakers.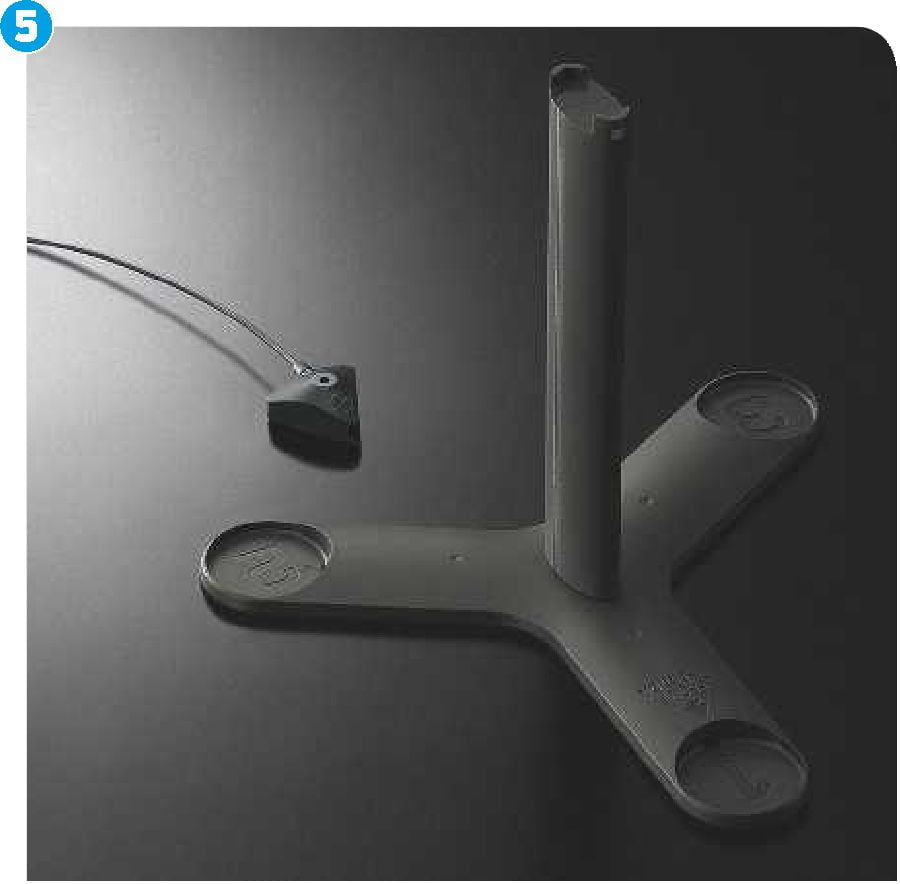 3. The RX-A6A has seven HDMI ins and three outs, one with eARC
4. Yamaha has moved the position of its A.R.T. wedge (aka, the Fifth Foot) to better combat vibrations from the internal power transformer
5. YPAO mic comes with support stand and connects via frontpanel 3.5mm jack
As for music playback, be it stereo or multichannel, this Yamaha receiver sounds very much like it's come from the same company that makes pianos, saxophones, marimbas and more – meaning it rates very highly as an all-round option, not just a film-first model. One of my favourite demo tracks, No Excuses from Alice in Chains' semiacoustic Jar of Flies EP, is presented with a wide, deep soundstage that precisely places the drums and various percussion elements, plus a slick rendering of the vocal harmonies. And with music I felt more inclined to call on the Surround: Al mode, as this brought an interesting 'live performance' feel to this studio-recorded piece.
Die-hard AV tweakers would probably prefer that Yamaha swapped out its lengthy list of DSP modes in favour of more in-depth room calibration. Yet the RX-A6A is an AV receiver (albeit one with nine channels) aimed more at the mass market, complete with compatibility with the brand's multiroom MusicCast platform.
Viewed in this regard, it's a smash hit. Its sound is naturalistic and musical, and alongside the control it brings to multichannel tracks there's an undercurrent of snarl and aggression. It's (literally) a home cinema heavyweight, and should be on your audition list if a new AVR (with HDMI 2.1 connectivity) is the order of the day.
DOLBY ATMOS: Yes DTS:X: Yes IMAX ENHANCED: No MULTICHANNEL INPUT: No MULTICHANNEL PRE-OUT: Yes. 11.2-channel MULTICHANNEL OUTPUT (CLAIMED) : 9 x 185W (Bohm, 1ch driven) MULTIROOM: Yes. Zone 2 plus MusicCast HDMI: Yes.
7 x inputs and 3 x outputs VIDEO UPSCALING: Yes. 8K AV INPUTS: 5 x digital audio (3 x optical and 2 x coaxial); 6 x analogue stereo DIMENSIONS:435(w) x 192(h) x 442(d)mm WEIGHT:20.3kg
FEATURES: YPAO auto calibration with supplied mic; stereo XLR input/pre-out; Cinema DSP (with 24 programs); Surround: Al processing; Auro-3D; USB; Ethernet; Wi-Fi; Bluetooth; headphone output; compressed/hi-res Music Enhancer; Pure Direct mode; user customisable Scenes; H Frame construction; A.R.T. wedge; High Slew Rate amplifiers; ES9026PRO and ES9007S DACs; backlit remote
TESTED WITH
IRONMANS: In 2013, Marvel was brave enough to hand writer/director duties of this tentpole title to Lethal Weapon/Predator/Last Boy Scout scribe Shane Black. The result was an MCU entry with sharp humour and often a buddy movie feel. Underrated by many, loved by others, it debuted on 4K Blu-ray in 2019.
Recommended
YAMAHA RX-A6A Review
With HDMI 2.1 issues in the past, Yamaha steps forward with a superb nine-channel AVR. It's always a pleasure to listen to, whether for movies or music, and rocks a premium build.
Add your review
Best YAMAHA RX-A6A prices in the US ?

$

2,093.89

$2,449.95
4 used from $1,784.92
16 new from $2,093.89
in stock

Best YAMAHA RX-A6A prices ?
MORE DEALS