Yamaha aims to impress Steve May with its home cinema AVR flagship. Read our YAMAHA RX-A3080 Review.
av info
PRODUCT: Nine-channel AV receiver
POSITION: Flagship in Yamaha's Aventage range
PEERS: Pioneer SC-LX901; Denon AVC-X6500H
The RX-A3080 is Yamaha's smartest Aventage AV receiver. Elegantly finished, and boasting AI (artificial intelligence) audio post-processing, it lords it over a quartet of stablemates (the RX-A680, RX-A880, RX-A1080 and RX-A2080), and is a direct replacement for last season's RX-A3070. As a flagship model, you'd expect it to leave no stone unturned. But…
The RX-A3080 is 'merely' a nine-channel design.
This means that a Dolby Atmos configuration would typically be limited to 5.2.4 or 7.2.2. Or, alternatively, you could opt to run a flatbed 7.2 layout, with additional stereo amplification to a second room.
While the receiver can handle processing for eleven channels (7.2.4), you'll need to stump up for (and wire up) additional amplification. This compares poorly to both Denon and Pioneer, which tout 11-channel models at the same lofty price point as this Yamaha. It's hard not to feel a little short-changed.
Triple HDMI
The rest of the specification is solid, however. Connectivity is decent, and with an eye to the US market, there's big support for multizone use.
Compatible with Dolby Vision and HLG, the receiver offers seven HDMI inputs, all of which are HDCP 2.2/4K 60p 4:4:4 compatible. These link to a trio of HDMI outputs; two can run a TV (via ARC) and projector in a single cinema room, leaving the third for multizone use, alongside analogue stereo for Zones 2 and 3. (There's no indication that the receiver supports e-ARC, by the way – although that's not to say it couldn't be added by firmware).
7Review earns Amazon affiliate commissions from qualifying purchases. You can support the site directly via Paypal donations ☕. Thank you!
There are then six digital audio inputs (three coaxial, three optical), plus AV and component inputs for legacy gear. There's also a pair of XLR inputs. Not particularly common in home theatre, these might be used, for example, with Yamaha's own CDS2100 SACD player for audiophile two-channel playback. Completing the picture is a full set of channel pre-outs, again with an XLR stereo output. System control options include RS-232C, IR remote and two 12V triggers.
Other niceties include a DAB FM tuner, and dual-band Wi-Fi (twin aerials rotate up on the rear) supported by
1. On the AVR's underside, a central fifth foot aims to minimise vibration
2. Yamaha's new backlit remote still has plenty of buttons, but they now come in soft-touch rubber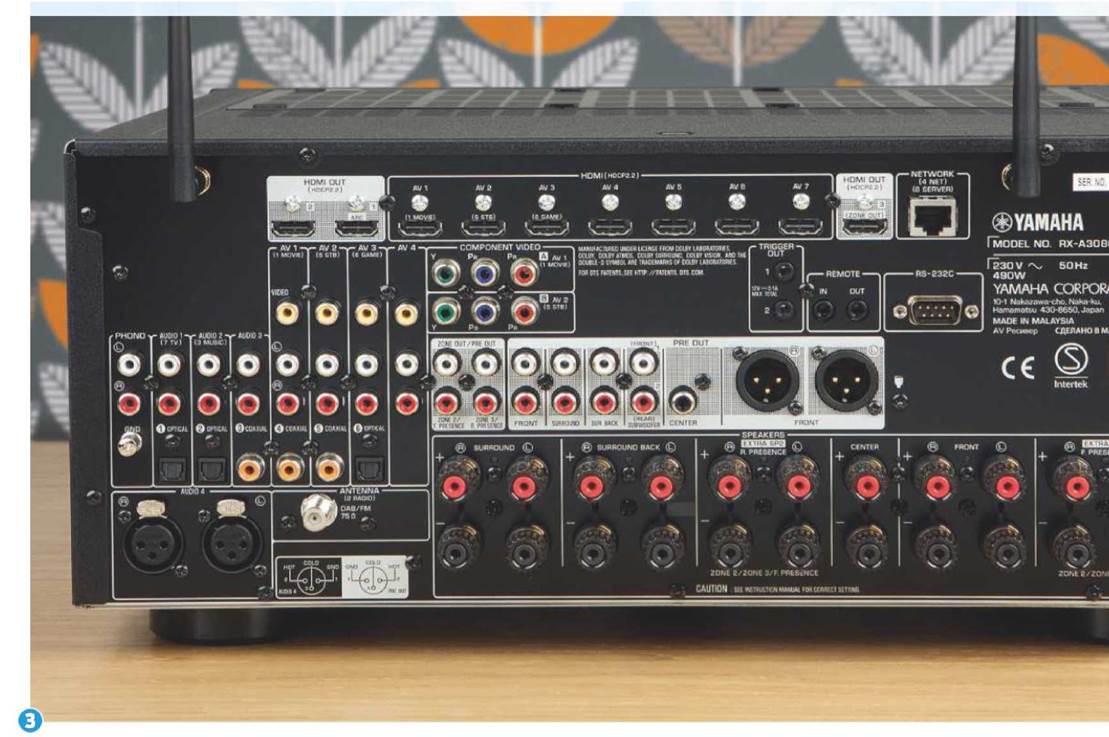 Ethernet. For vinyl aficionados there's a phono preamp (MM) onboard.
When it comes to styling the RX-A3080 looks the business, albeit not in any way different from its antecedents. The aluminium fascia is clean and classy, with input and volume knobs sandwiching a drawbridge of front-facing controls. Rather annoyingly, Yamaha has binned the forward HDMI input, but you do get a USB port, YPAO mic input for room EQ, and a pair of stereo phono inputs. There's also a full-sized headphone jack.
Wireless support covers Bluetooth and Apple Airplay, with voice control courtesy of an Amazon Alexa skill.
Naturally, the RX-A3080 is MusicCast compatible, capable of streaming files up to 24-bit/192kHz to other MusicCast components. MusicCast 20 or 50 speakers can
'The RX-A3080 is no shrinking violet. It's dynamic and dramatic, bolstered by forward-thinking processing'
also be used as wireless surrounds, however these were not supplied for audition – and I'm not sure such a setup is the aim of someone spending up to £ on a receiver.
The AVR's internal design uses a classic H-shape for reinforcement, and Yamaha's long-standing Anti Resonance Technology (ART) wedge foot, located centrally, to minimise vibration. Given that the RX-A3080 weighs the best part of 19kg, I wouldn't expect too much rattle or roll.
Unlike Denon and Marantz, Yamaha doesn't offer much of a hand when it comes to setup. It's down to you to basically figure things out. Attaching the YPAO mic automatically triggers the EQ routine, but before that you need to assign channels to match your speaker layout.
And the room EQ will almost certainly require some post-calibration assessment, not least because in my experience it seemed to indiscriminately assign all speakers as 'Large.'
That said, you don't actually need to rely on YPAO for setup. You can manually configure your layout, choose your preferred crossover, then apply YPAO parametric EQ (Flat, Front, Natural), or stay au naturel. I found setting speaker size and crossover frequency myself ('Small' and 80Hz) brought significant benefits in depth and slam.
Different configurations can be assigned to one of two Patterns. These might be a combination of YPAO EQ and manual alternative, with different speaker sizes and crossovers between them, or complimentary patterns for multichannel and stereo listening.
A refreshed, high-resolution user interface deserves a ripple of applause. That familiar Yammy piano graphic is finally rendered in HD! More coherent than what we've seen in the past, the UI is no longer a collection of disparate pop-up boxes. Consequently, it's a lot easier to find things like lip-sync adjustment and bass boost.
Making a Spectacle
As you'd assume, there's decoding support for Dolby Atmos, DTS:X and their various subsets. The receiver can serve these up with Cinema DSP HD3 post-processing, if you want to optimise audio with DSP tricks such as Spectacle, Sci-Fi, Action and Sports. However, with the introduction of Surround: AI, you may no longer feel tempted to wrestle with individual sonic modes. Why bother when the AVR will analyse and optimise audio processing automatically?
Toggled on or off from a button on the remote, Surround: AI analyses content based on specific sonic elements, such as dialogue, sound effects and music, in real time. One consequence of this is that the effect of Surround AI: is rather difficult to predict.
More on that later. I'll first say the RX-A3080 is characterised by a bold, dynamic character, especially after manual intervention post-EQ.
It has a clear, nimble sound, and what really impresses is the sheer spatial scale of its presentation. The front soundstage in particular is astoundingly detailed and expansive (an ESS Sabre ES9026PRO Ultra DAC handles the main seven channels and does a stonking job); so much so that watching Mission: Impossible – Rogue Nation (Blu-ray, Dolby Atmos) seemed to make my 65in display almost double in size.
The pre-credit stunt ('I'm not in the plane… I'm on the plane!'), with Tom Cruise hanging from the side of an Airbus, swamps the room with engine roar, before Lalo Schifrin's theme kicks in. It's a glorious cinematic cacophony, but the Yamaha keeps every layer coherent. The subsequent dialogue in the record store is full-bodied and resonant.
The receiver has a flair for the melodramatic.
The slamming of the cars, before the brutal rain-soaked fight in John Wick (Blu-ray, Dolby Atmos) is unrepentantly visceral, and the deluge of rain so convincing it had me mopping up puddles.
Switch to a standard 5.1 source and the RX-A3080 proves adept at spreading the mix around the entire soundstage. When the misfit kids select their characters in Jumanji: Welcome to the Jungle (Sky Cinema), the ominous jungle drums expand and engulf like a hungry hippo. Crackles of energy arc front to back, shortly before the kids are sucked into the game. The re-mix gave me goosebumps.
Yamaha's DSP expertise is unrivalled, although as always, it can prove a little divisive, and the sheer wealth of sound programs baffling. The Walking Dead (Fox, 5.1) sounds more cinematic and less mumbly with the Adventure DSP switched on. But constantly choosing the 'right' DSP mode for content can get tiresome.
As a clever catch-all enhancement, Surround: AI intrigues me. When Dwayne Johnson and troupe first land in the jungle, the ambiance is beautifully painted. Surround: AI switched on, the jungle seems somehow larger. When Jack Black respawns, every corner of the room rings, before he crashes back to Earth with a satisfying LFE thump. But with AI off, the presentation is undoubtedly cleaner. The Jumanji drums sound tighter, with better focus. But I missed the heightened sense of immersion the AI mode brings.
The process actually has a more profound effect on music than it does on movies. A 96kHz/24-bit PCM 5.1 mix of Rush's 2112, particularly the spiralling riff from Passage to Bangkok, becomes intoxicating. The slight reverb it imparts to music doesn't work for all tunes, but it's entertaining.
A choice to make
When it comes to theatrics, the RX-A3080 is no shrinking violet. It's dynamic and dramatic, bolstered by forward­thinking audio processing. Movies and music are handled with high-resolution ease, and I rate Surround: AI as a refreshing addition to Yamaha's DSP toolbox.
There are caveats though. Usability isn't on a par with main rivals, and with only nine channels of amplification it's under-specified for the price. If you only need a nine- channel AVR, Yamaha's own RX-A2080 could well be a more sensible buy, unless you really want XLR connectivity.
That said, for those who've grown up with Yamaha home cinema, and Cinema DSP in particular, the RX-A3080 is a tempting high-end update on a tried-and-tested design
Verdict
Yamaha RX-A3080 Review
Yamaha mixes popcorn with AI to create a bold, theatrical home cinema receiver, but - like multiplex pick 'n' mix - it feels a little expensive for a nine-channel model.
Add your review
|
Read reviews and comments
Best Yamaha RX-A3080 prices ?
MORE DEALS

SPECIFICATIONS
DOLBY ATMOS: Yes DTS:X: Yes THX: No MULTICHANNEL INPUT: No MULTICHANNEL PRE-OUT: Yes. 11.2-channel MULTICHANNEL OUTPUT (CLAIMED): 9 x 150W (into 8 ohm, 20Hz-20kHz, 0.06% THD) MULTIROOM:Yes. Zone 2 (HDMI/analogue stereo) and Zone 3 (analogue stereo) AV INPUTS: 4 x composite; 6 x digital audio (3 x optical and 3 x coaxial) HDMI: Yes. 7 x inputs; 3 x outputs VIDEO UPSCALING: Yes. To 2160p COMPONENT VIDEO: Yes. 2 inputs DIMENSIONS: 435(w) x 474(d) x 192(h)mm WEIGHT: 19.6kg
FEATURES: YPAO -R.S.C. Room EQ; vinyl player phono stage; AirPlay; Amazon Alexa support; MusicCast multiroom compatible; stereo XLR input/pre-out; Cinema DSP HD3; DSD (2.8/5.6MHz), FLAC, WAV, ALAC hi-res media playback; Ethernet; Wi-Fi; USB; dual subwoofer outputs; Surround: AI post-processing
PARTNER WITH
KEF Q SERIES: This range may be entry-level for KEF, but its performance is far from it. The series offers floorstanders, standmount and centre channel models, and – for home cinema system builders – Atmos upfiring units.
3. The RX-A3080 offers a third HDMI output for Zone 2
4. The front flap conceals controls, plus headphone, analogue audio and USB ports