Whether you've got your eyes on 8K or next-gen gaming, X marks the spot, declares Steve May. Read our DENON AVC-X4700H Review.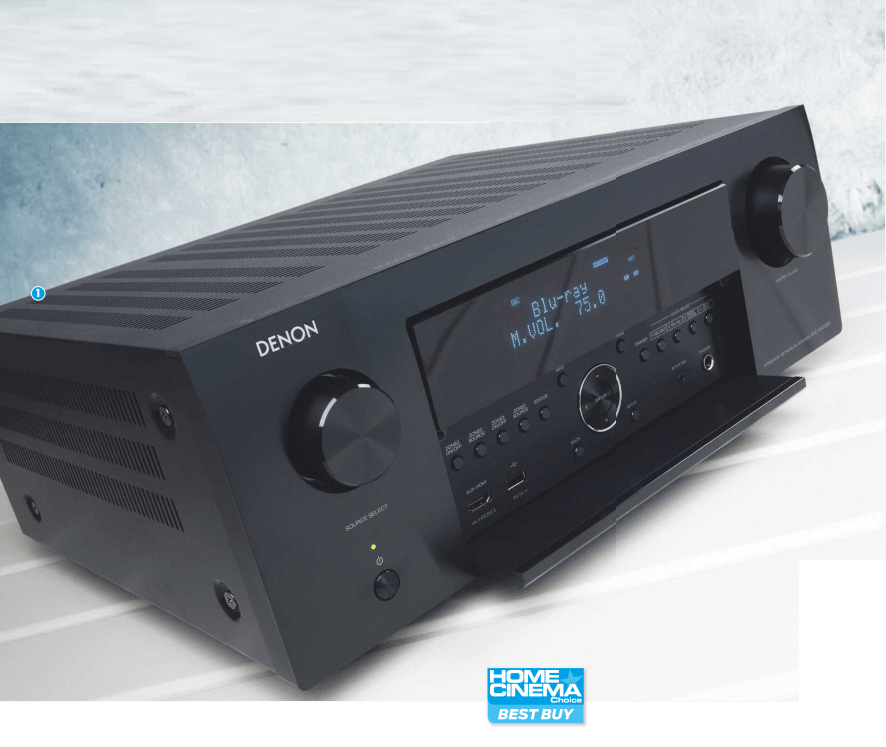 AV Info
Nine-channel Dolby Atmos AV receiver with 8K HDMI
Position: Upper mid-range, below 11-channel AVC-X6700H
Peers: Pioneer SC-LX704; Yamaha RX-A3080
Timing is everything, and with its first range of 8K-capable X Series home cinema amplifiers, Denon has seemingly got its timing just right. Not just because 8K flatpanels are slowly filtering through, but because this range is ready and able to play with the latest generation of consoles primed for 4K/120fps gaming thrills.
The AVC-X4700H has other game-friendly features too, courtesy of acronyms like VRR, ALLM and QFT. Variable Refresh Rate (VRR) reduces frame tearing, while Auto Low Latency Mode (ALLM) and Quick Frame Transport (QFT) reduce input lag. These are a big deal if you're a serious gamer. Thankfully, there's also plenty for cinephiles to get excited about. Regardless whether you favour the black or silver finish, the AVC-X4700H is a heavyweight home entertainment beast.
The more observant amongst you may have realised the UK/EU version of the X4700H featured here is an AVC, which is to say it's an amplifier without an FM tuner. The USA version is a classic AVR, with FM radio. Apart from that they're pretty much the same unit.
That said, the X4700H doesn't look overly different from its antecedents. Build quality and finish are exemplary. Edges are squared off, and the front fascia has a bright, clear display. The chassis is a dual-layer design, a step up in rigidity from Denon's more affordable, but less powerful, AVC-X3700H stablemate.
Surround sound pick-'n'-mix
Naturally, the X4700H is compatible with all the big-name immersive sound formats. Dolby Atmos, DTS:X, DTS Virtual:X, Auro-3D and Dolby Atmos Height Virtualization are all onboard. The latter is intended for those unable to implement physical height speakers, or utilise Dolby enabled upfirers. There's also support for IMAX Enhanced decoding, the DTS:X variant gaining traction, in particular, with Sony's 4K Blu-ray division.
HDMI provision covers eight inputs, straddling v2.0/2.1. Three outputs make the amplifier suitable for both a screen and projector in your main room, as well as a second video zone. Two of these outputs are designated 8K HDCP 2.3, and allow passthrough to 8K-capable displays. It's unlikely we'll see an 8K projector any time soon, but at least it's thinking ahead.
HDMI input 7 is the star attraction, being 8K/60Hz enabled with 4K/120Hz video passthrough. Simply labelled '8K', it replaces the old Aux 2 input. Unsurprisingly, I wasn't able to test this yet. Let's assume it works fine.
Of course, having just one HDMI capable of a high­speed 4K input could prove frustrating, particularly if you aim to buy both incoming PS5 and Xbox Series X consoles. If that's the case, one console would need to be hardwired to your TV, and its audio streamed back to the amplifier over eARC.
1. Below the amp's display is a pull-down flap concealing controls and HDMI, USB and headphone connections
2. The remote is a bit of a button-fest, but operation is helped by Denon's intuitive UI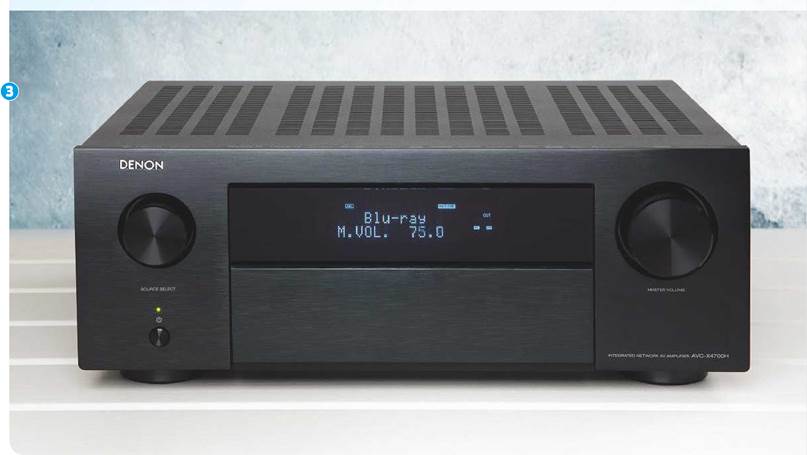 While you can customise all HDMI inputs in the UI, the AVC-X4700H will automatically register what's connected and auto rename, which makes life a bit easier.
Other connections include an MM phono input for vinyl fans; two independent subwoofer preouts (as opposed to just parallel sub outs); multichannel pre-out for external amps; and plenty of analogue/non-HDMI digital fallbacks. Under a pull-down door on the front panel, you'll find a headphone socket, bonus HDMI input and USB port.
For HDMI, Denon's new Video Info screen offers frame- rate/colour space/resolution insights into input and output, likely to become useful as we move into the next-gen gaming era. You can also explicitly identify HDR10+ or Dolby Vision. Another new HDMI feature is Quick Media Switching (QMS), which allows a source to instantly switch the resolution or frame rate, thereby eliminating screen blackout.
As befits its 8K compatibility, the AVC-X4700H has an uprated image processor, able to upscale existing HD and 4K content to 8K resolution.
'There's huge headroom for dynamic transients. At no point did this amp feel like it was running out of gas'
The amp's back panel may be intimidating, but Denon goes out of its way to aid setup, the Install UI holding your hand through the process, and Audyssey MultEQ XT32 doing a comprehensive job in full auto pilot (if you want to get really granular, it'll work with the optional Audyssey MultEQ Editor app, for even greater customisation). The calibration routine can measure up to eight seating positions, or a minimum of four.
A new wrinkle this year is a Dual Speaker Setup preset function, which will appeal to those who like to run different EQs for two-channel music and multichannel home theatre. The preset allows you to instantly switch between two Audyssey-calibrated results.
This duality is usual for home theatre too. For example, one preset can be optimised for watching a TV with curtains open. A second preset can be tuned for projection, in a room with curtains closed. This immediately solved a problem for me, as normally I would set Audyssey for a room with curtains closed and a projector working, and then just lump it when I simply wanted to use the system during the day. A second practical implementation might see the sound system optimised to reflect the number of viewers. One preset could be for a single viewer, tailor-made for a sweet spot, while another could accommodate a wider viewing area.
Additional niceties include Apple AirPlay 2; Roon Tested certification; voice assistant support for Amazon Alexa, Google Assistant and Apple Siri; and HEOS built-in. Just as pets aren't only for Christmas, HEOS isn't just for multiroom. The app also simplifies music streaming, placing key services like Amazon Music HD, Spotify, Tidal and TuneIn under singular control.
Bluetooth connectivity covers transmission to headphones, which could be a life-saver for night owls.
Dynamic Denon
The AVC-X4700H offers nine channels of amplification, allowing Atmos/DTS:X speaker configs of 7.1.2 or 5.1.4, but there's 11.2 channel processing onboard, so it can be augmented with extra amplification as and when required. Power output is rated at 125W per channel (into 8 ohms, two channels driven). After spending time with this Denon, I began to wonder if that figure is actually conservative. The AVC-X4700H plays loud and has huge headroom for dynamic transients. At no point during my audition did it feel like it was running out of gas or turning raspy.
Joseph Trapanese's honking, ominous score for Project Power (Netflix, Dolby Atmos) is allowed to surge like a veritable tidal wave. I was engulfed and loved it. When the film declares 'This is power!', the AVC-X4700H underscores the declaration with a hammer fist. Yet despite all this orchestral heft, dialogue remains crisp and naturalistic (credit where credit's due – the Audyssey calibration on this amp does an artful job).
The X4700H has a taste for popcorn too. Rogue One: A Star Wars Story (Blu-ray, Dolby Atmos) benefits from its grandiose presentation. The amp's inherent sense of scale is almost operatic. When Orson Krennic arrives on planet Lah'mu to press gang research scientist Galen Erso into helping the Empire rebuild the Death Star, his ship carves through the atmosphere with tangible weight.
This is something I noticed time and again with this amp. There's a physicality to the sound as it moves air. But conversely, it's not leaden either. Surely playing their part are its two dual-core Sharc DSPs, which have been borrowed from Denon's top-range AVC-X8500H and not only take Dolby Atmos in their stride, but have the processing headroom (10.8Gflops, to be precise) to handle whatever tomorrow will throw at them.
In Dolby Surround mode this model does a terrific job upscaling regular 5.1. The setup opener for Pixar's Inside Out has an ethereal sonic quality, as it depicts the inside of Riley's head for the first time. Remixed in Dolby Surround, exterior parental sounds have a fuller resonance that seeps high and wide, while the voices of Joy and Sadness in her head are laser-focused. Throughout, the height speakers are used to engorge the score in a naturalistic, organic way. There's no sense that your speaker array has lost its top and gone convertible.
This machine is not just fun with movies though; it's also got rhythm. Saint-Tropez by Post Malone (Tidal, Dolby Atmos) has a bass beat that drops and rebounds like a ball on elastic. The X4700H plunges deep to match and snaps back without overhang.
The future is now
Formidable in all the right ways, Denon's AVC-X4700H is both a technical tour de force and a spine-tingling sonic performer. It has lashings of dynamic power on tap, with an ability to stage that would make even Cameron McIntosh envious, and handles the rapid transients of blockbuster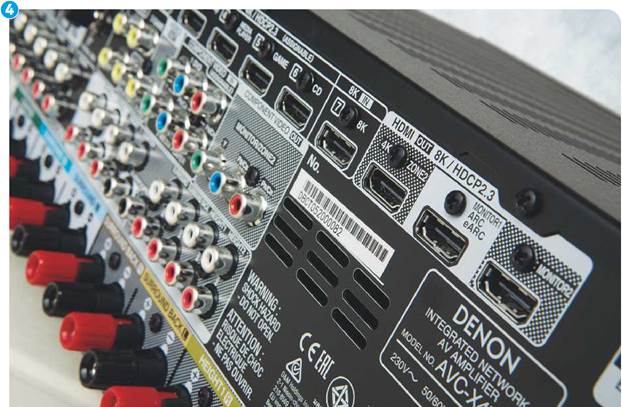 action with the casual grace of an Olympian. It's genuinely musical too, alternately melodious and engaging, then hard rocking and clubbing.
But ultimately, the knowledge that this amp is ready for 4K/120fps gaming, and even 8K video, will seal the deal. Yes, it would have been nice to have more 8K-enabled inputs, but that's not going to be a reality for several years yet. Consider this a home cinema amp equipped for the here and now, and tech yet to come. It's stunning.
VERDICT
Where to buy ?
$1,999.00
in stock
5 new from $1,999.00
2 used from $2,199.99
as of September 27, 2021 1:41 pm
SPECIFICATIONS
DOLBY ATMOS: Yes DTS:X: Yes IMAX ENHANCED: Yes POWER OUTPUT (CLAIMED): 9 x 125W (into 8 ohms) MULTICHANNEL INPUT: No MULTICHANNEL OUTPUT: Yes.
11.2 MULTIROOM: Yes. Three zones AV INPUTS: 3 x composite; 4 x digital audio (2 x optical and 2 x coaxial); 6 x stereo phono; MM phono input HDMI: Yes. 8 x inputs;
3 x outputs VIDEO UPSCALING: Yes. To 4320p COMPONENT VIDEO: Yes. 2 x inputs;
1 output DIMENSIONS: 434(w) x 167(h) x 379(d)mm WEIGHT: 13.7kg
ALSO FEATURING: HEOS multiroom compatible; Amazon Alexa/Google Assistant/ Siri voice compatibility; Audyssey MultEQ XT32 room calibration; eARC; ALAC, FLAC, WAV (to 24-bit/192kHz) and DSD 2.8/5.6MHz media playback; Ethernet; Wi-Fi;
Bluetooth; USB; AirPlay 2; net radio; Dolby Atmos Height Virtualization; VRR, QFT, ALLM and QMS; 4K/120Hz and 8K/60Hz passthrough via HDMI
PARTNER WITH
PANASONIC DP-UB9000:
The Denon is specced for a high-performance home theatre – so is this premium 4K disc-spinner from Panasonic. Multi-HDR capable, with setup flexibility and exceptional build quality.
3. The new range takes its styling cues from Denon's 2019 models
4. The AVC-X4700H has one 8K-capable HDMI input, and two outputs