Denon's entry-level X-series AV receiver is indisputably brilliant, says a smitten Steve May. Read our DENON AVR-X2700H Review.
'It's called driving, Marcus!' proclaims Will Smith during the opening road race sequence of Bad Boys for Life. You could also call it a perfect demonstration of this Denon receiver's ability to lift and separate high and low. After only a few seconds with this AVR, I was hooked.
1. The amp claims a 7 x 95W power output into 8 ohms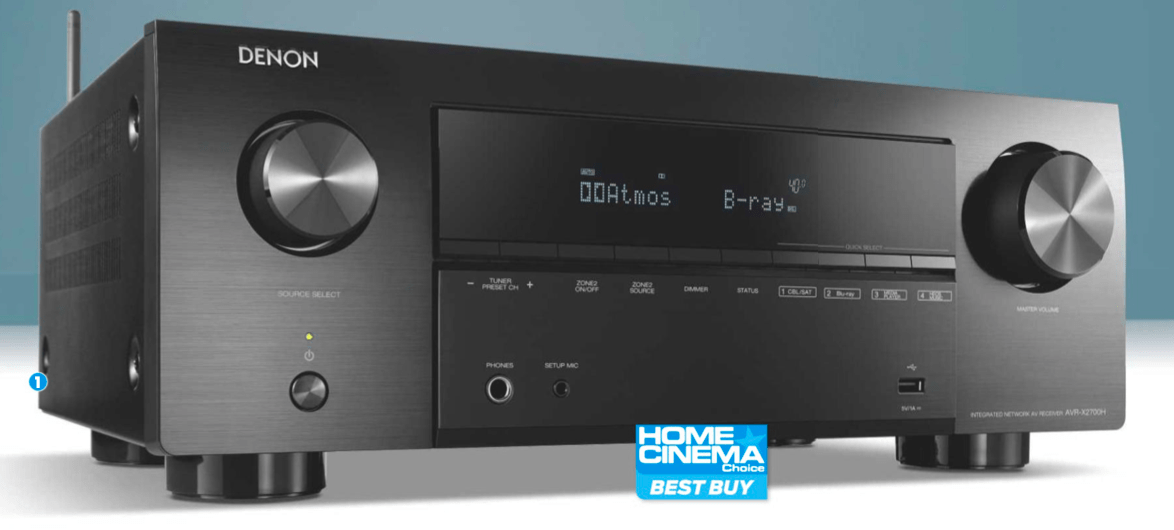 The AVR-X2700H turns this cop movie sequence into a Dolby Atmos symphony of screeching tyres, underpinned by Meek Mill's thumping feel-good rap Uptown II. Every vehicle type appears crammed into the mix: police bikes rumble back to front, a chopper hives into view from stage left. We even get a finely spaced sand plume as Smith's Porsche barrels onto the beach. I could swear I'm hearing every grain spatter against its paintwork.
This plucky Denon delivers hard, fast transients like a Deliveroo driver on a mission. But amidst the gutty chunk of manual gear changes, there's the light spatial details of that sandy beach spray. It has both power and poise.
The price puts it just above budget fare, but in a smaller viewing room the noise it makes is ridiculously exciting. For a relatively innocuous-looking box, the AVR-X2700H packs a lot of heat. Denon, you've got our attention.
7Review earns Amazon affiliate commissions from qualifying purchases. You can support the site directly via Paypal donations ☕. Thank you!
From Atmos to 8K
A seven-channel model, the AVR-X2700H offers Dolby Atmos and DTS:X decoding in a 5.1.2 configuration, or
Details
Seven-channel mid-range Atmos/ DTS:X receiver
Entry-level model in Denon's X Series
Yamaha RX-V6A; Marantz NR1711
flatbed surround as 7.1. It also offers 8K-capable HDMI connectivity, via a single HDMI v2.1 input, to prove its future worth.
Unlike its step-up 'AVC' siblings, the X2700H wears that AVR prefix with pride. It's a receiver in the traditional sense, complete with steampunk FM/AM. To be honest, I can't imagine this old-school tuner will get any use, not least because there are far more exciting things you can do with this Denon.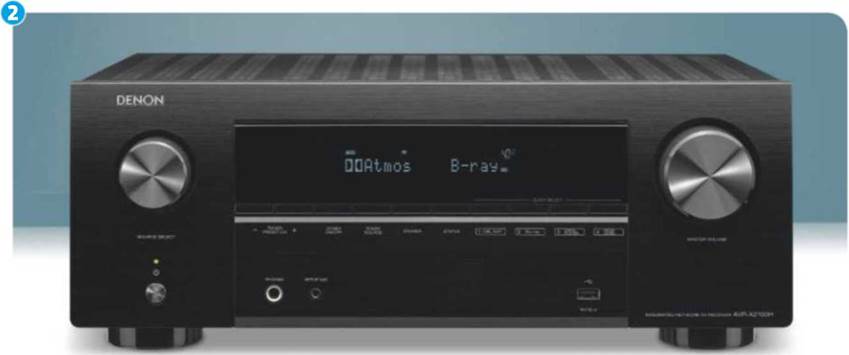 There's also a European version with DAB, which is somewhat more interesting, but that's not available in the UK, presumably so that the price here could be kept as sharp as possible.
When it comes to lineage, this new receiver is a direct replacement for the AVR-X2600H, and uses much the same internal hardware – but Denon insists the two models sound quite different.
The AVR-X2700H isn't being positioned as just for movies and music streaming. It's also joypad aware. There's support for Variable Refresh Rate (VRR) sources and displays, as well as Auto Low Latency Mode (ALLM) and Quick Frame Transport (QFT).
Output is rated at 150W into 6 ohms (one channel driven) or 95W into 8 ohms (two channels driven). It doesn't have detonative power, but it will induce a Martin Lawrence-style rictus grin. You'll see it bundled at retailers with sub/sat systems and standmount speaker packages, which is indicative of the environments it's intended for.
A chip off the old block
Design-wise, there's no great deviation here from the Denon style-sheet, but the look and connectivity hint at a more expensive price tag. The front fascia has a brushed finish and proffers standard Source Select and Master Volume knobs, bookending a clear, clean status display. However, there's no drawbridge to hide clutter; instead we have a line of touch-sensitive buttons for the tuner, Zone 2 audio, and quartet of Quick Select buttons. Front ports are limited to headphone jack, setup microphone, and a USB input offering easy audio playback of MP3, WAV, FLAC, ALAC and DSD files.
On the back panel are six HDMI inputs and two outputs. The dedicated 8K HDMI (it's number six on the board) supports 8K/60Hz. The receiver is waiting on a firmware update to fix a bug that prevents it from reliably delivering sound and vision from 4K/120 sources. Use eARC as a workaround if you need to.
HDR format compliance covers both Dolby Vision and HDR10+, the latter new on this season's models. There's also Quick Media Switching (QMS) to combat screen blackout when hopping between sources, a solution to a problem I've not been particularly cognizant of.
Additional connections include two optical digital inputs (there's no coaxial option), a pair of analogue video inputs, and four analogue stereo pairs. There's also MM phono for vinyl enthusiasts, which seems a much more sensible use of panel space than the AVR's twin set of component video inputs…
The AVR-X2700H's feature count is impressive. The Bluetooth spec includes transmission to compatible headphones, plus the option of listening through speakers and headphones simultaneously, which is useful if one member of the household has a hearing impairment. There's also Wi-Fi/Ethernet, Apple AirPlay and HEOS multiroom, the latter allowing you to put together a whole
'This plucky Denon delivers hard, fast transients like a Deliveroo driver on a mission. It's ridiculously exciting'
home audio system using disparate but compatible products, controllable via Denon's app. If you've already got HEOS speakers, this receiver will fit right in.
If you want voice control, that's here too; the AVR works with Amazon Alexa, Google Assistant and Apple Siri.
AV receivers may retain vestiges of prehistoric complexity when it comes to setup, but Denon has gone further than most when it comes to numbing the pain. Its graphical Setup Assistant remains one of the best hand-holding systems in the business, and the process includes calibration, which here is Audyssey MultEQ XT. Just pop in the microphone and allow yourself to be prompted to measure at least three listening spots.
Multiroom AV isn't a big concern at this price point, although you can stream downmixed stereo audio to Zone 2 while retaining native multichannel in the main viewing room. There's no video feed to a second zone.
Gently does it
Bad Boys for Life (Sky Cinema) via this Denon had us grinning with satisfaction, but this receiver's not just about bombast. It's good at subtle nuance, too. Moana (Disney+, Dolby Atmos) is a great showcase for dialogue and vocal articulation, featuring everything from baby burbles and nasal teens to weighty male baritones. All are convincingly delivered. Mid-range tuning is top notch.
Music proves slightly more divisive. Multichannel is undeniably fun. Music Non Stop, from Kraftwerk's 3-D: The Catalogue(Tidal, Dolby Atmos), proves a thrilling listening experience, the track providing the receiver with an opportunity to demonstrate its ability to flash audio into every channel with remarkable precision and snap.
But two-channel sources sound a little duller. Overall musicality gets a mark down, but this needs to be weighed against the receiver's astonishing versatility.
Spookily good
Anyone looking for a well-specified mid-range receiver that doesn't sacrifice features for price will find the AVR-X2700H has immense appeal. It's as much a system upgrade for gamers as movie fans, particularly if you've just taken in a next-gen console, and when it comes to cinematic action, its performance is addictive. This receiver is snappy, energetic and moves objects as efficiently as a poltergeist in a Pinewood mixing suite. If it has an achilles heel then it's two-channel musicality, but even here it doesn't profoundly disappoint. Overall, the AVR-X2700H is a stonking buy

4. The Surround Back speaker terminals can be assigned to height channels
VERDICT
Recommended
DENON AVR-X2700H Review
This brilliantly specified mid-range receiver is a home theatre hero. Value for money is off the chart, and it has next-gen gaming chops too.
Add your review
Best DENON AVR-X2700H prices in the US ?
Best DENON AVR-X2700H prices in the UK ?
MORE DEALS

Specifications
| | |
| --- | --- |
| Product Name | Denon AVR-X2700H 7.2-Channel 8K Ultra HD AV Receiver with 3D Audio and HEOS Built-in |
| Technology | Bluetooth |
| Number of HDMI Input Ports | 6 |
| Number of HDMI Output Ports | 2 |
| Dimensions | 17.1" W x 13" D x 6.6" H |
| Number of Channels | 7 |
SPECIFICATIONS
DOLBY ATMOS: Yes DTS:X: Yes IMAX ENHANCED: No MULTICHANNEL INPUT: No MULTICHANNEL PRE-OUT: No POWER OUTPUT (CLAIMED): 7 x 95W (into 8 ohms, 0.08% THD) MULTIROOM: Yes. Zone 2 (audio only) AV INPUTS: 3 x composite; 2 x digital optical audio; 4 x phono stereo; MM phono input HDMI: 6 x inputs; 2 x outputs VIDEO UPSCALING: Yes. To 8K DIMENSIONS: 434(w) x 330(d) x 167(h)mm WEIGHT: 9.5kg
ALSO FEATURING: HEOS multiroom compatible; Amazon Alexa/Google Assistant/ Siri voice compatibility; Audyssey MultEQ XT room calibration; eARC; hi-res audio file playback (ALAC, FLAC and WAV up to 24-bit/192kHz, DSD 2.8/5.6MHz); Ethernet; Wi-Fi; Bluetooth; USB; AirPlay 2; FM/AM tuner; 4K/120fps (firmware pending); VRR, ALLM and QFT support; Roon Ready
TESTED WITH
BAD BOYS FOR LIFE: A return to the crazy cop antics of the Bad Boys franchise after nearly 20 years could have been a disaster, but this superb – and surprisingly emotional – three-quel has us wishing for another round. Available on Sky Cinema in 4K HDR/Atmos (or on 4K Blu-ray, natch) it also packs in plenty of choice AV demo scenes.