Reader Paul has turned a spare room into a movie den and 'mancave', adding bespoke cabinetry, smart lighting and a star ceiling for that extra wow factor…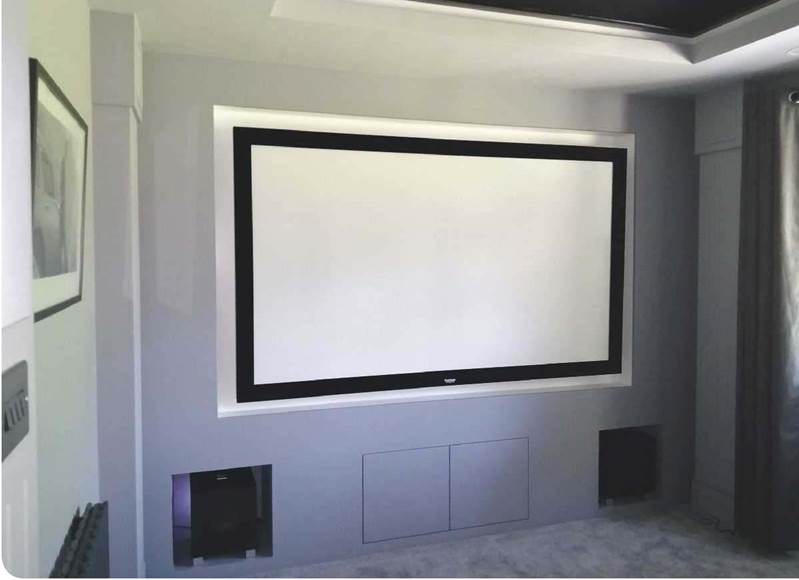 Welcome to the AV-Holics Hall of Fame – introduce yourself!
I'm Paul Simons, 42, from Swansea in south Wales.
How long have you been into home cinema?
Since my teenage years when I convinced my parents to get a DVD player with connected speakers, which was my first foray into a cinema-style effect. More recently I hoped to convert a room in my house to a cinema – and have now been able to do it.
7Review earns Amazon affiliate commissions from qualifying purchases. You can support the site directly via Paypal donations ☕. Thank you!
When and why did you make the decision to set up your current cinema room?
I had a spare room and wanted to have a space to house my memorabilia, and be a sort of 'man-cave' get-away room in the dark wintery nights. It seemed like a great opportunity to combine it with a cinema.
What kit's in your system?
My projector is an Optoma UHD65 (4K) and my screen is a Grandview Cyber Series 92in fixed-frame model with acoustic fabric.
Speakers are from Bowers & Wilkins (3 x CWM Cinema 7 in-wall speakers for LCR, 4 x CWM663 in-wall surrounds, 2 x CCM664 ceiling speakers) and I have two REL subwoofers – a T9i and a T7i. My receiver is an Arcam AVR550 (I also have a Pro-Ject Amp Box S two-channel power amp).
Sources are a Panasonic DMP-UB9000 4K disc player, Xbox console, Sky PVR and an Innuos Zen Mini Mk3 music server.
Did you get any help from professionals when installing?
Yes. A local builder – Full Focus Building and Interiors – did all the work to an amazingly high quality, and Audio T handled all the kit fitting/installation. After the initial discussions it took about two months to complete.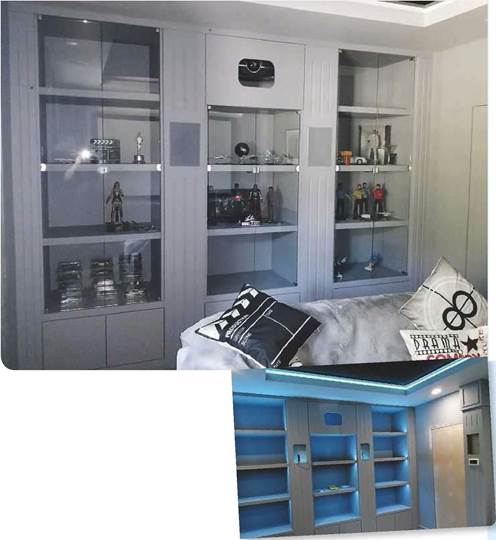 The rear cabinet includes LED lighting, and a purpose- built cubby hole for the Optoma PJ
What's your verdict on the system's performance?
It's still quite new for myself. I just get totally immersed whilst being cosy. It's truly exceeded what I ever expected it to be like and I'm in awe of what has been transformed. Many a time I just walk in there and look at what the room has become.
The picture quality and sound is mindblowing and I still get shocked at what my system can output in such a small space.
What was the last bit of hardware you added?
Nothing has been added recently as it was all installed when the room was finished.
What's your favourite bit of hardware and why?
Everything as it's all new – but the in-wall speakers do edge it. The ability to have the edges and grilles spray-painted to blend into my room's pillars was a great option, and the sound quality is brilliant.
Do you have your eyes on any hardware upgrades?
There are a few items I'd like to add, including an LP player and something to link everything together into one control system.
What do friends and family think of the cinema room?
They're amazed at what's been done – how much kit is installed as well as how it looks and sounds. And all are wanting to join the growing list of people to come around for movie and sports nights.
How often does the cinema room get used?
I try to use it at least once or twice a week.
I'm enjoying playing my Xbox on it and getting to watch some boxsets of shows on the bigscreen in surround sound.
Although you have your own movie room, do you still go out to the cinema?
Yes, from time to time I try to get to the cinema if it is a blockbuster I've been waiting to see.
I do find, however. I'm enjoying getting new releases to watch in my room, and comparing and noticing little subtle differences and things I may have missed in the cinema. In the future I think it may slowly drop down to just a few cinema visits a year to catch a big blockbuster, as a date night with my partner or with family.
What discs do you use to show off the system?
I like using the first of the 4K films I spun on my system: Avengers: Infinity War.
I also enjoy showing any of the original Star Wars films, for the vibrant colours and amazing sound (including the Millennium Falcon entering hyperspace and battle scenes). Or any of the Star Trek films.
And what are your top 5 favourite films?
This is a difficult one as I have so many faves. The following are some, in no particular order:
Any of the Star Trek films. The Wrath of Khan is an all-time classic and I look forward to it hopefully being released in 4K.
All the recent Marvel films, but especially Infinity War.
Any James Bond flick, but specifically Goldfinger.
Jurassic Park – the theme tune is breathtaking and the T-rex roar gives me goosebumps hearing it on my kit.
Back to the Future – a film from my childhood that I grew up constantly watching.
There are so many more, including the original Star Wars films, original Batman films… the list is endless.
Do you stream TV/movies from Netflix, Amazon, Sky, etc?
Yeah, especially when my sister and her two children come to visit, so they can watch their favourite cartoons in the cinema room and we can make a family experience of it all.
I've upgraded my Netflix subscription to 4K to make use of the system, and stream from Sky too
Speaker grilles were spray-painted to match the room's colour scheme