With a horn-loaded tweeter, this compact design goes about things slightly differently. Read our Triangle Esprit Heyda EZ Review.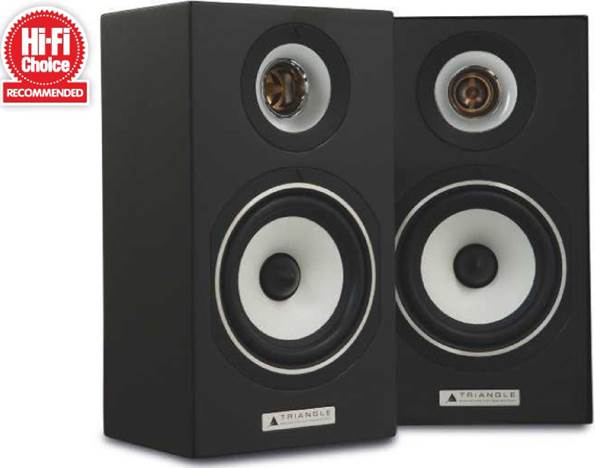 DETAILS
PRODUCT Triangle Esprit Heyda EZ
ORIGIN France
TYPE 2-way standmount loudspeaker
WEIGHT 4.5kg
DIMENSIONS (WxHxD) 169 x 305 x 161mm
7Review earns Amazon affiliate commissions from qualifying purchases. You can support the site directly via Paypal donations ☕. Thank you!
See also TOP 10 Subwoofers
FEATURES
•  1x 25mm horn- loaded tweeter
•  1x 130mm mid/bass driver
•  Quoted sensitivity: 90dB/1W/1m (8ohm)
DISTRIBUTOR Elite Audio Ltd.
TELEPHONE 01334 570666
As the baby model of Triangle's long-running Esprit speaker range, the Heyda EZ is comfortably the smallest model here. As well as being the narrowest in the group, it's only just over half as deep as the next shallowest cabinet here – Acoustic Energy's AE300. Triangle considers the Heyda to be both a small stereo speaker and a home cinema satellite and it can even be fitted to a wall,
WEBSITE eliteaudiouk.com
IN SIGHT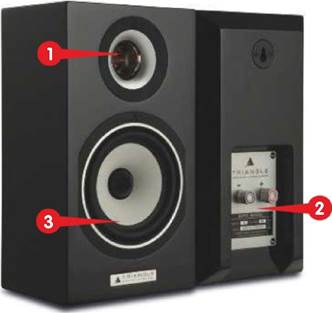 1 25mm tweeter
2 Single-wire binding posts
3 130mm mid/bass driver
thanks to its keyhole mounting. This means that the binding posts won't accept a 4mm plug and bare speaker cable ends is the way to go.
The drivers are also a little different. The tweeter is a 25mm titanium dome placed in an injected aluminium horn assembly so that the dome is set well back into the cabinet. This is partnered with a 130mm mid/bass driver made from cellulose treated paper. This combination of relatively small driver and shallow sealed cabinet means that Triangle quotes a low-frequency cut-off of 75kHz (+/- 3dB). The Heyda is an unavoidably curious- looking speaker, but it is exceptionally well made. It comes with a set of speaker grilles and white or wood- effect finishes are also available.
Sound quality
Your perception of the Heyda will live or die on whether you consider it has sufficient bass. Without doubt it has the least extended low-end here, and this impacts performance as the figures might suggest. For those that would rather listen to a more limited amount of fast and accurate bass than oodles of low end that suffers from poor timing, the Heyda is a capable compact design that is aided by its sensational abilities further up the frequency range. Alison Sudol's vocal sounds immediate and the decay of the supporting piano is wonderful.
Lose Yourself To Dance is perhaps a little lightweight, but it's wonderfully rhythmic and engaging while Pharrell Williams' vocal turn sounds lifelike with rock-solid imaging.
With Break On Through the midrange is so cohesive and the soundstage so well constructed, you tend to ignore that the frequency extremes are less perfect. In this case,
Unavoidably curious looking, the Heyda is an exceptionally well made speaker
the treble of the Triangle has plenty of energy but the rougher edges of this vintage recording suggest that it can harden a little at higher volume levels. This sheer speed and cohesion means that the way it reproduces Synchrony is tremendously enjoyable.
The plucked bass lacks some of the weight found elsewhere, but it is detailed and the relationship with the percussion and the rhythmic balance of the track is entirely self-explanatory.
The higher quality recording also sees the treble avoiding tipping over into sounding harsh, instead feeling lively and immediate as a result
OUR VERDICT
Recommended
Triangle Esprit Heyda EZ Review
It appeal to everyone, but as a speaker for listening near field it excels
PROS
Speed and cohesion; unfussy placement; build
CONS
Limited bass; needs care with partnering equipment
Add your review
Best Triangle Esprit Heyda EZ prices ?
See also TOP 10 Subwoofers