Monitor Audio Silver 100 Review
The largest standmount here underlines that there's no replacement for displacement. Read our Monitor Audio Silver 100 Review.
DETAILS
PRODUCT Monitor Audio Silver 100
ORIGIN UK/China
TYPE 2-way standmount loudspeaker
WEIGHT 9.3kg
DIMENSIONS (WxHxD) 230 x 375 x 300mm
FEATURES
•  1x 25mm tweeter
•  1x 203mm mid/bass driver
•  Quoted sensitivity: 88dB/1W/1m (6ohm)
DISTRIBUTOR Monitor Audio Ltd.
TELEPHONE 01268 740580
WEBSITE monitoraudio.com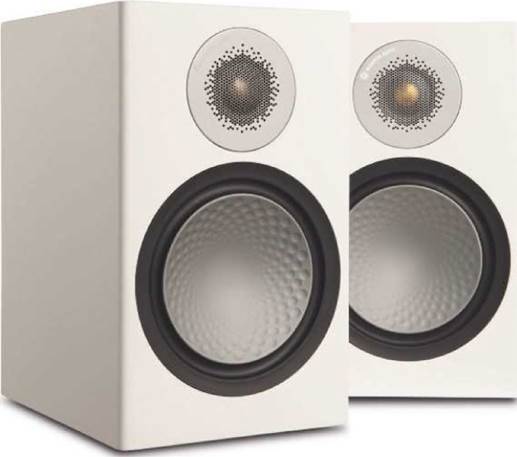 As the larger of two Silver standmounts, the 100 makes use of a 203mm mid/bass driver to give a bass extension all the way down to 40Hz (claimed) that is made out of the company's trademark C-CAM (ceramic-coated aluminium/ magnesium) material to aid rigidity.
The tweeter is a more conventional 25mm dome also made from C-CAM and has a distinctive gold finish. In fact, besides the unusually hefty mid/
back to menu ↑
IN SIGHT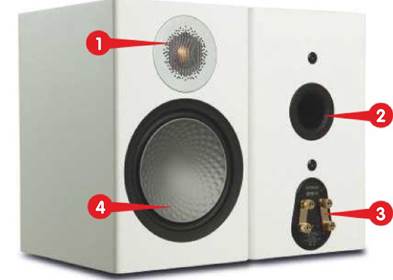 1 25mm tweeter
2 HiVE bass port
3 Bi-wireable binding posts
4 203mm mid/bass driver
bass driver, the Silver 100 is one of the more conventional speakers here with no waveguides, horn loading or other details to control dispersion. Bi-wiring is supported and there is a rear port that uses the company's HiVE flow technology and it comes supplied with a foam bung to help control the output.
Considering the size of the driver it mounts, the Silver 100 has to be seen as a very impressive piece of design and visually at least delivers a considerable amount of bang for your buck. It is also superbly constructed and feels the most robust of the group, only the slightly over fussy tweeter surround counts against it aesthetically. It comes in four wood veneer finishes as well as gloss black and satin white.
back to menu ↑
Sound quality
Performance is almost wholly governed by how well you manage to control the effect of the large amounts of bass delivery in a listening room. This is a shame because with some material, the promise of substantial low-end heft really works. Almost
Lover sounds big and effortless and the extra presence it gives to both the piano and Sudol's vocals are wholly convincing. The top end is also well judged and beautifully refined. Move to Lose Yourself To Dance, and problems arise. Even in free space, there is a sluggishness to the low end that robs the music of some of its funkiness, which is a shame because the upper registers sound excellent.
The lighter bass of Break On Through works much more to the Monitor Audio's advantage, allowing it to sound big rather than bloated and this lends a welcome amount of body to the old recording. Detail retrieval
The Silver 100's superb construction makes it feel the most robust of the group
is good rather than exceptional with some fine details harder to discern, but Morrison's vocals sound rich and realistic and are placed in a cohesive and believable three-dimensional soundstage. With Synchrony, the Silver 100 never really settles into the flow of the track. Fitting the bungs removes a little of the overhang, but robs it of some weight while the control and definition never rival the best in the test. Further up the frequency range, there is good timbre to the instruments and a convincing soundstage that places them all in an easy-to-follow fashion
back to menu ↑
OUR VERDICT
Monitor Audio Silver 100 Review
Has many likeable qualities, but doesn't quite deliver as a balanced all-rounder
PROS
Refined and spacious top end;
superb build
CONS
Bass is frequently sluggish and too dominant
Add your review
Unique RST Cone profile for best diaphragm rigidity and lowest distortion
Proprietary-build ring/voice coil-cone coupling mechanism (DCF) optimized to reduce high-frequency cone break-up and increase the critical voice coil circumferential rigidity
Last update was on: April 25, 2020 5:54 am
Unique RST Cone profile for best diaphragm rigidity and lowest distortion
Proprietary-build ring/voice coil-cone coupling mechanism (DCF) optimized to reduce high-frequency cone break-up and increase the critical voice coil circumferential rigidity
HiVe II port technology ensures linear transient response and tighter bass, due to smoother airflow
High-quality crossovers with premium grade, bespoke polypropylene film capacitors, air-core and low-loss laminated steel-core inductors for maximum signal transfer
High impedance at 8 Ohms means that these speakers are easy to drive with lower power Amps
Hive II Technology for an improved transient response and tighter bass,
Takes up little space for flexible placement options
Last update was on: April 25, 2020 5:54 am
High impedance at 8 Ohms means that these speakers are easy to drive with lower power Amps
Hive II Technology for an improved transient response and tighter bass,
Takes up little space for flexible placement options
Black c-cam dome tweeter