The US brand goes its own way with design and this standmount dares to stand out. Read our Klipsch RP-600M Review.
DETAILS
PRODUCT Klipsch RP-600M
ORIGIN USA/China
TYPE 2-way standmount loudspeaker
WEIGHT 7.3kg
DIMENSIONS (WxHxD) 202 x 399 x 301mm
FEATURES
• 1x 25mm horn- loaded tweeter
• 1x 160mm mid/bass driver
• Quoted sensitivity: 96dB/1W/1m (8ohm)
DISTRIBUTOR Henley Audio Ltd.
TELEPHONE 01235 511166
WEBSITE henleyaudio.co.uk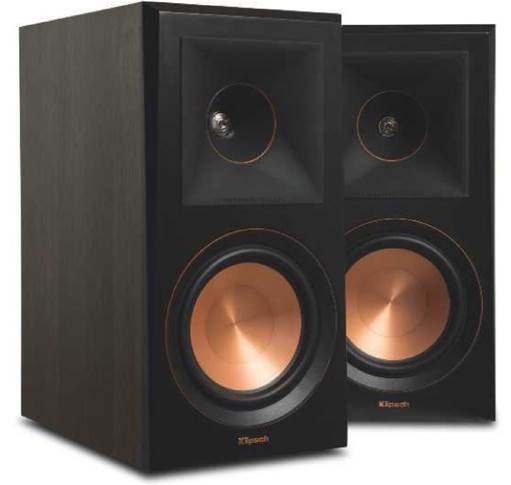 As the tallest standmount here if not quite the largest overall, the Klipsch grabs attention for several reasons. Half of the front baffle of the RP-600M is given over to the tweeter assembly, which is horn loaded with the company's Tractrix technology, which in this case is a 160mm black silicon square that transitions into a 5cm inset circular aperture containing a 25mm titanium dome.
back to menu ↑
IN SIGHT
1 25mm horn-loaded tweeter
2 Narrow vertical horn profile bass port
3 Bi-wireable binding posts
4 160mm mid/bass driver
The accompanying 165mm 'cerametallic' mid/bass driver employs a mix of ceramic and aluminium material that is covered in the traditional Klipsch copper finish. This is augmented by a rear port that has a narrow vertical horn-profile intended to reduce air turbulence for lower port noise as it exits the speaker, which should help when placing it close to rear walls. The terminal panel supports bi-wiring.
The aesthetic is fairly distinctive and so this isn't a standmount that will appeal to everyone. The walnut-effect vinyl wrap finish looks a little at odds with the copper highlights on the front, but there's also a black ebony finish available. Magnetic grilles are supplied and the cabinet is well made.
back to menu ↑
Sound quality
The RP-600M claims a sensitivity of 96dB into 8ohm and while it is more sensitive than the Bowers & Wilkins, the gap between the two is smaller than the figures suggest. The presentation of the Klipsch is hugely reliant on correct positioning. Care needs to be taken with toe-in to ensure that the output from each tweeter gels into a convincing soundstage at the listening position. Get this right, and the RP-600M images beautifully with a large sweet spot. Almost Lover is given a lovely depth and airiness that immerses you completely. The same effect is present on Lose Yourself To Dance where the Klipsch's bass, while impressively deep, is fractionally slow and languid for the track to really shine.
With Break On Through, however the RP-600M is in its element and puts in one of the best performances here. The presentation feels visceral in a way that others here don't really
The narrow vertical horn-profile reduces air turbulence for lower port noise
achieve with Jim Morrison's vocals in particular sounding brilliant. This is helped by there being a little less bass to worry about, which keeps the music sounding quick. The complex low end of Synchrony is more of an issue, though. The plucked bass lacks definition and the effect confuses and congests the lower registers, which undermines some of the good work that the Klipsch is doing further up the frequency range. The impressive three dimensionality and tonal realism is still very compelling, making this one of the better performers of the group in this area
back to menu ↑
OUR VERDICT
Klipsch RP-600M Review
A highly sophisticated and talented speaker, but not a true all-rounder
PROS
Excellent stereo image;
nice tone;
easy to drive
CONS
Bass is a little sluggish;
looks will divide opinion
Add your review
1" Titanium LTS Vented Tweeter with Hybrid Tractrix Horn
6.5" Spun Copper Cerametallic Woofers
Bass-Reflex via Rear-Firing Tractrix port
Dual binding posts for bi-wire/bi-amp
Strong, Flexible Removable Magnetic Grille
Usually ships in 24 hours
& Free shipping
Last update was on: February 28, 2020 10:31 am
1" Titanium LTS Vented Tweeter with Hybrid Tractrix Horn
6.5" Spun Copper Cerametallic Woofers
Bass-Reflex via Rear-Firing Tractrix port
Dual binding posts for bi-wire/bi-amp
Strong, Flexible Removable Magnetic Grille
1 inch Titanium LTS Vented Tweeter with Hybrid Tractrix Horn
6.5′′′ Spun Copper CerametallicTM Woofer
Bass reflex via rear-Firing Tractrix port
Dual binding posts for bi-wire/bi-amp
Strong, flexible removable magnetic grille
Usually dispatched within 24 hours
& Free shipping
Last update was on: February 28, 2020 10:31 am
1 inch Titanium LTS Vented Tweeter with Hybrid Tractrix Horn
6.5′′′ Spun Copper CerametallicTM Woofer
Bass reflex via rear-Firing Tractrix port
Dual binding posts for bi-wire/bi-amp
Strong, flexible removable magnetic grille