RECOMMENDED
Acoustic Energy AE300 Review
Combining virtues the brand holds dear, the AE300 has some useful additional attributes. Read our Acoustic Energy AE300 Review.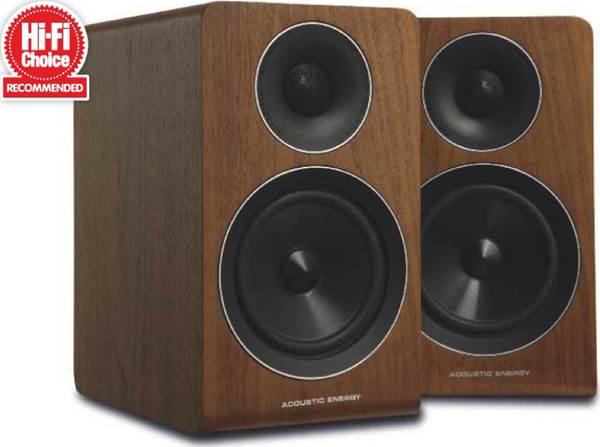 DETAILS
PRODUCT Acoustic Energy AE300
ORIGIN UK/China
TYPE 2-way standmount loudspeaker
WEIGHT 6.5kg
DIMENSIONS (WxHxD) 175 x 300 x 260mm
FEATURES
•  1x 25mm tweeter
• 1x 125mm mid/bass driver
• Quoted sensitivity: 86dB/1W/1m (6ohm)
DISTRIBUTOR Acoustic Energy Ltd.
TELEPHONE 01285654432
WEBSITE acoustic-energy.co.uk
Entirely in keeping with Acoustic Energy tradition, the constituent parts of the AE300 include a 25mm aluminium tweeter partnered to a 125 mm aluminium mid/bass driver. The modern twist comes in the way it's implemented. The tweeter is set within a waveguide that the company calls Wide Dispersion Technology, which aims to produce a more even dispersion and reduce distortion. The mid/bass driver mixes aluminium and ceramic to give a light but stiff driver promising improved slam and overall power handling. Around the back the slot-shaped port is intended to offer the same cross section as a conventional circular port, but with a lower velocity of air exiting it to make it less affected by proximity to walls and with lower port noise.
The lack of visible fixings and rounded cabinet edges manages to make the AE300 feel clean and modern at the same time. The walnut wood veneer finish of the review sample is a little on the orange side, but piano gloss white or black are also options. Additional stands are available to match the finish, and cost £ per pair when purchased bundled together with the AE300.
back to menu ↑
Sound quality
The claimed 86dB sensitivity into 6ohm of the AE300 feels about right, meaning it needs a little more power than some models here, but shouldn't be beyond most equivalently priced amps to drive. The tonal balance is well worked too. Almost Lover comes across as crisp and immediate. Vocals
back to menu ↑
IN SIGHT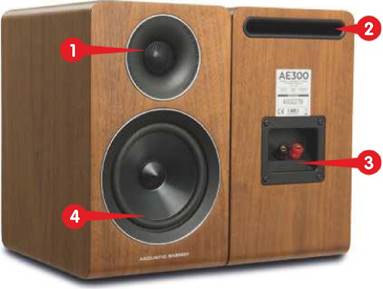 1 25mm tweeter
2 Slot-shaped bass reflex port
3 Single-wire binding posts
4 125mm mid/bass driver
have a pleasant sense of energy and the underpinning piano sounds weighty and real. The combination of the two is rendered in a convincingly three-dimensional fashion with a decent overall soundstage. With the funkier Lose Yourself To Dance, the AE300 is on happy ground. It combines its excellent tonality with effortless timing for a thoroughly engaging listen. The bass response is also beautifully judged, balancing depth with a convincing level of speed and cohesion.
With the denser Break On Through, the AE300 doesn't open out the presentation quite as well as some
Wide Dispersion Technology gives the tweeter a more even dispersion
speakers here, but the same effortless rhythmic ability means the musical message feels like it is being conveyed even if some fine detail isn't. The harder edge to the treble suggests that at high levels the Acoustic Energy might be a little on the forward side. Only with the more complex Synchrony is the AE300 slightly wrong footed. The same slight forwardness it exhibits elsewhere helps with the piano, but the plucked bass feels recessed and a little muddled, failing to settle into the complex rhythm of the track in the manner that some rivals can
back to menu ↑
Verdict
Acoustic Energy AE300 Review
A talented speaker that manages to sound enjoyable and believable with a good range of music styles
PROS
Lively and engaging presentation;
decent tonality;
build
CONS
Lack of fine detail and cohesion with complex pieces
Add your review
|
Read reviews and comments