Totem Acoustic Sky Tower floorstanding loudspeaker
by Buzz Hughes
Montreal based speaker manufacturer Totem Acoustic has always been closely identified with company president and chief engineer Vince Bruzzese's ability to defy expectations for what can be accomplished with bookshelf monitor loudspeakers. Refreshingly, throughout Totem's expanding journey into free-standing, on-wall, and in­wall speakers the Canadian company has managed to avoid being associated with bloated pricing and to the consumer's benefit has always kept a keen focus on the nexus between value and performance.
Totem recently garnered a good bit of attention when it released the Sky monitor and its slightly silkier sister, the Signature One monitor, in quick succession. It seems in retrospect as if Totem was intentionally tipping its hat to their early monitor heavy days showing yet again they are not afraid to push the limits of how a fairly priced standmount speakers can be expected to look and perform. It is natural then that riding the success of the Sky Monitor and Signature One releases, Totem would be interested in squaring the circle one more time by releasing a complimenting floorstanding speaker which applies their very latest technology and design innovations. The Sky Tower purports to take the best traits of the Sky Monitor and brings Totem Acoustic's signature sound to those who are interested in owning a high quality and affordable floorstanding speaker.
Totem recently garnered a good bit of attention when it released the Sky monitor and its slightly silkier sister, the Signature One monitor.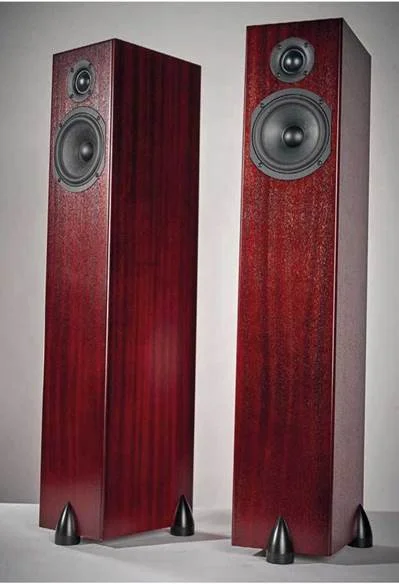 ► As well, Totem states that the tower version of the Sky possesses the same DNA as the monitor but with more dynamic range, projects a larger soundstage and is compatible with a wider range of electronics.
7Review earns Amazon affiliate commissions from qualifying purchases. You can support the site directly via Paypal donations ☕. Thank you!
See also TOP 10 Subwoofers
The Sky Towers share the understated and elegant design that Totem has come to be identified with across their line up of speakers. Always deferring to the fairer sex's ability spot a winner on the design front, my Sky Towers experience got off to a strong start when my wife's first off the cuff comment regarding the speakers was "Wow those look nice! I like those, can you keep them?… please?" My better half was not blowing smoke; the white satin finish Totem Sky Floorstanders I was shipped are quite visually arresting and I too found myself gawking at them for several seconds when set upright for the first time. While these speakers certainly are gracefully designed to catch your eye, what might not be readily apparent from the supplied pictures is the svelt size of the Sky Towers. At a 6.35" wide by 9.125" long base (add a few more inches to the base for the Claw Feet) and measuring only 33.4" high the Sky Towers offer a compelling coin-flip of design proportion. The towers are just big enough to make you pause and take good notice, and yet just small enough to invisibly slip away into your feng shui as if your room had always been built around the chief goal of procuring them. The well proportioned size for the Sky Tower, the trim lines, and expertly applied finishes (striking black ash veneer and mahogany veneers are also available) are sure to set a higher measure for how a reasonably priced speaker can stay in a constant architectural dialogue with your listening space regardless of room size. One special feature small dwelling listeners will find particularly appealing is Totem encourages the Sky Towers to be placed close to your back wall, as close as 12" actually. The close proximity to the back wall should free up even more of your precious living space and as I can confirm after experimenting extensively, "hugging" the wall indeed significantly enhances the bass response without ever making the output feel tubby, slow, or congested.
The Sky Towers are noticeably light weight for a floorstanding speaker. While most manufactures feel the safe bet is to go heavy to fight cabinet resonance, the Sky Towers are not ready to be written off because they haven't packed on the pounds.
A few subtle but important intricacies are worth mentioning. The first of these intricacies not readily visible to the naked eye is the MDF cabinet pieces of the Sky Tower are fit together using interlocking-mitered construction. A sophisticated woodworking method associated with high end furniture in which a zigzag pattern is cut into the ends of panels so they provide substantially more surface area on each joining piece and in turn have more area to grip and physically lock together in a fashion up to five times stiffer ►
Bi-wiring seemed to add a deeper bass extension and gave the playback a natural breath that was just irresistible.
► than conventional cabinet assembly. Second, the interior of the sturdy lock- mitered construction is dampened with borosilicate, a process that usually will only show up in much more expensive speakers. This dampening technique is accomplished by taking a glass based paste that is by nature extremely slow and difficult to degrade and 'painting' it on to the interior of the cabinet. Any stray vibrations found in the cabinet simply do not have the energy needed to degrade the borosilicate armor and are immediately deadened. Third, real wood veneer is applied to the inside of the cabinet to increase overall cabinet strength, comparable to that of hardwood, making the cabinet invulnerable to warping, while maintaining its acoustic and cosmetic integrity for decades. Please note that even though these first three methods of vibration killing are brutally effective the user manual encourages owners to take no chances and mass load their Sky Tower speaker bases with sand or lead shot. The final vibration battling measure incorporated is a new customized version of Totem's Claw decoupling feet. The unique shape of the Claw feet will be familiar to many previous Totem patrons but here have been newly refashioned for the Sky Tower from an inert sound-isolating composite material.
For such a slim-bodied speaker the measured frequency response from 36Hz on the low end and 30kHz on the high end is quite a commendable range. This broad dynamic range is generated on the low end from a custom designed, underhung long throw 146mm woofer which has a built in copper capped voice coil. The woofer is expected to take the lion's share of the low mids and bottom thumping frequencies but does get help in the upper mids from the tower's 3.3cm tweeter which utilises a neodymium magnet assembly. The laser etched textile soft dome is durable enough to carry a portion of the midrange load but still agile enough to soar high without any metallic and tunnel like sound colorations. A first order hand-wired crossover exclusive to the Sky Tower regulates the critical interplay between the woofer and tweeter with large gauge air core coils. Totem asserts that the unifed Sky package is phase coherent but is unfortunately short on details as to exactly how that is accomplished.
The Sky Towers effortlessly weaved a truly enormous soundstage that seemed to be unfairly contained only by the walls of the room. The rippling soundstage was delightfully untethered to the physical location of the floorstanding towers and was anything but diluted or mushy around the edges. Continually being surprised by the level of minute details being picked up recording after recording I found myself more often than not fully being able to concentrate on the depth of recording spaces and incredible illusion of proportion between players in the studio. Background banter and cues being passed between band mates or the previously unheard scraping of a chair on a floor quickly became common place with the Sky Towers and allowed a new level of immersion in the music.
I found after experimenting that the Sky Towers to my ears sounded much more full-bodied after being bi-wired. While not a runaway decision, bi-wiring seemed to add a deeper bass extension and gave the playback a natural breath that was just irresistible. While the Sky Towers do pack a stinging musical punch, if you are looking for loudspeaker that can forcibly knock you back down in your seat, these Totems might not be your cup of tea. Unbridled power and an iron grip choking your music to death is not what you are going to find here. The Sky Towers are a sonically graceful home run that allows you to rock when you need to rock and allows you to be carried off when you need escape. The Sky Towers offer a rounded and complete delivery with enough finesse and detail to allow you to joyfully rediscover your music collection all over again. With certainty, it is hard to imagine how anyone would think they are not getting more for their entry fee than they had expected. +
TECHNICAL SPECIFICATIONS
Type: Floorstanding Loudspeaker Driver complement: 3.3cm laser
etched textile soft dome tweeters and 146mm woofer with copper capped voice coil
Frequency response: 36Hz-30kHz ±3dB Impedance: 8 ohms Sensitivity: 88dB
Dimensions (WxHxD): 16.2 x85x23.2 cm Weight: Not Listed
Finishes: Multi coat Satin White, black ash veneer, and mahogany veneer