The brand name might reach back into the mists of time, but the sound is anything but old fashioned. Read our Spendor A4 Review.
details
PRODUCT Spendor A4
ORIGIN UK
TYPE 2-way floorstanding loudspeaker
WEIGHT 16kg
DIMENSIONS (WxHxD) 165 x 861 x 284mm
FEATURES
•  1x 22mm soft dome tweeter
•  1x 180mm polymer cone mid/bass driver
• Quoted sensitivity: 86dB/1W/1m
DISTRIBUTOR Spendor Audio Systems
TELEPHONE 01323 843474
WEBSITE spendoraudio.com
As the only other straight two-way design among the smaller floorstanders in the group (along with the Totem), the A4 has a similarly compact form factor and simple, clean-cut presence to engender a 'job-done' feeling among prospective purchasers. It's never quite that straightforward, of course, and we wouldn't have invited the A4 to the party had we felt such things made it a stone-cold no-brainer. But there can be no denying its solid engineering, smart finish and strong sense of zero frills 'rightness' get it off to a great start.
Like Spendor's slightly larger A7 floorstander, the A4 uses a 180mm mid/bass driver with polymer cone, surround and suspension materials said to deliver exemplary thermal and mechanical stability. High power handling and good low-level
1 22mm soft dome tweeter
2 Bass reflex port
3 High-quality binding posts
7Review earns Amazon affiliate commissions from qualifying purchases. You can support the site directly via Paypal donations ☕. Thank you!
See also TOP 10 Subwoofers
4 Reinforcing integral metal base
5 180mm polymer cone mid/bass driver
linearity are also priorities. The 22mm 'wide surround' tweeter strives to combine the extended frequency response of a small diaphragm with the low-frequency characteristics of a larger diaphragm, the intended upshot being stable, low distortion response over a very wide frequency range. Wide dispersion is also claimed, broadening the listening sweet spot.
Driver integration is mediated by a crossover network with precision­wound, high-linearity tapped inductors, said to avoid the distortion more typically introduced by attenuating resistors and allowing fine-tuning of frequency and phase.
The A4's splendidly sturdy, rear- ported cabinet isn't stuffed with copious wadding or anything that introduces unnecessary mass, but uses small, low mass constrained polymer dampers at key points that, so the theory goes, "convert the spurious energy in the cabinet into inaudible heat".
The A4 sounds not dissimilar to its larger and more expensive A7 sibling – no bad thing and hardly a surprise given that the two models use the same drive units and crossover. The different cabinet volumes and port arrangements favour bass power and extension in the A7, but interestingly, I reckon the A4's lower frequencies are a little tauter and drier and, as a result, a tad more tuneful.
Certainly, there's nothing 'me too' about its presentation in this company. The baby Spendor is a conspicuously crisp, articulate and energetic performer, not too hung up on neutrality or depositing ticks in the hi-fi rule book but blessed with a nicely developed sense of fun and desire to entertain – qualities that serve most types of music extremely well and place it in a good critical light here. You have only to play something up tempo with a spring in its step to realise that it doesn't want for speed, spunk or sparkle either.
This being the case, while Anette Askvik doesn't sound quite as dreamy as she does via the Dynaudio, KEF and especially the Amphion, the track has a terrific sense of location and presence in the room. Stanley Clarke and co. rip through Combat Continuum with so much snap, commitment, verve and dynamism, I almost expect to see plumes of smoke curling into the room from the back of the cabinet. That said, although the A4 sounds fast, rhythmically explicit and precise, it can sometimes fail to relax and loosen up when it should and therefore isn't quite as fluent and supple as the comparably compact Dynaudio and Totem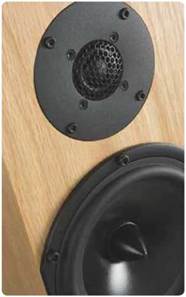 Recommended
Spendor A4 Review
Extremely capable and rewarding and only a hair's width away from greatness
PROS
Clean, articulate, insightful and entertaining sound
smart design and sturdy build
CONS
Needs to loosen up occasionally
Add your review
Best Spendor A4 prices ?
MORE DEALS

See also TOP 10 Subwoofers