Russell K's latest speaker might just offer the best balance of performance and practicality yet. David Vivian finds out. Read our Russell K Red 120 Review.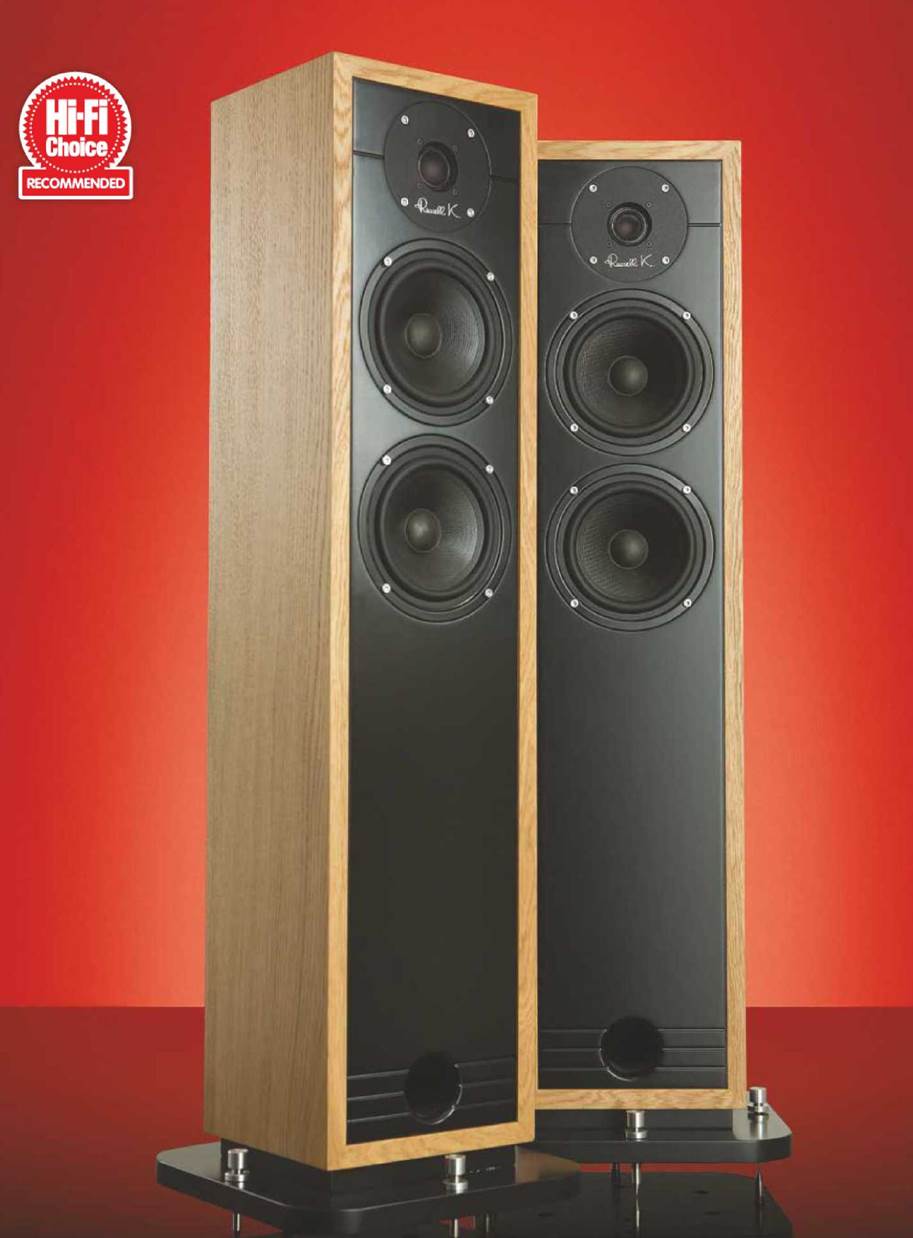 DETAILS
PRODUCT Russell K Red 120
ORIGIN UK/Poland
TYPE 2.5-way floorstanding loudspeaker
WEIGHT 16kg
DIMENSIONS (WxHxD) 200 x 910 x 190mm
7Review earns Amazon affiliate commissions from qualifying purchases. You can support the site directly via Paypal donations ☕. Thank you!
See also TOP 10 Subwoofers
FEATURES
•  1x 25mm soft dome tweeter
•  2x 127mm doped paper mid/bass drivers
•  Quoted sensitivity: 86dB/1W/1m
DISTRIBUTOR Russell K Ltd.
TELEPHONE 01582 477355
WEBSITE russellk.co.uk
High-performance speaker design has more than its fair share of boffins, visionaries and finite element analysis programmes.
Smaller operations can't compete on level terms and so must run a bit faster and make niche thinking work. USPs aren't just desirable but vital. But even in this quirky, alternative, leftfield arena, Russell Kauffman's story is remarkable.
Since its start in 2014, his brand's modest catalogue has been confined to the Red 100 and 50 standmounts and flagship 150 floorstander. These are now joined by the shorter, slimmer Red 120 before you.
Kauffman never set out to become a loudspeaker maker but, over many years working for the likes of Bowers & Wilkins and Morel, he wasn't just paying close attention but made invaluable contacts, listened to and assessed thousands of speakers and
Things that strike me are natural flow, tonal temperance and top-to-bottom unity
finally came to the conclusion that he could do better.
Hard to disagree when the Red 50 romped to victory in our Group Test of up-market standmounts (HFC 422). Although the company's smallest and simplest design, it encapsulated the Kauffman method which, for traditionalists, seems deeply counter intuitive. Instead of regarding a speaker cabinet chiefly as a necessary inconvenience to house the drive units – beset by unwanted contributions that have to be corrected or eliminated, usually by trying to make it as inert as possible – Kauffman contended that the box could complete the sonic profile of the system, synergistically singing along with the drivers, starting and stopping precisely when they do.
Not just any box, of course. Most dynamic speaker designs use thick, sometimes curved panels and heavy internal damping to absorb energy radiated from the rear of the drive units and reduce cabinet colouration. According to Kauffman, damping slows down the sound and makes it out of synch with the forward output of the driver. So fluffy wadding is a no-no. Instead, a thin-walled cabinet flexes, vibrates and breathes in time with the main driver, working in harmony with it rather than against it and shedding distortion as a result. In the Red 50, a single bracing shelf with multiple apertures mounted just above the 127mm doped paper mid/bass driver is used to control cabinet flex while a minimalist 12dB roll-off crossover network and rear-firing bass reflex port tuned to 55Hz also contribute towards the integration of the drivers and cabinet dynamics.
The Red 120 is effectively a 2.5-way floorstanding version of the Red 50 with an extra driver assigned to the lower octaves and a forward-firing bass reflex port. It's a little wider than it is deep and, unless you order the optional magnetically attached grilles, has a functional aesthetic with the exposed drivers set into a black baffle. The top section is identical to the entry-level standmount. So is the Red 120 merely a 50 with an extra driver, more cabinet volume and deeper bass?
Not that simple. As you'd expect, there are more bracing shelves with holes in – one beneath each of the drivers. Each shelf has a different number of 'acoustically tuned' holes to confine the midrange to a dedicated section of the cabinet – forming a damping brake at around 100Hz – while allowing the rest of the system to breathe and relax when delivering the lower bass notes. Helping facilitate this is a vertical tube that passes through a fourth bracing shelf just above the reflex port that vents into a small chamber containing a second reflex port tuned as a system to 24Hz.
The integral plinth looks good and incorporates a novel levelling system where, instead of being located at the corners, the big bore pass-through threads for the very substantial spikes are at the mid-points of each side, making precise levelling a breeze,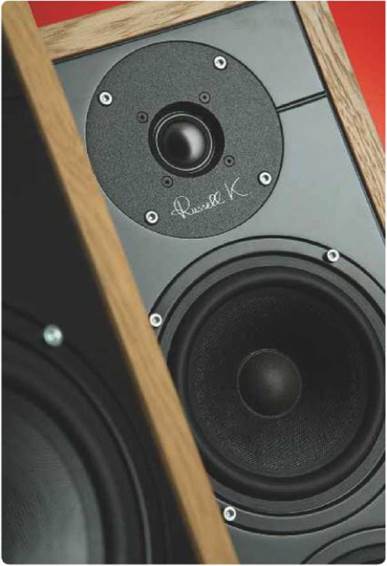 The Red 120 is available in a wood or black cabinet finish, grilles cost extra
especially as adjustments are made topside of the plinth. Good quality single binding posts are positioned fairly high on the back baffle, which keeps the internal wiring paths short.
Sound quality
The Red 120 doesn't immediately shout 'fast' like its remarkably sprightly standmount sibling. I suspect the perceived difference is largely illusory as the 50 doesn't carry the burden of low bass. I play Trip-Trap from Marcus Miller's Laid Black album and, being a live track in a large venue, there's a lot of low-frequency ambient energy generated by Miller's Fender Jazz Bass and the escalating 'dirty' distortion effects from the desk that the Red 50 barely hints at but the Red 120 captures tellingly.
Never underestimate the small matter of a wider bandwidth. Its impact on scale and believability can be huge. Nor is it just that the 120 reaches much lower with greater weight than the 50. What's so special is its wonderfully supple, articulate and tuneful delivery – a great match for the estimable timing chops of the Chord Electronics Hugo 2 DAC (HFC 428) I'm using, itself a glove fit with the Hegel H120 (HFC 460), an integrated that squares real-world speaker control with fabulous finesse.
The Red 120 has no obvious single 'character hook', then. The things that
IN SIGHT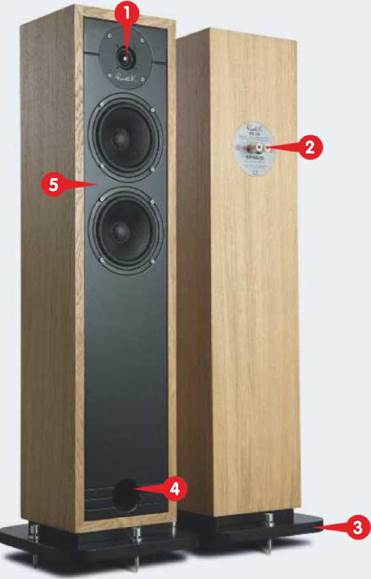 1 25mm soft dome tweeter
2 Single-wire binding posts
3 Plinth with levelling system
4 Forward-firing bass port
5 2x 127mm paper mid/bass drivers
strike me are natural flow, tonal temperance, top-to-bottom unity and effortless rhythmic coherence. There's no manipulative smoothness or ramped-up warmth here. Up-tempo tunes have a vivacity and veracity no amount of artful hype can pull off. It's unmistakable. Stevie Wonder's harmonica break on Big Brother stuns in its immediacy, attack and verve, Steve Laury's super-chilled jazz fusion stylings on Keepin' The Faith have a fluency, natural timbre and relaxed gait it's hard not to get swept up in.
An old fave from John Mayer, Stitched Up motors along with oodles of attitude and funk to showcase the Red 120's best moves: bass definition and texture, dynamic reach, perfectly judged midrange presence, superb vocal intelligibility and, again, that glorious trinity of speed, grip and transparency. Treble that sparkles and bass so heavy it makes you feel queasy might be missing from the repertoire, but then bombastic, demo-room hi-fi crowd pleasing simply isn't on its agenda. This isn't a speaker for everyone, but if you're interested in having your neck tingled by the passion, emotion and musicianship on a recording, I'm struggling to think of anything at the price that's as convincing.
Conclusion
More than an obvious upgrade for a Red 50 on a stand, the Red 120 demands serious consideration for anyone with £ to spend on a speaker. Whatever you think about Russell Kauffman's undamped methodology, the results speak for themselves and, from where I'm sitting, they're very good indeed. Recommended
OUR VERDICT
Recommended
Russell K Red 120 Review
Everything we loved about the Red 50 on a bigger canvas and with great bass
PROS
Superbly natural and fluent sound
svelte form
plinth levelling spike
CONS
You'll have to pay extra for grilles
Add your review
Best Russell K Red 120 prices ?
MORE DEALS

See also TOP 10 Subwoofers
HOW IT COMPARES
Closest in size to the Dynaudio Evoke 30 and Spendor A4 from last month's Group Test, the Russell K combines their best attributes: the lucidity and lyrical flow of the Dynaudio and the crisp, articulate punctuality of the Spendor while adding an exceptionally fine bass performance all its own. My hunch is it would have given the Group Test-winning KEF R5 a very hard time in sonic terms, even if it can't quite compete with its sheer value.
Russell Kauffman
Founder Russell K
Q&A

DV: You have an unusual method of auditioning drive units by holding them in your hand and playing them in open space. How does this work? RK: This method helps me as it eliminates the effects of the cabinet and crossover, enabling me to focus purely on the impact made by the drive units. I want to identify how well or badly a woofer or tweeter resolves detail, and what colouration is in the diaphragm. Loss of detail cannot be retrieved by the crossover or cabinet, so is lost for good. Some designs try to compensate for loss of detail by boosting the treble frequencies in the tweeter. This gives a sense of clarity, but is not natural and over time can cause listener fatigue.
Is the Red 120 just a 50 with deeper bass or does it offer other qualities?
The Red 120 has a significantly more sophisticated cabinet system. The Red 50 has one internal shelf with a number of apertures designed for mechanical tuning of the bass response. The 120 has three internal shelves with apertures where the lower shelf tunes the bass and the middle and top shelves tune the midrange. Having these extra shelves provides many more tuning options. I spent many hours listening to speech and music to tune the Red 120 midrange to achieve a higher level than the Red 50. The internal port is about tuning the system to a very low 25Hz without having to put a bend in what would be a very long port tube. The internal port feeds into a small chamber then into a second short port, this drastically reduces the air velocity so no port chuffing.
Can you explain how the unusual plinth and spikes levelling system came about?
I would love to claim I got a university to look at spike mountings from a scientific point of view and that it took three years of research. The truth is I got fed up trying to get heavy speakers with spikes in the corners to be both level and not rock, while at the same time keeping my hands from being crushed under the weight. It just came into my head one day, and I thought "Why not?"