NO LOUDSPEAKER PERFORMS optimally fresh from the box. All six standmount models here are treated to a couple of days run-in with varied source material to fully settle in.
Additionally, each pair of loudspeakers and the system electronics are thoroughly warmed up before any critical listening commences. Auditioning is done in the smaller of my listening rooms, which is L-shaped and furnished and carpeted to give a quite dry and damped acoustic character. Positioning and support types are experimented with and, in the majority of cases, heavyweight 24in Slate Audio stands placed on Townshend Audio Seismic Isolation Podiums are used.
The listening position is set so the tweeter is roughly at ear height, and the speaker is initially placed close to the rear wall then moved out into the room until the bass response is judged to be even. Models supplied with foam bungs for their reflex ports are tried both with and without to get the best balance. Toe-in is experimented with; generally a few degrees is applied, which snaps the stereo image into focus and opens up the treble.
With the setup and experimentation completed, each set of loudspeakers is auditioned with other designs reinstated throughout the test period for cross referencing. Levels are carefully matched and a wide variety of CD, vinyl and hi-res music is used, although four key CD tracks are focused on.
This crucial process is very carefully controlled so that we get reliable and consistent results in a relaxed and friendly atmosphere. Our listeners must not feel that they're being tested, despite being unaware of the brand or price of the products they are auditioning.
The session begins by setting the volume level to an agreed point, one that all three panellists feel comfortable with, yet that is high enough to make differences easily discernible. Then the choice of music is agreed – it needs to be familiar, but also well recorded and of sufficient variety to give meaningful listening comparisons.
The chosen selection of music is played, and the panellists are encouraged to discuss their impressions of the sound of the product. This is then repeated, and periodically the panel listens to earlier products for reference purposes. The consensus, or otherwise then forms the basis of our sound quality section.
At the end of the session, there's a final debrief when panellists discuss their findings. It's an exhaustive process, but carried out in this way is free from prejudices based on brand, price or appearance, while the different sensitivities of the listeners help to round out the analysis in order to make it more widely applicable.
CD TRANSPORT Cambridge Audio CXC
DAC Chord Electronics Hugo 2
AMPLIFIER Hegel H90
SPEAKER STANDS Slate Audio speaker stands; Townshend Audio Seismic Isolation Podium
TEST MUSIC DONALD FAGEN Morph The Cat The Night Belongs To Mona DIANA KRALL Wallflowers Desperado THE STANLEY CLARKE BAND The Message Combat Continuum BOZ SCAGGS Out Of The Blues The Feeling's Gone
STANDMOUNT LOUDSPEAKERS
Cute starter speakers that make it big
Great-sounding standmount speakers have never been more affordable, but which of these six entry-level designs truly hits the sweet spot? David Vivian decides
SMALL, INEXPENSIVE SPEAKERS have been the key to many a great-sounding hi-fi system over the years. Back in the midseventies, conventional 'even-split' system budget allocation wisdom was turned on its head, thanks to an idea – seeded by Linn boss Ivor Tiefenbrun and enthusiastically nurtured by sections of the hi-fi press – that the best route to a fine-sounding system without breaking the bank was to spend the lion's share of the money on the source (say, a Linn Sondek LP12 turntable) and the least amount on the speakers, which usually meant a decent budget standmount chosen from a few regular faithfuls.
Some saw this as a ruse for Mr T to sell more LP12s, but the logic of starting with the best possible source (an expensive amp and speakers would only make a mediocre one sound worse) was solid enough and many 'hierarchy- configured' systems did sound outstandingly musical, even if they didn't go particularly loud or have much bass. A lot has changed since then, of course – not least the advent of digital, which to some extent has removed the need for a heavily front- weighted budget split.
The thing is, had any of the beer-budget bijou boxes doing battle here been around 40 years ago, those Sondek-on-a- shoestring systems would have sounded not merely very good, but quite superb. It's hard to overstate this, but today's starter standmounts wipe the floor, ceiling and next door's back yard with their distant antecedents.
With the proviso that they are positioned with some care on sturdy stands, fine sonics are a given with enough transparency to track qualitative source upgrades beyond their modest price and right into the foothills of the high end. It sounds unlikely for a group that starts, but what we have here are some of the biggest bargains in hi-fi and one is a true giant killer. To find out which, read on.
Acoustic Energy AE100
There's a simplicity to the littlest AE that's both appealing and underwhelming. But this is a British brand with fine form, so don't let the plain facade fool you.
DALI Spektor 2
Effectively Denmark's answer to the AE at the £ mark, the more distinctive-looking Spektor 2 is slightly bigger, slightly more traditional, but DALI through and through.
Fyne Audio F301
Fledgling brands usually require a little development tweaking before they hit their stride, but Fyne Audio's budget baby arrives as the polished article with much to prove .
Jamo S 803
With Dolby Atmos compatibility, the second Danish contender clearly has one foot firmly in the AV camp and with no little aesthetic flair, but can its stereo chops prevail?
Q Acoustics 3020i
The 3020 was something of a budget sector superstar, but its slightly larger replacement boasts even shinier tech and so enters the arena as the speaker to beat.
Wharfedale Diamond 11.1
The largest, priciest speaker in the group also has the longest heritage and a formidable reputation to defend, but there's no question it has its work cut out here.
Group test verdict
Verdict
It's been a week of joyous ups, a few downs but never a dull moment carrying out this showdown, and now it's time for David Vivian to reveal his verdict
I SUGGESTED AT the start that today's breed of entry-level standmounts aren't merely good enough to make a similarly budget- orientated system sing, but good enough to stick around as front-end components are upgraded, possibly in steps, to a very high standard. Or put another way: for a given budget you can spend more on a classy source. Either way, I'm glad to report that the proof is right here and, as someone who appreciates a conspicuous bargain, it's very heartening indeed.
The Jamo S 803 has some surprising up-market virtues – not least its speed, verve and remarkably punchy, agile and articulate bass performance – but it doesn't quite hit the sweet spot in other respects with a lean tonal balance that can rob music of its natural warmth.
Placing the Wharfedale Diamond 11.1 fifth has been the result of much head scratching as, in many ways, it's the most able speaker here (as you might expect at the price) with great bass, fine midband insight and a silky treble. It does absolutely nothing wrong and an awful lot right.
Up against the fourth-place Fyne Audio F301, however, it doesn't sound quite as fresh, open, rhythmically alert and fleet of foot. A significant scalp for the Scottish newcomer. In third place is the Acoustic Energy AE100, a brilliantly executed small box that punches way above its weight, but also has exceptional refinement, composure and timing, even with the wick turned up.
It's edged out of the runner's-up spot by the dazzling communication skills, resolution and sheer musical brio of the DALI Spektor 2, where every track comes with a sense of occasion that leaves me wanting more.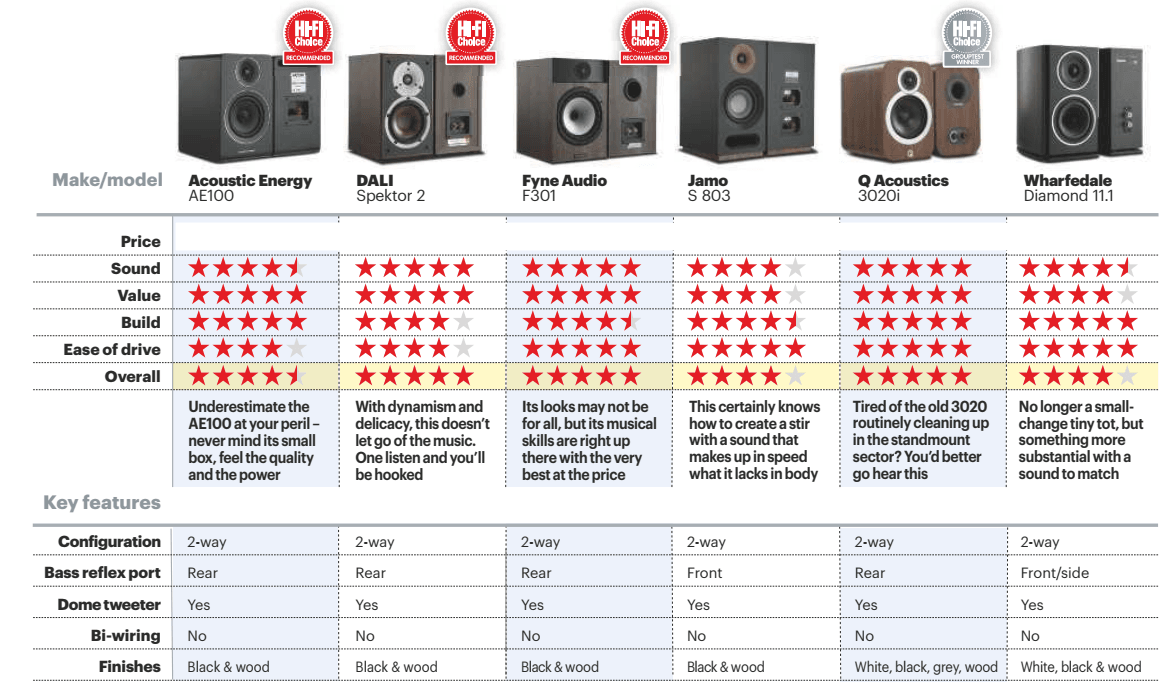 The speaker that won't be denied, however, is the truly redoubtable Q Acoustics 3020i, which may not dominate in any one hi-fi metric but puts it all together like no other speaker here to deliver a potent, fully rounded musical experience that will keep you listening.
TRY WITH THESE INTEGRATED AMPLIFIER:
Audiolab 8300A HFC 404 Unlike a number of amplifiers currently on sale, the Audiolab is exclusively analogue with plenty of inputs including an MM/MC phono stage. Rated at 2x 75W, the Class A/B design has a clean and insightful sound that will complement the talents of the warm and fluent Q Acoustics 3020i very well.
DAC: Chord Electronics Hugo 2 HFC 428 Chord's cutting-edge converter might seem on the expensive side to team with a stand mount speaker, but it makes a great partner for the Cambridge CXC transport (right) and there's no question the Q Acoustics 3020i has the muscle and transparency to justify it.
CD TRANSPORT: Cambridge CXC HFC 401 If you aren't ready to give up on CD just yet, the CXC is a keenly priced transport that will extract the best from your DAC. Choose something like the Chord Electronics Hugo 2 (left) or Rega DAC-R (HFC 405) and you'll have a source that will do just ice to any of these speakers.