AE's starter standmount looks like it wouldn't say boo to a goose. Fortunately, no one told the AE100. Read our Acoustic Energy AE100 Review.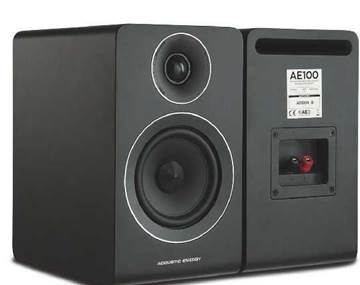 PRODUCT
Acoustic Energy AE100
ORIGIN
UK/Malaysia
TYPE 
2-way standmount loudspeaker
WEIGHT
4.5kg
DIMENSIONS (WxHxD)
160 x 270 x 240mm
FEATURES
1x 25mm soft dome tweeter
1x 100 mm paper mid/bass driver
Quoted sensitivity: 87dB/1W/1m (4ohm)
It would be hard to find a more understated two-way standmount than the AE100 anywhere, never mind this select gathering. But its designers would doubtless seek to mirror Harrison Ford's assessment of the Millennium Falcon in Star Wars: "It's got it where it counts, kid".
Unusually for a speaker, the main driver is a long-throw type supported by a powerful magnet, which suggests both good control and the ability to go loud without appreciable strain or distortion. The tweeter sits in a wave guide dubbed Wide Dispersion Technology (WDT), the intended upshot being, well, wider dispersion and as a result better room integration.
As well as being the smallest speaker in the group, the AE100 is also the lightest and, yes, perfectly formed, too. Its 18mm MDF cabinet is nicely made with subtly radiused corners and a neatly applied and very smooth satin black wrap for the review sample with walnut as the only other option. The single binding posts conform to a trend across the group by eschewing bi-wiring.
It somehow always feels reassuring when the first speaker up sets the bar high but not quite out of sight, which is exactly what the AE100 does. And, confirming what we love about the current generation of entry-level standmounts, it isn't interested in merely doing its best with the quality feed from the Hugo 2 DAC and Hegel H90 amp, but positively runs with it.
The meticulous, multi-layered, studio-pampered stylings of Donald Fagen's wonderful The Night Belongs To Mona from what for me is his best solo album, Morph The Cat, sound smooth, velvety, cool and sexy – as fastidiously assembled and resolved as Mr F could wish for.
Almost certain to keep things sounding balanced and composed at the higher volumes that the AE100 has been designed to hit, I'd surmise the tweeter output has been dialled back a hair's width or two, robbing the presentation of a little air and transient snap. Yet there's also a lightness of touch and grainless quality to the mid and upper frequencies that lends the piano and massed strings on Diana Krall's sensitive and beautifully arranged cover of The Eagles' Desperado effortless grace, while Krall's seductively smoky vocal is delivered with fabulous heart and finesse.
7Review earns Amazon affiliate commissions from qualifying purchases. You can support the site directly via Paypal donations ☕. Thank you!
See also TOP 10 Subwoofers
RECOMMENDED VIDEOS FOR YOU...
Changing gear in every sense, the Stanley Clarke Band's alien invasion flavoured sci-fi wrecking ball, Combat Continuum – complete with cosmically
Acoustic Energy set up shop 30 years ago and the first speaker it made has gone on to become its most famous and enduring. The original AE1 was largely defined by what the older granddaddy of classy compact monitors, the BBC-designed LS3/5A, couldn't do. It excelled where the mid-neutral old-timer was most obviously compromised – namely in bass power and extension, loudness and dynamic range. As such, the upstart from the Cotswolds became a firm favourite with the pro audio sector and audiophiles who appreciated what was, at the time, a unique skill set. What the LS3/5A was to speech, modest ensembles and small-scale classical music, the AE1 was to flat-out stadium rock.
The bass slot is designed to minimise chuffing calibrated synth soundscapes, machine-gun drum patterns, depth-charge bass and portentous, anchorman narration from Steve Blum – is riotous fun and proves that the AE100 can play really loud while retaining great control
Recommended
Acoustic Energy AE100 Review
Understated appearance belies considerable ability
PROS
Innately musical, fine timing and dynamics
goes loud
CONS
Treble lacks a little air and bite
Add your review
Best Acoustic Energy AE100 prices in the US ?

$

499.00
2 new from $499.00
in stock


$

499.00
2 new from $499.00
in stock

Best Acoustic Energy AE100 prices in the UK ?

£

184.99
1 new from £184.99
in stock

MORE DEALS

See also TOP 10 Subwoofers