Even without the laser lighting of its higher-end brethren, Sony's mid-rank 4K HDR projector is a force to be reckoned with, believes John Archer. Read our Sony vpl-vw590es review.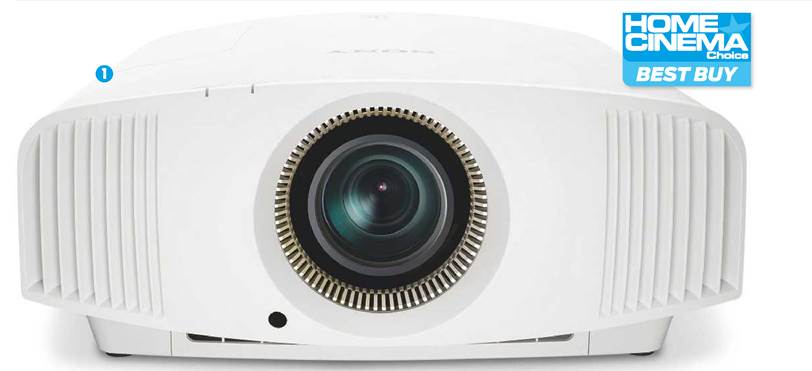 Native 4K SXRD projector
Mid-range, below Sony's VPL- VW790ES
JVC DLA-N5; Sony VPL-VW790ES; Sony VPL-VW270ES
WITH ITS LATEST generation, Sony is on a mission to prove that projectors can genuinely handle the high dynamic range pictures that have become such a key ingredient of the best AV sources.
7Review earns Amazon affiliate commissions from qualifying purchases. You can support the site directly via Paypal donations ☕. Thank you!
See also TOP 15 projectors
The laser-based Sony VPL-VW790ES we reviewed in HCC #316 got the ball rolling, bringing remarkable intensity to HDR images while still retaining strong black levels and a wide contrast. But with the VW790ES selling for £, many home cinema fans will instead divert their attention to the VPL-VW590ES auditioned here.
This model, available in both a traditional black livery and a more modern white finish, ditches laser lighting in favour of a standard lamp arrangement, but sells for a much more approachable £. This doesn't exactly make it a budget model, but neither is the rest of the specification downmarket – the VW590ES carries many of the key features that make the VW790ES so special, including a native 4K resolution (no pixel shifting or 'double flashing' trickery here), and the same X1 For Projector processor and Dynamic Contrast HDR features that helped Sony's laser model excel.
Dynamic Contrast HDR combines high-level image analysis with advanced light controls – although you don't get the laser-based Dual Contrast Control tool found in the VW790ES – to establish what's essentially a dynamic tone mapping system for HDR material. In other words, it continually adjusts the PJ's output to get the optimal performance from any HDR image, rather than just depending on the static metadata provided by HDR10 or HLG sources. (In line with almost all other projectors, this model doesn't cater to Dolby Vision or HDR10+.)
The X1 For Projector chipset, meanwhile, brings more brainpower and new features to Sony's domestic projector range. It drives the Dynamic Contrast HDR feature, plus an AI database-driven Super Resolution sharpness booster, and a Digital Focus Optimiser able to compensate for potential lens-induced focus flaws.
Maximum light output and dynamic contrast ratio are quoted at 1,800 Lumens and 350,000:1 respectively, versus the 2,000 Lumens and 'Infinity:1′ rating of the VW790ES. This more affordable model will need a new lamp every few thousand hours of use, too, while the VW790ES's laser system is good for a claimed 20,000 hours.

Connections are two HDMIs capable of supporting 4K HDR up to 60Hz, plus two 12V triggers, RS-232C and LAN ports for integration into a wider home automation system. There's no output for a 3D sync emitter, but only because the emitter is built in. No 3D glasses are included for free.
Vive la difference!
Two things are clear about the VW590ES's performance. First, its pictures look quite different to those of its laser-lit sibling. Second, they're still absolutely fantastic.
Even when set up to look their best, images are not nearly as bright as those of the VW790ES. This inevitably impacts the aggressiveness of this PJ's performance, but while it's a different HDR experience, it is still an HDR experience.
So, for instance, while the VW590ES doesn't go as fearsomely bright, the Dynamic Contrast HDR feature adds more emphasis to peak HDR elements, relative to the rest of the image, than any other model in its class.
'The VW590ES delivers a gorgeous colour palette. Not a shade looks out of place and no subtlety is ignored'
This time, though, the effect is created in tandem with outstanding black levels – HDR playback is even less affected by low-contrast greyness than it is on the VW790ES, resulting in more emphasis on the darker end of the HDR light spectrum. Shadow detailing and dark colour shading are first-rate, too, and Sony's SXRD projector tech completely avoids the sort of noise you can experience in dark areas with rival DLP.
Also noteworthy is the consistency of its lighting.
You might worry that Dynamic Contrast HDR would cause obvious shifts, but the image consistently feels almost as stable as that of projectors that don't offer any dynamic contrast controls.
This is evident during the opening sequence of The Greatest Showman on 4K Blu-ray. The VW590ES handles this scene's ever-shifting – sometimes to an extreme degree – light levels uniquely effectively for a sub-£ model. There's no sense of lag in the lamp's reactions, nor any fluctuation or wavering in its decisions over what light level to settle on at any moment.
This scene also rams home the VW590ES's gorgeous colour palette. Not a shade looks out of place, no subtlety is ignored, and Dynamic Contrast HDR helps inject enough light into elements such as P.T. Barnum's spot-lit red jacket to deliver a genuine bump in colour volume. Tones steer clear of appearing overblown or devoid of tonal subtlety. Even tricky skin tones look supremely believable.
The fluid motion of The Greatest Showman's camerawork during its musical set-pieces is well handled. The PJ's True Cinema setting takes the 'hardware' edge off judder without saddling the image with unwanted side effects. True Cinema mode also helps you better appreciate the detail the VW590ES brings out of native 4K material. The precision of a true pixel-for-pixel 4K presentation remains a treat.
Is there anything 'wrong' with this mid-range beamer? Nothing that would put me off it. Yes, images can show slight colour striping over finessed blends, which may be a distraction from time to time depending on content. Also, when using the default settings, the picture occasionally runs close to turning dark objects against bright backdrops into detail-lite silhouettes. For this reason I'd recommend using the Film 1 preset with brightness nudged up 5-10 points above the default level for most material.
Input lag in Game mode is 35.5ms. Not bad, by any stretch, but not truly outstanding either.
Finally, when the PJ is in HDR mode, fan noise is noticeable (but smooth) if you're sat close to it. It's whisper-quiet with SDR, though.
The right stuff
The above is all I can really grumble about. In its own more affordable and quite different way this Sony feels as important as the groundbreaking VW790ES, and while JVC's DLA-N5 can reach even better black levels, the Dynamic Contrast HDR feature here helps get more impact from HDR highlights. And if you're holding your own in that sort of company, you're doing something very, very right.
VERDICT
Highly Recommended
Sony vpl-vw590es review
The VW590ES's X1 For Projector processor adds game-changing HDR and even better upscaling to Sony's familiar 4K projection strengths.
Add your review
Best Sony vpl-vw590es prices in the US ?

$

245.85
1 new from $245.85
in stock


$

245.85
1 new from $245.85
in stock


$

307.89
1 new from $307.89
in stock

Best Sony vpl-vw590es prices ?
MORE DEALS

See also TOP 15 projectors
Sony VPL-VW590ES
www.sony.co.uk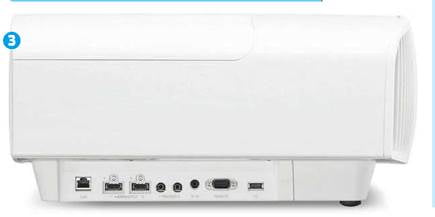 1. Lens adjustments (2.06x zoom, plus vertical and horizontal shift) are motorized
2. The PJ ships with Sony's standard (backlit) zapper
3. Connections are side-mounted, and include dual v2.0 HDMI inputs
SPECIFICATIONS
3D: Yes. Active shutter (glasses optional) 4K: Yes. 4,096 x 2,160 resolution HDR: Yes. HDR10; HLG CONNECTIONS: 2 x HDMI inputs; 2 x 12V trigger ports; RS-232C; Ethernet port; IR input BRIGHTNESS (CLAIMED): 1,800 Lumens CONTRAST (CLAIMED): 350,000:1 (dynamic) ZOOM: 2.06x DIMENSIONS: 496(w) x 205(h) x 464(d)mm WEIGHT: 14kg
FEATURES: SXRD projector; X1 For Projector processing; 26dB claimed fan noise; 1.38:1-2.83:1 throw ratio; Motionflow processing; optical horizontal and vertical image shifting; Digital Focus optimiser; Super Resolution processing; Dynamic Contrast HDR processing; 35.5ms input lag in Game mode; motorized zoom and focus control
PARTNER WITH
GRANDVIEW CYBERSERIES:
This range of projector screens in 16:9 and CinemaScope ratios features pull-down, electric and fixed-frame models and keeps prices keen. Budget up from around £ for a 16:9, 6ft fixed-frame version.