John Archer auditions the latest 4K model from projection specialist Optoma, and discovers £ goes a long way in 2020. Read our OPTOMA UHD30 Review.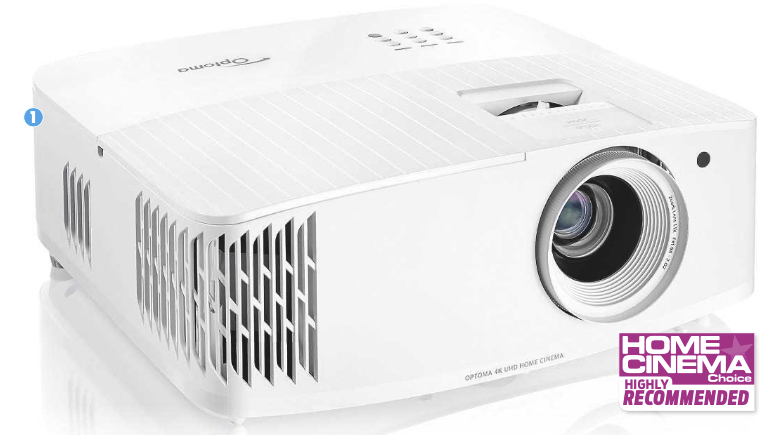 PRODUCT: Affordable 4K HDR DLP projector
Position: Around the middle of Optoma's traditional projector range
PEERS: BenQ W1210ST; Epson EH-TW7000
IT WASN'T LONG ago that 4K HDR projectors were expensive enough to only appeal to system builders fitting out dedicated movie rooms. But since the arrival of DLP 4K models, prices have continued to drop. Optoma's new UHD30 came to market earlier this Summer with a ticket, which is now reduced to £. Considering I've been wowed by a 48in OLED TV elsewhere in this issue that sells for £ more [see p60], this projector looks like a veritable bargain if you're interested in going large with your setup.
And you shouldn't think of this as simply a 'budget' 4K beamer. Optoma loads up the specification list with some useful bonus features.
7Review earns Amazon affiliate commissions from qualifying purchases. You can support the site directly via Paypal donations ☕. Thank you!
See also TOP 15 projectors
Its connectivity is a good example. There are two HDMI inputs that both support 4K (although one is v1.4 so can only handle 4K to 30Hz, not 60Hz), joined by a powered USB input for juicing a video streaming stick; optical digital and 3.5mm audio outputs; a 3.5mm audio input; D-Sub PC port; and 12V trigger and RS-232 connections for wider integration into automated setups.
It's bright too, with a 3,400 Lumens rating suggesting its 4K HDR playback won't be short of punch. There's also active shutter 3D support for stereoscopic film junkies, and
a claimed input lag of just 15.7ms with 1080p/120Hz games (25.7ms with 1080p/60 signals) to lure games enthusiasts.
Two sugars, please
The UHD30 looks pretty fetching on your coffee table or desk. Its almost square footprint is compact, and its crisp white finish is glossy over its rear half while being textured at the front.
Focus is handled by a rotating ring around the lens, while a window in the top edge provides access to a zoom slider – although disappointingly this only supports 1.1x optical resizing, for a fairly restrictive throw ratio of 1.5-1.66:1. There's no image shift tool, meaning you may need to use digital keystone correction to get the edges of your image perpendicular if you can't position the PJ optimally.
As with its affordable 4K DLP rivals, the UHD30's 4K capabilities are not delivered by a true native 4K pixel count. Instead, a 4K effect is created by using the incredible switching speed of DLP mirrors to produce two discrete pixels for each DLP mirror, in each 'refresh' of the picture. It's not a case of every pixel in a 4K image being mapped directly to an equivalent pixel/mirror in the projector.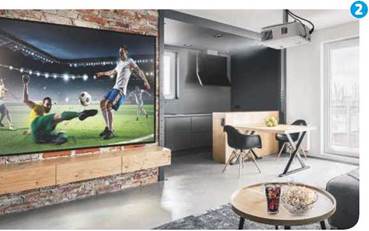 HDR support here covers both industry standard HDR10 and the broadcast-friendly HLG system. You can also turn HDR off if you want.
With the 4K Blu-ray of Luc Besson's Lucy, the UHD30 performed startlingly well. Its pictures really do look sharp and detailed. Not quite native, pixel-for-pixel 4K sharp, but cleaner and denser than mere HD. This is especially noticeable with Lucy's close-ups, where you can see more pore, clothing and hair detail than you've any right to on a sub-£ projector.
There's no obvious pixel structure or pixel noise either, which joins the detailing in creating an impressively cinematic feel.
Even more surprising is how well the UHD30 handles Lucy's bold HDR grade. It delivers at least a sense of enhanced colour saturation and brightness range while hardly ever succumbing to the washed-out colour tones, greyed-over black levels (provided you activate the
'Pictures look sharp and detailed – with the 4K Blu-ray of Lucy the UHD30 performed startlingly well'
projector's Dynamic Black feature), or bleached peak brightness areas budget projectors can suffer with.
No colours look too dominant, and tones appear consistently video- rather than PC-tuned. I saw no striping or blocking noise in subtle blends either, nor any major clipping of shading and details in bright HDR areas.
It's a shame, perhaps, that the UHD30 doesn't provide tools for adjusting the way HDR plays; for instance, you can't trade light range for higher baseline brightness.
But the balance Optoma has chosen is well judged.
One other great thing about the UHD30's HDR pictures is their freedom from single-chip DLP's 'rainbow effect'.
I scarcely spotted the tell-tale colour striping at all, despite typically being fairly sensitive to it.
Double duty with Call of Duty
The talents the UHD30 exhibits with 4K HDR movies carry over to its gaming performance. UHD games look if anything even more detailed than 4K video, and there's plenty of colour kick to bold HDR titles such as Gears 5 and the latest Call Of Duty, plus enough brightness to emphasise you're playing in a light realm beyond straight SDR. The Game preset can generate a little video
noise with 1080p SDR, and reduces black levels. You can reduce these issues by switching away from the Game mode's default Video gamma setting to Graphics or Film.
Switching to HD SDR material, it's immediately noticeable how much softer the picture looks. This is more a testament to the UHD30's 4K mirror-switching capabilities, though, than a problem with its HD performance, which is good for its price point. Contrast is decent for a projector that also handles HDR so well, colours are generally well balanced (although I did feel the need to tone down green a little), and in the Cinema and Reference presets noise levels are suitably restrained.
Yet more good news comes with the UHD30's 3D performance. Pacific Rim's excellent 3D Blu-ray comes across as forensically detailed and packed with extreme and beautifully constructed depth. It's bright, full of contrast and colour, free of flicker (as long as your room is dark), and almost entirely devoid of 3D's old crosstalk double ghosting issue.
On the money
A mostly hugely engaging watch for its money, then – but not flawless. Judder, for example, feels slightly exaggerated with 24p film sources. There's a small outer grey frame around the image too, and I'd recommend not sitting too close to the UHD30 if possible, because then you're less likely to be distracted by its constantly fluctuating running noise. The PJ's built-in speaker system can disguise this to some extent during loud movie moments, but you'll want to use an external speaker system if you can, since the UHD30's audio doesn't sound like it's coming from anywhere near the screen action.
It's certainly not, after all, a short-throw projector.
Its HDR experience is never comparable to that of a premium HDR TV, but this – nor any of its other foibles – should stop the UHD30 from finding admirers
Verdict
Best OPTOMA UHD30 prices in the US ?

$

1,980.12
3 used from $1,499.99
5 new from $1,980.12
in stock

Best OPTOMA UHD30 prices in the UK ?

£

1,050.00
1 used from £871.99
1 new from £1,050.00
in stock

MORE DEALS

See also TOP 15 projectors
SPECIFICATIONS
3D: Yes. Active shutter 4K: Yes, via Texas Instruments DLP 'mirror switching'
HDR: Yes. HDR10; HLG CONNECTIONS: 2 x HDMI inputs (1 x v2.0, 1 x v1.4); powered USB; service USB; 12V trigger; RS-232; VGA port; 3.5mm line throughput; optical digital audio output BRIGHTNESS (CLAIMED): 3,400 Lumens CONTRAST (CLAIMED): 500,000:1 ZOOM: 1.1x DIMENSIONS: 315(w) x 118(h) x 270(d)mm WEIGHT: 3.9kg
FEATURES: Single-chip DLP; built-in 10W mono speaker; up to 15,000 hours claimed lamp life; 28dB claimed max fan noise; Cinema, Reference, Game and HDR Sim picture presets; 1.5:1-1.66:1 throw ratio; Dynamic Black mode; wall-color setting
Setup is via manual focus and 1.1x zoom. There's digital keystone correction, but not image shifting
Optoma targets the UHD30 at living rooms as well as blacked-out home theatres
AMAZON FIRE TVSTICK 4K:
Amazon has updated its HD streaming player range in time for a pre-Christmas push with Atmos and HDR support, but this 4K-capable model remains king of the hill – and is nothing less than an absolute bargain.