John Archer enjoys the all-around appeal of Sony's range-topping 4K LED telly. Read our SONY KD-65XH9505 Review.
Unless Sony springs a replacement for 2019's ZF9 series on us later in the year, the KD-65XH9505 is the Japanese brand's flagship 65in 4K TV for 2020. And at first glance you might wonder if that's a status that it will be able to live up to. Even the ticket, while not inconsiderable, doesn't exactly scream 'flagship'.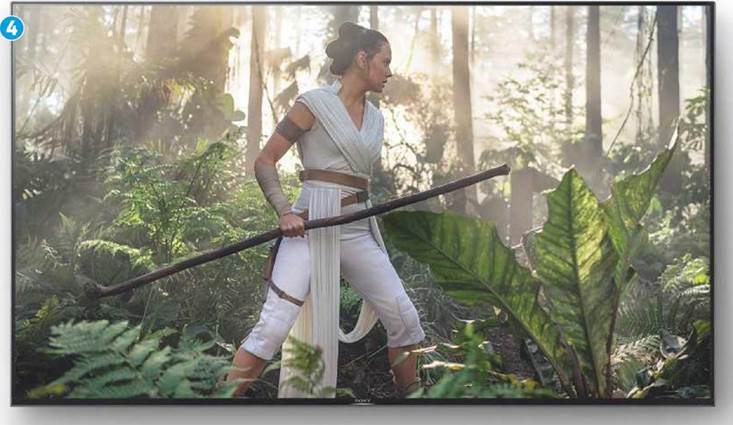 It's an attractive TV – especially if you attach its feet under each corner, rather in their optional more central position – but its build quality only feels so-so. It's also quite chunky around the back and, unlike most Sony TV flatscreens, is devoid of cable-tidying features.
Next, while it has four HDMI inputs and supports eARC functionality for passing through lossless audio formats, it's not able to handle the 4K/120fps HDR games promised by the incoming PS5 and Xbox Series X games consoles (whereas, oddly, the step-down XH90 models will be, after a promised firmware update). Nor is there support for the VRR or ALLM gaming features found on many high-end competitors. Its Game preset's 18.4ms of measured input lag is a decent effort, however.
Sony also hasn't embraced the UHD Alliance's Filmmaker Mode, which is designed to set TV picture settings to resemble those used in professional mastering studios. Neither does the 65XH9505 incorporate Dolby Vision IQ functionality, for intelligent ambient light compensation.
Like LG's OLED GX TV [see p44], this Sony's HDR compatibility includes HDR10, HLG and Dolby Vision, but not HDR10+. Current screens from Philips and Panasonic handle both 'active' HDR formats.
7Review earns Amazon affiliate commissions from qualifying purchases. You can support the site directly via Paypal donations ☕. Thank you!
See also TOP Televisions
and The best OLED TV deals 2022: get an awesome OLED at the lowest price
Back in the zone
From here on in, thankfully, things take a very sharp upturn, beginning with the fact the 65XH9505 employs a VA-type LCD panel, illuminated by a direct LED lighting system driven by local dimming. The number of dimming zones (60) isn't particularly high; Samsung's 65Q95T flagship 4K TV has 120, by comparison. But Sony's set sells for a whole £ less.
Efficient picture processing can often compensate for a relatively low dimming zone count, and the 65XH9505 features Sony's premium X1 Ultimate chipset, which blends the brand's decades of TV know-how with specific picture-enhancing features such as a dual-database upscaling engine; Super Bitmapping for removing colour striping; object-based HDR remastering for (excellent) SDR-to-HDR conversion; and Sony's X-Motion Clarity system, which exploits the full array with local dimming (FALD) display design to give you the motion benefits of black frame insertion without the usual brightness loss.
Colours are delivered by a combination of Sony's Live Colour, Triluminos and Precision Colour Mapping systems,
AV INFO
FALD display 4K HDR TV with Android TV smart system
Currently the flagship 65in 4K TV in Sony's stable
Samsung QE65Q80T; LG 65NAN0906
and Sony's X-Wide Angle technology means you can view the set from a good deal off-axis without its picture suffering the usual contrast and colour reductions.
Smart features are provided by Android TV. The ninth-generation implementation here further refines and stabilises the platform, but still doesn't address key issues
'Full of clear details and always coherent – you can't ask for more than that from a built-in TV sound system'
of a clunky home page, limited customisation options, and relatively few content showcase ideas. I know I've been saying this for years, by the way.
Android TV is supplemented by YouView, which corrals the key UK catch-up TV apps into one easy-to- browse place.
Balanced audio
For the 65XH9505's sonics, Sony is in an inventive mood. First, independently amplified side-firing HF drivers built high into the TV's rear panel (and named Sound Positioning Tweeters) help it locate audio in the part of the screen/soundstage where it's supposed to be. Second, new down-firing 'X-Balanced' full-range speakers use an unusual shape and structure, and high-quality components, to deliver the volume and dynamic reach you don't usually hear with LCD TVs.
And I write that not as a Sony statement of intent, but a fact. The force with which the 65XH9505 reworks 1917s massive Dolby Atmos soundtrack (4K Blu-ray) into your room is remarkable, building a wall of sound that's full of clear details and always coherent. The tweeters enhance both the height and detail in even the densest parts of the mix, while the
X-Balanced speakers go loud and proud. A race across a heavily shelled battlefield sounds convincingly
dramatic – and you can't ask for more than that from a built-in TV sound system.
A bright idea
The 65XH9505's pictures are – mostly – just as spectacular. Brightness, in particular, makes an instant impact. The screen measures a peak light output (on a 10 per cent white HDR window) of just over 1,000 nits in Standard mode, and just under 1,000 nits in Cinema mode. These are high figures for a LCD TV.
There's also an impressive consistency and sustained nature to its brightness,. The typically white-grey skies of 1917s 'crossing no-man's land' scene remain joyously luminous. Also striking is how much intensity the 65XH9505 brings to small, bright image highlights. In the shot of sunrise over Neverland in Pan (4K Blu-ray), it captures subtle qualities in the cloud formations that tend to be flattened away on most displays.
Given that the screen doesn't have a particularly huge number of dimming zones, I expected the >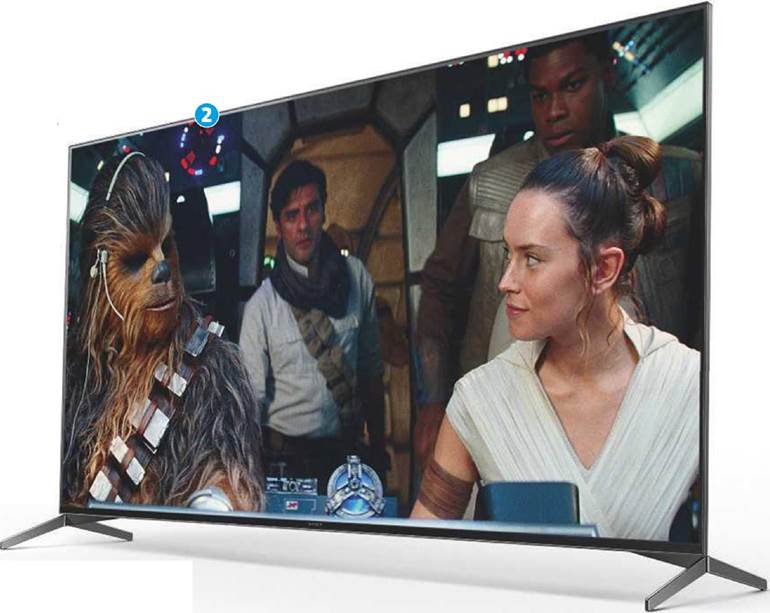 1. Images are illuminated by a 60-zone local dimming engine
2. The sound system features dual down-firing full-range drivers, plus side-firing tweeters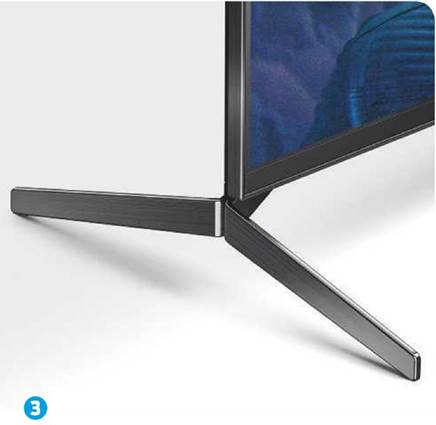 65XH9505 to have to reduce the brightness of stand-out objects to preserve the uniformity of surrounding dark areas in more overtly contrasted content. But even with material like the white-on-black explanatory text at the beginning of Blade Runner 2049 (4K Blu-ray) it retains a startling intensity.
Such sharply contrasted visuals do reveal a slight flaw, however. While the TV can craft a nicely deep black level – and is seemingly less impacted by the contrast-limiting effect of Sony's X-Wide Angle technology than previous sets – quite large blooms of extra light can appear around bright HDR objects held against a dark background. It's typically faint enough not to be a major distraction, but when the blooming escapes into the black bars you get while viewing 2.40:1-ratio (or similar) films, it catches your eye. Even more so if the bright object causing the blooming moves around within the image, which results in the cloud in the black bar moving as well.
Of course, this performance niggle can be countered by having a little ambient light in your room.
The 65XH9505's colours are gorgeous; vibrant and rich when needed, but also packed with nuance in more difficult moments, such as the muted, muddied uniforms in 1917, or the sun-baked skin tones of Mad Max: Fury Road (4K BD). And darker shades hang on to plenty of colour volume because the 65XH9505 doesn't compromise their brightness. This desire to retain a relatively uniform and high level of brightness with all content translates into superb image stability.
4K pictures aren't quite as dazzlingly detailed as they are on one or two rivals, but there's no way you'd call them soft. The Resolution component of Sony's Reality Creation system can also boost texture levels if you feel the need.
Motion handling is one of the TV's strong suits. It maintains detail
'between frames' thanks to the excellent Motionflow processor, which also limits judder without making the picture look distractingly fluid.
HD upscaling is exemplary, adding tangible image density and texture. Effective viewing angles are extreme.
Bases loaded
Overall, the 65XH9505 comes oh-so-close to being a home cinema home run. The price, all things considered, is tempting, its sound performance is unusually strong, and its imagery is both bright and balanced – an alternative to the less bloomy but more heavily dimmed pictures of some LED competitors. Well worth checking out
VERDICT
Recommended
SONY KD-65XH9505 Review
With its bright and colourful but also natural pictures, and grandstanding audio, it's surprisingly easy to forgive the 65XH9505's missing features and moments of LED blooming.
Add your review
Best SONY KD-65XH9505 prices ?
MORE DEALS

See also TOP Televisions
and The best OLED TV deals 2022: get an awesome OLED at the lowest price
SPECIFICATIONS
4K: Yes. 3,840 x 2,160 HDR: Yes. HDR10; HLG; Dolby Vision TUNER: Yes. Freeview HD CONNECTIONS: 4 x HDMI inputs (one with eARC); 2 x USB; optical digital audio output; headphone output; composite video input; Ethernet port SOUND (CLAIMED): 2 x 10W plus 2 x 5W BRIGHTNESS (CLAIMED): N/A CONTRAST RATIO (CLAIMED): N/A DIMENSIONS (OFF STAND):1,448(w) x 833(h) x 70(d)mm WEIGHT (OFF STAND): 22.3kg
FEATURES: X1 Ultimate processing engine; Triluminos colour; Reality Creation engine; Android 9 smart system; Netflix Calibrated mode; FALD panel design; Motionflow; X-Wide Angle; Acoustic Multi Audio; IMAX Enhanced; built-in Wi-Fi
PARTNER WITH
RAKUTEN TV: This 4K HDR VOD platform offers movies available to own/rent. If that doesn't float your boat, consider its ad-supported free service, which lays on plenty of B-movie action.
3. The TV's feet can also be mounted more centrally if your furniture demands it
4. For picture fettling, the XH9505 uses Sony's X1 Ultimate processor