John Archer auditions Philips' new entry-level OLED, and discovers it delivers on its bargain ambitions. Read our Philips 65oled754 review.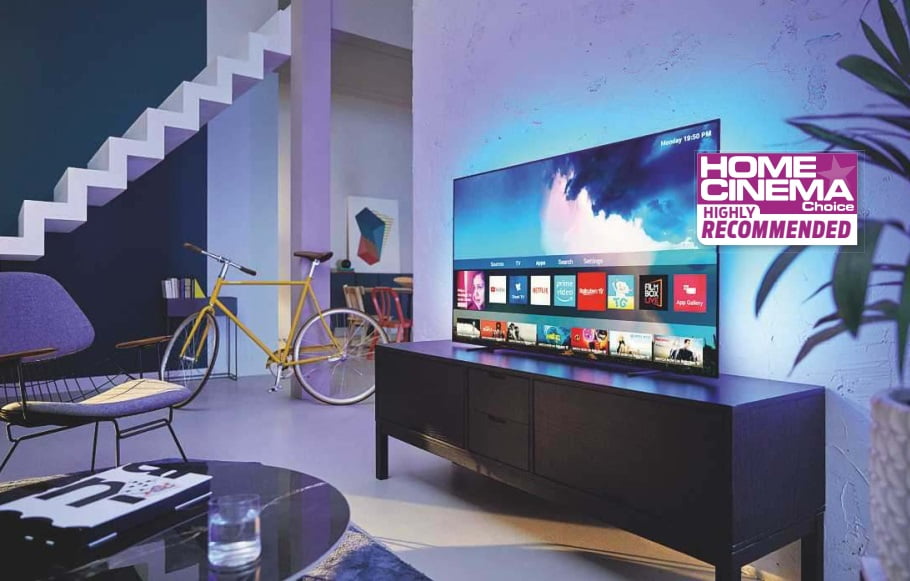 AV INFO
PRODUCT: 4K OLED TV with Dolby Vision and HDR10+ support
POSITION: Philips' most affordable 65in OLED TV
LG OLED65B9; Philips 65OLED804
Combining a 2020 OLED TV design with an older processing system, Philips 754 series offers cash-strapped OLED fans a more affordable way to buy into their home cinema screen dream; the 65in model reviewed here is the cheapest big-brand 65in OLED TV we've tested.
Not that there's anything at all cheap about this flatscreen's design or build quality. The 65OLED754 looks and feels seriously premium. There's an ultra-narrow frame around the screen, slender rear, and a lovely and robust brushed-metal back panel. And the low feet the TV sits on are so narrow that they almost vanish when you're viewing the screen head on.
7Review earns Amazon affiliate commissions from qualifying purchases. You can support the site directly via Paypal donations ☕. Thank you!
See also TOP Televisions
and The best OLED TV deals 2022: get an awesome OLED at the lowest price
One design element you certainly can see at all times, however, is Ambilight – Philips' exclusive illumination/ immersion technology. The coloured lights erupting from the left, right and top edges of the 65OLED754 can be set to a favourite colour, or to track the content of the picture you're watching. If you choose the latter, the tonal and local accuracy of the colour response is pretty remarkable, but I'd recommend reining in the brightness from its default setting so that it gently enhances images rather than distracts you.
Connectivity is fine, with four 4K-capable HDMI ports, plus two USBs (and associated timeshifting skill), and digital optical audio and headphone outputs. The HDMIs are v2.0 rather than v2.1, meaning they won't handle the 4K at 120Hz games that may turn up with the next generation of consoles. But the same goes for many current TVs.
There's also no support for eARC and lossless audio passthrough. You can still enjoy Atmos audio (via Dolby Digital Plus) through the standard ARC feature.
HDR for everyone
It's great to find the 65OLED754 supporting both the Dolby Vision and HDR10+ dynamic HDR formats; many brands still only support one or the other, even on premium TVs, despite both formats existing in the content market. Naturally this Philips also handles the basic HDR10 and broadcast-friendly HLG HDR flavours.
Processing, despite this TV's entry-level stature, is governed by Philips' P5 video engine. This is designed to intelligently tackle what the company identifies as the five pillars of picture quality: source identification, sharpness, contrast, colour, and motion.
While it's somewhat unusual to find a processor of such power and sophistication driving an affordable model, the version of P5 here is a generation older than that used on all of Philips' other current OLED TVs.
Another area where the 65OLED754 differs from Philips' more expensive OLEDs is its smart toolkit. Rather than the Android TV platform featured on the OLED804/854 and OLED934/954, you get the Linux-based Saphi system.
Saphi isn't as content-rich or comprehensive as Android TV, and suffered a couple of bugs and crashes during my time with this TV. Nonetheless, I prefer it overall to Android. Its interface is simpler and takes up less screen area, and it supports Freeview Play, bringing the catchup services for the main UK broadcasters under one umbrella interface.
Netflix, Amazon, YouTube and Rakuten are supported, and play their content in 4K and HDR where available.
It's still an OLED
The 65OLED754's pictures aren't quite as good as those of Philips' premium OLEDs, but hold on to the fundamentals remarkably well.
Black levels, in particular, showcase the technology's traditional prowess in spades. The infamously dark The Long Night episode from Season 8 of Game Of Thrones (4K Blu-ray) is beautifully watchable here, thanks to the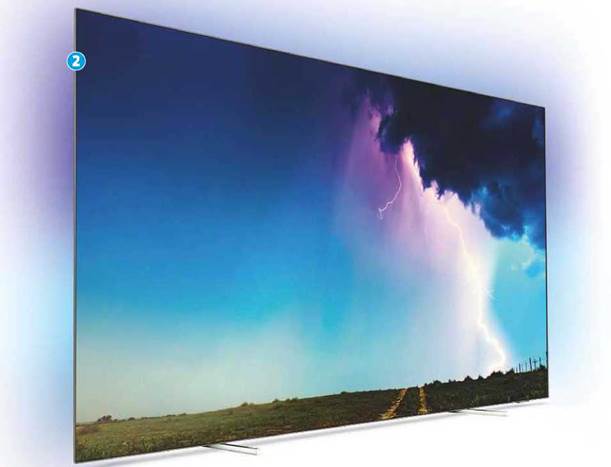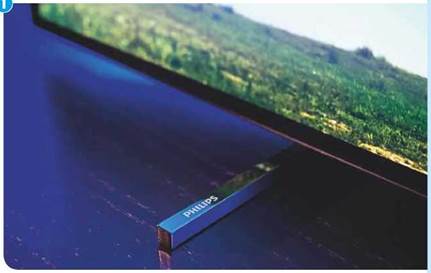 screen's combination of immaculately deep blacks and impressive shadow detailing. Bright parts of this dark episode, such as flaming swords, stand out against the night sky with exceptional punch. And there's an intensity to the experience aided by the absence of any backlight blooming and/or wholesale black level reduction that an LCD TV would offer. Dark shots avoid the slight reddish undertone that some older OLED panels exhibit.
Colours are extremely vibrant using the TV's Vivid setting, leaving all OLED rivals looking almost washed out by comparison. Yet the colour enthusiasm of this second- gen P5 processor can go too far at times, leaving some tones garish and overblown unless you switch to the Standard picture preset.
1. The TV's slim feet are as discreet as they come
2. Processing is handled by Philips' P5 engine
Philips provides tools aplenty for subtly adjusting almost every element of the picture. There are so many, actually, that optimising the picture is an unusually complicated operation. The deliberately sequential application of the P5 processing means that making one adjustment can have knock-on implications for other settings, leading you into a chain of further tweaks.
With this in mind, I'd suggest that most users restrict themselves to tweaking the motion smoothing tool (Philips' Movie setting does a great job of reducing judder without generating distracting glitches or too much 'soap opera effect'), and either turning the noise reduction right off, or leaving it no higher than 'Low'. This will help you avoid an overtly processed feel to pictures.
As usual with Philips TVs, the 65OLED754 is exceptionally sharp with native 4K sources, while upscaled HD looks more detailed and crisp than the vast majority of other upscaling engines. The P5 silicon is also skilled at upconverting SDR sources to surprisingly aggressive- looking HDR.
Brightness measures 630 nits on a 10 per cent screen area white HDR test signal. This isn't as high as some rivals, including higher-end Philips models. Yet the TV tone maps effectively enough to ensure that HDR sources look both generally bright and full of sparkling brightness peaks (even if occasionally those peaks exhibit a slightly blue undertone).
The TV's intensive processing is likely a contributing factor to a Game mode input lag measurement of 33ms. This is a touch high versus the 15-20ms figures many rivals have achieved with their current sets.
So what might spending more for, say, the 65OLED804 get you in picture terms? Slightly more detail in the most heavily textured parts of the picture. Slightly less colour banding over subtle blends. More consistently natural skin tones. Even punchier HDR light peaks. And slightly less noise with dark images from streamed sources.
These issues justify spending more on a costlier Philips OLED if you can, but they don't stop the performance of the OLED754 being exceptionally good for its money.
An area where more investment will reap greater rewards is audio. Higher up the range Philips collaborates with Bowers & Wilkins to boost sonic delivery; the 2.1 system on this TV is more par for the course. It's still decent for such a slim screen, however, with mid-range and bass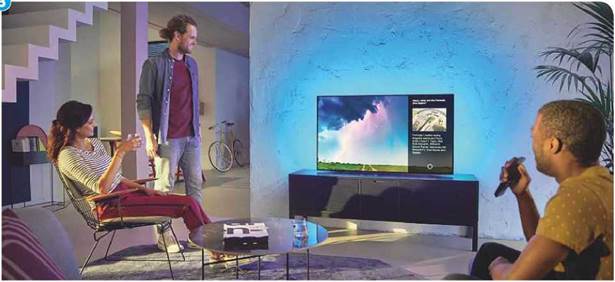 drivers on the rear creating a decent amount of low-end presence during Terminator: Dark Fate's robot-on-robot action scenes.
Voices, too, remain clear and surprisingly direct, while subtle effects are well presented amid a respectably large soundstage.
Exciting prospect
The OLED754 isn't the all-round best performing OLED TV I've ever witnessed, but it's currently the biggest 65in OLED bargain, even undercutting LG's OLED65B9 [see HCC #308]. That makes it an exciting prospect for anyone who wants to add an OLED to their setup – and note the 55in model sells for around £ …
3. The three-sided Ambilight comes with colour presets and user adjustment
SPECIFICATIONS
3D: No 4K: Yes. 3,840 x 2160 HDR: Yes. HDR10; HLG; HDR10+; Dolby Vision TUNER: Yes. Freeview HD (Freeview Play); satellite CONNECTIONS: 4 x HDMI inputs; 2 x USBs; RF port; component video; Ethernet; stereo analogue audio output; headphone output; optical digital audio output SOUND (CLAIMED): 2 x 8W mid/high speakers; 24W subwoofer BRIGHTNESS (CLAIMED): N/A CONTRAST RATIO (CLAIMED): N/A DIMENSIONS (OFF STAND): 1448.7(w) x 829.7(h) x 49.3(d)mm WEIGHT (OFF STAND): 27.9kg
FEATURES: Built-in Wi-Fi; USB multimedia playback; P5 Gen 2 processing engine; three-sided Ambilight; Saphi smart engine; HDMI ARC; Dolby Atmos decoding; Perfect Natural Motion; Ultra Resolution
PARTNER WITH
SONY HT-X8500: £ gets you Sony's mid-tier soundbar. There's no external sub, but onboard bass drivers handle low-end effects well, and Atmos decoding and Sony's own Vertical Sound Engine DSP ensure a wide, high soundstage.
Philips' more premium OLED models, but this TV is still ridiculously great value.
Verdict
Best Philips 65oled754 prices in the UK ?
MORE DEALS

See also TOP Televisions
and The best OLED TV deals 2022: get an awesome OLED at the lowest price