Philips ups the ante
With universal HDR support and style to spare, you'll be sorely tempted by this 4K HDR mid-ranger, says Steve May. Read our PHILIPS 55PUS6814 Review.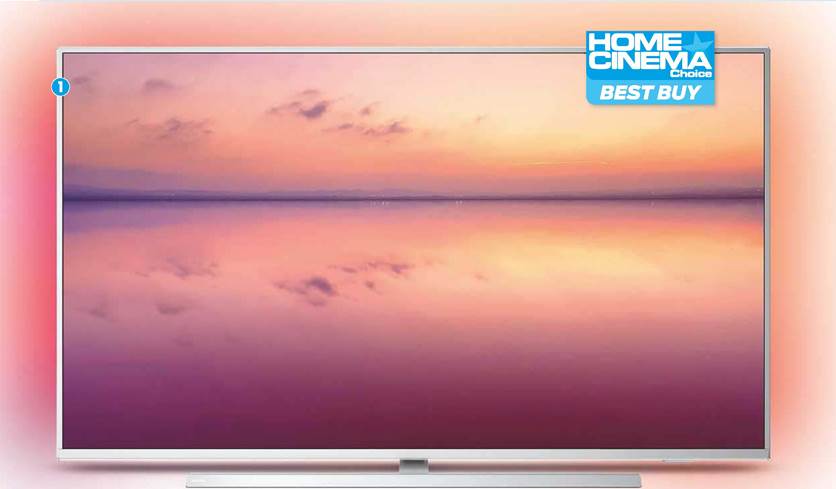 Affordable 4K HDR LED LCD with Ambilight
Position: Mid-range, below OLED models and 7 Series sets
PEERS: Hisense H55B7500; Panasonic TX-50GX800
PHILIPS HAS THROWN everything bar the kitchen sink at its 6 Series high street hotshot. This 4K UHD LED model doesn't just try to woo with a low price tag, it wows with a host of fan-favourite features, including Ambilight, multi-HDR and Amazon Alexa voice support.
And, for the most part, Philips' generosity pays off.
Bitdefender | Awards Campaign LP | .com
With coupon code: 7RW20, Audio Affair will give you £20 off all orders over £250. Sales items and some brands including Audio Pro, Pro-Ject, Kanto Audio and Audioengine are excluded from the discount code .
7Review earns Amazon affiliate commissions from qualifying purchases. You can support the site directly via Paypal donations ☕. Thank you!
Rival budget-busting sets beware, this is a very difficult telly to resist. Boasting a specification that rivals stablemates with far more onerous ticket prices, you might well wonder why you should spend more.
The simple answer is you probably shouldn't.
There's no shortage of screen sizes to choose from.
I had a 55in set on the test bench, but this model is also available in 43in, 50in and 65in guises.
Fashionistas will be pleased with its look. The screen sports a glacial white back panel, lending it an upmarket, stylish appearance. Ambilight provision means the TV isn't super slim, but the aesthetic finish is fine.
The 6814 features Ambilight's standard three-sided configuration, common to the majority of Philips' 4K fleet. This proprietary lighting system can be run in movie, music and flat lighting (bias) modes, with the added bonus of Hue smart light compatibility. You can sync a whole room full of Hue lighting to run alongside the set's lighting pattern.
Connectivity includes three HDMIs (one with ARC), all supporting 4K at 60Hz. There's also component video with analogue stereo inputs (I no longer rack anything that could plug into this), twin USBs (one a fast v3.0 variant), a digital audio output and Ethernet. Dual-band Wi-Fi is onboard if you don't have a hardwire network port to hand.
Smart functionality is solid. While Philips uses the Android TV OS for its high-falutin' OLEDs, screens lower down the ladder get Saphi, its own Linux-based operating system. This actually transpires to be rather good, in a no-frills kinda way. The straightforward UI offers quick access to all the stuff you need.
Streaming apps include YouTube, Netflix, Amazon Prime Video, Rakuten.TV and Chili. The provision of a Freeview Play tuner means a full house of mainstream catch-up TV players too; a 7-day roll-back programme guide allows the absent-minded to browse missed shows directly from the timeline. The Netflix app supports Dolby Vision, while YouTube can play in 4K.
There's good news for console junkies, too. With Game mode engaged, I recorded image lag at a credible 19.1ms
(one of the best figures I've had from a Philips LED LCD model).
DLNA-compliant, the TV had no trouble discovering video files stored on a NAS, and TwonkyMedia and Plex media server software. It didn't just play my MKV stockpile, it's also happy with AVI, MPEG and VP9 codecs.
Thumbs up
From box to bench, it doesn't take long to give the 55PUS6814's picture performance an enthusiastic thumbs up. Images are sharp, contrasty and nicely saturated. A nod to the wise: out of the box, the set is optimised for Energy Saving. Switch to Optimized for Picture, as this benefits highlight intensity.
Basic picture presets (or 'Styles' in Philips parlance) comprise Natural, Standard, Movie, Personal, Monitor and Vivid. Both Natural and Standard do a solid job with a wide range of material, while the Movie mode is perhaps best ignored, as it generally throws a woolly blanket over fine detail and contrast.
When an HDR signal is received, these presets shift to HDR Personal, HDR Vivid, HDR Movie and HDR Natural. More often than not, HDR Natural proves the most consistently satisfying option, and the best if you're viewing in a room with some ambient light. With Dolby Vision, options become Dolby Vision Bright and Dolby Vision Dark.
A measurement of around 350 nits confirms that the 6814 isn't the brightest HDR screen in the shopping aisle, although this HDR performance is actually in line with what we saw from the brand's 2018 6700 range.
The upgrade here is universal HDR support (Dolby Vision, HDR10+, HLG and HDR10), and the set excels when steered by dynamic metadata. The Grand Tour (Amazon Prime Video) glints with polished refinement, an onscreen logo flashing up confirmation it's clocked the HDR10+ stream.
Having support for both HDR10+ and Dolby Vision isn't just a box-ticking exercise. Taking a dynamic approach to HDR really helps panels without intrinsically high peak brightness; tone mapping plays an increasingly important role when it comes to picture performance.
That said, it's worth pointing out that the set looks consistently good with regular SDR content too; it has enough vibrancy to maintain a bright and contrasted image.
You'll want to avoid standard-definition content sources though, as Philips' Pixel Precise Ultra HD engine doesn't appear to have the processing power to compensate for the low-resolution and compression that hampers a great number of Freeview's second division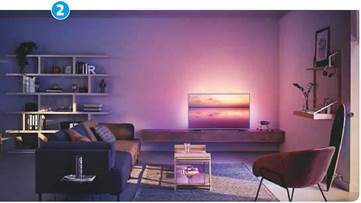 channels. Things improve when you step up to HD;
1080p material has detail and nuance.
Motion smoothing is available in Smooth, Standard, Sports, Movie and Personal (but not Harry) Styles, or can be turned off altogether. I found Philips' interpolation fine for studio content and sports, but movies undoubtedly look more cinematic when it's turned off.
Inevitably there's a price to be paid for the price that you paid, and most obviously that's in black level performance.
Try as it might, the 6814 can't offer a deep black, and it struggles with low-level shadow detail. This means it'll never look its best in full, dark room conditions. Yet watch in a room with a reasonable level of ambient light, and let Ambilight provide you with an ISF-grade white bias light, and shadows look subjectively dark enough.
Performance isn't just governed by room lighting conditions. Consider positioning too, as the screen loses contrast and colour vibrancy when viewed from the side.
Audio is a smidge above average for the price. The set's onboard amplifier is rated at 2 x 10W, and this transpires to no shortage of volume; it's also able to recognise a Dolby Atmos bitstream, but it doesn't have a speaker array able to deliver immersive sound. Far better to budget for a soundbar. However, you don't get a lot of room 'twixt panel and pedestal stand, which makes sitting a soundbar directly beneath the screen virtually impossible.
Low cost, high appeal
There's no doubt that this 6 Series set is something of a star when it comes to performance and value. The provision of multi-HDR support sets it apart from many similarly priced screen rivals (although Panasonic's GX800 models give it a good run for its money) and Ambilight can be considered a welcome cherry atop the cake.
Philips has thrown a six with the 55PUS6814. It's well worth auditioning
Verdict
www.philips.co.uk
PHILIPS 55PUS6814 Review
With universal HDR support, illuminating Ambilight and excellent gaming performance, this budget-saving siren is difficult to resist.
Add your review
Best PHILIPS 55PUS6814 prices in the US ?

$

114.99
1 new from $114.99
in stock
September 27, 2022 5:12 am
×
Product prices and availability are accurate as of the date/time indicated and are subject to change. Any price and availability information displayed on Amazon.com (Amazon.in, Amazon.co.uk, Amazon.de, etc) at the time of purchase will apply to the purchase of this product.

Best PHILIPS 55PUS6814 prices ?
MORE DEALS

SPECIFICATIONS
3D: No 4K: Yes. 3,840 x 2,160 HDR: Yes. HDR10, HLG, Dolby Vision, HDR10+ TUNER: Yes. Freeview HD (Freeview Play); satellite HD CONNECTIONS: 3 x HDMI inputs; 2 x USB; component Av input; Ethernet; optical audio output SOUND (CLAIMED): 20W BRIGHTNESS (CLAIMED): N/A CONTRAST RATIO (CLAIMED): N/A DIMENSIONS (OFF STAND): 1,236(w) x 723(h) x 80(d)mm WEIGHT (OFF STAND): 16.1kg
FEATURES: Built-in Wi-Fi; USB multimedia playback; 3-sided Ambilight; Saphi smart hub; Miracast; Amazon Alexa compatible; Pixel Precise Ultra HD processing; Micro Dimming; Ultra Resolution
PARTNER WITH
PHILIPS HUE: Combine the 6814's Ambilight feature with a wider Philips Hue system for some smart lighting tricks. Begin with a Starter Kit (which includes the Hue Bridge and bulbs) and then add more bulbs, lamps and LED strips as you wish.
1. The front bezel is silver, but the back panel is a glacial white
2. The set features 3-sided Ambilight illumination