PHILIPS 550LED804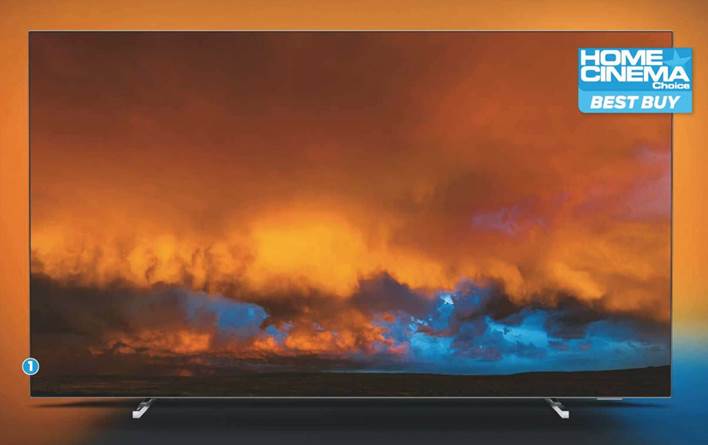 Philips puts consumers first with its latest and greatest OLED TV, says John Archer
What format war? asks Philips OLED
With their combination of a sleek, Ambilight-enhanced design, competitive pricing and uniquely punchy pictures, Philips' award-winning 2018 OLED flatscreens were hard to resist. That hasn't stopped the brand from taking things up another gear with its 2019 models, though.
The first improvement that stands out on the new 55in 550LED804 is Dolby Vision compatibility. This would be welcome on any TV, but it's given extra significance here by the fact that Philips has also supported the rival HDR10+ format since last year.
Bitdefender | Awards Campaign LP | .com
With coupon code: 7RW20, Audio Affair will give you £20 off all orders over £250. Sales items and some brands including Audio Pro, Pro-Ject, Kanto Audio and Audioengine are excluded from the discount code .
7Review earns Amazon affiliate commissions from qualifying purchases. You can support the site directly via Paypal donations ☕. Thank you!
Dolby Vision and HDR10+ are dynamic HDR variants that add extra scene-by-scene data to help TVs deliver more accurate Images. Yet Philips Is the only brand, bar Panasonic, accommodating both systems, meaning 55OLED804 owners will always get the best picture quality a stream or 4K Blu-ray has to offer, no matter what format it's mastered in. It'd be a boon if all TV brands would take such a consumer-facing, format-neutral approach.
Philips has also further upgraded its already powerful P5 picture processing engine. This introduces a whole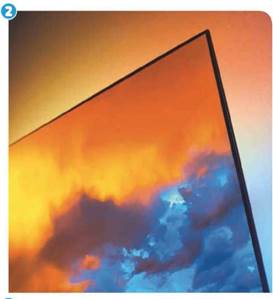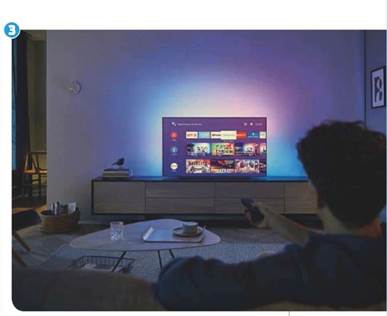 1. For Its 2019 range, Philips has added Dolby Vision to HDR10+
2. The set features three-sided Ambilight Illumination
3.  Smart skills come via Android Oreo
4. The feet are slim but provide a sturdy foundation
55in OLED with Dolby Vision and HDR10+
Philips' entry-level 2019 4K HDR OLED TV
LG OLED55C9; Sony KD-55AF8; Samsung QE55Q85R
second processing chip's worth of extra power, and Improvements to three of the five picture 'pillars' that give P5 its name.
For starters, Philips' Perfect Natural Reality (PNR) system for converting standard dynamic range Images to HDR now supports specular detection (for picking out and emphasising bright spots of light); region classification (to localise the way the HDR upgrade is applied); and skin tone protection (so that skin tones are detected and preserved during PNR's colour-widening process).
The revised P5 processor brings new detail protection and restoration features too, as well as a system for removing Jaggedness from angled lines. This all adds up to more apparent detail and image depth.
Tweaked noise reduction systems, says Philips, now reduce contouring and deliver more Intelligent bit-depth calculation, while new 'sparse filtering' stops noise reduction generating unwanted side effects such as softened motion sharpness.
And there are also some improvements specific to playback of native HDR content. Namely better reproduction of shadow detail In dark areas (which at times appeared rather crushed on last year's models); enhanced colour and contrast; brighter light peaks; less banding noise over fine colour blends; and less detail loss in the brightest parts of aggressive HDR images.
Slim and trim
The 55OLED804 looks gorgeous. The screen Is surrounded by a minimalist dark frame, offset by an attractive metallic outer trim. It sits low on a pair of chrome bar feet, while most of the panel's rear Is sensationally slim and beautifully finished in brushed metal.
This classy design is boosted by Ambilight, which casts coloured light from three of the screen's sides to create a relaxing and immersive experience (but do reduce the light's intensity slightly from its default setting).
Audio comes from a 2.1-channel array with tweeters and midbass joined by a rear-mounted woofer. This will hopefully see the 55OLED804 get mileage out of the built-in Dolby Atmos decoder Philips has added this year.
The set's remote features a reasonably logical layout, direct buttons for Netfllx, Rakuten and voice search, and a full QWERTY keyboard on the back – although the need for this is reduced by built-in Google Assistant voice recognition (Amazon Alexa Is also supported via external devices).
Smarts on the 550LED804 come courtesy of Android TV. The latest Oreo version Improves over previous generations, particularly relating to customisation options and the emphasis given to video services. Amazon Video, Netflix, Rakuten, BBC iPlayer, GooglePlay Movies, and YouTube are all present and correct. While the ITV Hub > suddenly appeared during my time with the TV, Android still doesn't support the All4 or My 5 catchup TV services.
And I still find the system frustrating. The home page takes over the whole screen and won't let you return to what you were watching simply by pressing the Back key.
It runs relatively stably on Philips' TVs, though.
Superior images
The 55OLED804's pictures Instantly look superior to those of its predecessor. Thanks, chiefly, to some extra precision and control.
This Is at Its most obvious when It comes to contrast.
As revealed during the tough sequence in Sapper Morton's kitchen near the start of Blade Runner 2049 (4K Blu-ray), this new Philips does a better Job of retaining subtlety In shadowy areas, like the shaded half of K's face, and the unlit corners of the room.
The Improved specular highlight system Is also evident in the shot where K's Spinner flies towards Morton's abode, as tiny lights on a distant hillside glimmer with intensity and precision.
Without being able to do side-by-side comparisons, I'd say that baseline brightness levels with HDR content seem slightly lower than they were on the 2018 OLED803 [see HCC #289]. However, refinement in the darkest and brightest parts of the picture lead to a more consistent, natural and dynamic-feeling Image.
It's a similar situation with colour. There's less banding – pretty much zero, in fact – in tricky shots such as the dusk beach scene In Exodus: Gods and Kings (4K Blu-ray), or the ultra-bright white clouds throughout the UHD BD of Pan. This produces a more precise look to shading and blending, even If outside of Philips' Vivid preset colour tones don't always feel as flat-out intense as they did last year.
For much of the time the aforementioned Vivid mode delivers the most eye-catching, punchy pictures. But It can go too far at times. Extreme content, such as the sundrenched clouds when Peter arrives in Neverland, looks clipped and blown, while the sand In Mad Max: Fury Road (4K BD) can appear almost like it's been painted orange.
There are tools to help you calm the Vivid mode down, but other presets offer outstanding results with a near-
perfect balance of dynamism, subtlety and consistency. And noticeable in all of them is the impact of Philips' new skin tone processing, which gives faces a more believable and refined look.
There's a better handling of noise too. Skies above Mad Max: Fury Road no longer have a distracting fizzy feel. This is true even without using Philips' noise reduction system, although I'd suggest you can set this to Minimum without having to worry about unwanted side effects.
Let's get dynamic
The 55OLED804's enhanced image precision versus 2018's models is underlined by its Dolby Vision and HDR10+ support. These both bring subtle improvements to dynamic range and, in Dolby Vision's case, colour refinement.
'Keenly priced and offering refined 4K HDR images – Philips has again struck gold with the 55OLED804′
Unexpectedly, the TV is able to apply some of Philips' own video tweakery to Dolby Vision Images, rather than the Dolby mode disabling TV processing, as it usually does. Dolby Vision Bright retains Philips' source analysis, sharpness enhancement and motion processing systems. The Dolby Vision Dark preset turns off all the Philips processing if you prefer.
If you do plump for the Bright mode, I'd recommend switching motion processing from Standard to Movie, as Standard does generate artefacts.
With my reference Oppo UDP-2054K Blu-ray player, dark Dolby Vision scenes appeared on the 55OLED804 with strangely elevated black levels. Yet switching to a Panasonic DP-UB820 resulted in no such problems. In fact, with this deck Dolby Vision delivered just the sort of extra dynamism (deeper blacks, punchier peaks) I'd hope to see.
Philips Is Investigating the Oppo Dolby Vision Issue, but hadn't confirmed a fix by the time we went to press.
The TV's brightness on a white 10 per cent HDR window In HDR Personal mode measured 750 nits briefly, before
dropping to around 640. In Vivid mode it hits nearly 900 nits, settling down to around 770. In HDR Movie mode, the set is stable at 650 nits.
While I'm talking measurements, input lag over HDMI was less than 15ms when using the TV's Game picture preset. This is about as good as TVs get.
Away from 4K HDR, the set's processing works wonders on standard dynamic range/HD content. Detail levels approach those of true 4K, without exaggerating noise or adding grittiness. The Perfect Natural Reality HDR conversion system, meanwhile, introduces a nicely judged increase in an SDR picture's brightness range without excessive or yellowy white peaks or black crush. So while I understand the purist appeal of leaving SDR images relatively untouched, I think you'll struggle to live without PNR once you've tried It. Again I'd suggest sticking with the Minimum setting, though.
Where this TV falters is with its audio. In the plus column there's an Impressive amount of detail and scale to the soundstage, especially if you call in the (off by default) Dolby Atmos height option. And vocals sound surprisingly clear for a TV with no forward-firing speakers. A lack of bass leaves its delivery feeling a bit thin, however – even to the point of harshness with some settings or very dense mixes. Add an external sound system If you can.
Giving you what you want
Accepting this caveat (and my gripes about Android TV), I'd say Philips has again struck gold with the 55OLED804. It's keenly priced, offers slightly less aggressive but much more refined pictures than Its predecessors, has Ambilight and Philips' processing power to set it apart from OLED rivals, and. best of all, its support for both HDR10+ and Dolby Vision shows an admirable desire to give AV fans what they want. Impressive
HCC VERDICT                          5/5
Best Philips 55OLED804 prices in the US ?

$

114.99
1 new from $114.99
in stock
September 28, 2022 6:13 am
×
Product prices and availability are accurate as of the date/time indicated and are subject to change. Any price and availability information displayed on Amazon.com (Amazon.in, Amazon.co.uk, Amazon.de, etc) at the time of purchase will apply to the purchase of this product.


$

114.99
1 new from $114.99
in stock
September 28, 2022 6:13 am
×
Product prices and availability are accurate as of the date/time indicated and are subject to change. Any price and availability information displayed on Amazon.com (Amazon.in, Amazon.co.uk, Amazon.de, etc) at the time of purchase will apply to the purchase of this product.

Best Philips 55OLED804 prices ?
MORE DEALS

Philips 550LED804
www.philips.co.uk
While Its sound Is only fair to middling, the 550LED804's pictures are stellar – and the dual HDR10+ and Dolby Vision support Is a huge attraction.
Want to give SDR Images a boost? Call up Philips' Perfect Natural Reality processing
SPECIFICATIONS
3D: No 4K: Yes. 3,840 x 2,160 HDR: Yes. HDR10; HLG; HDR10+; Dolby Vision TUNER: Yes. Freeview HD CONNECTIONS: 4 x HDMI inputs; 2 x USB; Ethernet; headphone output; digital optical audio output SOUND (CLAIMED): 50 W, 2.1-channel BRIGHTNESS (CLAIMED): N/A CONTRAST RATIO (ClAIMED): N/A DIMENSIONS OFF STAND): 1,228(w) x 705(h) x 49(d) mm WEIGHT (OFF STAND): 22kg
FEATURES: 3rd-gen P5 processing; USB multimedia playback; three-sided Ambilight; Eco mode; Android TV, Google Assistant/Chromecast built-in; works with Amazon Alexa; Dolby Atmos audio; HDMI auto low latency mode; Perfect Natural Reality
PARTNER WITH
RAKUTEN TV; If you don't fancy the monthly fee of Netflix or Amazon, Rakuten's pay-per-view (buy or rent) platform might suit. The content range Includes film and TV, with Dolby Vision and Dolby Atmos sometimes available.