The 805 is the smartest Philips OLED flatscreen yet, says an awestruck Steve May. Read our PHILIPS 55OLED805 Review.
Philips' new OLED805 may look at first glance like a numerical refresh of last year's 804 model, but there's far more to it than that. This multi-HDR compatible set bristles with advanced new picture technology, and is arguably the most significant Philips launch since the debut of its P5 image processing suite.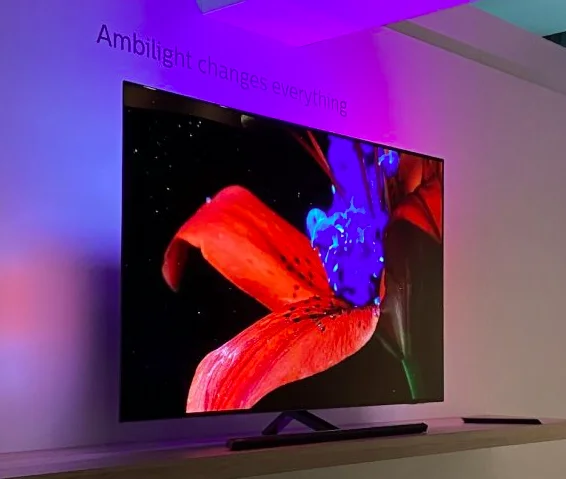 55in multi-HDR 4K OLED with Ambilight and Android TV
Philips' mid-range OLED model
Panasonic TX-55HZ1000; Samsung QE55Q80T
It's available in 65in and 55in screen sizes, and we went for the latter for this review. This smaller model has a price that will tempt shoppers seeking to refresh their setup.
7Review earns Amazon affiliate commissions from qualifying purchases. You can support the site directly via Paypal donations ☕. Thank you!
See also TOP Televisions
and The best OLED TV deals 2022: get an awesome OLED at the lowest price
The TV's cosmetic design is also appealing. Like its predecessor, the OLED805 looks sleek and contemporary, without going full Scandi. The frame now comes in gun- metal grey, and the two edge-placed feet are chamfered and finished in dark chrome. The screen itself sits virtually flush, although risers to lift it up in order to accommodate a soundbar are provided.
It's also mostly wafer-thin, only bulging out at the midway point to accommodate electronics and inputs. Connections are four 4K HDR-capable HDMI inputs; two USB ports; a digital optical audio output; an AV minijack for legacy hardware; headphone out;, and Ethernet to bolster dual-band Wi-Fi and Bluetooth.
Disappointingly none of this set's HDMIs support 4K at 120fps, and when we reached out to Philips for clarification, there was no reassurance that a firmware update would resolve the situation. 4K at 120fps is, of course, part of the attraction of the upcoming PlayStation 5 and Xbox Series X games consoles, and it's worth knowing that this set isn't ready for it But as we're to discover, gaming really isn't central to the OLED805 proposition, so maybe we shouldn't be too surprised. And if it's any consolation, we're told 4K/120 is on the roadmap for next year. So that'll be the OLED806 then…
Light entertainment
The TV features a three-sided implementation of Philips' Ambilight mood/bias lighting system. Functionality follows what we've seen before, but there are some changes. Joining Sunrise mode – first introduced last season to
2. A new-look remote has backlit keys and Muirhead leather wrap on its rear and sides

1.      Standard low-slung feet keep the set dose to your furniture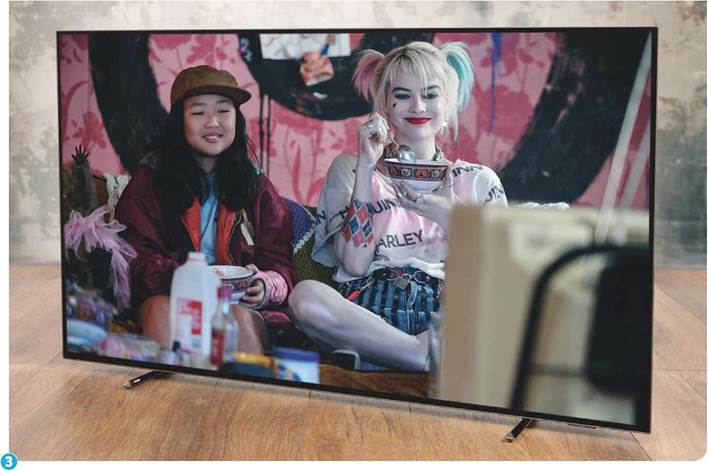 wake the TV at a designated alarm time and run through a faux sunrise routine with lighting effects and music – is Ambisteep, which will send you off with a warm glow accompanied by some soothing sounds. The Ambilight Follow Colour mode, which throws a flat hue against any surrounding wall, has been renamed Lounge Light, which is rather more descriptive.
The set will also work with new Philips Ambilight- equipped wireless speakers (designated W6205 and W6505 specifically). So-called Ambilight Air – coming via a firmware update – works by syncing the TV's lighting
'Pure Cinema mode is sensationally good, it's the motion interpolation tech film fans have waited for'
system to these new stereo speakers, which also have mini Ambilight lamps built-in. This lighting extension doesn't require a separate Hue Lighting hub.
Potentially more significant, the OLED805 is compatible with DTS Ptay-Fi, a streaming alternative to Sonos and HEOS that allows the TV to interoperate with other Play-Fi components, including Philips' own soundbars and a host of third-party speakers, DTS Play-Fi supports high-res audio and multiroom playback, if you've not yet got into whole-house audio, it could be well worth investigating.
The smart platform du jour remains Android, here in v.9 guise. The most stable implementation yet of Google's telly OS, it offers heavyweight streaming apps (Netflix, Prime Video, Disney+ and YouTube to name just a few) and is compatible with both Google Assistant and Amazon Alexa.
The amount of RAM onboard has been increased, so fill your boots from Google Play…
The OLED805 comes with a Freeview Play tuner, which means there's a full complement of mainstream catch-up TV players onboard And it also has Chromecast built-in for easy streaming.
Al, Al, it's off to work we go
Image quality from this new season OLED is terrific, and there's multiple reasons why. Most obviously, Philips' fourth-generation P5 picture engine now employs AI processing, which enjoys a spectacular debut.
AI makes native 4K HDR preternaturally sharp, and adds extra edge to HD SDR. The result is an often stunningly realistic image, with detail and colour depth that seems out-of-this-world. Skin tones and hair exhibit touch-me texture. The impact of AI even extends to the Android Ul,  which almost seems to glow.
The processing at play here is quite brilliant – for the most part it totally wowed – but occasionally I felt it maybe pushed the picture processing envelope a little too far.
It was sometimes like watching a Vivid mode TV on steroids and it appeared to struggle when interpreting film grain. So ultimately, I dipped in and out, particularly when it came to watching movies,
AI can be managed in the Picture Styles menu, and is tweakable from within the Advanced AI settings. All its constituent parts come set to Max by default, and it pays to drop Colour and Sharpness to Medium.
The OLED805 offers universal HDR support, with both Dolby Vision and HDR10+ catered for, alongside regular HDR10 and HLG, and its performance is impressive, with its handling of small, pinpoint highlights particularly dramatic.
I measured a peak brightness of 900 nits with a 5 per cent HDR window using the Vivid setting (with light sensor and related energy-saving gubbins switched off). Flitting across to Standard mode saw these peaks drop to a still mighty 850 nits.
Filmmaker Mode, from the UHD Alliance, is supported too (Dolby Vision IQ isn't), although I suspect Philips would have you leave its own picture processing in play, rather than turn it off. Unlike on Panasonic's TVs [see our TX-58HX800 review, HCC #313], Philips doesn't offer access to Filmmaker Mode via a dedicated button on the remote handset. Instead, it can be triggered by an FMM metadata flag in content. As yet there's nothing in the wild with such a metadata flag, so Philips directs users to the Movie mode instead, although that clearly has some elements of image processing active, so it's not really the same thing.
The screen's near-black detail is knockout. Shadowed Andalusian catacombs seen in Warrior Nun (Netflix 4K) retain detail in their stonework, while full blacks are dense and solid. Candles flicker in the darkness with HDR intent unaffected.
When Leia is blasted into space during the First Order ambush (Star Wars: The Last Jedi, 4K Blu-ray), her face slowly crystallising with ice, the image has almost three- dimensional depth. Colour vibrancy is similarly mouth-watering. Chewie's spit-roasted Porg had me salivating…
Motion slickness
Philips appears to have calmed the slightly over-aggressive colour vibrancy witnessed on last year's OLED804, and this helps prevent the Vivid mode, in particular, from looking over oversaturated. The TV's colour handling still enjoys characteristic pop, though. Greens are lush, if not quite as strong as those on its predecessor.
The brand has also made some significant tweaks to motion processing, introducing an all new Pure Cinema mode that proves to be sensationally good, it retains cinematic judder but upscales 24p original footage to 120Hz, and the result is an immersive cinematic representation, without soap opera distractions, yet retaining crisp detail. It's the motion interpolation technology film fans have been waiting for.
There are so many picture options on the OLED805 that working through the various combinations can be baffling. Many buyers simply won't bother exploring. For everyday content, I'd suggest leaving the set on its AI setting. When it comes to cinema, I thought the Natural preset, with Pure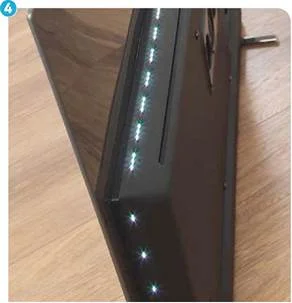 Cinema Motion selected, was the ideal compromise for films and blockbuster telly.
Sports fans might feel miffed that there's no dedicated Sports image preset now. It's been replaced by a Movie mode that executes a low level of de-judder and de-blur. As there's no visible artefacts, or soap opera effect, this setting works for a variety of content.
If the OLED805 has an achilles heel it's gaming performance. I measured input lag at 33.2ms (1080p/60) using the dedicated Game mode. There are better-performing gaming OLEDs out there.
Audio delivery is more on the money. A revamped speaker design (including larger mid-range and high- frequency drivers, and additional passive radiators for deeper bass) makes this a step up from the OLED804. it boasts an impressive 50W of amplification. Even taking marketing ebullience onboard, it's a strident performer.
Dolby Atmos support is standard, although you'll want to bitstream it out over ARC to a compatible soundbar or home cinema system to make the most of it.
Ambitious specification
Overall, the 55in OLED805 is a cracking display, one that combines outstanding image quality with an ambitious specification and interiors-friendly Ambilight.
Improvements to picture processing through AI and Philips' all-new motion handling engine warrant two thumbs up.
There are caveats, of course. If next-generation gaming is a pending obsession, then LG's cx Series (its new entry-level range, including a 48in model) could well be the better buy, while Panasonic looks set to monopolise the cinephile market with its high-end HZ2000 TV. But If you're after a screen that pushes the image envelope, has style chops and a superior level of smart functionality, it's a brilliant buy at an eye-catching price.
Verdict
Highly Recommended
PHILIPS 55OLED805 Review
Philips' P5 picture processor with Al is a step forward in picture quality, but that's only part of this well-priced OLED's feature-rich kerb appeal.
Add your review
|
Read reviews and comments
Best PHILIPS 55OLED805 prices in the US ?

$

109.99
1 new from $109.99
in stock


$

114.99
1 new from $114.99
in stock

Best PHILIPS 55OLED805 prices in the UK ?

£

1,305.00

£1,500.00
1 new from £1,305.00
in stock


£

1,490.00

£1,669.99
1 new from £1,490.00
in stock

MORE DEALS

See also TOP Televisions
and The best OLED TV deals 2022: get an awesome OLED at the lowest price
SPECIFICATIONS
4K: Yes. 3,840 x 2,160 HDR: Yes. Dolby Vision; HDR10+; HLG; HDR10 TUNER: Yes. Freeview HD (Freeview Play); satellite HD CONNECTIONS: 4 x HDMI inputs; component AV; digital optical audio output; 2 x USB; Ethernet; headphone out SOUND (CLAIMED): 50W (2 x 10W + 30W subwoofer) BRIGHTNESS (CLAIMED): N/A CONTRAST RATIO (CLAIMED): N/A DIMENSIONS (OFF STAND): 1,227.8( w) x 705.6(h) x 58(d)mm WEIGHT (OFF STAND): 21.8kg
FEATURES: Three-sided Ambilight; dual-band Wi-Fi; Bluetooth 4.2; P5 Picture Engine with Al; Perfect Natural Motion: Android TV (v9); Chromecast built-in; Google Assistant built in; Works with Alexa; Dolby Atmos
PARTNER WITH
AMAZ0N FIRE TV CUBE:
The premium 4K HDR streamer from Amazon, this combines the usual app selection with onboard speaker and integrated microphone for hands-free control and voice interaction.
3. Philips claims a colour delivery of 99% of DCI-P3
4. Side-and up-firing LEDs create the TV's Ambilight effect